Abstract
This study proposes a novel 3D split-and-recombine passive micromixer with offset-inlets. The micromixer is composed of non-aligned inlets and spatially repeating mixing units with mixing chambers and sub-channels. Each repeating unit has a chamber and two sub-channels with a number of alternate bends to create chaos in the flow. The non-aligned inlets provide inlet swirl while split-and-recombine mixing units stretch interfacial area, which eventually enhance mixing efficiency of the micromixer. The numerical modeling was conducted by solving three-dimensional steady state flow equations along with the diffusion equation for several flow conditions to evaluate the parametric mixing performance. A variance-based mixing index was used to compute the degree of mixing. A characterization methodology was employed to demonstrate the effect of several design parameters, i.e., width and depth of the mixing channel, pitch, length and height of the mixing chamber on the performance. The proposed micromixer exhibited excellent performance over a wide range of Reynolds numbers covered in the present study. At low and medium Re, proposed micromixer performed much better than 3D serpentine and 3D serpentine SAR micromixers reported in the recent literature.
Access options
Buy single article
Instant access to the full article PDF.
USD 39.95
Price excludes VAT (USA)
Tax calculation will be finalised during checkout.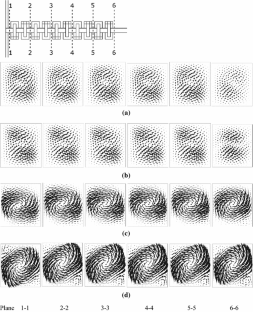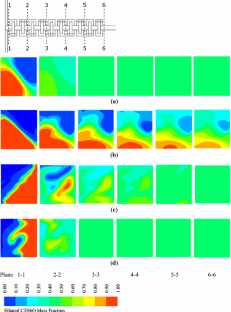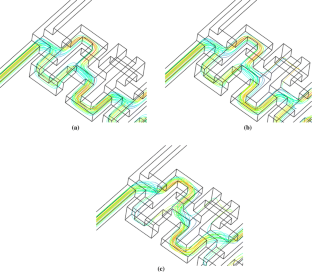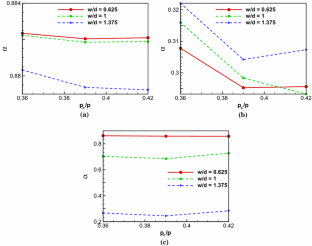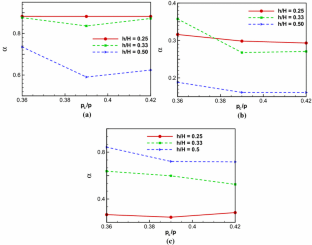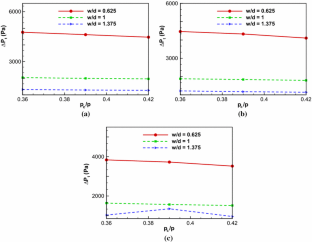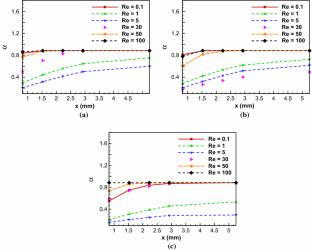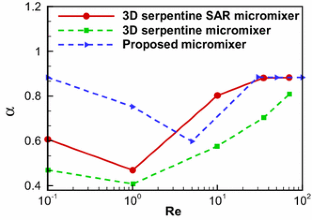 References
Afzal A, Kim KY (2012) Passive split and recombination micromixer with convergent-divergent walls. Chem Eng J 203:182–192. doi:10.1016/j.cej.2012.06.111

Al-Halhouli A, Alshare A, Mohsen M et al (2015) Passive micromixers with interlocking semi-circle and omega-shaped modules: experiments and simulations. Micromachines 6:953–968. doi:10.3390/mi6070953

Ansari MA, Kim KY (2007) Shape optimization of a micromixer with staggered herringbone groove. Chem Eng Sci 62:6687–6695. doi:10.1016/j.ces.2007.07.059

Ansari MA, Kim KY (2009) Parametric study on mixing of two fluids in a three-dimensional serpentine microchannel. Chem Eng J 146:439–448. doi:10.1016/j.cej.2008.10.006

Ansari MA, Kim K-Y, Anwar K, Kim SM (2010) A novel passive micromixer based on unbalanced splits and collisions of fluid streams. J Micromechanics Microengineering 20:55007. doi:10.1088/0960-1317/20/5/055007

Ansari MA, Kim KY, Anwar K, Kim SM (2012) Vortex micro T-mixer with non-aligned inputs. Chem Eng J 181–182:846–850. doi:10.1016/j.cej.2011.11.113

ANSYS Inc. (2013a) ANSYS ICEM CFD-Theory Guide

ANSYS Inc. (2013b) ANSYS CFX-Solver Theory Guide:724–746

Aubin J, Fletcher DF, Xuereb C (2005) Design of micromixers using CFD modelling. Chem Eng Sci 60:2503–2516. doi:10.1016/j.ces.2004.11.043

Bessoth FG, deMello AJ, Manz A (1999) Microstructure for efficient continuous flow mixing. Anal Commun 36:213–215. doi:10.1039/a902237f

Bird RB, Stewart WE, Lightfoot EN (2007) Transport Phenomena. Wiley

Chen C-H (2009) Recent patents on micromixing technology and micromixers. Recent Patents Mech Eng 2:240–247. doi:10.2174/2212797610902030240

Chen X, Shen J (2016) Numerical and experimental investigation on splitting-and-recombination micromixer with E-shape mixing units. Microsyst Technol. doi:10.1007/s00542-016-3208-5

Chen X, Shen J (2017) International Journal of Heat and Mass Transfer Numerical analysis of mixing behaviors of two types of E-shape micromixers. Int J Heat Mass Transf 106:593–600. doi:10.1016/j.ijheatmasstransfer.2016.09.034

Chen X, Li T, Hu Z (2016) A novel research on serpentine microchannels of passive micromixers. Microsyst Technol. doi:10.1007/s00542-016-3060-7

Ehrfeld W, Golbig K, Hessel V et al (1999) Characterization of mixing in micromixers by a test reaction: single mixing units and mixer arrays. Ind Eng Chem Res 38:1075–1082. doi:10.1021/ie980128d

Hessel V, Löwe H (2003) Microchemical engineering: components, plant concepts, user acceptance—part II. Chem Eng Technol 26:391–408. doi:10.1002/ceat.200390060

Hirata Y, Ohkawa K (2016) Development of channel mixers utilising 180° fluid rotation combined with split and recombination. Chem Eng Res Des 108:118–125. doi:10.1016/j.cherd.2015.10.036

Hossain S, Kim K (2015) Mixing analysis in a three-dimensional serpentine split-and-recombine micromixer. Chem Eng Res Des. doi:10.1016/j.cherd.2015.05.011

Kim DS, Lee SH, Kwon TH, Ahn CH (2005) A serpentine laminating micromixer combining splitting/recombination and advection. Lab Chip 5:739–747. doi:10.1039/b418314b

Lee CY, Wang WT, Liu CC, Fu LM (2016) Passive mixers in microfluidic systems: a review. Chem Eng J 288:146–160. doi:10.1016/j.cej.2015.10.122

Lin Y, Yu X, Wang Z et al (2011) Design and evaluation of an easily fabricated micromixer with three-dimensional periodic perturbation. Chem Eng J 171:291–300. doi:10.1016/j.cej.2011.04.003

Nguyen N-T, Wu Z (2005) Micromixers—a review. J Micromechanics Microengineering 15:R1–R16. doi:10.1088/0960-1317/15/2/R01

Ruijin W, Beiqi L, Dongdong S, Zefei Z (2017) Investigation on the splitting-merging passive micromixer based on Baker's transformation. Sensors Actuators B Chem 249:395–404. doi:10.1016/j.snb.2017.04.087

Stroock AD, Dertinger SKW, Ajdari A et al (2002) Chaotic mixer for microchannels. Science 295:647–651. doi:10.1126/science.1066238

The Le H, Thanh Le H, Dong T et al (2015) An effective passive micromixer with shifted trapezoidal blades using wide Reynolds number range. Chem Eng Res Des 93:1–11. doi:10.1016/j.cherd.2014.12.003

Tofteberg T, Skolimowski M, Andreassen E, Geschke O (2010) A novel passive micromixer: lamination in a planar channel system. Microfluid Nanofluidics 8:209–215. doi:10.1007/s10404-009-0456-z

Viktorov V, Mahmud M, Visconte C (2015) Comparative analysis of passive micromixers at a wide range of Reynolds numbers. Micromachines 6:1166–1179. doi:10.3390/mi6081166

Yang JT, Fang WF, Tung KY (2008) Fluids mixing in devices with connected-groove channels. Chem Eng Sci 63:1871–1881. doi:10.1016/j.ces.2007.12.027

Yoo W-S, Go JS, Park S, Park S-H (2012) A novel effective micromixer having horizontal and vertical weaving flow motion. J Micromechanics Microengineering 22:5007. doi:10.1088/0960-1317/22/3/035007
Acknowledgements
The authors acknowledge the support of Sultan Qaboos University through Collaborative Research Grant (CL/SQU-UAEU/15/02).
About this article
Cite this article
Husain, A., Khan, F.A., Huda, N. et al. Mixing performance of split-and-recombine micromixer with offset inlets. Microsyst Technol 24, 1511–1523 (2018). https://doi.org/10.1007/s00542-017-3516-4
Received:

Accepted:

Published:

Issue Date:

DOI: https://doi.org/10.1007/s00542-017-3516-4