Abstract
Compliant micro-positioning platforms are necessary for highly precise applications. Measurements of the displacement and reinforcements of the stiffness are two major concerns of any compliant micro-positioning platform. This paper proposes a compliant micro-positioning platform (CMPP) with embedded strain gauges and a viscoelastic damper. The strain gauges, glued at the flexure hinges, measure the displacement of the CMPP and so serve as a displacement sensor. In the open-structured CMPP, the polydimethylsiloxane (PDMS) material which fills the cavity serves as a viscoelastic damper, increasing the stiffness and frequency of the CMPP. PDMS also has the function of harvesting undesired vibrations which affect the performance of the CMPP. The working principle of the developed gauge sensor is established. The effects of the geometric parameters on the strain and the stress distributions are investigated in order to assign the most suitable locations for the strain gauges on the elastic bodies. For purposes of comparison, the performance characteristics in cases without and with an embedded damper are investigated herein. An analytical dynamic model of the CMPP is then established through the Lagrange principle. The geometric parameters of the CMPP are optimized via the differential evolution algorithm. The sensitivity of the developed sensor is determined by the calibrations and the analytical model. It can be concluded that the platform with an embedded strain gauge can determine the displacement as a displacement sensor. The stiffness and the frequency of the platform are reinforced by the viscoelastic damper. The performances can be improved using the differential evolution algorithm. The results indicated that the proposed stage possesses the large range of motion of 860 µm and a high frequency of 345.2 Hz with an infinite fatigue-life of 5.67 × 107 cycles. It is believed that the platform has potential applications in micro-positioning manipulations, in situ microindentation and microscratch testing.
Access options
Buy single article
Instant access to the full article PDF.
US$ 39.95
Tax calculation will be finalised during checkout.
Subscribe to journal
Immediate online access to all issues from 2019. Subscription will auto renew annually.
US$ 119
Tax calculation will be finalised during checkout.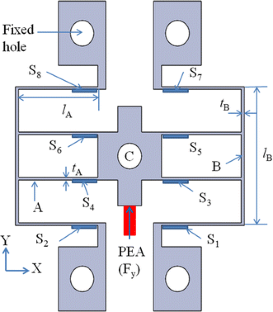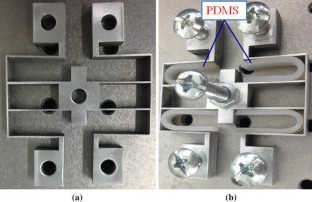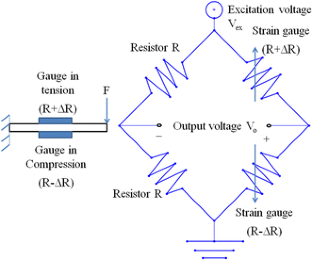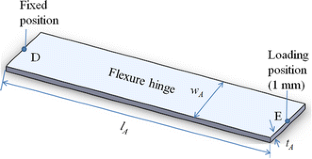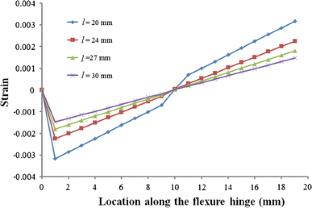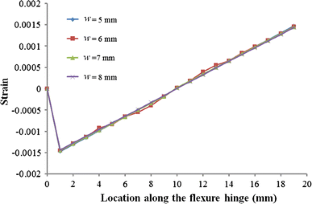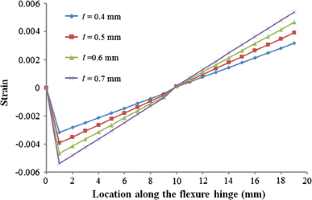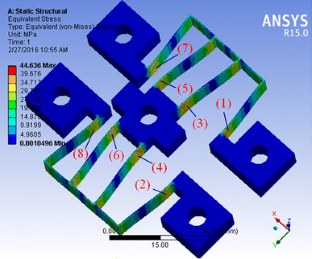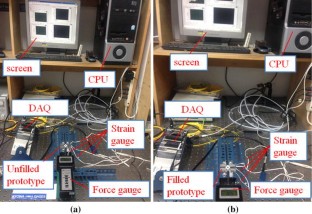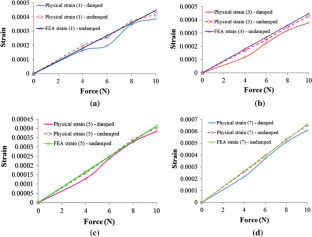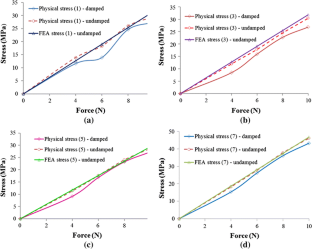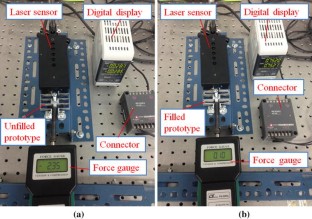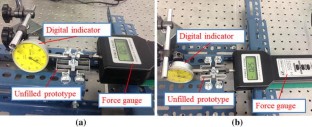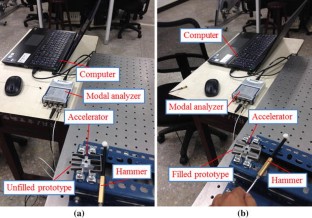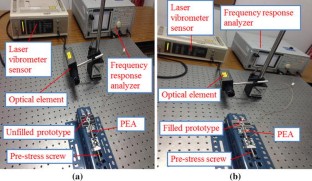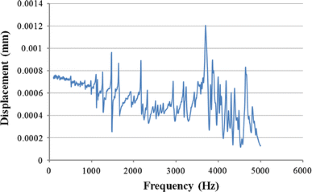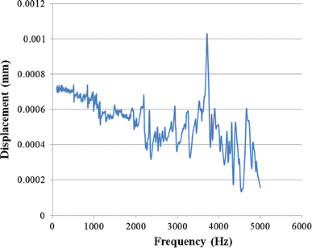 References
Choi KB, Lim HJ, Kim GH, Lee JJ (2014) A flexure-based scanner for a fully bidirectional operation driven by a differential piezo force. Proc Inst Mech Eng C J Mech Eng Sci 228:3186–3199. doi:10.1177/0954406214525602

Dao TP, Huang SC (2015a) Robust design for a flexible bearing with 1-DOF translation using the Taguchi method and the utility concept. J Mech Sci Technol 29(8):3309–3320. doi:10.1007/s12206-015-0728-3

Dao TP, Huang SC (2015b) Design, fabrication, and predictive model of a 1-DOF translational, flexible bearing for high precision mechanism. Trans Can Soc Mech Eng 39(3):419–429

Ghisleni R, Malyska KR, Philippe L, Schwaller P, Michler J (2009) In situ SEM indentation experiments: instruments, methodology, and applications. Microsc Res Techniq 72:242–249. doi:10.1002/jemt.20677

Guo Z, Tian Y, Liu C, Wang F, Liu X, Shirinzadeh B, Zhang D (2015) Design and control methodology of a 3-dof flexure-based mechanism for micro/nano-positioning. Robot Comput Integr Manuf 32:93–105. doi:10.1016/j.rcim.2014.10.003

Howell LL (2001) Compliant mechanisms. Wiley, New York

Huang J, Li Y (2010) Design and analysis of a completely decoupled compliant parallel XY micro-motion stage. Proceedings of the 2010 IEEE international conference on robotics and biomimetics, Tianjin, China, 1008–1013. doi:10.1109/ROBIO.2010.5723464

Huang H, Zhao H, Shi C, Wu B, Fan Z, Wan S, Geng C (2012) Effect of residual chips on the material removal process of the bulk metallic glass studied by in situ scratch testing inside the scanning electron microscope. AIP Adv 2:042193–042200. doi:10.1063/1.4774032

Huang BW, Kuang JH, Tseng JG, Wang JC, Qiu YX (2015) Seismic analysis of a viscoelastic damping isolator. Adv Mater Sci Eng 280625:1–6. doi:10.1155/2015/280625

Li Y, Xu Q (2011) A novel piezoactuated XY stage with parallel, and stacked flexure structure for micro-/nanopositioning. IEEE Trans Industr Electron 58:3601–3615. doi:10.1109/TIE.2010.2084972

Li Y, Huang J, Tang HA (2012) Compliant parallel XY micromotion stage with complete kinematic decoupling. IEEE Trans Autom Sci Eng 9:538–553. doi:10.1109/TASE.2012.2198466

Li Y, Xiao S, Xi L, Wu Z (2014) Design, modeling, control and experiment for a 2-DOF compliant micro-motion stage. Int J Precis Eng Manuf 15(4):735–744. doi:10.1007/s12541-014-0394-x

Lin HR, Cheng CH, Hung SK (2015) Design and quasi-static characteristics study on a planar piezoelectric nanopositioner with ultralow parasitic rotation. Mechatronics 31:180–188

Malyskaa KAR, Buerkia G, Michlera J, Majora RC, Cyrankowskia E, Asifa SAS, Warrena OL (2008) In situ mechanical observations during nanoindentation inside a high-resolution scanning electron microscope. J Mater Res 23:1973–1979. doi:10.1557/JMR.2008.0240

Miller JA, Hocken R, Smith ST, Harb S (1996) X-ray calibrated tunneling system utilizing a dimensionally stable nanometer positioner. Precis Eng 18:95–102. doi:10.1016/0141-6359(96)00037-2

Mukhopadhyay D, Dong J, Pengwang E, Ferreira PM (2008) A SOI-MEMS-based 3-dof planar parallel kinematics nanopositioning stage. Sens Actuators A Phys. 147:340–351. doi:10.1016/j.sna.2008.04.018

Park J, Kwon K, Bang J (2007) Development of a precision indentation and scratching system with a tool force and displacement control module. Rev Sci Instrum 78:045102. doi:10.1063/1.2719622

Polit S, Dong J (2009) Design of high-bandwidth high-precision flexure based nanopositioning modules. J Manuf Syst 28:71–77. doi:10.1016/j.jmsy.2010.01.001

Rabe R, Breguet JM, Schwaller P, Stauss S, Haug FJ, Patscheider J, Michler J (2004) Observation of fracture and plastic deformation during indentation and scratching inside the scanning electron microscope. Thin Solid Films 469–470:206–213. doi:10.1016/j.tsf.2004.08.096

Rong YM, Zhu YX, Luo ZB, Liu XX (1994) Design and analysis of flexure-hinge mechanism used in micro-positioning stages. ASME Production Engineering Division. 68:979–985

Shakoor RI, Srinivasan P, Bazaz SA (2011) Performance of a compliant structure for a thermal resonant microgyroscope. IEEE Sens J 11:1465–1475. doi:10.1109/JSEN.2010.2094185

Shigley JE, Mischke CR (1989) Mechanical engineering design. McGraw-Hill International Editions, New York, USA

Shimamoto A, Tanaka K (1997) Development of a depth controlling nanoindentation tester with subnanometer depth and submicro-newton load resolutions. Rev Sci Instrum 68:3494–3503. doi:10.1063/1.1148313

Shiou FJ, Chen CJ, Chiang CJ (2010) Development of a real-time closed-loop micro-/nanopositioning system embedded with a capacitive sensor. Meas Sci Technol 21:054007. doi:10.1088/0957-0233/21/5/054007

Smith ST, Chetwynd DG, Bowen DK (1987) Design and assessment of monolithic high precision translation mechanisms. J Phys E Sci Instrum 20:977–983. doi:10.1088/0022-3735/20/8/005

Storn R, Price K (1995) Differential evolution-a simple and efficient adaptive scheme for global optimization over continuous spaces. Int Comput Sci Instit. Technical report

Tang H, Li Y (2013) Design, analysis, and test of a novel 2-dof nanopositioning system driven by dual mode. IEEE Trans Rob 29:650–662. doi:10.1109/TRO.2013.2248536

Teo TJ, Yang G, Chen IM (2014) A large deflection and high payload flexure-based parallel manipulator for UV nanoimprint lithography: part I. modeling and analyses. Precis Eng 38:861–871. doi:10.1016/j.precisioneng.2014.05.003

The PI Online-Catalog, Physik Instrumente. http://www.physikinstrumente.com/. Accessed 10 Mar 2016

Tian Y, Liu X, Zhang D, Chetwynd DG (2009) Dynamic modeling of the fidelity of random surface measurement by the stylus method. Wear 266:555–559. doi:10.1016/j.wear.2008.04.061

Tsai CC, Lin SC, Huang HC, Cheng YM (2009) Design and control of a brushless DC limited-angle torque motor with its application to fuel control of small-scale gas turbine engines. Mechatronics 19:29–41. doi:10.1016/j.mechatronics.2008.07.003

Wang Z, Hu H (2005) Analysis and optimization of a compliant mechanism-based digital force/weight sensor. IEEE Sens J 5:1243–1250. doi:10.1109/JSEN.2005.859286

Warren OL, Asif SAS, Cyrankowski E, Kounev K (2010) Actuatable capacitive transducer for quantitative nanoindentation combined with transmission electron microscope. US Patent 7798011

Xi X, Clancy T, Wu X, Sun Y, Liu X (2016) A MEMS XY-stage integrating compliant mechanism for nanopositioning at sub-nanometer resolution. J Micromech Microeng 26:025014. doi:10.1088/0960-1317/26/2/025014

Yang R, Jouaneh M, Schweizer R (1996) Design and characterization of a low-profile micropositioning stage. Precis Eng 18:20–29. doi:10.1016/0141-6359(95)00032-1

Zubir MNM, Shirinzadeh B (2009) Development of a high precision flexure based microgripper. Precis Eng 33:362–370. doi:10.1016/j.precisioneng.2008.10.003
Acknowledgments
The authors acknowledge and thank the Ministry of Science and Technology of the Republic of China for their partial financial support of this study under Contact Number: MOST 104-2221-E-151-010.
Ethics declarations
Conflict of interest
The authors declare that they have no conflict of interest.
About this article
Cite this article
Dao, TP., Huang, SC. Design and analysis of a compliant micro-positioning platform with embedded strain gauges and viscoelastic damper. Microsyst Technol 23, 441–456 (2017). https://doi.org/10.1007/s00542-016-3048-3
Received:

Accepted:

Published:

Issue Date:
Keywords
PDMS

Piezoelectric Actuator

Displacement Sensor

Differential Evolution Algorithm

Flexure Hinge