Abstract
We designed and evaluated a microfluidic test chip for human blood filtration and imaging label-free detection of multiple biomarkers. The microfluidic chip has a total size of 75 mm × 25 mm × 2 mm. It is realized as an assembly of a plastic chip and a functionalized photonic crystal slab on a glass substrate. The plastic chip contains capillary channels, a filter membrane and a cavity open on one side. The photonic crystal chip is bonded with an adhesive foil to the open cavity. Human blood filtration is demonstrated. We determined that fluorescently labelled particles of diameter 3 µm or larger are filtered out by the system. Refractometric measurements are performed with the test chip in combination with a compact imaging read-out system to investigate the system response to refractive index changes. Flow dynamics in the sensor cavity are imaged for replacing water by isopropanol. Finally, the binding of 500 nm biotin dissolved in phosphate buffer saline to a photonic crystal surface locally functionalized with streptavidin is demonstrated.
Access options
Buy single article
Instant access to the full article PDF.
USD 39.95
Price excludes VAT (USA)
Tax calculation will be finalised during checkout.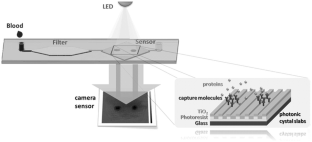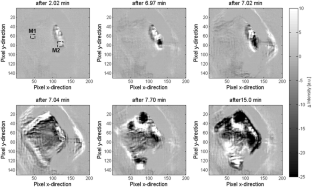 References
Bananno LM, DeLouise LA (2007) Whole blood optical biosensor. Biosens Bioelectron 23:444–448

Choi CJ, Block ID, Bole B, Dralle D, Cunningham BT (2009) Label-free photonic crystal biosensor integrated microfluidic chip for determination of kinetic reaction rate constants. IEE Sens J 9:1697–1704

Crowley TA, Pizziconi V (2005) Isolation of plasma from whole blood using planar microfilters for lab-on-a-chip applications. Lab Chip 5:922–929

Jahns S, Nazirizadeh Y, Meyer B, Gutekunst SB, C. Selhuber-Unkel, M. Gerken (2013) Photometric aptasensor using biofunctionalized photonic crystal slabs. In: Proceeding IEEE Sensors 2013, Baltimore

Jahns S, Glorius P, Hansen M, Nazirizadeh Y, Gerken M (2015) Imaging label-free biosensor with microfluidic system. In: Proceeding SPIE, vol 9518, p 95180 K-1-6

Janasek D, Franzke J, Manz A (2006) Scaling and the design of miniaturized chemical-analysis systems. Nature 442:374–380

Kuo J-N, Zhan Y-H (2015) Microfluidic chip for rapid and automatic extraction of plasma from whole blood. Microsyst Technol 21:255–261

Liu C, Cui D, Li H (2010) A hard-soft microfluidic biosensor flow cell for SPR imaging application. Biosens Bioelectron 26:225–261

Liu C, Mauk M, Gross R, Bushman FD, Edelstein PH (2013) Membrane-based, sedimentation-assisted plasma separator for point-of-care applications. Anal Chem 85:10463–10470

Magnusson R, Wawro D, Zimmermann S, Ding Y (2001) Resonant photonic biosensor with polarization-based multiparametric discrimination in each Channel. Sensors 11:1476–1488

Nazirizadeh Y, Bog U, Sekula S, Mappes T, Lemmer U, Gerken M (2010) Low-cost label-free biosensors using photonic crystals embedded between crossed polarizers. Opt Express 18:19120–19128

Sheng-Fu L, Ting-Jou D, Jen-Tsai L, Chien-Chieh L, Tsung-Hsun Y, Wen-Yih C, Jenq-Yang C (2011) A guided mode resonance aptasensor for thrombin detection. Sensors 11(9):8953–8965

Threm D, Nazirizadeh Y, Gerken M (2012) Photonic crystal biosensors towards on-chip integration. J Biophotonics 5(8–9):601–616
Acknowledgments
The authors acknowledge support by the European Research Council within the project Photosmart (307800) and by the German Federal Ministry of Education and Research (BMBF) within the project BioCard (0316145A). S. B. Gutekunst and C. Selhuber-Unkel acknowledge support from the DFG through the Emmy Noether program (Grant SE-1801/2-1).
About this article
Cite this article
Jahns, S., Gutekunst, S.B., Selhuber-Unkel, C. et al. Human blood microfluidic test chip for imaging, label-free biosensor. Microsyst Technol 22, 1513–1518 (2016). https://doi.org/10.1007/s00542-015-2746-6
Received:

Accepted:

Published:

Issue Date:

DOI: https://doi.org/10.1007/s00542-015-2746-6
Keywords
Photonic Crystal

Light Emit Diode

Refractive Index Change

Sensor Field

Test Chip