Abstract
In this work, an electroosmotic flow micropump is proposed and investigated using theoretical analysis and numerical simulations. The micropump comprises an array of interdigitated electrodes on the top and the bottom surfaces of a rectangular microchannel. Theoretical analysis and extensive numerical simulations are performed to predict the pressure-flow characteristics of the micropump. The results of the model and simulations are compared which show good agreement with each other. The effects of various geometrical parameters including spacing between a pair of electrodes, gap between adjacent pairs of electrodes, width and height of the electrodes, and width of the microchannel and operating parameter including applied voltage on the performance of the micropump in terms of flow and pressure capacity is investigated.
This is a preview of subscription content, log in to check access.
Access options
Buy single article
Instant access to the full article PDF.
US$ 39.95
Price includes VAT for USA
Subscribe to journal
Immediate online access to all issues from 2019. Subscription will auto renew annually.
US$ 199
This is the net price. Taxes to be calculated in checkout.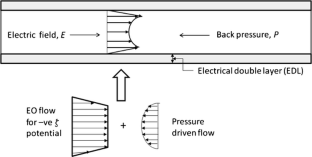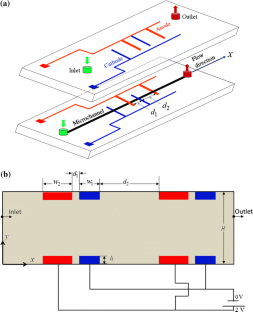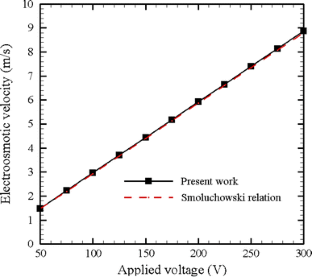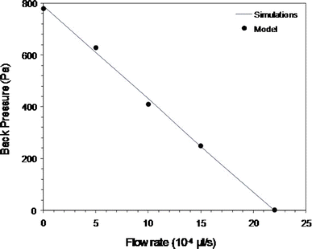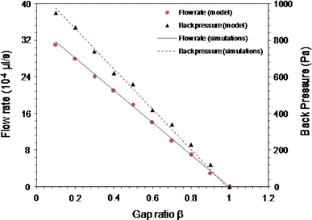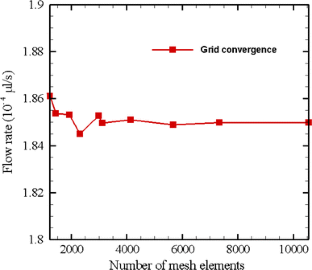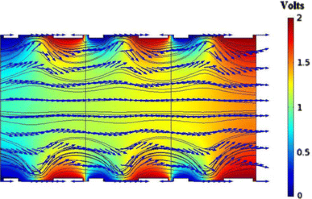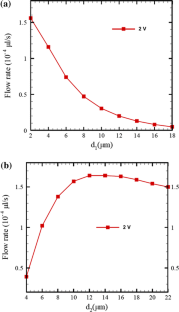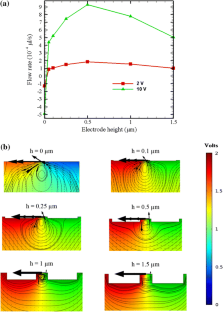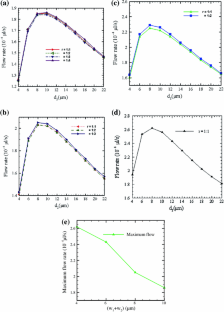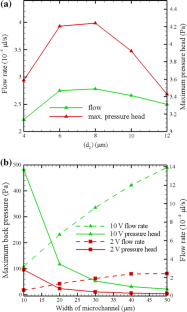 References
Arulanandam S, Li D (2000) Liquid transport in rectangular microchannels by electroosmotic pumping. Colloids Surf A 161:89–102 PII: S0927-7757(99)00328-3

Bagdi P, Bhardwaj P, Sen AK (2012) Analysis and simulation of a micro hydrocyclone device for particle liquid separation. J Fluids Eng 134:0211051–0211059

Bhardwaj P, Bagdi P, Sen AK (2011) Microfluidic device based on a micro hydrocyclone for particle–liquid separation. Lab Chip 11:4012–4021

Brask A, Goranović G, Bruus H (2003) Theoretical analysis of the low-voltage cascade electro-osmotic pump. Sens Actuators B 92:127–132. doi:10.1016/S0925-4005(03)00130-8

Bruus H (2008) Theoretical microfluidics. Oxford master series condensed matter physics

Buie C, Posner JD, Fabian T, Cha SW, Kim D, Prinz FB, Eaton JK, Santiago JG (2006) Water management in proton exchange membrane fuel cells using integrated electroosmotic pumping. J Power Sources 161:191. doi:10.1016/j.jpowsour.2006.03.02

Chen CH, Santiago JG (2002) A planar electroosmotic micropump. J Microelectromech Syst 11:672–683. doi:10.1109/JMEMS.2002.805055

Darabi J, Rhodes C (2006) CFD modeling of an ion-drag micropump. Sens Actuators A 127:94–103. doi:10.1016/j.sna.2005.10.051

Darabi J, Wang H (2002) Emerging opportunities and challenges in micropumps. In: Proceedings of IMECE2002 ASME international mechanical engineering congress and exposition, IMECE2002-39586

Guo Q, Liu Y, Wu X, Yang J (2009) Design of a relaying electroosmosis pump driven by low-voltage DC. Microsyst Technol 15:1009–1015. doi:10.1007/s00542-009-0840-3

Jiang LN, Mikkelsen J, Koo JM, Huber D, Yao SH, Zhang L, Zhou P, Maveety JG, Prasher R, Santiago JG, Kenny TW, Goodson KE (2002) Closed-loop electroosmotic microchannel cooling system for VLSI circuits. IEEE Trans Compon Packag Technol 25:347. doi:10.1109/TCAPT.2002.80059

Kemprai P, Sen AK (2012) Electrokinetic assisted mixing in a microchannel with lateral electrodes. Micro Nanosyst 4(4):304–313

Kim D, Posner JD, Santiago JG (2008) High flow rate per power electroosmotic pumping using low ion density solvents. Sens Actuators A 141:201–212. doi:10.1016/j.sna.2007.07.023

Laser DJ, Santiago JG (2004) A review of micropumps. J Micromech Microeng 14(6):35–64. doi:10.1088/0960-1317/14/6/R01

Probstein (1994) Physicochemical hydrodynamics an introduction, 2nd edn. Wiley, Massachusetts Institute of Technology, New York

Ramos A, Morgan H, Green NG, Castellanos A (1999) AC electric field-induced fluid flow in microelectrodes. J Colloid Interface Sci 217(2):420–422. doi:10.1006/jcis.1999.6346

Sahu PK, Golia A, Sen AK (2012a) Analytical, numerical and experimental investigations of mixing fluids in microchannel. Microsyst Technol 18:823–832. doi:10.1007/s00542-012-1511-3

Sahu PK, Golia A, Sen AK (2012b) Investigations into mixing of fluids in microchannels with lateral obstructions. Microsyst Technol. doi:10.1007/s00542-012-1617-7

Schoeman JJ, van Staden JF (1997) Electroosmotic pumping of sodium chloride solutions. J Membr Sci 132:1–21 Pii: S0376-7388(96)00339-0

Sun Y, Lim CS, Liu AQ, Ayi TC, Yap PH (2007) Design, simulation and experiment of electroosmotic microfluidic chip for cell sorting. Sens Actuators A 133:340–348. doi:10.1016/j.sna.2006.06.047

Takamura Y, Onoda H, Inokuchi H, Adachi S, Oki A, Horiike Y (2001) In: Ramsey JM, van den Berg A (eds) Proceedings of the mTAS 2001, Monterey, CA, USA. Kluwer Academic Publishers, Dordrecht, p 230

Theeuwes F (1975) Elementary osmotic pump. J Pharm Sci 64:1987–1991. doi:10.1002/jps.2600641218

Wang P, Chen Z, Chang HC (2006) A new electro-osmotic pump based on silica Monoliths. Sens Actuators B 113:500–509. doi:10.1016/j.snb.2005.03.102
Acknowledgments
The authors would like to thank the Science and Engineering Research Council (SERC), Department of Science & Technology for providing the financial support for the project.
About this article
Cite this article
Barman, U., Sen, A.K. & Mishra, S.C. Theoretical and numerical investigations of an electroosmotic flow micropump with interdigitated electrodes. Microsyst Technol 20, 157–168 (2014). https://doi.org/10.1007/s00542-013-1893-x
Received:

Accepted:

Published:

Issue Date:
Keywords
Applied Voltage

Electrical Double Layer

Electrode Configuration

Maximum Flow Rate

Interdigitated Electrode