Abstract
We have developed a titanium (Ti)-based piezoelectric microelectromechanical systems scanner driven by a Pb(Zr, Ti)O3 (PZT) thin film for the development of laser scanning displays. The 2-μm-thick PZT thin film was directly deposited on a 50-μm-thick Ti substrate by radio frequency magnetron sputtering. Prior to PZT deposition, the Ti substrate was microfabricated into the shape of a horizontal scanner by wet etching; therefore, we could fabricate a piezoelectric microactuator without using the photolithography process. We confirmed the growth of the polycrystalline PZT film with perovskite structures on the Ti substrate. We achieved an optical scanning angle of 22° at a resonant frequency of 25.4 kHz using a driving voltage of 20 V pp. These horizontal scanning properties can be applicable for laser displays.
Access options
Buy single article
Instant access to the full article PDF.
US$ 39.95
Tax calculation will be finalised during checkout.
Subscribe to journal
Immediate online access to all issues from 2019. Subscription will auto renew annually.
US$ 119
Tax calculation will be finalised during checkout.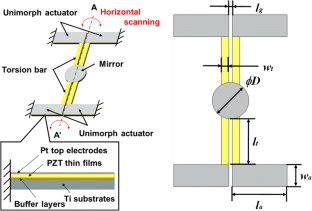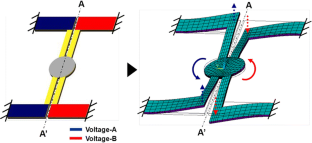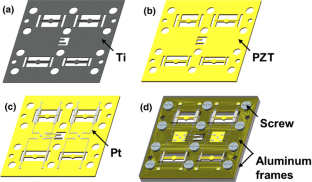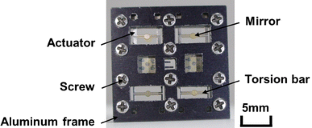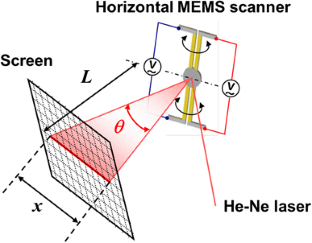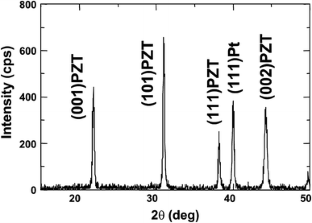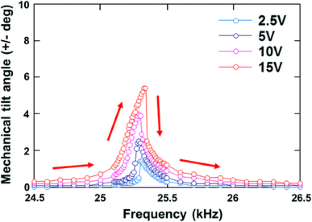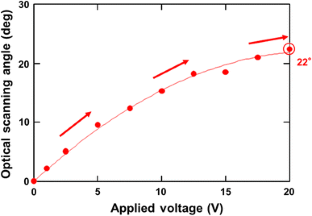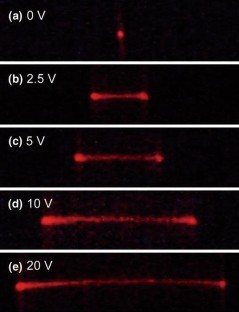 References
Akedo J, Lebedev M (2000) Piezoelectric properties and poling effect of Pb(Zr, Ti)O3 thick films prepared for microactuators by aerosol deposition. Appl Phys Lett 77:1710–1712

Asai N, Matsuda R, Watanabe M, Takayama H, Yamada S, Mase A, Shikida M, Sato K, Lebedev M, Akedo J (2003) Novel high resolution optical scanner actuated by aerosol deposited PZT films. In: IEEE the 16th annual international conference on MEMS-03, Kyoto, pp 247–250

Berlincourt DA, Cmolik C, Jaffe H (1960) Piezoelectric properties of polycrystalline lead titanate zirconate compositions. Proc IRE 48:220–229

Debray A, Ludwig A, Bourouina T, Asaoka A, Tiercelin N, Reyne G, Oki T, Quandt E, Muro H, Fujita H (2004) Application of a multilayered magnetostrictive film to a micromachined 2-D optical scanner. J Microelectromech Syst 13:264–271

Filhol F, Defay E, Divoux C, Zinck C, Delaye MT (2005) Resonant micro-mirror excited by a thin-film piezoelectric actuator for fast optical beam scanning. Sens Actuators A 123–124:483–489

Gokdel YD, Sarioglu B, Mutlu S, Yalcinkaya AD (2009) Design and fabrication of two-axis micromachined steel scanners. J Micromech Microeng 19:075001

Hane K, Sasaki M (2008) Micro-mirrors. In: Gianchandani YB, Tabata O, Zappe H (eds) Comprehensive microsystems 3. Elsevier, Amsterdam, pp 1–63

Iseki T, Okumura M, Sugawara T (2010) High-speed and wide-angle deflection optical MEMS scanner using piezoelectric actuation. IEEJ Trans Electr Electron Eng 5:361–368

Kanda K, Kanno I, Kotera H, Wasa K (2009) Simple fabrication of metal-based piezoelectric MEMS by direct deposition of Pb(Zr, Ti)O3 thin films on titanium substrates. J Microelectromech Syst 18:610–615

Kanno I, Kotera H, Wasa K (2003) Measurement of transverse piezoelectric properties of PZT thin films. Sens Actuators A 107:68–74

Kobayashi T, Tsaur J, Maeda R (2005) Fabrication of optical micro scanner driven by PZT actuators. Jpn J Appl Phys 44:7078–7082

Koh KH, Kobayashi T, Hsiao FL, Lee C (2010) Characterization of piezoelectric PZT beam actuators for driving 2D scanning micromirrors. Sens Actuators A 162:336–347

Ledermann N, Muralt P, Baborowski J, Gentil S, Mukati K, Cantoni M, Seifert A, Setter N (2003) {100}-Textured, piezoelectric Pb(Zrx, Ti1−x)O3 thin films for MEMS: integration, deposition and properties. Sens Actuators A 105:162–170

Lee JW, Lin Y, Kaushik N, Sharma P, Inoue A, Esashi M, Gessner T (2011) Development of the micro-mirror with large scanning angle using FE-based metallic glass thin film. In: 16th international solid-state sensors, actuators and microsystems conference, pp 2912–2915

Miyajima H, Asaoka N, Arima M, Minamoto Y, Murakami K, Tokuda K, Matsumoto K (2001) A durable, shock-resistant, electromagnetic optical scanner with polyimide-based hinges. J Microelectromech Syst 10:418–424

Miyajima H, Akikawa T, Hidaka T, Tokuda K, Matsumoto K (2005) Experimental characterization of polyimide torsional hinges for optical scanner. Sens Actuators A 117:341–348

Pan CL, Ma YT, Yin J, Kong FR, Feng ZH (2010) Miniature orthogonal optical scanning mirror excited by torsional piezoelectric fiber actuator. Sens Actuators A 165:329–337

Park JH, Akedo J, Sato H (2007) High-speed metal-based optical microscanners using stainless-steel substrate and piezoelectric thick films prepared by aerosol deposition method. Sens Actuators A 135:86–91

Schenk H, Durr P, Haase T, Kunze D, Sobe U, Lakner H, Kuck H (2000) Large deflection micromechanical scanning mirrors for linear scans and pattern generation. IEEE J Sel Top Quantum Electron 6:715–722

Schenk H, Durr P, Kunze D, Lakner H, Kuck H (2001) A resonantly excited 2D-micro-scanning-mirror with large deflection. Sens Actuators A 89:104–111

Shackelford JF, Alexander W (2000) CRC Materials Science and Engineering Handbook. 3rd edn. CRC Press

Suu K, Osawa S, Tani N, Ishikawa M, Nakamura K, Ozawa T, Sameshima K, Kamisawa A, Takasu H (1996) Preparation of (Pb, La)(Zr, Ti)O3 ferroelectric films by RF sputtering on large substrate. Jpn J Appl Phys 35:4967–4971

Suzuki T, Kanno I, Loverich JJ, Kotera H, Wasa K (2006) Characterization of Pb(Zr, Ti)O3 thin films deposited on stainless steel substrates by RF-magnetron sputtering for MEMS applications. Sens Actuators A 125:382–386

Tani M, Akamatsu M, Yasuda Y, Fujita H, Toshiyoshi H (2006) A combination of fast resonant mode and slow static deflection of SOI-PZT actuators for MEMS image projection display. In: Optical MEMS and their applications conference, pp 25–26

Tani M, Akamatsu M, Yasuda Y, Toshiyoshi H (2007) A two-axis piezoelectric tilting micromirror with a newly developed PZT-meandering actuator. In: IEEE 20th international conference on MEMS, Hyogo, pp 699–702

Urey H (2002) Tosional MEMS scanner design for high-resolution display systems. Proc SPIE 4773:27–37

Yalcinkaya AD, Urey H, Brown D, Montague T, Sprague R (2006) Two-axis electromagnetic microscanner for high resolution displays. J Microelectromech Syst 15:786–794

Yamada K, Kuriyama T (1998) A novel asymmetric silicon micro-mirror for optical beam scanning display. In: Proceedings of the 11th annual international workshop on MEMS, vol 98, pp 110–115

Yasuda Y, Akamatsu M, Tani M, Iijima T, Toshiyoshi H (2005) Piezoelectric 2D-optical micro scanners with PZT thick films. Integr Ferroelectr 76:81–91
About this article
Cite this article
Matsushita, S., Kanno, I., Adachi, K. et al. Metal-based piezoelectric microelectromechanical systems scanner composed of Pb(Zr, Ti)O3 thin film on titanium substrate. Microsyst Technol 18, 765–771 (2012). https://doi.org/10.1007/s00542-012-1462-8
Received:

Accepted:

Published:

Issue Date:
Keywords
Finite Element Method Calculation

Radio Frequency Magnetron Sputtering

Transverse Piezoelectric Effect

High Display Resolution

Unimorph Cantilever