Abstract
Hot embossing and injection moulding belong to the established plastic moulding processes in microengineering. Based on experimental and theoretical findings, a variety of microstructures have been replicated using these processes. However, beside the technology also the moulding materials their physical and chemical properties determines the process and their parameters. Especially high temperature semicrystalline polymers like PEEK and LCP are well suited for many applications in microfluidics. The moulding of these polymers by hot embossing requires a precise setting of temperatures for successful moulding. The present publication describes the moulding of high performance polymers by hot embossing and thermoforming. The focus is set to the process parameters and the required heating conditions for the replication of micro- and nanostructured mould inserts. In detail, the process conditions for hot embossing of LCP, PEEK, FEP and PSU will be discussed.
Access options
Buy single article
Instant access to the full article PDF.
US$ 39.95
Tax calculation will be finalised during checkout.
Subscribe to journal
Immediate online access to all issues from 2019. Subscription will auto renew annually.
US$ 119
Tax calculation will be finalised during checkout.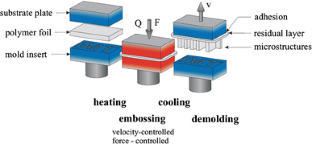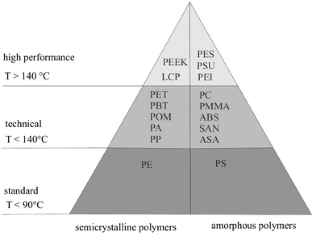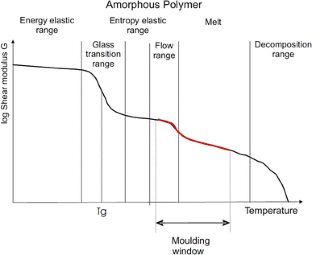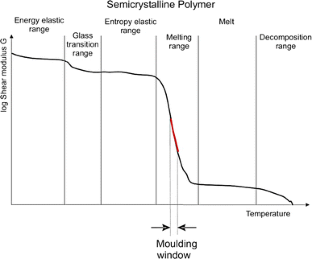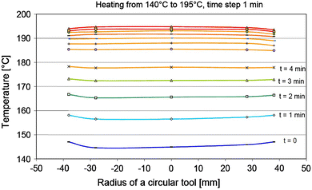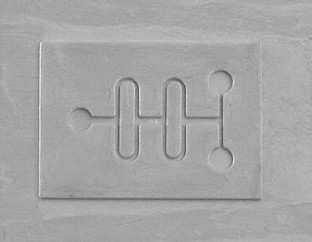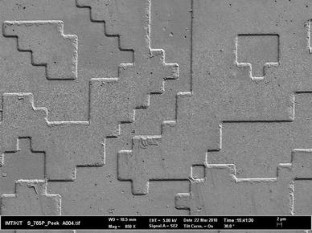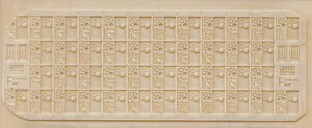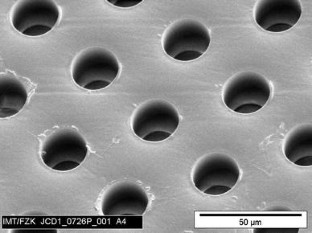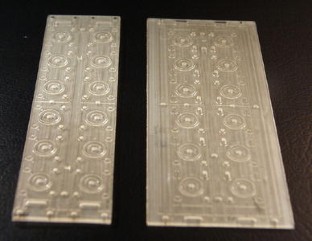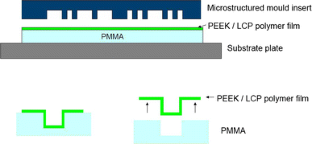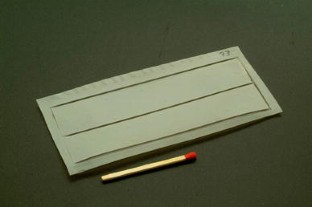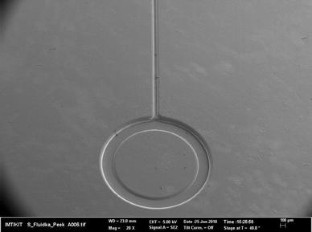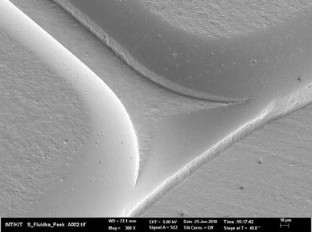 References
Becker H, Heim U (2000) Hot embossing as a method for the fabrication of polymer high aspect ratio structures. Sensors Actuators 83:130–135

Griffiths CA, Bigot S, Brousseau E, Worgull M, Heckele M, Nestler J, Auerswald J (2009) Investigation of polymer inserts as prototyping tooling for micro injection moulding. Int J Adv Manuf Technol. doi:10.1007/s00170-009-2038-3, ISSN 0268-3768 (Print) 1433-3015 (Online)

Heckele M, Schomburg WK (2004) Review on micro molding of thermoplastic polymers. J Micromech Microeng 14:R1–R14

Heckele M, Bacher W, Mueller KD (1998) Hot embossing—the molding technique for plastic microstructures. Microsyst Technol 4:122–124

Heckele M, Guber AE, Truckenmüller R (2006) Replication and bonding techniques for integrated microfluidic systems. Microsyst Technol 12:S.1031–S.1035

Heilig M, Giselbrecht S, Guber A, Worgull M (2010) Micro-thermoforming of nanostructured polymer films: a new bonding method for the integration of nanostructures in 3-dimensional cavities. Microsyst Technol. doi:10.1007/s00542-010-1072-2

Hwang W, Mühlberger H, Hoffmann W, Guber AE, Saile V (2007) Polyether ether ketone microstructures for chemical analytics. Microsyst Technol 14(9-11):S.1699–S.1700

Mehne Ch (2007) Grossformatige Abformung mikrostrukturierter Formeinsätze durch Heissprägen, PhD thesis, University of Karlsruhe, Institute for Microstructure Technology

Mühlberger H, Guber AE, Hoffmann W (2005) Microfluidic polyether ether ketone (PEEK) chips combined with contactless conductivity detection for μTAS. μTAS 1:184–187

Mühlberger H, Hwang W, Guber AE, Saile V, Hoffmann W (2008) Polymer lab-on-a-chip system with electrical detection. IEEE Sens J 8:S.572–S.579

Rapp BE, Schneider M, Worgull M (2009) Hot punching on an 8 inch substrate as an alternative technology to produce holes on a large scale. Microsyst Technol. doi:10.1007/s00542-009-0943-x

Throne JL (2008) Understanding thermoforming. Hanser, Munchen. ISBN-13: 978-3-446-40796-1

Truckenmüller R, Giselbrecht S, van Blitterswijk C, Dambrowsky N, Gottwald E, Mappes T, Rolletschek A, Saile V, Trautmann C, Weibezahn K, Welle A (2008) A flexible fluidic microchips based on thermoformed and locally modified thin polymer films. Lab Chip 8:1570–1579. doi:10.1039/b803619e

Wulff K, Rummler Z, Schomburg WK (2001) Hybride Drucksensoren aus Kunststoff und Glas nach dem AMANDA-Verfahren, PhD Thesis, Forschungszentrum Karlsruhe, FZKA report 6682
About this article
Cite this article
Worgull, M., Kolew, A., Heilig, M. et al. Hot embossing of high performance polymers. Microsyst Technol 17, 585–592 (2011). https://doi.org/10.1007/s00542-010-1155-0
Received:

Accepted:

Published:

Issue Date:
Keywords
PMMA

Injection Moulding

Moulding Temperature

Semicrystalline Polymer

Thermoplastic Polymer