Abstract
In this paper, we describe a modification of the classical hot embossing process which is capable of producing holes in polymer substrates. Substrates with holes that penetrate the complete height of the substrate have been a technical challenge since the first description of the hot embossing process. However most components as, e.g., microfluidic components targeted for biomedical applications are in need of such structures. We describe a simple and robust approach which enables the user to produce holes in polymer substrates without the need for elaborate machine equipment or special production technology for molding tools. We call this process hot punching which we demonstrate here to be suitable not only for small scale substrates but also for producing substrates with holes on an 8 inch substrate.
Access options
Buy single article
Instant access to the full article PDF.
USD 39.95
Price excludes VAT (USA)
Tax calculation will be finalised during checkout.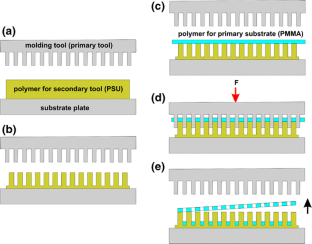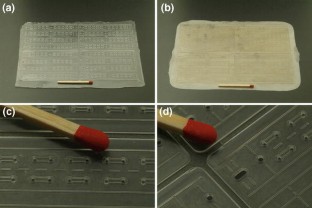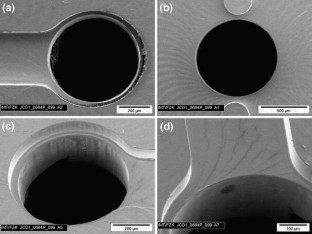 References
Heckele M, Durand A (2001) Microstructured through-holes in plastic films by hot embossing. Precision engineering and nanotechnology, 2. Internat Euspen Conf, Torino, vol 1, pp 196–198

Heckele M, Schomburg WK (2004) Review on micro molding of thermoplastic polymers. J Micromech Microeng 14:R1–R14

Heckele M, Gerlach A, Guber A, Schaller T (2001) Large area polymer replication for microfluidic devices. Design, Test Integration, and Packaging of Mems/Moems 2001, vol 1, pp 469–477

Mehne C (2008) Großformatige Abformung mikrostrukturierter Formeinsätze durch Heißprägen. PhD thesis thesis, Universität Karlsruhe

Müller K, Heckele M (1997) Verfahren zur Herstellung einer strukturierten Beschichtung. Patent DE19701568C1, Germany

Rapp BE, Worgull M, Heckele M (2005a) Verfahren zur Herstellung von Durchbrüchen in thermoplastischen Komponenten. Patent DE 102005025247B3, Germany

Rapp BE, Worgull M, Heckele M, Guber A, Herrmann D (2005b) Mikro-Heißstanzen - Erzeugung von Durchlochstrukturen in ebenen Kunststoffsubstraten. Mikrosystemtechnik Kongress, Freiburg

Worgull M, Heckele M, Schomburg WK (2005) Large-scale hot embossing. Microsyst Technol-Micro-and Nanosystems-Information Storage and Processing Systems, vol 12, pp 110–115
About this article
Cite this article
Rapp, B.E., Schneider, M. & Worgull, M. Hot punching on an 8 inch substrate as an alternative technology to produce holes on a large scale. Microsyst Technol 16, 1201–1206 (2010). https://doi.org/10.1007/s00542-009-0943-x
Received:

Accepted:

Published:

Issue Date:

DOI: https://doi.org/10.1007/s00542-009-0943-x
Keywords