Abstract
Microfluidics is an indispensable part of micro total analysis system (μ-TAS) and lab-on-a-chip analysis systems. While most of the work in this area has focused on MEMS based actuation with micropumps and microvalves, polymer based Paraffin actuator is an attractive alternative in terms of ease in fabrication and low cost. While we made previous attempts in fabricating polydimethylsiloxane (PDMS) based devices, it suffered a drawback of low flow rates in the microchannel due to adherence of PDMS to the channel substratum. In the current work, we focused on improvement of mechanical properties of the PDMS membrane by altering prepolymer to crosslinker ratio. We found that a ratio of 100:15 produced sufficient tensile strength to the membrane and also enhanced actuation characteristics of microvalve fabricated with it.
Access options
Buy single article
Instant access to the full article PDF.
USD 39.95
Price excludes VAT (USA)
Tax calculation will be finalised during checkout.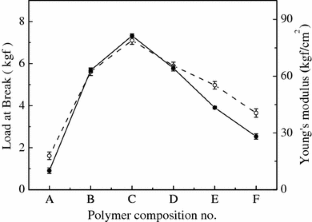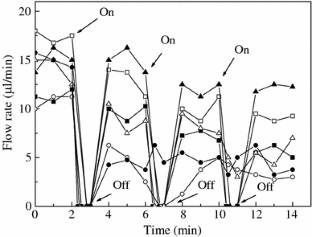 References
Hsu Y-C, Chen T-Y (2007) Applying Taguchi methods for solvent-assisted PMMA bonding technique for static and dynamic μ-TAS devices. Biomed Microdevices 9(4):513–522. doi:10.1007/s10544-007-9059-1

Lee SJ, Lee SY (2004) Micro total analysis system (micro-TAS) in biotechnology. Appl Microbiol Biotechnol 64(3):289–299. doi:10.1007/s00253-003-1515-0

Yih TC, Wei C, Hammad B (2005) Modeling and characterization of a nanoliter drug-delivery MEMS micropump with circular bossed membrane. Nanomedicine 1(2):164–175

Yoo J-C, Moon M-C, Choi YJ, Kang CJ, Kim Y-S (2006a) A high performance microfluidic system integrated with the micropump and microvalve on the same substrate. Microelectronic Eng 83:1684–1687. doi:10.1016/j.mee.2006.01.202

Yoo J-C, Moon M-C, Kang CJ, Jeon D, Kim Y-S (2006b) Dynamic characteristics of the micro-fluidic systems actuated by thermopneumatic-method. Jpn J Appl Phys 45:519–552. doi:10.1143/JJAP.45.519

Zhang C, Xing D, Li Y (2007) Micropumps, microvalves, and micromixers within PCR microfluidic chips: advances and trends. Biotechnol Adv 25(5):483–514. doi:10.1016/j.biotechadv.2007.05.003
Acknowledgment
This work was supported by Grant No. ROA-2006-000-10274-0 from the National Research Laboratory Program of the Korean Science and Engineering Foundation.
About this article
Cite this article
Ra, GS., Jha, S.K., Yoon, TS. et al. Improvement of dynamic characteristics of polydimethylsiloxane based microvalve. Microsyst Technol 15, 607–609 (2009). https://doi.org/10.1007/s00542-008-0743-8
Received:

Accepted:

Published:

Issue Date:

DOI: https://doi.org/10.1007/s00542-008-0743-8
Keywords
PDMS

Microfluidic System

Liquid Flow Rate

Micro Electro Mechanical System

PDMS Membrane