Abstract
Purpose
We investigated whether preoperative inflammatory markers, i.e., the neutrophil–lymphocyte ratio (NLR), platelet–lymphocyte ratio (PLR), mean platelet volume (MPV), and platelet distribution width (PDW) can predict the development of postoperative delirium (POD) after esophagectomy.
Patients and methods
This single-center, retrospective, observational study included 110 patients who underwent an esophagectomy. We assigned the patients with the Intensive Care Delirium Screening Checklist score ≥ 4 to the POD group. We performed multivariable logistic regression analyses to determine whether the NLR, PLR, MPV, and PDW can be used to predict the development of POD.
Results
The POD group had 20 patients; the non-POD group included the other 90 patients. Although only the preoperative NLR in the POD group was significantly higher than in the non-POD group (3.20 [2.52–4.30] vs. 2.05 [1.45–3.02], p = 0.001), multivariable logistic regression analyses showed that the following three parameters were independent predictors of POD: preoperative NLR ≥ 2.45 (adjusted odds ratio [aOR]: 8.68, 95%CI 2.33–32.4, p = 0.001), MPV ≥ 10.4 (aOR: 3.93, 95%CI: 1.37–11.2, p = 0.011), and PDW ≥ 11.8 (aOR: 3.58, 95%CI: 1.22–10.5, p = 0.020).
Conclusion
Our analysis results demonstrated that preoperative NLR ≥ 2.45, MPV ≥ 10.4, and PDW ≥ 11.8 were significantly associated with a higher risk of POD after adjustment for possible confounding factors. However, as the AUCs of the preoperative MPV and PDW for the prediction of the development of POD in univariable ROC analyses were low, large prospective studies are needed to confirm this result.
Access options
Buy single article
Instant access to the full article PDF.
USD 39.95
Price includes VAT (USA)
Tax calculation will be finalised during checkout.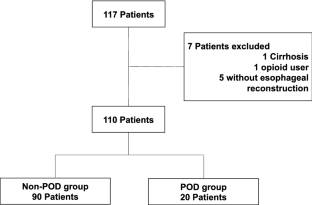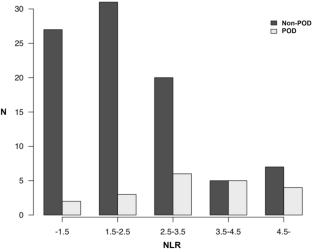 Ethics declarations
Conflict of interest
None.
Additional information
Publisher's Note
Springer Nature remains neutral with regard to jurisdictional claims in published maps and institutional affiliations.
About this article
Cite this article
Oyama, T., Kinoshita, H., Takekawa, D. et al. Higher neutrophil-to-lymphocyte ratio, mean platelet volume, and platelet distribution width are associated with postoperative delirium in patients undergoing esophagectomy: a retrospective observational study. J Anesth (2021). https://doi.org/10.1007/s00540-021-03007-6
Received:

Accepted:

Published:
Keywords
Esophagectomy

Postoperative delirium

Neutrophil-to-lymphocyte ratio

Mean platelet volume

Platelet distribution width