Abstract
This systematic review aimed to compare the analgesic effectiveness and complications rates for anterior suprascapular nerve blocks (ASSB) compared to interscalene brachial plexus blocks (ISB) for arthroscopic and outpatient shoulder surgery. Only randomized controlled trials (RCTs) comparing the ASSB versus ISB in the context of arthroscopic shoulder surgery were eligible for inclusion. The primary outcomes included pain scores (Numeric Rating Scale of 0 to 10) up to 24 h postoperatively and analgesic consumption. Secondary outcomes included block complications. Meta-analysis was performed using random-effects modeling and result certainty was determined using the GRADEpro tool. Six RCTs (709 patients) were included for analysis. ISB displayed a statistically significant reduction in pain scores by 0.40 (95%CI = 0.36 to 0.45; p < 0.00001) but not morphine equivalent consumption (mean difference = 0.74 mg; 95%CI = − 0.18 to 1.66 mg; I2 = 60%; p = 0.11; moderate certainty) immediately in the postoperative care unit. Opioid consumption and pain scores at 6 to 24 h were not significantly different. There was no difference in respiratory events postblock. ASSB demonstrated a significantly lower incidence of Horner's syndrome (relative risk (RR) = 0.17; 95%CI = 0.08 to 0.39; p < 0.00001; high certainty), voice hoarseness (RR = 0.24; 95%CI = 0.10 to 0.57; p < 0.00001; high certainty) and impaired respiratory function (p < 0.00001). The ASSB could be considered an appropriate analgesic option for arthroscopic shoulder surgery with potentially fewer complications than the ISB.
Access options
Buy single article
Instant access to the full article PDF.
USD 39.95
Price excludes VAT (USA)
Tax calculation will be finalised during checkout.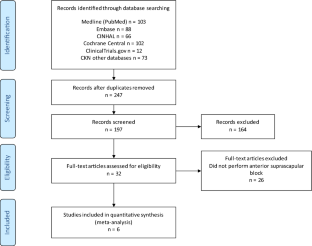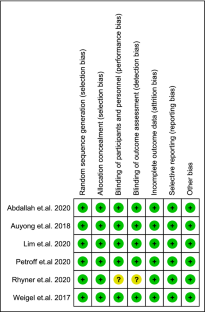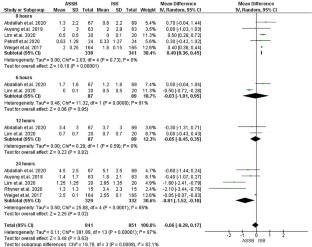 References
Jain NB, Higgins LD, Losina E, Collins J, Blazar PE, Katz JN. Epidemiology of musculoskeletal upper extremity ambulatory surgery in the United States. BMC Musculoskelet Disord. 2014;15:4.

Leroux TS, Basques BA, Frank RM, Griffin JW, Nicholson GP, Cole BJ, Verma NN. Outpatient total shoulder arthroplasty: a population-based study comparing adverse event and readmission rates to inpatient total shoulder arthroplasty. J Shoulder Elbow Surg. 2016;25(11):1780–6.

Marshall SI, Chung F. Discharge criteria and complications after ambulatory surgery. Anesth Analg. 1999;88(3):508–17.

Jakobsson JG. Recovery and discharge criteria after ambulatory anesthesia: can we improve them? Curr Opin Anaesthesiol. 2019;32(6):698–702.

Hughes MS, Matava MJ, Wright RW, Brophy RH, Smith MV. Interscalene brachial plexus block for arthroscopic shoulder surgery: a systematic review. J Bone Jt Surg Am. 2013;95(14):1318–24.

Atchabahian A, Schwartz G, Hall CB, Lajam CM, Andreae MH. Regional analgesia for improvement of long-term functional outcome after elective large joint replacement. Cochrane Database Syst Rev. 2015;8: CD10278.

Warrender WJ, Syed UA, Hammoud S, Emper W, Ciccotti MG, Abboud JA, Freedman KB. Pain management after outpatient shoulder arthroscopy: a systematic review of randomized controlled trials. Am J Sports Med. 2017;45(7):1676–86.

Hamilton GM, Ramlogan R, Lui A, McCartney CJ, Abdallah F, McVicar J, McIsaac DI. Peripheral nerve blocks for ambulatory shoulder surgery: a population-based cohort study of outcomes and resource utilization. Anesthesiology. 2019;131(6):1254–63.

Fredrickson MJ, Krishnan S, Chen CY. Postoperative analgesia for shoulder surgery: a critical appraisal and review of current techniques. Anaesthesia. 2010;65(6):608–24.

Fujimura N, Namba H, Tsunoda K, Kawamata T, Taki K, Igarasi M, Namiki A. Effect of hemidiaphragmatic paresis caused by interscalene brachial plexus block on breathing pattern, chest wall mechanics, and arterial blood gases. Anesth Analg. 1995;81(5):962–6.

El-Boghdadly K, Chin KJ, Chan VWS. Phrenic nerve palsy and regional anesthesia for shoulder surgery: anatomical, physiologic, and clinical considerations. Anesthesiology. 2017;127(1):173–91.

Auyong DB, Hanson NA, Joseph RS, Schmidt BE, Slee AE, Yuan SC. Comparison of anterior suprascapular, supraclavicular, and interscalene nerve block approaches for major outpatient arthroscopic shoulder surgery: a randomized, double-blind. Noninferiority Trial Anesthesiol. 2018;129(1):47–57.

Seltzer JL. Hoarseness and Horner's syndrome after interscalene brachial plexus block. Anesth Analg. 1977;56(4):585–6.

Lenters TR, Davies J, Matsen FA 3rd. The types and severity of complications associated with interscalene brachial plexus block anesthesia: local and national evidence. J Shoulder Elbow Surg. 2007;16(4):379–87.

Hussain N, Goldar G, Ragina N, Banfield L, Laffey JG, Abdallah FW. Suprascapular and interscalene nerve block for shoulder surgery: a systematic review and meta-analysis. Anesthesiology. 2017;127(6):998–1013.

Lim YC, Koo ZK, Ho VW, Chang SS, Manohara S, Tong QJ. Randomized, controlled trial comparing respiratory and analgesic effects of interscalene, anterior suprascapular, and posterior suprascapular nerve blocks for arthroscopic shoulder surgery. Korean J Anesthesiol. 2020;73(5):408–16.

Ferré F, Pommier M, Laumonerie P, Ferrier A, Menut R, Bosch L, Balech V, Bonnevialle N, Minville V. Hemidiaphragmatic paralysis following ultrasound-guided anterior vs posterior suprascapular nerve block: a double-blind, randomised control trial. Anaesthesia. 2020;75(4):499–508.

Abdallah FW, Halpern SH, Aoyama K, Brull R. Will the real benefits of single-shot interscalene block please stand up? A systematic review and meta-analysis. Anesth Analg. 2015;120(5):1114–29.

Breivik EK, Bjornsson GA, Skovlund E. A comparison of pain rating scales by sampling from clinical trial data. Clin J Pain. 2000;16(1):22–8.

Tashjian RZ, Hung M, Keener JD, Bowen RC, McAllister J, Chen W, Ebersole G, Granger EK, Chamberlain AM. Determining the minimal clinically important difference for the American Shoulder and Elbow Surgeons score, Simple Shoulder Test, and visual analog scale (VAS) measuring pain after shoulder arthroplasty. J Shoulder Elbow Surg. 2017;26(1):144–8.

Kehlet H. Postoperative opioid sparing to hasten recovery: what are the issues? Anesthesiology. 2005;102(6):1083–5.

Higgins JP, Altman DG, Gøtzsche PC, Jüni P, Moher D, Oxman AD, Savović J, Schulz KF, Weeks L, Sterne JA. The Cochrane Collaboration's tool for assessing risk of bias in randomised trials. BMJ. 2011;343:5928.

Puhan MA, Schunemann HJ, Murad MH, Li T, Brignardello-Petersen R, Singh JA, et al. A GRADE Working Group approach for rating the quality of treatment effect estimates from network meta-analysis. BMJ. 2014;349:5630.

Abdallah FW, Wijeysundera DN, Laupacis A, Brull R, Mocon A, Hussain N, Thorpe KE, Chan VW. Subomohyoid anterior suprascapular block versus interscalene block for arthroscopic shoulder surgery: a multicenter randomized trial. Anesthesiology. 2020;132(4):839–53.

Petroff D, Wiegel M, Pech V, Salz P, Mrongowius J, Reske AW. Differential lung ventilation assessed by electrical impedance tomography in ultrasound-guided anterior suprascapular nerve block vs interscalene brachial plexus block: a patient and assessor-blind, randomised controlled trial. Eur J Anaesthesiol. 2020;37(12):1105–14.

Rhyner P, Kirkham K, Hirotsu C, Farron A, Albrecht E. A randomised controlled trial of shoulder block vs interscalene brachial plexus block for ventilatory function after shoulder arthroscopy. Anaesthesia. 2020;75(4):493–8.

Wiegel M, Moriggl B, Schwarzkopf P, Petroff D, Reske AW. Anterior suprascapular nerve block versus interscalene brachial plexus block for shoulder surgery in the outpatient setting: a randomized controlled patient- and assessor-blinded trial. Reg Anesth Pain Med. 2017;42(3):310–8.

Toma O, Persoons B, Pogatzki-Zahn E, Van de Velde M, Joshi GP, Collaborators PWG. PROSPECT guideline for rotator cuff repair surgery: systematic review and procedure-specific postoperative pain management recommendations. Anaesthesia. 2019;74(10):1320–31.

Sabaté A, Porteiro L, Ibáñez B, Koo M, Pi A. Neurological complications associated with ultrasound-guided interscalene and supraclavicular block in elective surgery of the shoulder and arm. Prospective observational study in a university hospital. Rev Esp Anestesiol Reanim. 2013;60(7):384–91.

Misamore G, Webb B, McMurray S, Sallay P. A prospective analysis of interscalene brachial plexus blocks performed under general anesthesia. J Shoulder Elbow Surg. 2011;20(2):308–14.

Mostafa RM, Mejadi A. Quadriplegia after interscalene block for shoulder surgery in sitting position. Br J Anaesth. 2013;111(5):846–7.

Münch J, Volk T. Nerve injuries associated with nerve blocks: clinic and incidence. Anasthesiol Intensivmed Notfallmed Schmerzther. 2012;47(5):320–5.

Siegenthaler A, Moriggl B, Mlekusch S, Schliessbach J, Haug M, Curatolo M, Eichenberger U. Ultrasound-guided suprascapular nerve block, description of a novel supraclavicular approach. Reg Anesth Pain Med. 2012;37(3):325–8.
Ethics declarations
Conflict of interest
The authors declare that they do not have any conflict of interest.
Additional information
Publisher's Note
Springer Nature remains neutral with regard to jurisdictional claims in published maps and institutional affiliations.
Supplementary Information
Below is the link to the electronic supplementary material.
About this article
Cite this article
White, L., Reardon, D., Davis, K. et al. Anterior suprascapular nerve block versus interscalene brachial plexus block for arthroscopic shoulder surgery: a systematic review and meta-analysis of randomized controlled trials. J Anesth 36, 17–25 (2022). https://doi.org/10.1007/s00540-021-03000-z
Received:

Accepted:

Published:

Issue Date:

DOI: https://doi.org/10.1007/s00540-021-03000-z
Keywords
Shoulder surgery

Arthroscopy

Regional anesthesia

Suprascapular nerve