Abstract
Intraoperative neuromonitoring is widely used to prevent accidental injury during thyroid surgery. Anesthesia should be performed without muscle relaxant or agents with high muscle-relaxant potency. Remimazolam, a novel intravenous anesthetic, became available for clinical use in 2020. Remimazolam is an ultra-short-acting benzodiazepine with a very high clearance rate. However, there are very few data regarding its effect on currently used intraoperative neurological monitoring. Five patients underwent thyroid surgery using intraoperative recurrent laryngeal neuromonitoring. In all cases, intubation was performed after the administration of rocuronium. Anesthesia was maintained by continuous administration of remimazolam at the recommended dose and remifentanil, and no additional rocuronium or sugammadex was administered. Recurrent laryngeal nerve activity could be detected at the first stimulus after surgery was started, and monitoring continued thereafter. Intraoperative monitoring was performed without problems and all surgeries were completed without any complications. Anesthesia with remimazolam at the normal dose did not prolong the time to first positive electromyogram in patients undergoing thyroid surgery, and enables intraoperative recurrent laryngeal nerve monitoring to be performed without any serious perioperative adverse events. Remimazolam may provide a comparable quality of anesthesia to that of existing drugs for neuromonitoring during thyroid surgery.
Access options
Buy single article
Instant access to the full article PDF.
USD 39.95
Price includes VAT (USA)
Tax calculation will be finalised during checkout.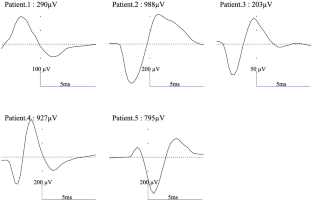 Availability of data and materials
The datasets are available from the corresponding author on reasonable request.
Abbreviations
RLN:

Recurrent laryngeal nerve

IONM:

Intraoperative neuromonitoring

NMBAs:

Neuromuscular blocking agents

NIM:

Nerve integrity monitor

EMG:

Electromyogram

BIS:

Bispectral index

CMAP:

Compound muscle action potential

GABA:

Gamma-aminobutyric acid
References
1.

Schneider R, Machens A, Randolph GW, Kamani D, Lorenz K, Dralle H. Opportunities and challenges of intermittent and continuous intraoperative neural monitoring in thyroid surgery. Gland Surg. 2017;6:537–45.

2.

Randolph GW, Dralle H, Abdullah H. Electrophysiologic recurrent laryngeal nerve monitoring during thyroid and parathyroid surgery: international standards guideline statement. Laryngoscope. 2011;121(Suppl):S1-16.

3.

Zheng H, Jiang L, Wang X, Hu J, Ning J, Wang D, Li B, Zheng G, Xu J. Application experience of intraoperative neuromonitoring in thyroidectomy. Int J Exp Med. 2015;8:22359–64.

4.

Chang PY, Wu CW, Chen HY, Chen HC, Cheng KI, Lu IC, Chiang FY. Influence of intravenous anesthetics on neuromonitoring of the recurrent laryngeal nerve during thyroid surgery. Kaohsiung J Med Sci. 2014;30:499–503.

5.

Bock M, Klippel K, Nitsche B, Bach A, Martin E, Motsch J. Rocuronium potency and recovery characteristics during steady-state desflurane, sevoflurane, isoflurane or propofol anaesthesia. Br J Anaesth. 2000;84:43–7.

6.

Keam SJ. Remimazolam: first approval. Drugs. 2020;80:625–63.

7.

Doi M, Hirata N, Suzuki T, Morisaki H, Morimatsu H, Sakamoto A. Safety and efficacy of remimazolam in induction and maintenance of general anesthesia in high-risk surgical patients (ASA Class III): results of a multicenter, randomized, double-blind, parallel-group comparative trial. J Anesth. 2020;34:491–501.

8.

Kondo T, Toyota Y, Narasaki S, Watanabe T, Miyoshi H, Saeki N, Tsutsumi YM. Intraoperative responses of motor evoked potentials to the novel intravenous anesthetic remimazolam during spine surgery: a report of two cases. JA Clin Rep. 2020;6:97–102.

9.

Alvarez-Gomez JA, Estelles ME, Fabregat J, Perez F, Brugger AJ. Pharmacokinetics and pharmacodynamics of rocuronium bromide in adult patients. Eur J Anaesthesiol Suppl. 1994;9:53–6.

10.

Goudra BG, Singh PM. Remimazolam: the future of its sedative potential. Saudi J Anaesth. 2014;8:388–91.

11.

Sanger DJ, Benavides J, Perrault G, Morel E, Cohen C, Joly D, Zivkovic B. Recent developments in the behavioral pharmacology of benzodiazepine (omega) receptors: evidence for the functional significance of receptor subtypes. Neurosci Biobehav Rev. 1994;18:355–72.

12.

Lundstrøm LH, Møller AM, Rosenstock C, Astrup G, Gätke MR, Watterslev J. Avoidance of neuromuscular blocking agents may increase the risk of difficult tracheal intubation: a cohort study of 103,812 consecutive adult patients recorded in the Danish Anaesthesia Database. Br J Anaesth. 2009;103:283–90.

13.

Lowry DW, Mirakhur RK, McCarthy GJ, Carroll MT, McCourt KC. Neuromuscular effects of rocuronium during sevoflurane, isoflurane, and intravenous anesthesia. Anesth Analg. 1998;87:936–40.

14.

Vanlinthout LE, Booij LH, van Egmond J, Robertson EN. Effect of isoflurane and sevoflurane on the amplitude and time course of neuromuscular block produced by vecuronium, pancuronium and atracurium. Br J Anaesth. 1996;76:389–95.
Acknowledgements
The authors wish to thank Shoto Yamada of the Department of Clinical Engineering, Sapporo Medical University Hospital, for assistance with management of perioperative neuromonitoring.
Funding
The authors have no sources of funding to declare related to this manuscript.
Ethics declarations
Conflict of interest
The authors declare that they have no competing interests.
Ethics approval and consent to participate
Ethics approval is not applicable because this manuscript is a case series.
Consent for publication
Written informed consent was obtained from the patients for the publication of this case series.
Additional information
Publisher's Note
Springer Nature remains neutral with regard to jurisdictional claims in published maps and institutional affiliations.
About this article
Cite this article
Hayamizu, K., Chaki, T., Tachibana, S. et al. Effect of remimazolam on intraoperative neuromonitoring during thyroid surgery: a case series. J Anesth 35, 581–585 (2021). https://doi.org/10.1007/s00540-021-02955-3
Received:

Accepted:

Published:

Issue Date:
Keywords
Remimazolam

Neuromonitoring

NIM monitoring

Intravenous anesthesia