Abstract
Objective
This paper aims to compare the incidence of SpO2 values < 95% and < 90% of the obese patients between conscious sedation and deep sedation and whether conscious sedation was superior to the deep sedation for obese patients during diagnostic gastroscopy.
Methods
Obese patients undergoing diagnostic gastroscopy were randomly assigned to two different intervention groups: group CS (conscious sedation) or group DS (deep sedation). Group CS patients were managed by conscious sedation [Modified Observer Assessment of Alertness/Sedation (MOAA/S) at 4–5] protocol, and group DS patients were managed by deep sedation (MOAA/S at ≤ 2) protocol. Propofol and sufentanil (0.1 and 0.05 mg/kg) were, respectively, infused for sedation and analgesia in CS and DS protocols. The primary endpoints were to compare the incidence of SpO2 values < 95% and < 90% of the patients between the two groups. The incidence of successful sedation, satisfaction scores of patients and endoscopist were assessed as secondary endpoints.
Results
115 obese patients (59 in group CS and 56 in group DS) were enrolled in this study. The incidences of SpO2 < 95% and < 90% in group CS (42.4% and 6.8%) were significantly lower than those in group DS (69.6% and 19.6%, with P = 0.003 and 0.041, respectively). The incidence of successful sedation was similar between groups (86.4% vs 89.3%, P = 0.641). Patient satisfaction scores and endoscopist satisfaction scores were both similar between groups (P = 0.548 and 0.171).
Conclusion
Conscious sedation with propofol and sufentanil (0.1 mg/kg) reduced the incidence of hypoxic events without affecting gastroscopy procedure and satisfaction compared with the deep sedation for obese patients during diagnostic gastroscopy.
Trial registration
ChiCTR-1900024894; registration date, July 31, 2019. http://www.chictr.org.cn.
Access options
Buy single article
Instant access to the full article PDF.
US$ 39.95
Tax calculation will be finalised during checkout.
Subscribe to journal
Immediate online access to all issues from 2019. Subscription will auto renew annually.
US$ 79
Tax calculation will be finalised during checkout.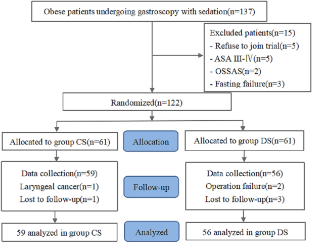 Availability of data and materials
The datasets used and/or analyzed during the current study are available from the corresponding author upon reasonable request.
References
1.

Banks M, Graham D, Jansen M, Gotoda T, Coda S, di Pietro M, Uedo N, Bhandari P, Pritchard DM, Kuipers EJ, Rodriguez-Justo M, Novelli MR, Ragunath K, Shepherd N, Dinis-Ribeiro M. British Society of Gastroenterology guidelines on the diagnosis and management of patients at risk of gastric adenocarcinoma. Gut. 2019;68:1545–75.

2.

Zaanan A, Bouché O, Benhaim L, Buecher B, Chapelle N, Dubreuil O, Fares N, Granger V, Lefort C, Gagniere J, Meilleroux J, Baumann AS, Vendrely V, Ducreux M, Michel P. Thésaurus National de Cancérologie Digestive (TNCD). Gastric cancer: French intergroup clinical practice guidelines for diagnosis, treatments and follow-up (SNFGE, FFCD, GERCOR, UNICANCER, SFCD, SFED, SFRO). Dig Liver Dis. 2018;50:768–79.

3.

ASGE Standards of Practice Committee, Evans JA, Chandrasekhara V, Chathadi KV, Decker GA, Early DS, Fisher DA, Foley K, Hwang JH, Jue TL, Lightdale JR, Pasha SF, Sharaf R, Shergill AK, Cash BD, DeWitt JM. The role of endoscopy in the management of premalignant and malignant conditions of the stomach. Gastrointest Endosc. 2015;82:1–8.

4.

Lahner E, Zagari RM, Zullo A, Di Sabatino A, Meggio A, Cesaro P, Lenti MV, Annibale B, Corazza GR. Chronic atrophic gastritis: Natural history, diagnosis and therapeutic management. A position paper by the Italian Society of Hospital Gastroenterologists and Digestive Endoscopists [AIGO], the Italian Society of Digestive Endoscopy [SIED], the Italian Society of Gastroenterology [SIGE], and the Italian Society of Internal Medicine [SIMI]. Dig Liver Dis. 2019;51:1621–32.

5.

Meining A, Semmler V, Kassem AM, Sander R, Frankenberger U, Burzin M, Reichenberger J, Bajbouj M, Prinz C, Schmid RM. The effect of sedation on the quality of upper gastrointestinal endoscopy: an investigator-blinded, randomized study comparing propofol with midazolam. Endoscopy. 2007;39:345–9.

6.

Barends CRM, Absalom AR, Struys MMRF. Drug selection for ambulatory procedural sedation. Curr Opin Anaesthesiol. 2018;31:673–8.

7.

Dossa F, Dubé C, Tinmouth J, Sorvari A, Rabeneck L, McCurdy BR, Dominitz JA, Baxter NN. Practice recommendations for the use of sedation in routine hospital-based colonoscopy. BMJ Open Gastroenterol. 2020;7:e000348.

8.

ASGE Standards of Practice Committee, Early DS, Lightdale JR, Vargo JJ, Acosta RD, Chandrasekhara V, Chathadi KV, Evans JA, Fisher DA, Fonkalsrud L, Hwang JH, Khashab MA, Muthusamy VR, Pasha SF, Saltzman JR, Shergill AK, Cash BD, DeWitt JM. Guidelines for sedation and anesthesia in GI endoscopy. Gastrointest Endosc. 2018;87:327–37.

9.

Conigliaro R, Fanti L, Manno M, Brosolo P. Italian Society of Digestive Endoscopy (SIED) Sedation Group. Italian Society of Digestive Endoscopy (SIED) position paper on the non-anaesthesiologist administration of propofol for gastrointestinal endoscopy. Dig Liver Dis. 2017;49:1185–90.

10.

Dumonceau JM, Riphaus A, Schreiber F, Vilmann P, Beilenhoff U, Aparicio JR, Vargo JJ, Manolaraki M, Wientjes C, Rácz I, Hassan C, Paspatis G. Non-anesthesiologist administration of propofol for gastrointestinal endoscopy: European Society of Gastrointestinal Endoscopy, European Society of Gastroenterology and Endoscopy Nurses and Associates Guideline-Updated June 2015. Endoscopy. 2015;47:1175–89.

11.

Hillman DR, Walsh JH, Maddison KJ, Platt PR, Kirkness JP, Noffsinger WJ, Eastwood PR. Evolution of changes in upper airway collapsibility during slow induction of anesthesia with propofol. Anesthesiology. 2009;111:63–71.

12.

Perel A. Non-anaesthesiologists should not be allowed to administer propofol for procedural sedation: a Consensus Statement of 21 European National Societies of Anaesthesia. Eur J Anaesthesiol. 2011;28:580–4.

13.

Shin S, Lee SK, Min KT, Kim HJ, Park CH, Yoo YC. Sedation for interventional gastrointestinal endoscopic procedures: are we overlooking the "pain"? Surg Endosc. 2014;28:100–7.

14.

McQuaid KR, Laine L. A systematic review and meta-analysis of randomized, controlled trials of moderate sedation for routine endoscopic procedures. Gastrointest Endosc. 2008;67:910–23.

15.

Sasaki T, Tanabe S, Ishido K, Azuma M, Katada C, Higuchi K, Koizumi W. Recommended sedation and intraprocedural monitoring for gastric endoscopic submucosal dissection. Dig Endosc. 2013;25(Suppl 1):79–85.

16.

McVay T, Fang JC, Taylor L, Au A, Williams W, Presson AP, Al-Dulaimi R, Volckmann E, Ibele A. Safety analysis of bariatric patients undergoing outpatient upper endoscopy with non-anesthesia administered propofol sedation. Obes Surg. 2017;27:1501–7.

17.

Laffin AE, Kendale SM, Huncke TK. Severity and duration of hypoxemia during outpatient endoscopy in obese patients: a retrospective cohort study. Can J Anaesth. 2020;67:1182–9.

18.

Zhao YJ, Liu S, Mao QX, Ge HJ, Wang Y, Huang BQ, Wang WC, Xie JR. Efficacy and safety of remifentanil and sulfentanyl in painless gastroscopic examination: a prospective study. Surgical Laparoscopy Endoscopy & Percutaneous Techniques. 2015;25:e57–60.

19.

Yin N, Xia J, Cao YZ, Lu X, Yuan J, Xie J. Effect of propofol combined with opioids on cough reflex suppression in gastroscopy: study protocol for a double-blind randomized controlled trial. Bmj Open. 2017;7:e014881.

20.

Nuttall FQ. Body mass index: obesity, BMI, and health: a critical review. Nutr Today. 2015;50:117–28.

21.

Training Committee, American Society for Gastrointestinal Endoscopy. Training guideline for use of propofol in gastrointestinal endoscopy. Gastrointest Endosc. 2004;60:167-72.

22.

Wang SY, Welch TD, Sangha RS, Maloney RW, Cui Z, Kaplan AV. Dofetilide-associated QT prolongation: total body weight versus adjusted or ideal body weight for dosing. J Cardiovasc Pharmacol. 2018;72:161–5.

23.

Shin S, Park CH, Kim HJ, Park SH, Lee SK, Yoo YC. Patient satisfaction after endoscopic submucosal dissection under propofol-based sedation: a small premedication makes all the difference. Surgical Endoscopy. 2017;31:2636–44.

24.

American Society of Anesthesiologists Task Force on Sedation and Analgesia by Non-Anesthesiologists. Practice guidelines for sedation and analgesia by non-anesthesiologists. Anesthesiology. 2002;96:1004-17.

25.

Cohen LB, Delegge MH, Aisenberg J, Brill JV, Inadomi JM, Kochman ML, Piorkowski JD, AGA Institute. AGA Institute review of endoscopic sedation. Gastroenterology. 2007;133(2):675–701.

26.

Aldrete JA. The post-anesthesia recovery score revisited. J Clin Anesth. 1995;7(1):89–91.

27.

Allam S, Anderson KJ, O'Brien C, Macpherson JA, Gambhir S, Leitch JA, Kenny GN. Patient-maintained propofol sedation using reaction time monitoring: a volunteer safety study. Anaesthesia. 2013;68:154–8.

28.

Ominami M, Nagami Y, Shiba M, Tominaga K, Sakai T, Maruyama H, Kato K, Minamino H, Fukunaga S, Tanaka F, Sugimori S, Kamata N, Machida H, Yamagami H, Tanigawa T, Watanabe T, Fujiwara Y, Arakawa T. Comparison of propofol with midazolam in endoscopic submucosal dissection for esophageal squamous cell carcinoma: a randomized controlled trial. J Gastroenterol. 2018;53:397–406.

29.

Gotoda T, Okada H, Hori K, Kawahara Y, Iwamuro M, Abe M, Kono Y, Miura K, Kanzaki H, Kita M, Kawano S, Yamamoto K. Propofol sedation with a target-controlled infusion pump and bispectral index monitoring system in elderly patients during a complex upper endoscopy procedure. Gastrointest Endosc. 2016;83:756–64.

30.

Yoo YC, Park CH, Shin S, Park Y, Lee SK, Min KT. A comparison of sedation protocols for gastric endoscopic submucosal dissection: moderate sedation with analgesic supplementation vs analgesia targeted light sedation. Br J Anaesth. 2015;115:84–8.
Acknowledgements
The authors are grateful to all participants for their cooperation.
Funding
This study was supported by a grant from the Science and Technology Department of Jiaxing City, China (No. 2019AD32148). The granting institution did not play any role in the design collection, analysis, or interpretation of the data for the study, or in the writing of the manuscript.
Ethics declarations
Conflict of interest
The authors declare that they have no conflict of interest.
Ethics approval
The Ethics Committee of the Second Affiliated Hospital of Jiaxing University approved this randomized controlled trial (JXEY-2019JX178).
Consent to participate
Written informed consent was obtained from each patient.
Additional information
Publisher's Note
Springer Nature remains neutral with regard to jurisdictional claims in published maps and institutional affiliations.
About this article
Cite this article
Kang, S., Lu, J. & Zhou, Hm. Anesthetic strategy for obese patients during gastroscopy: deep sedation or conscious sedation? A prospective randomized controlled trial. J Anesth 35, 555–562 (2021). https://doi.org/10.1007/s00540-021-02951-7
Received:

Accepted:

Published:

Issue Date:
Keywords
Conscious sedation

Obesity

Hypoxemia

Gastroscopy

Propofol