Abstract
Recent technological developments in three-dimensional (3D) printing have created new opportunities for applications in clinical medicine. 3D printing has been adopted for teaching and planning complicated surgeries, including maxillofacial, orthopedic reconstructions, and airway manipulation for one-lung ventilation or airway stenting. We present here the first use of such technology to print a model from in utero imaging for intrapartum treatment planning. A 32-week fetus presented with congenital high airway obstruction syndrome (CHAOS) due to a large cervical lymphatic malformation. An ex utero intrapartum treatment (EXIT) procedure was planned to allow delivery of a viable infant. We printed a 3D model of the fetal airway by printing separate elements: mandible, tongue, mass, larynx, and trachea from the fetal MRI. The elements were stuck together maintaining correct anatomical relationships. Airway planning was then performed in consultation with a pediatric ear nose and throat (ENT) surgeon. 3D modeling in utero presents many challenges: the resolution of the 3D model generated from a fetal MRI is less crisp than from CT images, fetal position may be variable and not in a defined anatomical plane, movement artifact occurs. Nevertheless, pre-procedure simulations with the aid of 3D modeling promoted team cooperation and well-prepared management of the fetus during EXIT.
Access options
Buy single article
Instant access to the full article PDF.
USD 39.95
Price includes VAT (USA)
Tax calculation will be finalised during checkout.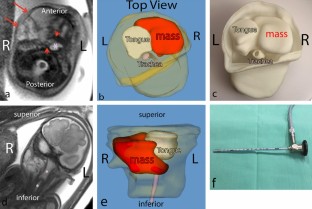 References
1.

Cassart M, Garel C. European overview of current practice of fetal imaging by pediatric radiologists: a new task force is launched. Pediatr Radiol. 2020;50(12):1794–8.

2.

Puricelli MD, Rahbar R, Allen GC, Balakrishnan K, Brigger MT, Daniel SJ, Fayoux P, Goudy S, Hewitt R, Hsu WC, Ida JB, Johnson R, Leboulanger N, Rickert SM, Roy S, Russell J, Rutter M, Sidell D, Soma M, et al. International Pediatric Otolaryngology Group (IPOG): Consensus recommendations on the prenatal and perinatal management of anticipated airway obstruction. Int J Pediatr Otorhinolaryngol. 2020;138:1–10.

3.

Laje P, Peranteau WH, Hedrick HL, Flake AW, Johnson MP, Moldenhauer JS, Adzick NS. Ex utero intrapartum treatment (EXIT) in the management of cervical lymphatic malformation. J Pediatr Surg. 2015;50(2):311–4.

4.

Liu CC, Huang YC, Yeh PH. Three-dimensional printing technology: an aid for preoperative airway evaluation in patient with situs inversus totalis. J Clin Anesth. 2018;2019(54):55–6.

5.

de Kleijn BJ, Kraeima J, Wachters JE, van der Laan BFAM, Wedman J, Witjes MJH, Halmos GB. Virtual 3D planning of tracheostomy placement and clinical applicability of 3D cannula design: a three-step study. Eur Arch Oto-Rhino-Laryngology. 2018;275(2):451–7.

6.

Shaylor R, Verenkin V, Golden E, Matot I. The use of three-dimensional printing and virtual reality to develop a personalised airway plan in a 7.5-year-old child: a case report. Eur J Anaesthesiol. 2020;37(6):512–5.

7.

Christensen A, Rybicki FJ. Maintaining safety and efficacy for 3D printing in medicine. 3D Print Med. 2017;3(1):1–10.

8.

Acr – Sir – Spr Practice Parameter on Informed Consent for Image-Guided Procedures. 2016;1076(Revised 2008):1–8.

9.

Tack P, Victor J, Gemmel P, Annemans L. 3D-printing techniques in a medical setting: a systematic literature review. Biomed Eng Online. 2016;15(1):1–21.

10.

Fiorelli A, Scaramuzzi R, Minerva I, De Ruberto E, Califano T, Reginelli A, Grassi R, Santini M. Three-dimensional (3D) printed model to plan the endoscopic treatment of upper airway stenosis. J Bronchol Interv Pulmonol. 2018;25(4):349–54.

11.

Hong CJ, Giannopoulos AA, Hong BY, Witterick IJ, Irish JC, Lee J, Vescan A, Mitsouras D, Dang W, Campisi P, de Almeida JR, Monteiro E. Clinical applications of three-dimensional printing in otolaryngology–head and neck surgery: a systematic review. Laryngoscope. 2019;129(9):2045–52.

12.

Henry CR, Denny AD. Reformatted 3D airway imaging in patients with airway obstruction and micrognathia. J Cranio-Maxillofacial Surg. 2015;43(10):2004–11.
Acknowledgements
Thanks to Phillip Berman from the Surgical 3D printing Laboratory, Tel-Aviv Medical Center for his assistance in preparing the 3D model.
Additional information
Publisher's Note
Springer Nature remains neutral with regard to jurisdictional claims in published maps and institutional affiliations.
About this article
Cite this article
Shalev, S., Ben-Sira, L., Wasserzug, O. et al. Utility of three-dimensional modeling of the fetal airway for ex utero intrapartum treatment. J Anesth 35, 595–598 (2021). https://doi.org/10.1007/s00540-021-02950-8
Received:

Accepted:

Published:

Issue Date:
Keywords
Difficult airway

Fetus

EXIT procedure

Three-dimensional model