Abstract
Purpose
The need for effective treatment for post-dural puncture headache (PDPH) is a growing research entity. This study aimed to test the effectiveness of additional dexmedetomidine (DEX) to PDPH conservative management and evaluate its cerebral hemodynamic effects trans-cranial Doppler.
Methods
This prospective randomized double-blind controlled trial was conducted on 43 post-partum females suffering from PDPH with visual analog score (VAS) ≥ 4 and Lybecker score ≥ 2. The study subjects were allocated into control group [n = 22] received nebulization of 4 mL 0.9% saline and DEX group [n = 21] received nebulization of 1 µg/kg DEX diluted in 4 mL 0.9% saline twice daily that was continued until achieving VAS score ≤ 3 and Lybecker score < 2 and/or for a maximum of 72 h. Both groups received routine conservative management. The primary outcome was the VAS and Lybecker scores and the secondary results were the DEX effects on cerebral vessels and the occurrence of any adverse effects.
Results
VAS and Lybecker scores were significantly lower in DEX group. The middle cerebral artery mean flow velocity was significantly lower, and the pulsatility index was considerably higher after DEX nebulization compared to placebo. Two patients in the control group were indicated for epidural blood patch.
Conclusion
The addition of DEX nebulization (1 µg/kg twice daily) to the PDPH conservative care effectively relieved the symptoms and lowered pain scores which could be due to its analgesic and cerebral vasoconstrictive effects.
Trial registration
This study was approved by the research ethical committee of Faculty of Medicine, Zagazig University with the reference number (ZU-IRB#: 6075/26-4-2020) and it was registered under clinicaltrials.gov (NCT04327726).
Access options
Buy single article
Instant access to the full article PDF.
USD 39.95
Price includes VAT (USA)
Tax calculation will be finalised during checkout.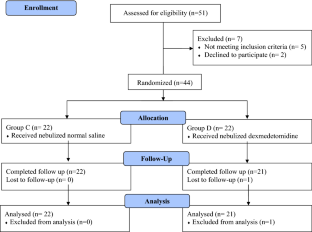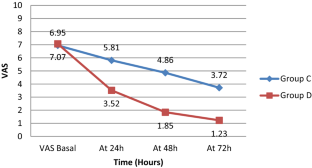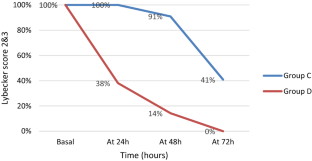 References
1.

Sachs A, Smiley R. Post-dural puncture headache: the worst common complication in obstetric anesthesia. Semin Perinatol. 2014;38:386–94.

2.

Bardon J, Ray CLE, Samama CM, Bonnet MP. Risk factors of post-dural puncture headache receiving a blood-patch in the obstetric patient. Minerva Anestesiol. 2016;82:641–8.

3.

Fitz Gerald S, Salman M. Postdural puncture headache in obstetric patients. Br J Gen Pract. 2019;69:207–8.

4.

Shah A, Bhatia PK, Tulsiani KL. Post dural puncture headache in caesarean section—a comparative study using 25G Quincke, 27G Quincke and 27G Whitacre needle. Indian J Anaesth. 2002;46:373–7.

5.

Turnbull DK, Shepherd DB. Post-dural puncture headache: pathogenesis, prevention and treatment. Br J Anaesth. 2003;91:718–29.

6.

Amorim JA, Gomes de Barros MV, Valenca MM. Post-dural (post-lumbar) puncture headache: risk factors and clinical features. Cephalalgia. 2012;32:916–23.

7.

Türkyilmaz EU, Eryilmaz NC, Güzey NA, Moraloğlu Ö. Bilateral greater occipital nerve block for treatment of post-dural puncture headache after caesarean operations. Rev Bras Anestesiol. 2016;66:445–50.

8.

Tsaousi GG, Bilotta F. Is dexmedetomidine a favorable agent for cerebral hemodynamics. Indian J Crit Care Med. 2016;20:1–2.

9.

Tang C, Huang X, Kang F, Chai X, Wang S, Yin G, Wang H, Li J. Intranasal dexmedetomidine on stress hormones, inflammatory markers, and postoperative analgesia after functional endoscopic sinus surgery. Mediators Inflamm. 2015;2015:939431.

10.

Jaakola ML, Salonen M, Lehtinen R, Scheinin H. The analgesic action of dexmedetomidine—a novel alpha 2-adrenoceptor agonist in healthy volunteers. Pain. 1991;46:281–5.

11.

Gertler R, Brown HC, Mitchell DH, Silvius EN. Dexmedetomidine: a novel sedative—analgesic agent. Bayl Univ Med Cent Proc. 2001;14:13–21.

12.

Gerlach AT, Dasta JF. Dexmedetomidine: an updated review. Ann Pharmacother. 2007;41:245–52.

13.

Drummond JC, Dao AV, Roth DM, Cheng CR, Atwater BI, Minokadeh A, Pasco LC, Patel PM. Effect of dexmedetomidine on cerebral blood flow velocity, cerebral metabolic rate, and carbon dioxide response in normal human. Anesthesiology. 2008;108:225–32.

14.

Corbey MP, Bach AB, Lech K, Frørup AM. Grading of severity of postdural puncture headache after 27-gauge Quincke and Whitacre needles. Acta Anaesthesiol Scand. 1997;41:779–84.

15.

Lybecker H, Djernes M, Schmidt JF. Postdural puncture headache (PDPH): onset, duration, severity, and associated symptoms—an analysis of 75 consecutive patients with PDPH. Acta Anaesthesiol Scand. 1995;39:605–12.

16.

Kracoff SL, Kotlovker V. Post dural puncture headache—review and suggested new treatment. Open J Anesthesiol. 2016;6:148–63.

17.

International Headache Society. The international classification of headache disorders, 2nd edition. Cephalalgia. 2004;24:1–160.

18.

Kumar A, Kumar A, Sinha C, Anant M, Singh JK. Dexmedetomidine nebulization: an answer to post-dural puncture headache? Int J Obstet Anesth. 2019;40:155–6.

19.

Bathala L, Mehndiratta MM, Sharma VK. Transcranial doppler: technique and common findings (part 1). Ann Indian Acad Neurol. 2013;16:174–9.

20.

Abu-Halaweh SA, Al Oweidi AK, Abu-Malooh H, Zabalawi M, Alkazaleh F, Abu-Ali H, Ramsay MAE. Intravenous dexmedetomidine infusion for labour analgesia in patient with preeclampsia. Eur J Anaesthesiol. 2009;26:86–7.

21.

Grewal A. Dexmedetomidine: new avenues. J Anaesthesiol Clin Pharmacol. 2011;27:297–302.

22.

Kamibayashi T, Maze M. Clinical uses of alpha2-adrenergic agonists. Anesthesiology. 2000;93:1345–9.

23.

Prielipp RC, Wall MH, Tobin JR, Groban L, Cannon MA, Fahey FH, Gage HD, Stump DA, James RL, Bennett J, Butterworth J. Dexmedetomidine-induced sedation in volunteers decreases regional and global cerebral blood flow. Anesth Analg. 2002;95:1052–9.

24.

Bekker A, Sturaitis MK. Dexmedetomidine for neurological surgery. Neurosurgery. 2005;57:1–10.

25.

Mason KP, Lerman J. Dexmedetomidine in children: current knowledge and future applications. Anesth Analg. 2011;113:1129–42.

26.

Kumar A, Kumari P, Sinha C, Kumar A, Kumar R, Kumar A. Dexmedetomidine nebulization as adjuvant to lignocaine during awake flexible fiberoptic intubation. Saudi J Anaesth. 2019;13:152–3.

27.

Anupriya J, Kurhekar P. Randomised comparison between the efficacy of two doses of nebulised dexmedetomidine for premedication in paediatric patients. Turk J Anaesthesiol Reanim. 2020;48:314–20.

28.

Kumar NR, Jonnavithula N, Padhy S, Sanapala V, Naik VV. Evaluation of nebulised dexmedetomidine in blunting haemodynamic response to intubation: a prospective randomised study. Indian J Anaesth. 2020;64:874–9.

29.

Li BL, Ni J, Huang JX, Zhang N, Song XR, Yuen VM. Intranasal dexmedetomidine for sedation in children undergoing transthoracic echocardiography study—a prospective observational study. Paediatr Anaesth. 2015;25:891–6.

30.

Miller JW, Balyan R, Dong M, Mahmoud M, Lam JE, Pratap JN, Paquin JR, Li BL, Spaeth JP, Vinks A, Loepke AW. Does intranasal dexmedetomidine provide adequate plasma concentrations for sedation in children: a pharmacokinetic study. Br J Anaesth. 2018;120:1056–65.

31.

Yoo H, Iirola T, Vilo S, Manner T, Aantaa R, Lahtinen M, Scheinin M, Olkkola KT, Jusko WJ. Mechanism-based population pharmacokinetic and pharmacodynamic modeling of intravenous and intranasal dexmedetomidine in healthy subjects. Eur J Clin Pharmacol. 2015;71:1197–207.

32.

Anttila M, Penttila J, Helminen A, Vuorilehto L, Scheinin H. Bioavailability of dexmedetomidine after extravascular doses in healthy subjects. Br J Clin Pharmacol. 2003;56:691–3.

33.

Li A, Yuen VM, Goulay-Dufay S, Sheng Y, Standing JF, Kwok PCL, Leung MKM, Leung AS, Wong ICK, Irwin MG. Pharmacokinetic and pharmacodynamic study of intranasal and intravenous dexmedetomidine. Br J Anaesth. 2018;120:960–8.

34.

Zornow MH, Maze M, Dyck JB, Shafer SL. Dexmedetomidine decreases cerebral blood flow velocity in humans. J Cereb Blood Flow Metab. 1993;13:350–3.

35.

Lam AM, Bhatia S, Lee LA, Visco E, Vavilala MS. Influence of dexmedetomidine on CO2 reactivity and cerebral autoregulation in healthy volunteers. Anesthesiology. 2001;95:A341.

36.

Arulvelan A, Manikandan S, Easwer HV, Krishnakumar K. Cerebral vascular effects of loading dose of dexmedetomidine: a transcranial color doppler study. Indian J Crit Care Med. 2016;20:9–13.

37.

Bellner J, Romner B, Reinstrup P, Kristiansson KA, Ryding E, Brandt L. Transcranial doppler sonography pulsatility index (PI) reflects intracranial pressure (ICP). Surg Neurol. 2004;62:45–51.

38.

Talke PO, Lobo EP, Brown R, Richardson CA. Clonidine induced vasoconstriction in awake volunteers. Anesth Analg. 2001;93:271–6.

39.

Tokuda T. Emerging concept of the production and absorption of cerebrospinal fluid, and recent progress in the diagnosis and treatment of iNPH. Rinsho Shinkeigaku. 2014;54:1193–6.

40.

Tokuda T, Kida S. New findings and concepts on production and absorption of cerebrospinal fluid: reconsiderations and revisions of an unquestioningly accepted dogma of 100 years. Brain Nerve. 2015;67:617–26.

41.

Miyajima M, Arai H. Evaluation of the production and absorption of cerebrospinal fluid. Neurol Med Chir (Tokyo). 2015;55:647–56.

42.

Talke P, Tong C, Lee HW, Caldwell J, Eisenach JC, Richardson CA. Effect of dexmedetomidine on lumbar cerebrospinal fluid pressure in humans. Anesth Analg. 1997;85:358–64.

43.

Venn RM, Karol MD, Grounds RM. Pharmacokinetics of dexmedetomidine infusions for sedation of postoperative patients requiring intensive care. Br J Anaesth. 2002;88:669–75.

44.

Lam SW, Alexander E, Sulsa GM. Drug update: Dexmedetomidine use in critical care. AACN Adv Crit Care. 2008;19:113–20.

45.

Serra-Serra V, Kyle PM, Chandran R, Redman CW. Maternal middle cerebral artery velocimetry in normal pregnancy and postpartum. Br J Obstet Gynaecol. 1997;104:904–9.

46.

Caglayan HZB, Nazliel B, Cinar M, Ataoglu E, Moraloglu O, Irkec C. Assessment of maternal cerebral blood flow velocity by transcranial doppler ultrasound before delivery and in the early postpartum period. J Matern Fetal Neonatal Med. 2019;32:584–9.

47.

Anzola GP, Brighenti R, Cobelli M, Giossi A, Mazzucco S, Olivato S, Pari E, Piras MP, Padovani A, Rinaldi F, Turri G. Cerebral haemodynamics in early puerperium: a prospective study. Ultrasound. 2017;25:107–14.
Ethics declarations
Conflict of interest
There are no conflicts of interest.
Additional information
Publisher's Note
Springer Nature remains neutral with regard to jurisdictional claims in published maps and institutional affiliations.
About this article
Cite this article
Mowafy, S.M.S., Ellatif, S.E.A. Effectiveness of nebulized dexmedetomidine for treatment of post-dural puncture headache in parturients undergoing elective cesarean section under spinal anesthesia: a randomized controlled study. J Anesth 35, 515–524 (2021). https://doi.org/10.1007/s00540-021-02944-6
Received:

Accepted:

Published:

Issue Date:
Keywords
Cesarean section

Dexmedetomidine nebulization

Post-dural puncture headache

Trans-cranial Doppler