Abstract
Purpose
Lumbar disc herniation is the most common spinal disorder and various less invasive techniques such as microdiscectomy have been described. However, postoperative pain management in patients undergoing discectomy is still commonly inadequate. Erector spinae plane (ESP) block is a relatively easier technique with lower risks of complications, and can be performed to provide postoperative analgesia for various procedures. The current study aimed to determine the effect of ESP block on postoperative analgesia in patients who underwent elective lumbar disc herniation repair surgeries.
Methods
Fifty-four ASA I-II patients aged 18–65 years scheduled for elective discectomy surgery were included in the study. Patients were randomized either to the ESP or control group. Ultrasound-guided ESP block with 20 mL of 0.25% bupivacaine was performed preoperatively in the ESP group patients and a sham block was performed with 20 mL normal saline in the control group patients. All the patients were provided with intravenous patient-controlled analgesia devices containing morphine. Morphine consumption and numeric rating scale (NRS) scores for pain were recorded 1, 6, 12, and 24 h after surgery.
Results
A significantly lower morphine consumption was observed at 6, 12, and 24 h timepoints in the ESP group (p < 0.05 for each timepoint). Total morphine consumption at 24 h after surgery decreased by 57% compared to that of the control group (11.3 ± 9.5 mg in the ESP group and 27 ± 16.7 mg in the control group). NRS scores were similar between the two groups.
Conclusion
This study showed that ESP block provided effective analgesia in patients who underwent lumbar disc herniation surgery.
Clinical Trials Registry
NCT03744689
Access options
Buy single article
Instant access to the full article PDF.
USD 39.95
Price includes VAT (USA)
Tax calculation will be finalised during checkout.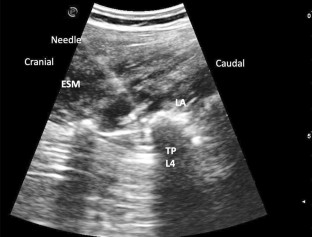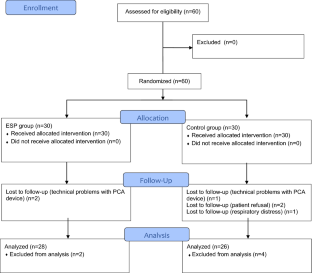 References
1.

Hoy D, March L, Brooks P, Blyth F, Woolf A, Bain C, Buchbinder R. The global burden of low back pain: estimates from the Global Burden of Disease 2010 study. Ann Rheum Dis. 2014;73(6):968–74.

2.

Fjeld OR, Grøvle L, Helgeland J, Smastuen MC, Solberg TK, Zwart J-A, Grotle M. Complications, reoperations, readmissions, and length of hospital stay in 34 639 surgical cases of lumbar disc herniation. Bone Jt J. 2019;101(4):470–7.

3.

Cares HL, Steinberg RS, Robertson ET, Caldini P. Ambulatory microsurgery for ruptured lumbar discs: report of ten cases. Neurosurgery. 1998;22(3):523–6.

4.

Filippi R, Laun J, Jage J, Perneczky A. Postoperative pain therapy after lumbar disc surgery. Acta Neurochir (Wien). 1999;141(6):613–8.

5.

Rawal N. Current issues in postoperative pain management. Eur J Anaesthesiol. 2016;33(3):160–71.

6.

Forero M, Adhikary SD, Lopez H, Tsui C, Chin KJ. The erector spinae plane block: a novel analgesic technique in thoracic neuropathic pain. Reg Anesth Pain Med. 2016;41(5):621–7.

7.

De AC, Bonvicini D, Correale C, Sandei L, Tulgar S, Tonetti T. Erector spinae plane block: a systematic qualitative review. Minerva Anestesiol. 2019;85(3):308–19.

8.

Kot P, Rodriguez P, Granell M, Cano B, Rovira L, Morales J, Broseta A, De Andres J. The erector spinae plane block: a narrative review. Korean J Anesthesiol. 2019;72(3):209–20.

9.

Cesur S, Yayik AM, Ozturk F, Ahiskalioglu A. Ultrasound-guided low thoracic erector spinae plane block for effective postoperative analgesia after lumbar surgery: report of five cases. Cureus. 2018;10(11):e3603. https://doi.org/10.7759/cureus.3603.

10.

Singh S, Choudhary NK, Lalin D, Verma VK. Bilateral ultrasound-guided erector spinae plane block for postoperative analgesia in lumbar spine surgery: a randomized control trial. J Neurosurg Anesthesiol. 2019. https://doi.org/10.1097/ANA.0000000000000603.

11.

Hamilton DL. Pneumothorax following erector spinae plane block. J Clin Anesth. 2018;25:17.

12.

Selvi O, Tulgar S. Ultrasound guided erector spinae plane block as a cause of unintended motor block. Rev Esp Anestesiol Reanim. 2018;65(10):589–92.

13.

Elkoundi A, Eloukkal Z, Bensghir M, Belyamani L. Priapism following erector spinae plane block for the treatment of a complex regional pain syndrome. Am J Emerg Med. 2019;37(4):796.

14.

Tulgar S, Aydin ME, Ahiskalioglu A, De Cassai A, Gurkan Y. Anesthetic techniques: focus on lumbar erector spinae plane block. Local Reg Anesth. 2020;13:121–33.

15.

Harbell MW, Seamans DP, Koyyalamudi V, Kraus MB, Craner RC, Langley NR. Evaluating the extent of lumbar erector spinae plane block: an anatomical study. Reg Anesth Pain Med. 2020;45(8):640–4.

16.

Chung K, Kim ED. Continuous erector spinae plane block at the lower lumbar level in a lower extremity complex regional pain syndrome patient. J Clin Anesth. 2018;48:30–1.

17.

Tulgar S, Ahiskalioglu A, De Cassai A, Gurkan Y. Efficacy of bilateral erector spinae plane block in the management of pain: current insights. J Pain Res. 2019;12:2597.

18.

Aksu C, Gurkan Y. Defining the indications and levels of erector spinae plane block in pediatric patients: a retrospective study of our current experience. Cureus. 2019;11(8):e5348. https://doi.org/10.7759/cureus.5348.

19.

Tulgar S, Senturk O. Ultrasound guided Erector Spinae Plane block at L-4 transverse process level provides effective postoperative analgesia for total hip arthroplasty. J Clin Anesth. 2018;44:68.

20.

Chiu C, Aleshi P, Esserman LJ, Inglis-Arkell C, Yap E, Whitlock EL, Harbell MW. Improved analgesia and reduced post-operative nausea and vomiting after implementation of an enhanced recovery after surgery (ERAS) pathway for total mastectomy. BMC Anesthesiol. 2018;18(1):41.
Ethics declarations
Assistance with the article
None.
Conflict of interest
The authors declare that they have no competing interest.
Additional information
Publisher's Note
Springer Nature remains neutral with regard to jurisdictional claims in published maps and institutional affiliations.
About this article
Cite this article
Yörükoğlu, H.U., İçli, D., Aksu, C. et al. Erector spinae block for postoperative pain management in lumbar disc hernia repair. J Anesth 35, 420–425 (2021). https://doi.org/10.1007/s00540-021-02920-0
Received:

Accepted:

Published:

Issue Date:
Keywords
ESP block

Postoperative analgesia

Lumbar disc hernia