Abstract
Purpose
Thoracic paravertebral block (TPVB) provides a unilateral nerve block at multiple intercostal levels allowing injection of a local anesthetic into paravertebral space (PVS) via a needle or catheter. However, the most effective injection method remains unclear. This study compared the real-time spread of ropivacaine between two paravertebral injection methods using thoracoscopy.
Methods
Thirty-four patients scheduled for thoracoscopic surgery were randomly allocated into the Needle or Catheter groups, and performed transverse in-plane ultrasound-guided TPVB. The Needle group received 20 ml of 0.5% ropivacaine via a needle placed into the lateral edge of PVS; the Catheter group received the same dose of ropivacaine via a catheter inserted 5 cm into PVS. The primary outcome was the spreading pattern of ropivacaine in each group. The secondary outcome was intraoperative vasopressor requirement after paravertebral injection.
Results
In the Needle group, all cases showed ropivacaine spread to multiple intercostal levels, mainly across the ribs. Contrastingly, the Catheter group showed variable spreading patterns; multiple intercostal levels (n = 10) [across the ribs (n = 4), anterolateral aspect of the vertebral bodies (n = 6)] or unobservable spreading (no change; n = 7) (P = 0.007). Vasopressors were required in two and ten cases in the Needle and Catheter groups, respectively (P = 0.010).
Conclusion
Paravertebral injection via a needle typically resulted in spreading to multiple intercostal levels, especially across the ribs on the peripheral side of injection site, whereas injection via a catheter resulted in variable spreading patterns. Therefore, injections via needles are more stable.
Access options
Buy single article
Instant access to the full article PDF.
US$ 39.95
Tax calculation will be finalised during checkout.
Subscribe to journal
Immediate online access to all issues from 2019. Subscription will auto renew annually.
US$ 79
Tax calculation will be finalised during checkout.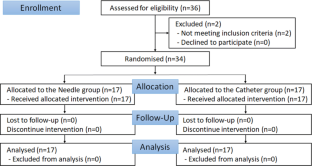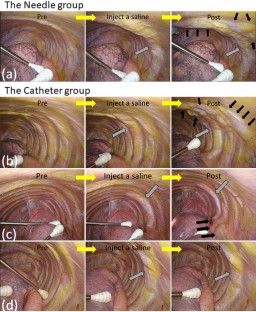 References
1.

Yoshida T, Fujiwara T, Furutani K, Ohashi N, Baba H. Effects of ropivacaine concentration on the spread of sensory block produced by continuous thoracic paravertebral block: a prospective, randomised, controlled, double-blind study. Anaesthesia. 2014;69:231–9.

2.

Marhofer D, Marhofer P, Kettner SC, Fleischmann E, Prayer D, Schernthaner M, Lackner E, Willschke H, Schwetz P, Zeitlinger M. Magnetic resonance imaging analysis of the spread of local anesthetic solution after ultrasound-guided lateral thoracic paravertebral blockade: a volunteer study. Anesthesiology. 2013;118:1106–12.

3.

Cowie B, McGlade D, Ivanusic J, Barrington MJ. Ultrasound-guided thoracic paravertebral blockade: a cadaveric study. Anesth Analg. 2010;110:1735–9.

4.

Luyet C, Eichenberger U, Greif R, Vogt A, Szücs Farkas Z, Moriggl B. Ultrasound-guided paravertebral puncture and placement of catheters in human cadavers: an imaging study. Br J Anaesth. 2009;102:534–9.

5.

Luyet C, Herrmann G, Ross S, Vogt A, Greif R, Moriggl B, Eichenberger U. Ultrasound-guided thoracic paravertebral puncture and placement of catheters in human cadavers: where do catheters go? Br J Anaesth. 2011;106:246–54.

6.

Luyet C, Siegenthaler A, Szucs-Farkas Z, Hummel G, Eichenberger U, Vogt A. The location of paravertebral catheters placed using the landmark technique. Anaesthesia. 2012;67:1321–6.

7.

Naja MZ, Ziade MF, El Rajab M, El Tayara K, Lönnqvist PA. Varying anatomical injection points within the thoracic paravertebral space: effect on spread of solution and nerve blockade. Anaesthesia. 2004;59:459–63.

8.

Renes SH, Bruhn J, Gielen MJ, Scheffer GJ, van Geffen GJ. In-plane ultrasound-guided thoracic paravertebral block: a preliminary report of 36 cases with radiologic confirmation of catheter position. Reg Anesth Pain Med. 2010;35:212–6.

9.

Paraskeuopoulos T, Saranteas T, Kouladouros K, Krepi H, Nakou M, Kostopanagiotou G, Anagnostopoulou S. Thoracic paravertebral spread using two different ultrasound-guided intercostal injection techniques in human cadavers. Clin Anat. 2010;23:840–7.

10.

Fujii T, Shibata Y, Nishiwaki K. Observation of ultrasound-guided thoracic paravertebral block using thoracoscopy. Acta Anaesthesiol Taiwan. 2016;54:101–2.

11.

Shibata Y, Nishiwaki K. Ultrasound-guided intercostal approach to thoracic paravertebral block. Anesth Analg. 2009;109:996–7.
Acknowledgements
The authors would like to express their profound gratitude to M. Nishimura (Department of Thoracic Surgery, Tosei General Hospital, Seto, Japan) for assistance with the thoracoscopy procedures for all the cases. The authors also thank Editage (https://www.editage.jp/) for providing professional editing services.
Ethics declarations
Conflict of interest
The authors declare that they have no conflicts of interest.
Additional information
Publisher's Note
Springer Nature remains neutral with regard to jurisdictional claims in published maps and institutional affiliations.
Electronic supplementary material
Below is the link to the electronic supplementary material.
Online Resource 1: Video 1. Injection via a Tuohy needle with spread across the ribs. A local anesthetic is injected into a thoracic paravertebral space via a Tuohy needle placed into the lateral edge of the paravertebral space. The local anesthetic mainly spreads into the multiple intercostal levels, especially across the ribs at the peripheral side of injection site. (MPG 6164 kb)
Online Resource 2: Video 2. Injection via a catheter and spreading at the anterolateral aspect of vertebral bodies. A local anesthetic is injected into a thoracic paravertebral space via a paravertebral catheter. The local anesthetic mainly spreads into the anterolateral aspect of vertebral bodies around the sympathetic trunk at multiple intercostal levels. (MPG 3390 kb)
Online Resource 3: Video 3. Injection via a catheter and spreading across the ribs. A local anesthetic is injected into a thoracic paravertebral space via a paravertebral catheter. The local anesthetic mainly spreads into the multiple intercostal spaces across the ribs. (MPG 3668 kb)
Online Resource 4: Video 4. Injection via a catheter and an unobservable spreading pattern. A local anesthetic is injected into a thoracic paravertebral space via a paravertebral catheter. The spreading of the local anesthetic is not identified under thoracoscopy. (MPG 2586 kb)
About this article
Cite this article
Fujii, T., Shibata, Y., Ban, Y. et al. A single paravertebral injection via a needle vs. a catheter for the spreading to multiple intercostal levels: a randomized controlled trial. J Anesth 34, 72–78 (2020). https://doi.org/10.1007/s00540-019-02713-6
Received:

Accepted:

Published:

Issue Date:
Keywords
Catheter

Needle

Paravertebral injection

Regional anesthesia

Thoracic paravertebral block