Abstract
Globally, chronic pain is a major therapeutic challenge and affects more than 15% of the population. As patients with painful terminal diseases may face unbearable pain, there is a need for more potent analgesics. Although opioid-based therapeutic agents received attention to manage severe pain, their adverse drug effects and mortality rate associated with opioids overdose are the major concerns. Evidences from clinical trials showed therapeutic benefits of cannabis, especially delta-9-tetrahydrocannabinol and cannabinoids reduced neuropathic pain intensity in various conditions. Also, there are reports on using combination cannabinoid therapies for chronic pain management. The association of cannabis dependence and addiction has been discussed much and the reports mentioned that it can be comparatively lower than other substances such as nicotine and alcohol. More countries have decided to legalise the medicinal use of cannabis and marijuana. Healthcare professionals should keep themselves updated with the changing state of medical cannabis and its applications. The pharmacokinetics and safety of medical cannabis need to be studied by conducting clinical research. The complex and variable chemically active contents of herbal cannabis and methodological limitations in the administration of cannabis to study participants, make the clinical research difficult.
Access options
Buy single article
Instant access to the full article PDF.
USD 39.95
Price includes VAT (USA)
Tax calculation will be finalised during checkout.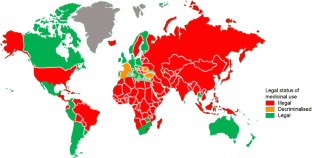 References
1.

Treede RD. The International Association for the Study of Pain definition of pain: as valid in 2018 as in 1979, but in need of regularly updated footnotes. Pain Rep. 2018;3(2):e643.

2.

Padfield D, Zakrzewska JM. Encountering pain. Lancet. 2017;389:1177–8.

3.

Goldberg DS, McGee SJ. Pain as a global public health priority. BMC Public Health. 2011;11:770.

4.

Okifuji A, Turk DC. Philosophy and efficacy of multidisciplinary approach to chronic pain management. J Anesth. 1998;12:142–52.

5.

Glare P, Aubrey KR, Myles PS. Transition from acute to chronic pain after surgery. Lancet. 2019;393:1537–46.

6.

Nugent SM, Morasco BJ, Oneil ME, Freeman M, Low A, Kondo K, Elven C, Zakher B, Motu'apuaka M, Paynter BAR, Kansagara D. The effects of cannabis among adults with chronic pain and an overview of general harms. Ann Internal Med. 2017;167:319.

7.

Katz N, Paillard FC, Ekman E. Determining the clinical importance of treatment benefits for interventions for painful orthopedic conditions. J Orthop Surg Res. 2015;10:24.

8.

Blackburn J. The diagnosis and management of chronic pain. Medicine. 2018;46:786–91.

9.

Aviram J, Samuelly-Leichtag G. Efficacy of cannabis-based medicines for pain management: a systematic review and meta-analysis of randomized controlled trials. Pain Physician. 2017;20:E755–E796796.

10.

Mitsi V, Zachariou V. Modulation of pain, nociception, and analgesia by the brain reward center. Neuroscience. 2016;338:81–92.

11.

Cazacu I, Mogosan C, Loghin F. Safety issues of current analgesics: an update. Med Pharm Rep. 2015;88:128–36.

12.

Rosenquist E, Arson MD, Park L. Evaluation of chronic pain in adults. Up To Date. 2016;2016:1–14.

13.

Marshall B, Bland M, Hulla R, Gatchel R. Considerations in addressing the opioid epidemic and chronic pain within the USA. Pain Manag. 2019;2019:131–8.

14.

Rosenblum A, Marsch LA, Joseph H, Portenoy RK. Opioids and the treatment of chronic pain: controversies, current status, and future directions. Exp Clin Psychopharmacol. 2008;2008(16):405–16.

15.

Boehnke KF, Scott JR, Litinas E, Sisley S, Williams DA, Clauw DJ. Pills to Pot: observational analyses of cannabis substitution among medical cannabis users with chronic pain. J Pain. 2019;20:830–41.

16.

Boehnke KF, Litinas E, Clauw DJ. Medical cannabis use is associated with decreased opiate medication use in a retrospective cross-sectional survey of patients with chronic pain. J Pain. 2016;17:739–44.

17.

Bachhuber MA, Saloner B, Cunningham CO, Barry CL. Medical cannabis laws and opioid analgesic overdose mortality in the United States, 1999–2010. JAMA Internal Med. 2014;174:1668–733.

18.

Shover CL, Davis CS, Gordon SC, Humphreys K. Association between medical cannabis laws and opioid overdose mortality has reversed over time. Proc Natl Acad Sci USA. 2019;116:12624–6.

19.

Varvel SA, Bridgen DT, Tao Q, Thomas BF, Martin BR, Litchman AH. Δ9 Tetrahydrocannabinol accounts for the antinociceptive, hypothermic and cataleptic effects of marijuana in mice. J Pharmacol Exp Ther. 2005;314:329–37.

20.

Buggy DJ, Toogood L, Maric S, Sharpe P, Lambert DG, Rowbotham DJ. Lack of analgesic efficacy of oral delta-9-tetrahydrocannabinol in postoperative pain. Pain. 2003;106:169–72.

21.

Freeman TP, Hindocha C, Green SF, Bloomfield MAP. Medicinal use of cannabis based products and cannabinoids. BMJ BMJ (Clinical Research Ed). 2019;365:11141.

22.

Huestis MA. Human cannabinoid pharmacokinetics. Chem Biodivers. 2007;4:1770–804.

23.

Spindle TR, Bonn-Miller MO, Vandrey R. Changing landscape of cannabis: novel products, formulations, and methods of administration. Curr Opin Psychol. 2019;30:98–102.

24.

Henschke P. Cannabis: an ancient friend or foe? What works and doesn't work. Semin Fetal Neonat Med. 2019;24:149–54.

25.

Freundt-Revilla J, Kegler K, Baumgärtner W, Tipold A. Spatial distribution of cannabinoid receptor type 1 (CB1) in normal canine central and peripheral nervous system. PLoS ONE. 2017;12:e0181064.

26.

Condie R, Herring A, Koh WS, Lee M, Kaminski NE. Cannabinoid inhibition of adenylate cyclase-mediated signal transduction and interleukin 2 (IL-2) expression in the murine T-cell line, EL4.IL-2. J Biol Chem. 1996;271(22):13175–83.

27.

Pertwee RG. The pharmacology of cannabinoid receptors and their ligands: an overview. Int J Obes. 2006;3:S13–S1818.

28.

Zou S, Kumar U. Cannabinoid receptors and the endocannabinoid system: signaling and function in the central nervous system. Int J Mol Sci. 2018;19:833.

29.

Kano M, Ohno-Shosaku T, Hashimotodani Y, Uchigashima M, Watanabe M. Endocannabinoid-mediated control of synaptic transmission. Physiol Rev. 2009;89:309–80.

30.

Howlett AC, Barth F, Bonner TI, Cabral G, Casellas P, Devane WA, Felder CC, Herkenham M, Mackie K, Martin BR, Mechoulam R, Pertwee RG. International union of pharmacology. XXVII. Classification of cannabinoid receptors. Pharmacol Rev. 2002;54:161–202.

31.

Mackie K. Distribution of cannabinoid receptors in the central and peripheral nervous system. Cannabinoids. Handbook of experimental pharmacology. Berlin: Springer; 2005. p. 168.

32.

Lynch ME, Campbell F. Cannabinoids for treatment of chronic non-cancer pain; a systematic review of randomized trials. Br J Clin Pharmacol. 2011;72:735–44.

33.

Abrams DI. The therapeutic effects of cannabis and cannabinoids: an update from the National Academies of Sciences, Engineering and Medicine report. Eur J Internal Med. 2018;49:7–11.

34.

MacCallum C, Russo EB. Practical considerations in medical cannabis administration and dosing. Eur J Int Med. 2018;49:12–9.

35.

Wiese B, Wilson-Poe AR. Emerging evidence for Cannabis' role in opioid use disorder. Cannabis Cannabinoid Res. 2018;3:179–89.

36.

Lucas P, Walsh Z. Medical cannabis access, use, and substitution for prescription opioids and other substances: a survey of authorized medical cannabis patients. Int J Drug Policy. 2017;42:30–5.

37.

Reiman A, Welty M, Solomon P. Cannabis as a substitute for opioid-based pain medication: patient self-report. Cannabis Cannabinoid Res. 2017;2:160–6.

38.

Vigil JM, Stith SS, Adams IM, Reeve AP. Associations between medical cannabis and prescription opioid use in chronic pain patients: a preliminary cohort study. Public Lib Sci One. 2017;12:e0187795.

39.

Grant I, Atkinson JH, Gouaux B, Wilsey B. Medical marijuana: clearing away the smoke. Open Neurol J. 2012;6:18–25.

40.

Hill KP. Medical marijuana for treatment of chronic pain and other medical and psychiatric problems: a clinical review. J Am Med Assoc. 2015;313:2474–83.

41.

Larriviere DG. Medical marijuana for HIV-associated sensory neuropathy: legal and ethical issues. Continuum (Minneap Minn). 2014;20:1426–9.

42.

Ellis RJ, Toperoff W, Vaida F, van den Brande G, Gonzales J, Gouaux B, Bentley H, Atkinson JH. Smoked medicinal cannabis for neuropathic pain in HIV: a randomized, crossover clinical trial. Neuropsychopharmacology. 2009;34:672–80.

43.

Wilsey B, Marcotte T, Tsodikov A, Millman J, Bentley H, Gouaux B, Fishman S. A randomized, placebo-controlled, crossover trial of cannabis cigarettes in neuropathic pain. J Pain. 2008;9:506–21.

44.

Abrams DI, Jay CA, Shade SB, Vizoso H, Reda H, Press S, Kelly ME, Rowbotham MC, Petersen KL. Cannabis in painful HIV-associated sensory neuropathy: a randomized placebo-controlled trial. Neurology. 2007;68:515–21.

45.

Zajicek J, Fox P, Sanders H, Wright D, Vickery J, Nunn A, Thompson A, UK MS Research Group. Cannabinoids for treatment of spasticity and other symptoms related to multiple sclerosis (CAMS study): multicentre randomised placebo-controlled trial. Lancet. 2003;362:1517–26.

46.

Svendsen KB, Jensen TS, Bach FW. Does the cannabinoid dronabinol reduce central pain in multiple sclerosis? Randomised double blind placebo controlled crossover trial. BMJ. 2004;329:53.

47.

Noyes R Jr, Baram DA. Cannabis analgesia. Compr Psychiatry. 1974;15:531–5.

48.

Noyes R, Brunk S, Avery D, Canter A. The analgesic properties of delta-9-tertrahydrocannabinol and codeine. Clin Pharmacol Ther. 1975;18:84–9.

49.

Perron BE, Bohnert K, Perone AK, Bonn-Miller MO, Ilgen M. Use of prescription pain medications among medical cannabis patients: comparisons of pain levels, functioning, and patterns of alcohol and other drug use. J Stud Alcohol Drugs. 2015;76:406–13.

50.

Pergolizzi JV Jr, Lequang JA, Taylor R Jr, Raffa RB, Colucci D, NEMA Research Group. The role of cannabinoids in pain control: the good, the bad, and the ugly. Miner Anestesiol. 2018;84:955–69.

51.

Boehnke KF, Gangopadhyay S, Clauw DJ, Haffajee RL. Qualifying conditions of medical cannabis license holders in the United States. Health Aff. 2019;38:295–302.

52.

Allan GM, Finley CR, Ton J, Perry D, Ramji J, Crawford K, Lindblad AJ, Korownyk C, Kolber MR. Systematic review of systematic reviews for medical cannabinoids: pain, nausea and vomiting, spasticity, and harms. Can Fam Physician. 2018;64:e78–94.

53.

Andreae MH, Carter GM, Shaparin N, Suslov K, Ellis RJ, Ware MA, Abrams DI, Prasad H, Wilsey B, Indyk D, Johnson M, Sacks HS. Inhaled cannabis for chronic neuropathic pain: a meta-analysis of individual patient data. J Pain. 2015;16:1221–322.

54.

Wilsey B, Marcotte T, Deutsch R, Gouaux B, Sakai S, Donaghe H. Low-dose vaporized cannabis significantly improves neuropathic pain. J Pain. 2013;14:136–48.

55.

Mücke M, Phillips T, Radbruch L, Petzke F, Häuser W. Cannabis-based medicines for chronic neuropathic pain in adults. Cochrane database of systematic reviews. 2018.

56.

Hill K, Palastro M, Johnson B, Ditre J. Cannabis and pain: a clinical review. Cannabis Cannabinoid Res. 2017;2:96–104.

57.

Häuser W, Fitzcharles M, Radbruch L, Petzke F. Cannabinoids in pain management and palliative medicine. Deutsches Arzteblatt Int. 2017;114:627–34.

58.

Queensland Government. Clinical guidance: for the use of medicinal cannabis products in Queensland. 2018.

59.

Bargnes V, Hart P, Gupta S, Mechtler L. Safety and efficacy of medical cannabis in elderly patients: a retrospective review in a neurological outpatient setting. Neurology. 2019;92:1–14.

60.

Raby WN, Carpenter KM, Rothenberg J, Brooks AC, Jiang H, Sullivan M, Bisaga A, Comer S, Nunes EV. Intermittent marijuana use is associated with improved retention in naltrexone treatment for opiate-dependence. Am J Addict. 2009;18:301–8.

61.

Campbell G, Hall WD, Peacock A, Lintzeris N, Bruno R, Larance B, Nielsen S, Cohen M, Chan G, Mattick RP, Blyth F, Shanahan M, Dobbins T, Farrell M, Degenhardt L. Effect of cannabis use in people with chronic non-cancer pain prescribed opioids: findings from a 4-year prospective cohort study. Lancet Public Health. 2018;3:e341–e350350.

62.

Stockings E, Campbell G, Hall WD, Nielsen S, Zagic D, Rahman R, Murnion B, Farrell M, Weier M, Degenhardt L. Cannabis and cannabinoids for the treatment of people with chronic noncancer pain conditions: a systematic review and meta-analysis of controlled and observational studies. Pain. 2018;159:1932–54.

63.

Wang T, Collet J, Shapiro S, Ware M. Adverse effects of medical cannabinoids: a systematic review. Can Med Assoc J. 2008;178:1669–788.

64.

Volkow N, Baler R, Compton W, Weiss S. Adverse health effects of marijuana use. N Engl J Med. 2017;370:2219–27.

65.

Whiting PF, Wolff RF, Deshpande S, Di Nisio M, Duffy S, Hernandez AV, Keurentjes JC, Lang S, Misso K, Ryder S, Schmidlkofer S, Westwood M, Kleijnen J. Cannabinoids for medical use. J Am Med Assoc. 2015;313:2456.

66.

Ware MA, Wang T, Shapiro S, Collet JP, COMPASS Study Team. Cannabis for the management of pain: assessment of safety study (COMPASS). J Pain. 2015;2015(16):1233–42.

67.

Volkow ND, Swanson JM, Evins AE, DeLisi LE, Meier MH, Gonzalez R, Bloomfield MA, Curran HV, Baler R. Effects of cannabis use on human behavior, including cognition, motivation and psychosis: a review. J Am Med Assoc Psychiatry. 2016;73:292–7.

68.

Crean RD, Tapert SF, Minassian A, Macdonald K, Crane NA, Mason BJ. Effects of chronic, heavy cannabis use on executive functions. J Addict Med. 2011;5:9–15.

69.

Fernández-Ruiz J, Hernández M, Ramos JA. Cannabinoid–dopamine interaction in the pathophysiology and treatment of CNS disorder. CNS Neurosci Ther. 2010;16:e72–91.

70.

Gibbs M, Winsper C, Marwaha S, Gilbert E, Broome M, Singh S. Cannabis use and mania symptoms: a systematic review and meta-analysis. J Affect Disord. 2015;171:39–47.

71.

Lenné M, Dietze P, Triggs T, Walmsley S, Murphy B, Redman J. The effects of cannabis and alcohol on simulated arterial driving: influences of driving experience and task demand. Accid Anal Prev. 2010;42:859–66.

72.

Rogeberg O, Elvik R. The effects of cannabis intoxication on motor vehicle collision revisited and revised. Addiction. 2016;111:1348–59.

73.

Schreiner A, Dunn M. Residual effects of cannabis use on neurocognitive performance after prolonged abstinence: a meta-analysis. Exp Clin Psychopharmacol. 2012;20:420–9.

74.

Zalesky A, Solowij N, Yücel M, Lubman DI, Takagi M, Harding IH, Lorenzetti V, Wang R, Searle K, Pantelis C, Seal M. Effect of long-term cannabis use on axonal fibre connectivity. Brain. 2012;135:2245–55.

75.

Meier MH, Caspi A, Ambler A, Harrington H, Houts R, Keefe RS, McDonald K, Ward A, Poulton R, Moffitt TE. Persistent cannabis users show neuropsychological decline from childhood to midlife. Proc Natl Acad Sci. 2012;109:E2657–E26642664.

76.

Simonetto D, Oxentenko A, Herman M, Szostek J. Cannabinoid hyperemesis: a case series of 98 patients. Mayo Clin Proc. 2012;87:114–9.

77.

Sorensen C, DeSanto K, Borgelt L, Phillips K, Monte A. Cannabinoid hyperemesis syndrome: diagnosis, pathophysiology, and treatment—a systematic review. J Med Toxicol. 2016;13:71–877.

78.

Uranga JA, Vera G, Abalo R. Cannabinoid pharmacology and therapy in gut disorders. Biochem Pharmacol. 2018;2018(157):134–7.

79.

Soriano-Co M, Batke M, Cappell MS. The cannabis hyperemesis syndrome characterized by persistent nausea and vomiting, abdominal pain, and compulsive bathing associated with chronic marijuana use: a report of eight cases in the United States. Dig Dis Sci. 2010;55:3113–9.

80.

Prud'homme M, Cata R, Jutras-Aswad D. Cannabidiol as an intervention for addictive behaviors: a systematic review of the evidence. Substance Abuse Res Treat. 2015;9:33–8.

81.

Bushra R, Aslam N, Ahmed KZ. Drug misuse, dependence and addiction. J Appl Pharm Sci. 2013;3:1–7.

82.

Lopez-Quintero C, Perez le dos Cobos J, Hasin DS, Okuda M, Wang S, Grant BF, Blanco C. Probability and predictors of transition from first use to dependence on nicotine, alcohol, cannabis, and cocaine: results of the National Epidemiologic Survey on Alcohol and Related Conditions (NESARC). Drug Alcohol Depend. 2011;115:120–30.

83.

George T, Vaccarino F. Substance abuse in Canada: the effects of cannabis use during adolescence. Ottawa; 2015.

84.

Kandel D, Chen K, Warner LA, Kesslerm RC, Grant B. Prevalence and demographic correlates of symptoms of last year dependence on alcohol, nicotine, marijuana and cocaine in the US population. Drug Alcohol Depend. 1997;44:11–29.

85.

Lev-Ran S, Le Strat Y, Imtiaz S, Rehm J, Le Foll B. Gender differences in prevalence of substance use disorders among individuals with lifetime exposure to substances: results from a large representative sample. Am J Addict. 2013;22:7–13.

86.

Schlossarek S, Kempkensteffen J, Reimer J, Verthein U. Psychosocial determinants of cannabis dependence: a systematic review of the literature. Eur Addict Res. 2015;22:131–44.

87.

Hall W, Degenhardt L. Prevalence and correlates of cannabis use in developed and developing countries. Curr Opin Psychiatry. 2007;20:393–7.

88.

Mechoulam R, Parker LA. The endocannabinoid system and the brain. Annu Rev Psychol. 2013;64:21–47.

89.

Nestler EJ. Molecular mechanisms of drug addiction. Neuropharmacology. 2004;47:24–322.

90.

Chen-Yu C, Storr CL, Anthony JC. Early-onset drug use and risk for drug dependence problems. Addict Behav. 2009;34:319–22.

91.

Le Strat Y, Ramoz N, Horwood J, Falissard B, Hassler C, Romo L, Choquet M, Fergusson D, Gorwood P. First positive reactions to cannabis constitute a priority risk factor for cannabis dependence. Addiction. 2009;104:1710–7.

92.

van der Pol P, Liebregts N, de Graaf R, Ten Have M, Korf DJ, van den Brink W, van Laar M. Mental health differences between frequent cannabis users with and without dependence and the general population. Addiction. 2013;108:1459–69.

93.

Zolotov Y, Vulfsons S, Zarhin D, Sznitman S. Medical cannabis: an oxymoron? Physicians' perceptions of medical cannabis. Int J Drug Policy. 2018;57:4–10.

94.

Sznitman SN, Lewis N. Is cannabis an illicit drug or a medicine? A quantitative framing analysis of Israeli newspaper coverage. Int J Drug Policy. 2015;26:446–52.

95.

Fischer B, Kuganesan S, Room R. Medical marijuana programs: implications for cannabis control policy—observations from Canada. Int J Drug Policy. 2015;26:15–9.

96.

Park JY, Wu LT. Prevalence, reasons, perceived effects, and correlates of medical marijuana use: a review. Drug Alcohol Depend. 2017;177:1–13.

97.

Ebbert J, Scharf E, Hurt R. Medical cannabis. Mayo Clin Proc. 2018;93:1842–7.

98.

European Monitoring Centre for Drugs and Drug Addiction. Medical use of cannabis and cannabinoids: questions and answers for policymaking. Luxembourg: Publications Office of the European Union; 2018.

99.

Wilkinson ST, Yarnell S, Radhakrishnan R, Ball SA, D'Souza DC. Marijuana legalization: impact on physicians and public health. Annu Rev Med. 2016;67:453–66.

100.

Carliner H, Brown Q, Sarvet A, Hasin D. Cannabis use, attitudes, and legal status in the US: a review. Prev Med. 2017;104:13–23.

101.

Olam K, Goldschmidt D. Thailand approves medical marijuana. Cable News Netw Health. 2018.

102.

Hazekamp A. The trouble with CBD oil. Med Cannabis Cannabinoids. 2018;1:65–72.

103.

Aguilar S, Gutiérrez V, Sánchez L, Nougier M. Medicinal cannabis policies and practices around the world, IDPC Briefing Paper. London: IDC; 2018.

104.

The Commissioner of Law Revision, Malaysia (1980) Dangerous Drug Act 1952.

105.

Savage S, Romero-Sandoval A, Schatman M, Wallace M, Fanciullo G, McCarberg B, Ware M. Cannabis in pain treatment: clinical and research considerations. J Pain. 2016;17:654–68.

106.

National Academies of Sciences, Engineering, and Medicine. The health effects of cannabis and cannabinoids: the current state of evidence and recommendations for research. Washington, DC: National Academies Press; 2017.

107.

National Institute on Drug Abuse. 2016–2020 NIDA Strategic Plan; NIDA mission: 2016.

108.

National Institute on Drug Abuse. NIH research on marijuana and cannabinoids: 2018.

109.

Thomas B, Pollard G. Preparation and distribution of cannabis and cannabis-derived dosage formulations for investigational and therapeutic use in the United States. Front Pharmacol. 2016;7:285.

110.

Eisenberg E, Ogintz M, Almog S. The pharmacokinetics, efficacy, safety, and ease of use of a novel portable metered-dose cannabis inhaler in patients with chronic neuropathic pain: a phase 1a study. J Pain Palliative Care Pharmacother. 2014;28:216–25.

111.

Boehnke KF, Scott JR, Litinas E, Sisley S, Clauw DJ, Goesling J, Williams DA. Cannabis use preferences and decision-making among a cross-sectional cohort of medical cannabis patients with chronic pain. J Pain. 2019; pii: S1526–5900(19)30067–7.
Acknowledgements
All the authors acknowledge Professor Brian Furman, University of Strathclyde, for his help in improving the use of English in the manuscript.
Funding
This study did not receive any specific grant from funding agencies in the public, commercial, or not-for-profit sectors.
Ethics declarations
Conflict of interest
All authors declare that there is no potential conflict of interest.
Additional information
Publisher's Note
Springer Nature remains neutral with regard to jurisdictional claims in published maps and institutional affiliations.
About this article
Cite this article
Maharajan, M.K., Yong, Y.J., Yip, H.Y. et al. Medical cannabis for chronic pain: can it make a difference in pain management?. J Anesth 34, 95–103 (2020). https://doi.org/10.1007/s00540-019-02680-y
Received:

Accepted:

Published:

Issue Date:
Keywords
Medical cannabis

Chronic pain

Addiction

Dependence

Regulations