Abstract
In ultrasound-guided central venous catheterization, there is no standard technique either for the needle tip visualization or for the adequate needle angle and entry to the skin with short-axis view under out-of-plane technique. In the present study, we propose a novel technique named "stepwise flashing with triangulation", and the efficacy of this technique is assessed. Before and after a didactic session in which the technique was explained, 12 novice residents were asked to position the needle tip on or into the imitation vessels and to avoid deeper penetration by using an agar tissue phantom with ultrasound guidance. "Stepwise flashing" technique was for stepwise visualization of the needle tip, and "triangulation" technique was for adequate needle angle and entry to the skin. After the session, the success rate was increased and a deeper penetration rate was decreased. This technique will help us to facilitate vascular access and to avoid complications in clinical settings.
Access options
Buy single article
Instant access to the full article PDF.
US$ 39.95
Tax calculation will be finalised during checkout.
Subscribe to journal
Immediate online access to all issues from 2019. Subscription will auto renew annually.
US$ 79
Tax calculation will be finalised during checkout.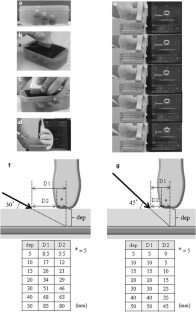 References
1.

Kusminsky RE. Complications of central venous catheterization. J Am Coll Surg. 2007;204:681–96.

2.

Lamperti M, Bodenham AR, Pittiruti M, Blaivas M, Augoustides JG, Elbarbary M, Pirotte T, Karakitsos D, Ledonne J, Doniger S, Scoppettuolo G, Feller-Kopman D, Schummer W, Biffi R, Desruennes E, Melniker LA, Verghese ST. International evidence-based recommendations on ultrasound-guided vascular access. Intensive Care Med. 2012;38:1105–17.

3.

Troianos CA, Hartman GS, Glas KE, Skubas NJ, Eberhardt RT, Walker ST, Reeves JD. Councils on Intraoperative Echocardiography and Vascular Ultrasound of the American Society of Echocardiography. Guidelines for performing ultrasound guided vascular cannulation: recommendations of the American Society of Echocardiography and the Society of Cardiovascular Anesthesiologists. J Am Soc Echocardiogr. 2011;24:1291–318.

4.

Popovich MJ. Ultrasound-guided vascular access in critical care: can a choice of real-time imaging axis view overcome the "curse of dimensionality"? Crit Care Med. 2015;43:920–1.

5.

Blaivas M, Adhikari S. An unseen danger: frequency of posterior vessel wall penetration by needles during attempts to place internal jugular vein central catheters using ultrasound guidance. Crit Care Med. 2009;37:2345–9.

6.

Ayoub C, Lavallee C, Denault A. Ultrasound guidance for internal jugular vein cannulation: continuing professional development. Can J Anesth. 2010;57:500–14.

7.

Ortega R, Song M, Hansen CJ, Barash P. Ultrasound-guided internal jugular vein cannulation. N Engl J Med. 2010;362:e57.

8.

Chittoodan S, Breen D, O'Donnell BD, Iohom G. Long versus short axis ultrasound guided approach for internal jugular vein cannulation: a prospective randomized controlled trial. Med Ultrason. 2011;13:21–5.

9.

Jarwani BS, Shah H, Shah A, Madariya M. Ultrasound guided deep vein cannulation: "perpendicular insertion technique (PIT)", an edge over "conventional insertion technique (CIT). J Emergencies Trauma Shock. 2015;8:149–53.

10.

Chapman GA, Johnson D, Bodenham AR. Visualization of needle position using ultrasonography. Anaesthesia. 2006;61:148–58.

11.

Rossi UG, Rigamonti P, Ticha V, Zoffoli E, Giordano A. Percutaneous ultrasound-guided central venous catheters: the lateral in-plane technique for internal jugular vein access. J Vasc Access. 2014;15:56–60.

12.

Nguyen BV, Prat G, Vincent JL, Nowak E, Bizien N, Tonnelier JM, Renault A, Ould-Ahmed M, Boles JM, L'Her E. Determination of the learning curve for ultrasound-guided jugular central venous catheter placement. Intensive Care Med. 2014;40:66–73.

13.

Stone MB, Moon C, Sutijono D, Blavas M. Needle tip visualization during ultrasound-guided vascular access: short-axis vs long-axis approach. Am J Emerg Med. 2010;28:343–7.

14.

Vogel JA, Haukoos JS, Erickson CL, Liao MM, Theoret J, Sanz GE, Kendall J. Is long-axis view superior to short-axis vies in ultrasound-guided central venous catheterization? Crit Care Med. 2015;43:832–9.

15.

Sommerkamp SK, Romaniuk VM, Witting MD, Ford DR, Allison MG, Euerle BD. A comparison of longitudinal and transverse approaches to ultrasound-guided axillary vein cannulation. Am J Emerg Med. 2013;31:478–81.
Acknowledgements
The authors thank all residents (Bun M, Hara T, Higashi Y, Yonezawa H, Yoshizawa H, Fujita N, Fukui Y, Matsuda K, Tsuchihashi K, Uematsu M, Yoneda S, Yoshimura M) who participated in this study.
Ethics declarations
Financial support
Support was provided solely from institutional and department souses.
Conflict of interest
There are no conflicts of interest to declare.
Electronic supplementary material
Below is the link to the electronic supplementary material.
Supplementary material 1 Video 1 "Stepwise flashing with triangulation" technique. The phantom includes three imitation vessels and the depths of the anterior wall of them from the phantom's surface were 7, 14, and 21 mm. The needle angle from the skin was from 30° to 45°; therefore, the needle entry should be apart from the edge of ultrasound probe at a distance of 1–1.5 times the depth of anterior wall of the vessel to position the needle tip on the anterior wall of the vessels on the image plane. The dot appears and disappears in turn and it gets close to the anterior wall of the vessel stepwise (MPG 32930 kb)
About this article
Cite this article
Horiuchi, T., Okuda, C., Kurita, N. et al. A novel technique for ultrasound-guided central venous catheterization under short-axis out-of-plane approach: "stepwise flashing with triangulation". J Anesth 31, 789–793 (2017). https://doi.org/10.1007/s00540-017-2381-8
Received:

Accepted:

Published:

Issue Date:
Keywords
Ultrasound-guided central venous catheterization

Out-of-plane approach

Needle tip visualization

Stepwise technique

Triangulation