Abstract
Purpose
To determine if isoflurane anesthesia without surgery causes systemic inflammation in children. Inflammation is targeted as responsible for the development of many neurologic pathologies. The effect will be evaluated by measuring serum cytokine levels before and after isoflurane anesthesia. The possible neurotoxic effect of anesthetic agents is a concern in pediatric anesthesia. Questions remain as to the true effects of anesthesia alone on systemic inflammation. The current study assesses systemic inflammatory response to general anesthesia in children not exposed to surgical stress.
Methods
Twenty-five patients, aged 6 months to 11 years undergoing MRI scanning were recruited. Patients with ASA Physical Status Classification >II, known neurologic disease, prematurity, recent infection, or current treatment with anti-inflammatory medications were excluded. Each patient received a sevoflurane induction, peripheral intravenous catheterization, and laryngeal mask airway placement. Isoflurane was titrated to ensure adequate depth of anesthesia. Two peripheral blood samples were obtained: one immediately after placement of the PIV and one upon arrival to the post-anesthesia care unit. Serum cytokine levels were compared between pre- and post-isoflurane time points using paired t tests.
Results
For all patients, interleukin-1β increased after isoflurane when compared to pre-isoflurane samples (pre = 25.97 ± 9.01, post = 38.53 ± 16.56, p = 0.0002). Serum levels of IL-6 (pre = 2.28 ± 2.27, post = 2.04 ± 2.15, p = 0.146) and tumor necrosis factor-α (pre = 94.26 ± 18.07, post = 85.84 ± 12.12, p = 0.057) were not significantly changed. Interleukin-10 and vascular endothelial growth factor were undetectable in pre- and post-isoflurane samples at a minimum detection threshold of 6.6 and 10 pg/ml, respectively.
Conclusions
A brief (approximately 60 min) exposure to isoflurane general anesthesia, without induced surgical stress, significantly increased serum IL-1β, a selective activation marker of systemic inflammation (IL-1β pathway).
Access options
Buy single article
Instant access to the full article PDF.
USD 39.95
Price includes VAT (USA)
Tax calculation will be finalised during checkout.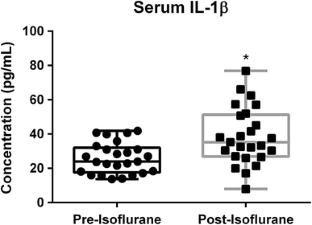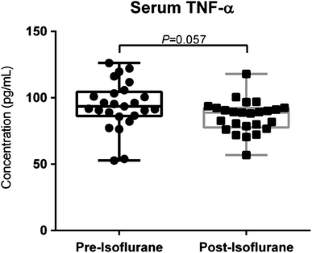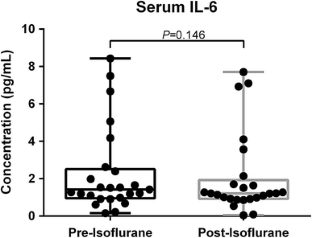 References
1.

Sun LS, Li G, Miller TL, Salorio C, Byrne MW, Bellinger DC, Ing C, Park R, Radcliffe J, Hays SR, DiMaggio CJ. Association between a single general anesthesia exposure before age 36 months and neurocognitive outcomes in later childhood. JAMA. 2016;315(21):2312–20.

2.

Davidson AJ, Disma N, De Graaff JC, Withington DE, Dorris L, Bell G, Stargatt R, Bellinger DC, Schuster T, Arnup SJ, Hardy P. Neurodevelopmental outcome at 2 years of age after general anaesthesia and awake-regional anaesthesia in infancy (GAS): an international multicentre, randomised controlled trial. Lancet. 2016;387(10015):239–50.

3.

Disma N, Mondardini MC, Terrando N, Absalom AR, Bilotta F. A systematic review of methodology applied during preclinical anesthetic neurotoxicity studies: important issues and lessons relevant to the design of future clinical research. Paediatr Anaesth. 2016;26:6–36.

4.

Whitaker EE, Bissonnette B, Miller AD, Koppert TL, Tobias JD, Pierson CR, Christofi FL. A novel, clinically relevant use of a piglet model to study the effects of anesthetics on the developing brain. Clin Trans Med. 2016;5(1):1.

5.

Wagner M, Ryu YK, Smith SC, Mintz CD. Review: effects of anesthetics on brain circuit formation. J Neurosurg Anesthesiol. 2014;26:358–62.

6.

Jackson WM, Gray CD, Jiang D, Schaefer ML, Connor C, Mintz CD. Molecular mechanisms of anesthetic neurotoxicity: a review of the current literature. J Neurosurg Anesthesiol. 2016;28:361–72.

7.

Zhang L, Zhang J, Yang L, Dong Y, Zhang Y, Xie Z. Isoflurane and sevoflurane increase interleukin-6 levels through the nuclear factor-kappa B pathway in neuroglioma cells. Br J Anaesth. 2013;110(Suppl 1):i82–91.

8.

Wu X, Lu Y, Dong Y, Zhang G, Zhang Y, Xu Z, et al. The inhalation anesthetic isoflurane increases levels of proinflammatory TNF-alpha, IL-6, and IL-1beta. Neurobiol Aging. 2012;33:1364–78.

9.

Hagberg H, Gressens P, Mallard C. Inflammation during fetal and neonatal life: implications for neurologic and neuropsychiatric disease in children and adults. Ann Neurol. 2012;71:444–57.

10.

Nestler EJ, Hyman SE. Animal models of neuropsychiatric disorders. Nat Neurosci. 2010;13:1161–9.

11.

Madore C, Leyrolle Q, Lacabanne C, Benmamar-Badel A, Joffre C, Nadjar A, Layé S. Neuroinflammation in Autism: plausible role of maternal inflammation, dietary omega 3, and microbiota. Neural Plast. 2016;2016:3597209.

12.

Riedel B, Browne K, Silbert B. Cerebral protection: inflammation, endothelial dysfunction, and postoperative cognitive dysfunction. Curr Opin Anaesthesiol. 2014;27:89–97.

13.

Peng L, Xu L, Ouyang W. Role of peripheral inflammatory markers in postoperative cognitive dysfunction (POCD): a meta-analysis. PLoS One. 2013;8:e79624.

14.

Chawla BK, Teitelbaum DH. Profound systemic inflammatory response syndrome following non-emergent intestinal surgery in children. J Pediatr Surg. 2013;48:1936–40.

15.

Haga Y, Beppu T, Doi K, Nozawa F, Mugita N, Ikei S, Ogawa M. Systemic inflammatory response syndrome and organ dysfunction following gastrointestinal surgery. Critical Care Med. 1997;25(12):1994–2000.

16.

Stollings LM, Jia LJ, Tang P, Dou H, Lu B, Xu Y. Immune modulation by volatile anesthetics. Anesthesiology. 2016;125:399–411.

17.

Shen X, Dong Y, Xu Z, Wang H, Miao C, Soriano SG, Sun D, Baxter MG, Zhang Y, Xie Z. Selective anesthesia-induced neuroinflammation in developing mouse brain and cognitive impairment. J Am Soc Anesthesiol. 2013;118(3):502–15.

18.

Shiihara T, Miyake T, Izumi S, Sugihara S, Watanabe M, Takanashi JI, Kubota M, Kato M. Serum and CSF biomarkers in acute pediatric neurological disorders. Brain Dev. 2014;36(6):489–95.

19.

Naureen I, Waheed KA, Rathore AW, Victor S, Mallucci C, Goodden JR, Chohan SN, Miyan JA. Fingerprint changes in CSF composition associated with different aetiologies in human neonatal hydrocephalus: inflammatory cytokines. Child's Nerv Syst. 2014;30(7):1155–64.

20.

Madhok AB, Ojamaa K, Haridas V, Parnell VA, Pahwa S, Chowdhury D. Cytokine response in children undergoing surgery for congenital heart disease. Pediatr Cardiol. 2006;27:408–13.

21.

Hansen TG, Tonnesen E, Andersen JB, Toft P, Bendtzen K. The peri-operative cytokine response in infants and young children following major surgery. Eur J Anaesthesiol. 1998;15:56–60.

22.

Cardoso FL, Herz J, Fernandes A, Rocha J, Sepodes B, Brito MA, McGavern DB, Brites D. Systemic inflammation in early neonatal mice induces transient and lasting neurodegenerative effects. J Neuroinflam. 2015;12(1):1.

23.

Biesmans S, Meert TF, Bouwknecht JA, Acton PD, Davoodi N, De Haes P, Kuijlaars J, Langlois X, Matthews LJ, Ver Donck L, Hellings N. Systemic immune activation leads to neuroinflammation and sickness behavior in mice. Mediators Inflamm. 2013;2013:271–359.

24.

Sandiego CM, Gallezot JD, Pittman B, Nabulsi N, Lim K, Lin SF, et al. Imaging robust microglial activation after lipopolysaccharide administration in humans with PET. Proc Natl Acad Sci USA. 2015;112:12468–73.

25.

Murta V, Farias MI, Pitossi FJ, Ferrari CC. Chronic systemic IL-1beta exacerbates central neuroinflammation independently of the blood-brain barrier integrity. J Neuroimmunol. 2015;278:30–43.

26.

Krstic D, Madhusudan A, Doehner J, Vogel P, Notter T, Imhof C, et al. Systemic immune challenges trigger and drive Alzheimer-like neuropathology in mice. J Neuroinflam. 2012;9:151.

27.

Malaeb S, Dammann O. Fetal inflammatory response and brain injury in the preterm newborn. J Child Neurol. 2009;24:1119–26.

28.

Bianco-Batlles MD, Sosunov A, Polin RA, Ten VS. Systemic inflammation following hind-limb ischemia-reperfusion affects brain in neonatal mice. Dev Neurosci. 2008;30:367–73.

29.

Calderón-Garcidueñas L, Engle R, Mora-Tiscareño A, Styner M, Gómez-Garza G, Zhu H, Jewells V, Torres-Jardón R, Romero L, Monroy-Acosta ME, Bryant C. Exposure to severe urban air pollution influences cognitive outcomes, brain volume and systemic inflammation in clinically healthy children. Brain Cogn. 2011;77(3):345–55.

30.

Saghazadeh A, Ferrari CC, Rezaei N. Deciphering variability in the role of interleukin-1beta in Parkinson's disease. Rev Neurosci. 2016;27:635–50.

31.

Won YH, Lee MY, Choi YC, Ha Y, Kim H, Kim DY, Kim MS, Yu JH, Seo JH, Kim M, Cho SR. Elucidation of relevant neuroinflammation mechanisms using gene expression profiling in patients with amyotrophic lateral sclerosis. PloS One. 2016;11(11):e0165290.

32.

Kolosowska K, Maciejak P, Szyndler J, Turzynska D, Sobolewska A, Plaznik A. The role of IL-1beta and glutamate in the effects of lipopolysaccharide on the hippocampal electrical kindling of seizures. J Neuroimmunol. 2016;298:146–52.

33.

Mosher KI, Andres RH, Fukuhara T, Bieri G, Hasegawa-Moriyama M, He Y, Guzman R, Wyss-Coray T. Neural progenitor cells regulate microglia functions and activity. Nature Neurosci. 2012;15(11):1485–7.

34.

Rothwell N, Allan S, Toulmond S. The role of interleukin 1 in acute neurodegeneration and stroke: pathophysiological and therapeutic implications. J Clin Invest. 1997;100:2648–52.

35.

Banks WA, Kastin AJ, Broadwell RD. Passage of cytokines across the blood-brain barrier. NeuroImmunoModulation. 1995;2:241–8.

36.

Wang XJ, Kong KM, Qi WL, Ye WL, Song PS. Interleukin-1 beta induction of neuron apoptosis depends on p38 mitogen-activated protein kinase activity after spinal cord injury. Acta Pharmacol Sin. 2005;26:934–42.

37.

Popić J, Pešić V, Milanović D, Lončarević-Vasiljković N, Smiljanić K, Kanazir S, Ruždijić S. Induction of TNF-α signaling cascade in neonatal rat brain during propofol anesthesia. Int J Dev Neurosci. 2015;44:22–32.
Acknowledgements
The authors wish to thank Dmitry Tumin for his invaluable contribution to biostatistical analysis. The authors are also grateful to the nurses and colleagues in the radiology department for their support and generosity.
Ethics declarations
Ethics approval
This study was approved by the Nationwide Children's Hospital IRB on 1/20/2015 (#IRB14-00625, NCT02512809).
Funding
This study was generously supported by departmental start-up funds (EW), a Nationwide Children's Hospital Intramural Grant (EW), and the Ohio State University Center for Clinical and Translational Science Davis-Bremer Pre-K Award (EW). This work was also supported in part by the OSU College of Medicine Roessler research scholarship (BW, JX). EW is also supported by an NIH LRP Grant, funded by the NIH NICHD to investigate potential neurotoxicity mechanisms of anesthetics in a neonatal piglet model. FLC is supported by R01 DK093499.
Conflict of interest
The authors have no conflicts of interest to report.
About this article
Cite this article
Whitaker, E.E., Christofi, F.L., Quinn, K.M. et al. Selective induction of IL-1β after a brief isoflurane anesthetic in children undergoing MRI examination. J Anesth 31, 219–224 (2017). https://doi.org/10.1007/s00540-016-2294-y
Received:

Accepted:

Published:

Issue Date:
Keywords
Pediatric anesthesia

Anesthesia-induced developmental neurotoxicity (AIDN)

Neuroinflammation

Isoflurane