Abstract
We describe an 11-year-old boy with nemaline myopathy who developed tension pneumothorax while undergoing noninvasive positive-pressure ventilation (NIPPV). The patient developed a persistent air leak after pleurodesis with minocycline hydrochloride and lowering of the NIPPV inspiratory pressure. He required additional respiratory support without the high airway pressures that may aggravate pneumothorax. We provided adequate respiratory support without increasing the positive airway pressure using biphasic cuirass ventilation (BCV), which moved the patient's chest wall by negative pressure. The air leak was resolved without any additional treatment. We should provide BCV for patients in whom surgery may have a risk of both extubation failure and postoperative complications before deciding on surgery.
This is a preview of subscription content, log in to check access.
Access options
Buy single article
Instant access to the full article PDF.
US$ 39.95
Price includes VAT for USA
Subscribe to journal
Immediate online access to all issues from 2019. Subscription will auto renew annually.
US$ 99
This is the net price. Taxes to be calculated in checkout.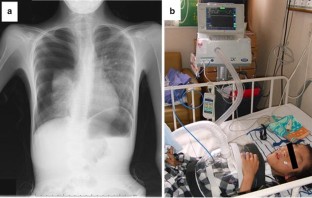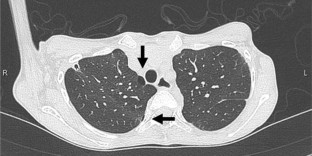 References
1.

Katz S, Selvadurai H, Keilty K, Mitchell M, MacLusky I. Outcome of non-invasive positive pressure ventilation in paediatric neuromuscular disease. Arch Dis Child. 2004;89:121–4.

2.

Vianello A, Arcaro G, Gallan F, Ori C, Bevilacqua M. Pneumothorax associated with long-term non-invasive positive pressure ventilation in Duchenne muscular dystrophy. Neuromuscul Disord. 2004;14:353–5.

3.

Mehta S, Hill NS. Noninvasive ventilation. Am J Respir Crit Care Med. 2001;163:540–77.

4.

Grasso F, Engelberts D, Helm E, Frndova H, Jarvis S, Talakoub O, McKerlie C, Babyn P, Post M, Kavanagh BP. Negative-pressure ventilation: better oxygenation and less lung injury. Am J Respir Crit Care Med. 2008;177:412–8.

5.

Linton DM. Cuirass ventilation: a review and update. Crit Care Resusc. 2005;7:22–8.

6.

Chihara K, Ueno T, Itoi S, Nakai M, Sahara H, Oguri S, Ozawa Y, Tanaka S, Hirata T. Ventilatory support with a cuirass respirator after resection of bullous emphysema: report of a case. J Thorac Cardiovasc Surg. 1996;111:1281–3.

7.

Cooper N, Jacob B. Biphasic positive pressure ventilation in acute cardiogenic pulmonary oedema. Br J Cardiol. 2002;9:38–41.

8.

Grinnan DC, Truwit JD. Noninvasive ventilation in acute CHF. In: Truwit JD, Epstein SK, editors. A practical guide to mechanical ventilation. Chichester: Wiley; 2011. p. 41–50.

9.

Zibrak JD, Hill NS, Federman EC, Kwa SL, O'Donnell C. Evaluation of intermittent long-term negative-pressure ventilation in patients with severe chronic obstructive pulmonary disease. Am Rev Respir Dis. 1988;138:1515–8.

10.

MacDuff A, Arnold A, Harvey J, Group BPDG. Management of spontaneous pneumothorax: British Thoracic Society Pleural Disease Guideline 2010. Thorax. 2010;65(Suppl 2):ii18–31.

11.

Vianello A, Arcaro G, Braccioni F, Gallan F, Marchi MR, Chizio S, Zampieri D, Pegoraro E, Salvador V. Prevention of extubation failure in high-risk patients with neuromuscular disease. J Crit Care. 2011;26:517–24.
Acknowledgments
We thank Drs. Shungo Yukumi and Yasuaki Kashu for their assistance with the treatment of the patient.
About this article
Cite this article
Hino, H., Suzuki, Y., Ishii, E. et al. Biphasic cuirass ventilation for treatment of an air leak after pneumothorax in a patient with nemaline myopathy: a case report. J Anesth 30, 1087–1090 (2016). https://doi.org/10.1007/s00540-016-2250-x
Received:

Accepted:

Published:

Issue Date:
Keywords
Pediatrics

Neurology

Ventilation

Pneumothorax