Although several complications related to the use of a skull clamp have been reported, serious arrhythmia has not been reported. A 17-year-old woman with Arnold–Chiari malformation type I was scheduled for an operation for worsening of syringomyelia (Fig. S1). After induction of general anesthesia, the head was fixed with a Mayfield™ skull clamp (Ohio Medical Instrument, Cincinnati, OH, USA). Cardiac asystole occurred a few seconds after clamping, and then continued for about 10 s, followed by single electrical activity, even though the clamp was removed immediately. The heart rate spontaneously recovered to 30 beats per minute with escape rhythm, and then gradually increased to 60 beats per minute with sinus rhythm. After administration of atropine, the heart rate increased to 120 beats per minute with sinus rhythm, and hemodynamics became stable (Figs. S2, S3).
The cardiac asystole was determined to be caused by vagal reflex due to the skull clamp because hemodynamics suddenly changed and recovered only after administration of atropine. We finally considered that either pinning stimulation to the peripheral trigeminal nerve [1] or direct compression of the herniated brainstem due to malformation [2] by clamp manipulation was the trigger provoking vagal reflex.
We should understand the pathophysiology of Arnold–Chiari malformation and consider the use of atropine premedication for prevention of vagal reflex. When a skull clamp is applied for such patients, attention to electrocardiogram status is needed. Use of local anesthetic infiltration is also effective to prevent the trigeminal reflex. If asystole occurs, use of the skull clamp should be discontinued immediately, and administration of atropine may be useful.
References
Schaller B. Trigeminocardiac reflex. A clinical phenomenon or a new physiological entity? J Neurol. 2004;251:658–65.

Alegre S, García-Rubira JC, Patrignani G. Cardiac arrest in a 31-year-old man because of the Arnold–Chiari malformation. Int J Cardiol. 1994;46:286–8.
Electronic supplementary material
Below is the link to the electronic supplementary material.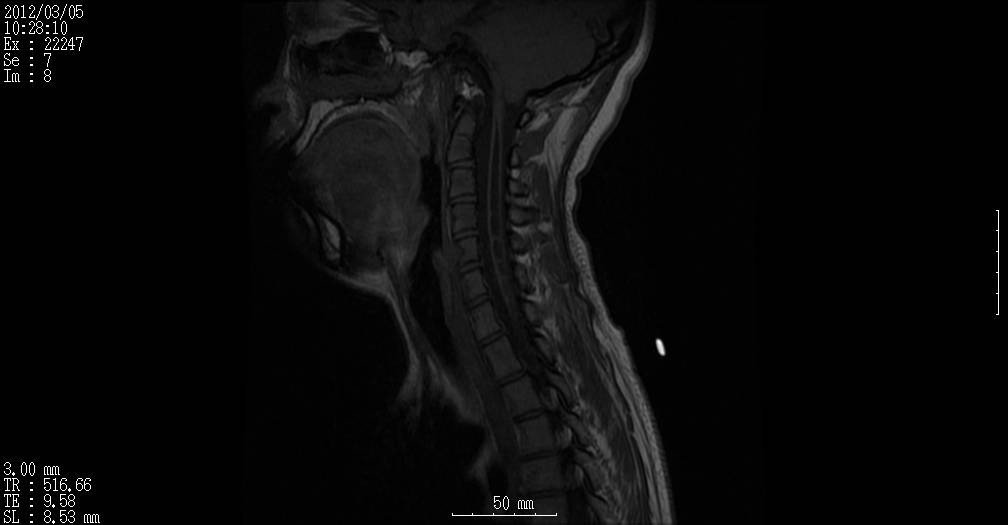 Fig. S1 Head and neck MRI. The inferior part of the cerebellum and brainstem is shown to be transformed, and the cerebellar tonsil is herniated to the spinal canal through the foramen magnum (JPEG 27 kb)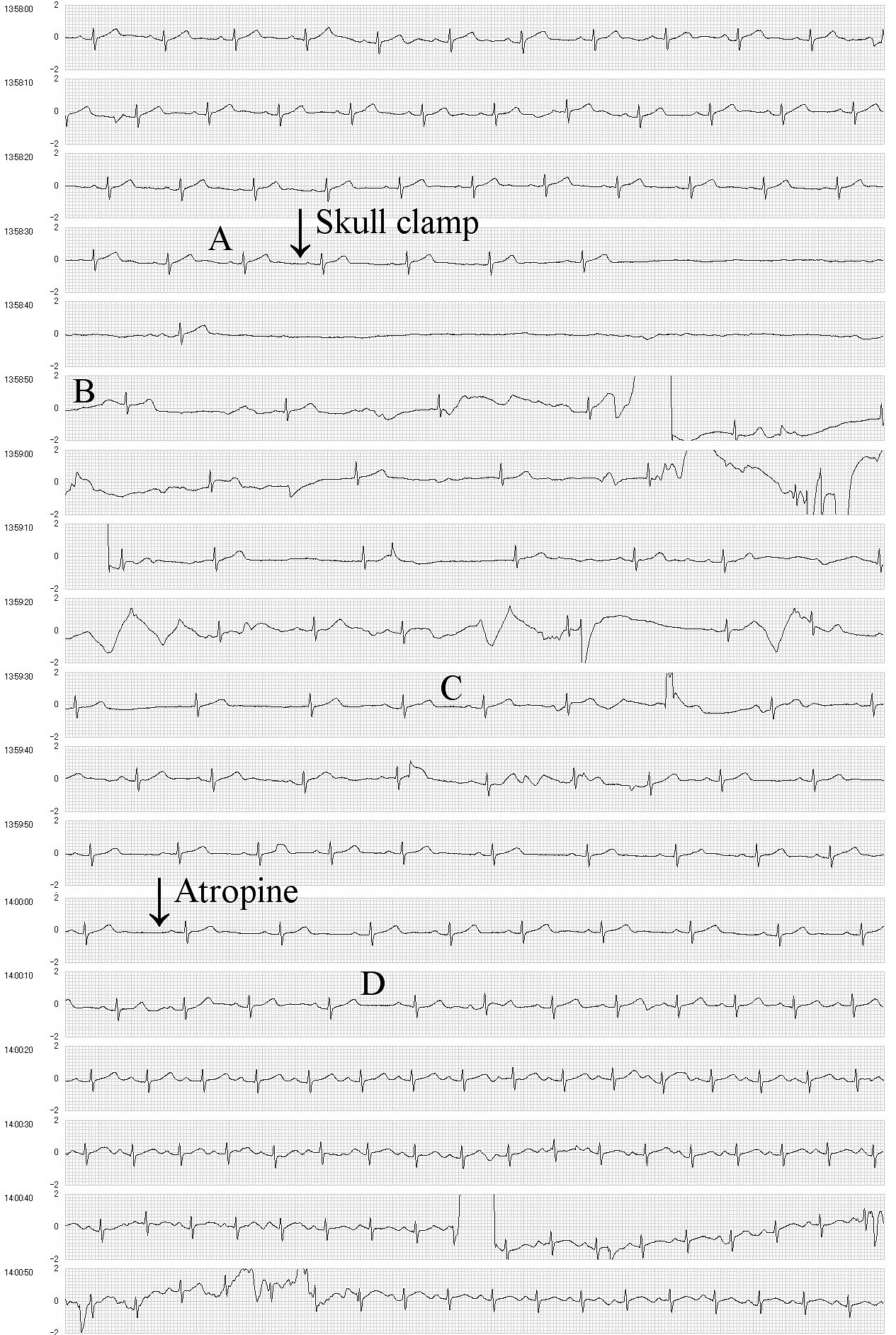 Fig. S2 ECG before and after cardiac arrest. A P–P interval has slightly extended just after the skull clamping. Cardiac asystole commenced for 5 s a few seconds after skull clamping and then continued for about 10 s, followed by single electrical activity. B 15 s after placement of the clamp, the heart rate has spontaneously recovered to 30 beats per minute with escape rhythm, without an apparent P wave. C the heart rate has spontaneously increased to 60 beats per minute with an apparent P wave. D following administration of atropine, the heart rate has increased to 120 beats per minute with sinus rhythm (JPEG 1244 kb)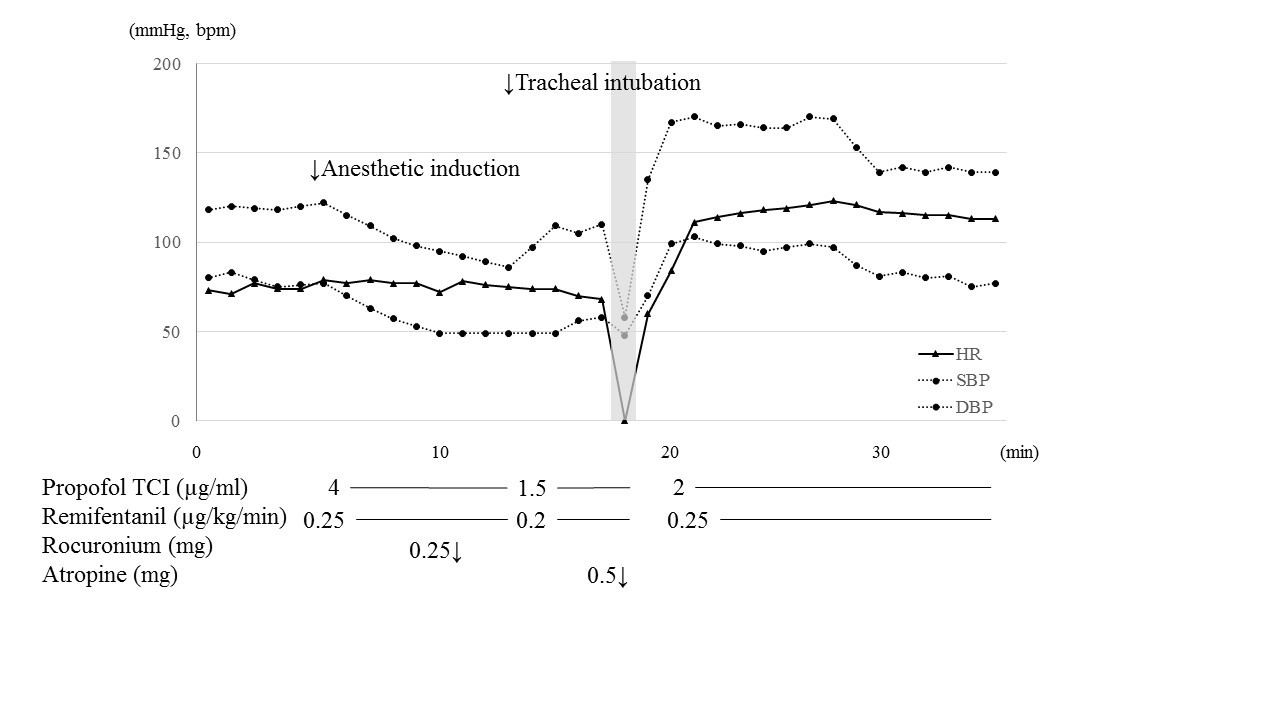 Fig. S3 Clinical course, and changes in heart rate and blood pressure. The gray line shows the time of placement of the skull clamp. Cardiac asystole occurred a few seconds after placement of the clamp, and the arterial blood pressure wave became flat. After administration of atropine, the blood pressure and heart rate improved, and became stable. Propofol was infused using a TE-371 target-controlled infusion system (Terumo, Tokyo, Japan). DSP diastolic blood pressure, HR heart rate, SBP systolic blood pressure, TCI target-controlled infusion (JPEG 75 kb)
About this article
Cite this article
Miyoshi, H., Nakamura, R. & Hamada, H. Asystole following skull clamp to Chiari malformation. J Anesth 29, 317 (2015). https://doi.org/10.1007/s00540-014-1890-y
Received:

Accepted:

Published:

Issue Date:

DOI: https://doi.org/10.1007/s00540-014-1890-y
Keywords
Arnold–Chiari type I malformation

Skull clamp

Asystole

Vagal reflex