Abstract
Purpose
Sevoflurane is the most widely used volatile anesthetic of general anesthesia. In children and neonates, it is commonly used alone or in combination with thiopental or propofol. A few recent studies reported that sevoflurane induced neuronal death in the developing rodent brain. We measured the neurotoxicity of these anesthetics at clinical doses, alone and in combination, in the developing mouse brain.
Methods
Seven-day-old C57BL/6 mice were randomly assigned to 6 treatment groups. Three groups were exposed to 3 % sevoflurane for 6 h after injection of saline, thiopental (5 mg/kg), or propofol (10 mg/kg), whereas three groups were exposed to room air for 6 h after injection of equal doses of saline, thiopental, or propofol. Apoptosis in the hippocampal CA1 region (CA1) and retrosplenial cortex (RC) was assessed using caspase-3 immunostaining.
Results
Sevoflurane alone caused significantly higher apoptosis in the CA1 compared with saline plus air (P = 0.04). Sevoflurane in combination with propofol resulted in significantly greater numbers of apoptotic neurons than sevoflurane alone in both the CA1 and the RC (P = 0.04). However, there was no significant difference in apoptotic neuron density in both the regions between the groups treated with sevoflurane alone and in combination with thiopental (P = 0.683).
Conclusion
Sevoflurane alone can induce neuronal apoptosis, and this effect is enhanced by propofol. Thiopental did not exacerbate the neurotoxicity of sevoflurane. There is the possibility that the combination of sevoflurane and propofol is a more harmful anesthetic technique than sevoflurane alone in pediatric patients.
Access options
Buy single article
Instant access to the full article PDF.
US$ 39.95
Tax calculation will be finalised during checkout.
Subscribe to journal
Immediate online access to all issues from 2019. Subscription will auto renew annually.
US$ 79
Tax calculation will be finalised during checkout.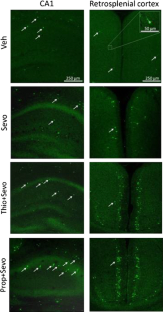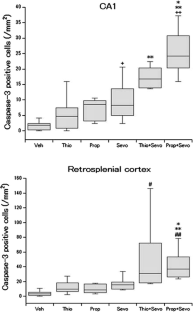 References
1.

Stratmann G. Neurotoxicity of anesthetic drugs in the developing brain. Anesth Analg. 2011;113:1170–9.

2.

Ikonomidou C, Bittigau P, Koch C, Genz F, Hoerster F, Felderhoff-Mueser U, Tenkova T, Dikranian K, Olney JW. Neurotransmitters and apoptosis in the developing brain. Biochem Pharmacol. 2001;62:401–5.

3.

Jevtovic-Todorovic V, Hartman RE, Izumi Y, Benshoff ND, Dikranian K, Zorumski CF, Olney JW, Wozniak DF. Early exposure to common anesthetic agents causes widespread neurodegeneration in the developing rat brain and persistent learning deficits. J Neurosci. 2003;23:876–82.

4.

Fredriksson A, Pontén E, Gordh T, Eriksson P. Neonatal exposure to a combination of N-methyl-d-aspartate and gamma-aminobutyric acid type A receptor anesthetic agents potentiates apoptotic neurodegeneration and persistent behavioral deficits. Anesthesiology. 2007;107:427–36.

5.

Fredriksson A, Archer T, Alm H, Gordh T, Eriksson P. Neurofunctional deficits and potentiated apoptosis by neonatal NMDA antagonist administration. Behav Brain Res. 2004;153:367–76.

6.

Fredriksson A, Archer T. Neurobehavioural deficits associated with apoptotic neurodegeneration and vulnerability for ADHD. Neurotox Res. 2004;6:435–56.

7.

Lerman J, Sikich N, Kleinman S, Yentis S. The pharmacology of sevoflurane in infants and children. Anesthesiology. 1994;80:814–24.

8.

Morray JP, Bhananker SM. Recent findings from the pediatric perioperative cardiac arrest (POCA) registry. ASA Newslett. 2005;69:10–2.

9.

Nishikawa K, Harrison NL. The actions of sevoflurane and desflurane on the gamma-aminobutyric acid receptor type A: effects of TM2 mutations in the alpha and beta subunits. Anesthesiology. 2003;99:678–84.

10.

Hollmann MW, Liu HT, Hoenemann CW, Liu WH, Durieux ME. Modulation of NMDA receptor function by ketamine and magnesium, part II: interactions with volatile anesthetics. Anesth Analg. 2001;92:1182–91.

11.

Kodama M, Satoh Y, Otsubo Y, Araki Y, Yonamine R, Masui K, Kazama T. Neonatal desflurane exposure induces more robust neuroapoptosis than do isoflurane and sevoflurane and impairs working memory. Anesthesiology. 2011;115:979–91.

12.

Istaphanous GK, Howard J, Nan X, Hughes EA, McCann JC, McAuliffe JJ, Danzer SC, Loepke AW. Comparison of the neuroapoptotic properties of equipotent anesthetic concentrations of desflurane, isoflurane, or sevoflurane in neonatal mice. Anesthesiology. 2011;114:578–87.

13.

Satomoto M, Satoh Y, Terui K, Miyao H, Takishima K, Ito M, Imaki J. Neonatal exposure to sevoflurane induces abnormal social behaviors and deficits in fear conditioning in mice. Anesthesiology. 2009;110:628–37.

14.

Katoh T, Ikeda K. Minimum alveolar concentration of sevoflurane in children. Br J Anaesth. 1992;68:139–41.

15.

Brambrink AM, Evers AS, Avidan MS, Farber NB, Smith DJ, Martin LD, Dissen GA, Creeley CE, Olney JW. Ketamine-induced neuroapoptosis in the fetal and neonatal rhesus macaque brain. Anesthesiology. 2012;116:372–84.

16.

Brambrink AM, Evers AS, Avidan MS, Farber NB, Smith DJ, Zhang X, Dissen GA, Creeley CE, Olney JW. Isoflurane-induced neuroapoptosis in the neonatal rhesus macaque brain. Anesthesiology. 2010;112:834–41.

17.

Li Y, Liang G, Wang S, Meng Q, Wang Q, Wei H. Effects of fetal exposure to isoflurane on postnatal memory and learning in rats. Neuropharmacology. 2007;53:942–50.

18.

Wozniak DF, Hartman RE, Boyle MP, Vogt SK, Brooks AR, Tenkova T, Young C, Olney JW, Muglia LJ. Apoptotic neurodegeneration induced by ethanol in neonatal mice is associated with profound learning/memory deficits in juveniles followed by progressive functional recovery in adults. Neurobiol Dis. 2004;17:403–14.

19.

Paxinos G, Franklin KBJ. The mouse brain in stereotaxic coordinates. 2nd ed. San Diego: Academic Press; 2001.

20.

Shu Y, Patel SM, Pac-Soo C, Fidalgo AR, Wan Y, Maze M, Ma D. Xenon pretreatment attenuates anesthetic-induced apoptosis in the developing brain in comparison with nitrous oxide and hypoxia. Anesthesiology. 2010;113:360–8.

21.

Sanders RD, Xu J, Shu Y, Januszewski A, Halder S, Fidalgo A, Sun P, Hossain M, Ma D, Maze M. Dexmedetomidine attenuates isoflurane-induced neurocognitive impairment in neonatal rats. Anesthesiology. 2009;110:1077–85.

22.

Liang G, Ward C, Peng J, Zhao Y, Huang B, Wei H. Isoflurane causes greater neurodegeneration than an equivalent exposure of sevoflurane in the developing brain of neonatal mice. Anesthesiology. 2010;112:1325–34.

23.

Rugolph U, Antkowiak B. Molecular and neuronal substrates for general anaesthetics. Nat Rev Neurosci. 2004;5:709–20.

24.

Stratmann G, May LD, Sall JW, Alvi RS, Bell JS, Ormerod BK, Rau V, Hilton JF, Dai R, Lee MT, Visrodia KH, Ku B, Zusmer EJ, Guggenheim J, Firouzian A. Effect of hypercarbia and isoflurane on brain cell death and neurocognitive dysfunction in 7-day-old rats. Anesthesiology. 2009;110:849–61.

25.

Sanders RD, Ma D, Brooks P, Maze M. Balancing paediatric anaesthesia: preclinical insights into analgesia, hypnosis, neuroprotection, and neurotoxicity. Br J Anaesth. 2008;101:597–609.

26.

Anand KJ, Sippell WG, Aynsley-Green A. Randomised trial of fentanyl anaesthesia in preterm babies undergoing surgery: effects on the stress response. Lancet. 1987;1:243–8.

27.

Fitzgerald M. The development of nociceptive circuits. Nat Rev Neurosci. 2005;6:507–20.

28.

Taddio A, Katz J, Ilersich AL, Koren G. Effect of neonatal circumcision on pain response during subsequent routine vaccination. Lancet. 1997;349:599–603.

29.

Hermann C, Hohmeister J, Demirakça S, Zohsel K, Flor H. Long-term alteration of pain sensitivity in school-aged children with early pain experiences. Pain. 2006;125:278–85.

30.

Page GG, Blakely WP, Kim M. The impact of early repeated pain experiences on stress responsiveness and emotionality at maturity in rats. Brain Behav Immun. 2005;19:78–87.
About this article
Cite this article
Tagawa, T., Sakuraba, S., Kimura, K. et al. Sevoflurane in combination with propofol, not thiopental, induces a more robust neuroapoptosis than sevoflurane alone in the neonatal mouse brain. J Anesth 28, 815–820 (2014). https://doi.org/10.1007/s00540-014-1822-x
Received:

Accepted:

Published:

Issue Date:
Keywords
Sevoflurane

Apoptosis

Children