Abstract
Postoperative cognitive dysfunction is a common geriatric complication that may be associated with increased mortality. Here, we investigated the effects of postoperative analgesia with ketoprofen on cognitive functions in aged animals and compared its effectiveness to morphine. Rats were randomly allocated to one of four groups: isoflurane anesthesia without surgery (group C), isoflurane anesthesia with laparotomy (group IL), and isoflurane anesthesia with laparotomy plus postoperative analgesia with ketoprofen or morphine. There was no difference in postoperative locomotor activity among groups. In group IL, postoperative pain levels assessed by the Rat Grimace Scale significantly increased until 8 h after surgery, which was similarly inhibited by both ketoprofen and morphine. Cognitive function was assessed using radial arm maze testing for 12 consecutive days from postoperative day 3. Results showed that the number of memory errors in group IL were significantly higher than those in goup C. However, both ketoprofen and morphine could attenuate the increase in memory errors following surgery to a similar degree. Conversely, ketoprofen showed no effect on cognitive function in the nonsurgical rats that did not experience pain. Our findings suggest that postoperative analgesia with ketoprofen can prevent the development of surgery-associated memory deficits via its pain-relieving effects.
Access options
Buy single article
Instant access to the full article PDF.
USD 39.95
Price includes VAT (USA)
Tax calculation will be finalised during checkout.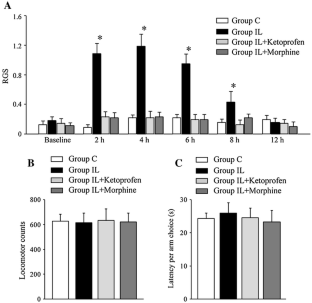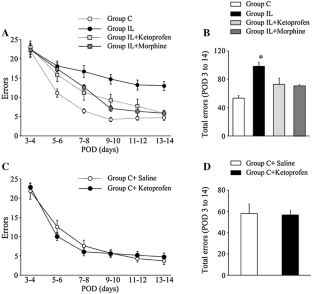 References
1.

Newman S, Stygall J, Hirani S, Shaefi S, Maze M. Postoperative cognitive dysfunction after noncardiac surgery: a systematic review. Anesthesiology. 2007;106:572–90.

2.

Monk TG, Weldon BC, Garvan CW, Dede DE, van der Aa MT, Heilman KM, Gravenstein JS. Predictors of cognitive dysfunction after major noncardiac surgery. Anesthesiology. 2008;108:18–30.

3.

Steinmetz J, Christensen KB, Lund T, Lohse N, Rasmussen LS, ISPOCD Group. Long-term consequences of postoperative cognitive dysfunction. Anesthesiology. 2009;110:548–555.

4.

Chi H, Kawano T, Tamura T, Iwata H, Takahashi Y, Eguchi S, Yamazaki F, Kumagai N, Yokoyama M. Postoperative pain impairs subsequent performance on a spatial memory task via effects on N-methyl-d-aspartate receptor in aged rats. Life Sci. 2013;93:986–93.

5.

Cashman JN. The mechanisms of action of NSAIDs in analgesia. Drugs. 1996;52:13–23.

6.

White PF, Kehlet H. Improving postoperative pain management: what are the unresolved issues? Anesthesiology. 2010;112:220–5.

7.

Cibelli M, Fidalgo AR, Terrando N, Ma D, Monaco C, Feldmann M, Takata M, Lever IJ, Nanchahal J, Fanselow MS, Maze M. Role of interleukin-1beta in postoperative cognitive dysfunction. Ann Neurol. 2010;68:360–8

8.

Fidalgo AR, Cibelli M, White JP, Nagy I, Maze M, Ma D. Systemic inflammation enhances surgery-induced cognitive dysfunction in mice. Neurosci Lett. 2011;498:63–6.

9.

Sotocinal SG, Sorge RE, Zaloum A, Tuttle AH, Martin LJ, Wieskopf JS, Mapplebeck JC, Wei P, Zhan S, Zhang S, McDougall JJ, King OD, Mogil JS. The Rat Grimace Scale: a partially automated method for quantifying pain in the laboratory rat via facial expressions. Mol Pain. 2011;7:55.

10.

Kawano T, Yokoyama M. Reliability and accuracy of rat grimace scale to measure acute pain in aged rats. Pain Res 2013;28:177–181.

11.

Fong HK, Sands LP, Leung JM. The role of postoperative analgesia in delirium and cognitive decline in elderly patients: a systematic review. Anesth Analg. 2006;102:1255–66.

12.

Roughan JV, Flecknell PA. Behavioural effects of laparotomy and analgesic effects of ketoprofen and carprofen in rats. Pain. 2001;90:65–74.
About this article
Cite this article
Kawano, T., Takahashi, T., Iwata, H. et al. Effects of ketoprofen for prevention of postoperative cognitive dysfunction in aged rats . J Anesth 28, 932–936 (2014). https://doi.org/10.1007/s00540-014-1821-y
Received:

Accepted:

Published:

Issue Date:
Keywords
Rehabilitation

Inflammation

Cognitive dysfunction

Aged rats