Abstract
Eagle syndrome is characterized by the sensation of a foreign body in the throat, odynophagia, dysphagia, and craniofacial or cervical pain due to an elongated styloid process. Some reports have indicated that an elongated styloid process is one of the causes of carotid artery dissection (CAD). This is the first report describing the anesthetic management of Eagle syndrome complicated by CAD. Careful intratracheal intubation and neurological monitoring are important to prevent intraoperative neurologic deficits. In addition, attention must be paid to postoperative complications such as airway obstruction.
Access options
Buy single article
Instant access to the full article PDF.
US$ 39.95
Tax calculation will be finalised during checkout.
Subscribe to journal
Immediate online access to all issues from 2019. Subscription will auto renew annually.
US$ 79
Tax calculation will be finalised during checkout.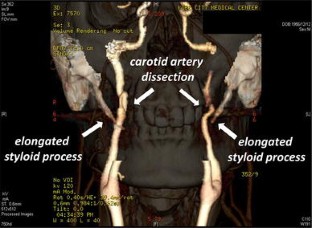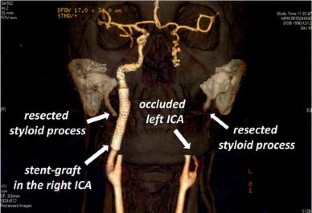 References
1.

Eagle WW. Elongated styloid process. Further observation and a new syndrome. Arch Otolaryngol. 1948;47:630–40.

2.

Eagle WW. Symptomatic elongated styloid process; report of two cases of styloid process-carotid artery syndrome with operation. Arch Otolaryngol. 1949;49:490–503.

3.

Todo T, Alexander M, Stokol C, Lyden P, Braunstein G, Gewertz B. Eagle syndrome revisited: cerebrovascular complications. Ann Vasc Surg. 2012;26:729.

4.

Fusco DJ, Asteraki S, Spetzler RF. Eagle's syndrome: embryology, anatomy, and clinical management. Acta Neurochir. 2012;154:1119–26.

5.

Balbuena L Jr, Hayes D, Ramirez SG, Johnson R. Eagle's syndrome (elongated styloid process). South Med J. 1997;90:331–4.

6.

Shahoon H, Kianbakht C. Symptomatic elongated styloid process or Eagle's syndrome: a case report. J Dent Res Dent Clin Dent Prospects. 2008;2:102–5.

7.

Eagle WW. Elongated styloid process; symptoms and treatment. Arch Otolaryngol. 1958;67:172–6.

8.

Razak A, Short JL, Hussain SI. Carotid artery dissection due to elongated styloid process: a self-stabbing phenomenon. J Neuroimaging. 2012;. doi:10.1111/j.1552-6569.2012.00759.x.

9.

Savranlar A, Uzun L, Uğur MB, Ozer T. Three-dimensional CT of Eagle's syndrome. Diagn Interv Radiol. 2005;11:206–9.

10.

Kawasaki M, Hatashima S, Matsuda T. Non-surgical therapy for bilateral glossopharyngeal neuralgia caused by Eagle's syndrome, diagnosed by three-dimensional computed tomography: a case report. J Anesth. 2012;26:918–21.

11.

Potgieter SV. Elongated styloid process causing difficulty during intubation. Anaesthesia. 1959;14:278–81.

12.

Kawai T, Shimozato K, Ochiai S. Elongated styloid process as a cause of difficult intubation. J Oral Maxillofac Surg. 1990;48:1225–8.
Additional information
The authors received permission from the patient to publish this case report.
About this article
Cite this article
Naito, Y., Yamazaki, K. Perioperative management of Eagle syndrome complicated by carotid artery dissection. J Anesth 28, 291–293 (2014). https://doi.org/10.1007/s00540-013-1713-6
Received:

Accepted:

Published:

Issue Date:
Keywords
Eagle syndrome

Elongated styloid process

Carotid artery dissection

Neurological monitoring