Abstract
Purpose
Patients who undergo regional anesthesia experience anxiety in the preoperative period. Passiflora incarnata Linneaus is a plant that has traditionally been used as an anxiolytic and sedative. We aimed to investigate the effect of preoperative oral administration of Passiflora incarnata Linneaus on anxiety, psychomotor functions, sedation, and hemodynamics in patients undergoing spinal anesthesia.
Methods
Under local ethics committee approval, 60 patients who were aged 25–55 years and ASAI–II and who were scheduled for spinal anesthesia were enrolled in this prospective, randomized, double-blind and placebo-controlled study. Thirty minutes before spinal anesthesia, baseline hemodynamic parameters, State-Trait Anxiety Inventory (STAI) score, sedation score, and psychomotor function test results were measured, then patients were randomly assigned to two groups: oral Passiflora incarnata Linneaus extract or placebo was given to the patients. Tests were repeated just before spinal anesthesia. Hemodynamics, sedation score, sensory-motor block and side effects were assessed during the operation. Psychomotor function tests were repeated at the end of the operation and 60 min after the operation.
Results
There was a statistically significant difference between the two groups for the increase in State Anxiety Inventory (STAI-S) score obtained just before spinal anesthesia when compared to the baseline. There was no statistically significant difference in psychomotor function from the baseline for either group. A significant difference was not found between the two groups in demographics, psychomotor function, sedation score, hemodynamics, and side effects.
Conclusion
Oral preoperative administration of Passiflora incarnata Linneaus suppresses the increase in anxiety before spinal anesthesia without changing psychomotor function test results, sedation level, or hemodynamics.
Access options
Buy single article
Instant access to the full article PDF.
US$ 39.95
Tax calculation will be finalised during checkout.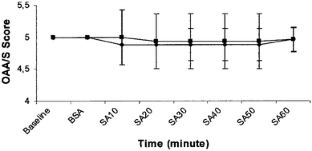 References
1.

Höhener D, Blumenthal S, Borgeat A. Sedation and regional anaesthesia in the adult patient. Br J Anaesth. 2008;100:8–16.

2.

Dhawan K, Kumar S, Sharma A. Anti-anxiety studies on extracts of Passiflora incarnata Linneaus. J Ethnopharm. 2001;78:165–70.

3.

Mills S, Bone K (eds). Principles and practice of phytotherapy. Edinburgh: Churchill Livingstone; 2000. p. 232–3.

4.

Sopranzi N, DeFeo G, Mazzanti G, Tolu L. Biological and electroencephalographic parameters in rats in relation to Passiflora incarnata. Clin Ter. 1990;132:329–33.

5.

Akhondzadeh S, Naghavi HR, Vazirian M, Shayeganpour A, Rashidi H, Khani M. Passionflower in the treatment of generalized anxiety: a pilot double-blind randomized controlled trials with oxazepam. J Clin Pharm Ther. 2001;26:363–7.

6.

Soulimani R, Younus C, Jarmouni S, Bousta D, Misslin R, Mortier F. Behavioral effects of Passiflora incarnata L. and its indole alkaloid and flavonoid derivatives and maltol in the mouse. J Ethnopharmacol. 1997;57:11–20.

7.

Grundmann O, Wahling C, Staiger C, Butterweck V. Anxiolytic effects of a passion flower (Passiflora incarnata L.) extract in the elevated plus maze in mice. Pharmazie. 2009;64:63–4.

8.

Movafegh A, Alizadeh R, Hajimohamadi F, Esfahani F, Nejatfar M. Preoperative oral Passiflora incarnata reduces anxiety in ambulatory surgery patients: a double-blind, placebo-controlled study. Anesth Analg. 2008;106:1728–32.

9.

Grundmann O, Wang J, McGregor GP, Butterweck V. Anxiolytic activity of a phytochemically characterized Passiflora incarnata extract is mediated via the GABAergic system. Planta Med. 2008;74:1769–73.

10.

Miyasaka LS, Atallah AN, Soares BG. Passiflora for anxiety disorder. Cochrane Database Syst Rev. 2007;24:CD004518.

11.

Ersnst E. Herbal remedies for anxiety—a systematic review of controlled clinical trials. Phytomedicine. 2006;13:205–8.

12.

Spielberger CD. Manuel for the State-Trait Anxiety Inventory (Form Y). Palo Alto: Consulting Psychologists Press Inc.; 1983.

13.

Goyal N, Ramakrishna B, Bhandarkar S. A comparative evaluation of the characteristics of recovery from anaesthesia with isoflurane and halothane in day-care surgery. Indian J Anaesth. 2006;50:183–6.

14.

Caumo W, Schmidt AP, Schneider CN, Bergmann J, Iwamoto CW, Bandeira D, Ferreira MBC. Risk factors for preoperative anxiety in adults. Acta Anaesthesiol Scand. 2001;45:298–307.

15.

Cravotta G, Boffa L, Genzini L, Garella D. Phytotherapeutics: an evaluation of the potential of 1000 plants. J Clin Pharm Ther. 2010;35:11–48.

16.

Wolfman C, Viola H, Paladini A, Dajas F, Medina JH. Possible anxiolytic effects of chrysin, a central benzodiazepine receptor ligand isolated from Passiflora caerulea. Pharmacol Biochem Behav. 1994;47:1–4.

17.

Loli F, Sato CM, Romanini CV, Viaggi Billas-Boas LD, Moraes Santos CA, de Oliveira RMW. Possible involvement of GABAA-benzodiazepine receptor in the anxiolytic-like effect induced by Passiflora actinia extracts in mice. J Ethnopharmacol. 2007;111:308–14.

18.

Wohlmuth H, Penman KG, Pearson T, Lehmann RP. Pharmacognosy and chemotypes of passionflower (Passiflora incarnata L.). Biol Pharm Bull. 2010;33:1015–8.

19.

Blumenthal M. The Complete German Commission E Monographs. Therapeutic guide to herbal medicines. Austin: American Botanical Council; 1998.

20.

Gentili M, Chau Huu P, Enel D, Hollande J, Bonnet F. Sedation depends on the level of sensory block induced by spinal anaesthesia. Br J Anaesth. 1998;81:970–1.

21.

Smith GW, Chalmers TM, Nuki G. Vasculitis associated with herbal preparation containing Passiflora extract. Br J Rheumatol. 1993;32:87–8.

22.

Fisher AA, Purcell P, Le Couteur DG. Toxicity of Passiflora incarnata L. J Toxicol Clin Toxicol. 2000;38:63–6.

23.

Pierre S, Crosbie L, Duttaroy AK. Inhibitory effect of aqueous extracts of some herbs on human platelet aggregation in vitro. Platelets. 2005;16:469–73.
Conflict of interest
No conflict of interest exists.
About this article
Cite this article
Aslanargun, P., Cuvas, O., Dikmen, B. et al. Passiflora incarnata Linneaus as an anxiolytic before spinal anesthesia. J Anesth 26, 39–44 (2012). https://doi.org/10.1007/s00540-011-1265-6
Received:

Accepted:

Published:

Issue Date:
Keywords
Anesthesia

Spinal

Anxiety

Passiflora incarnata