Abstract
Background
The details of gastric cancer in young patients remain unclear because of the low prevalence of the disease. This study aimed to clarify the clinicopathological features and prognosis of gastric cancer in young patients.
Methods
From January 2007 to January 2016, patients in their 20s and 30s who were diagnosed with primary gastric cancer at 4 hospitals were enrolled. Their clinical characteristics and prognosis were evaluated.
Results
The total number of patients was 72. The median age was 36 years, and the ratio of males to females was 1:1. The dominant histological type was undifferentiated type (66/72, 92%). Helicobacter pylori (H. pylori) was positive in 81% (54/67). Although there were some asymptomatic patients in stages I–III, all stage IV patients had some clinical symptoms at the diagnosis. The percentage of stage IV was significantly higher in patients in their 20s than in those in their 30s (75% vs. 25%, P < 0.001). The Kaplan–Meier method showed that the overall survival of patients in their 20s was significantly lower than that of patients in their 30s (P = 0.037).
Conclusions
A high rate of H. pylori infection was revealed in young gastric cancer patients. The patients in their 20s had a worse prognosis than those in their 30s. We should consider examining the H. pylori infection status for young patients as well as older patients to identify high-risk populations.
This is a preview of subscription content, log in to check access.
Access options
Buy single article
Instant access to the full article PDF.
US$ 39.95
Price includes VAT for USA
Subscribe to journal
Immediate online access to all issues from 2019. Subscription will auto renew annually.
US$ 99
This is the net price. Taxes to be calculated in checkout.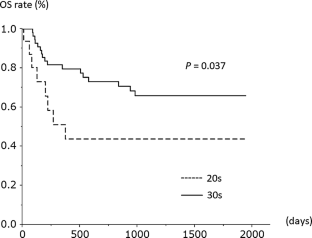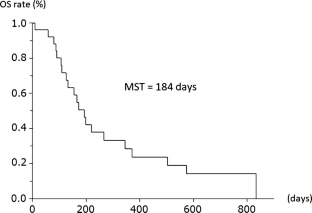 References
1.

Jemal A, Bray F, Center MM, et al. Global cancer statistics. CA. Cancer J Clin. 2011;61:69–90.

2.

Isobe Y, Nashimoto A, Akazawa K, et al. Gastric cancer treatment in Japan: 2008 annual report of the JGCA nationwide registry. Gastric Cancer. 2011;14:301–16.

3.

Theuer CP, Kurosaki T, Taylor TH, et al. Unique features of gastric carcinoma in the young: a population-based analysis. Cancer. 1998;83:25–33.

4.

Koea JB, Karpeh MS, Brennan MF. Gastric cancer in young patients: demographic, clinicopathological, and prognostic factors in 92 patients. Ann Surg Oncol. 2000;7:346–51.

5.

Kulig J, Popiela T, Kolodziejczyk P, et al. Clinicopathological profile and long-term outcome in young adults with gastric cancer: multicenter evaluation of 214 patients. Langenbeck's Archives surgery/Deutsche Gesellschaft fur Chirurgie. 2008;393:37–43.

6.

Nakamura R, Saikawa Y, Takahashi T, et al. Retrospective analysis of prognostic outcome of gastric cancer in young patients. Int J Clin Oncol. 2011;16:328–34.

7.

Park HJ, Ahn JY, Jung HY, et al. Clinical characteristics and outcomes for gastric cancer patients aged 18-30 years. Gastric Cancer. 2014;17:649–60.

8.

Kunisaki C, Akiyama H, Nomura M, et al. Clinicopathological features of gastric carcinoma in younger and middle-aged patients: a comparative study. J Gastrointest Surg. 2006;10:1023–32.

9.

Pisanu A, Podda M, Cois A, et al. Gastric cancer in the young: is it a different clinical entity? A retrospective cohort study. Gastroenterol Res Pract. 2014;2014:125038.

10.

Takatsu Y, Hiki N, Nunobe S, et al. Clinicopathological features of gastric cancer in young patients. Gastric cancer. 2015;19:472–8.

11.

Liu S, Feng F, Xu G, et al. Clinicopathological features and prognosis of gastric cancer in young patients. BMC Cancer. 2016;16:478.

12.

Watanabe K, Nagata N, Nakashima R, et al. Predictive findings for Helicobacter pylori-uninfected, -infected and -eradicated gastric mucosa: validation study. World J Gastroenterol. 2013;19:4374–9.

13.

Kimura KTT. An endoscopic recognition of the atrophic border and its significance in chronic gastritis. Endoscopy. 1969;1:87–97.

14.

Kamada TTA, Yamanaka Y, Manabe N, et al. Nodular gastrits with Helicobacter pylori infection is strongly associated with diffuse-type gastric cacer in young patients. Dig Endosc. 2007;19:180–4.

15.

Haruma K, Komoto K, Kamada T, et al. Helicobacter pylori infection is a major risk factor for gastric carcinoma in young patients. Scand J Gastroenterol. 2000;35:255–9.

16.

Hirahashi M, Yao T, Matsumoto T, et al. Intramucosal gastric adenocarcinoma of poorly differentiated type in the young is characterized by Helicobacter pylori infection and antral lymphoid hyperplasia. Modern Pathol. 2007;20:29–34.

17.

Ji T, Zhou F, Wang J, et al. Risk factors for lymph node metastasis of early gastric cancers in patients younger than 40. Medicine. 2017;96:e7874.

18.

Shiota S, Murakawi K, Suzuki R, et al. Helicobacter pylori infection in Japan. Expert Rev Gastroenterol Hepatol. 2013;7:35–40.

19.

Trends in Age-specific Incidence Rate (1980, 2013). In: Wakao F, Higashi T, Katanoda K,editors. Cancer Statistics in Japan 2017. Tokyo; 2018. pp. 50–53.

20.

Bani-Hani KE. Clinicopathological comparison between young and old age patients with gastric adenocarcinoma. Int J Gastrointest Cancer. 2005;35:43–52.

21.

Tavares A, Gandra A, Viveiros F, et al. Analysis of clinicopathologic characteristics and prognosis of gastric cancer in young and older patients. Pathol Oncol Res. 2013;19:111–7.

22.

Kong X, Wang JL, Chen HM, et al. Comparison of the clinicopathological characteristics of young and elderly patients with gastric carcinoma: a meta analysis. J Surg Oncol. 2012;106:346–52.

23.

Isobe T, Hashimoto K, Kizaki J, et al. Characteristics and prognosis of gastric cancer in young patients. Oncol Rep. 2013;30:43–9.

24.

Tatemichi M, Sasazuki S, Inoue M, et al. Different etiological role of Helicobacter pylori (Hp) infection in carcinogenesis between differentiated and undifferentiated gastric cancers: a nested case-control study using IgG titer against Hp surface antigen. Acta oncologica (Stockh Swed). 2008;47:360–5.

25.

Kikuchi S, Crabtree JE, Forman D, et al. Association between infections with CagA-positive or -negative strains of Helicobacter pylori and risk for gastric cancer in young adults research group on prevention of gastric carcinoma among young adults. Am J Gastroenterol. 1999;94:3455–9.

26.

Hsieh FJ, Wang YC, Hsu JT, et al. Clinicopathological features and prognostic factors of gastric cancer patients aged 40 years or younger. J Surg Oncol. 2012;105:304–9.

27.

Marrelli D, Pedrazzani C, Berardi A, et al. Negative Helicobacter pylori status is associated with poor prognosis in patients with gastric cancer. Cancer. 2009;115:2071–80.

28.

Jung DH, Lee YC, Kim JH, et al. Postoperative Helicobacter pylori infection as a prognostic factor for gastric cancer patients after curative resection. Gut and liver. 2017;11:635–41.
Ethics declarations
Conflicts of interest
We declare that there are no potential conflicts of interest relevant to this article.
About this article
Cite this article
Kono, Y., Kanzaki, H., Tsuzuki, T. et al. A multicenter observational study on the clinicopathological features of gastric cancer in young patients. J Gastroenterol 54, 419–426 (2019). https://doi.org/10.1007/s00535-018-1525-4
Received:

Accepted:

Published:

Issue Date:
Keywords
Gastric cancer

Young patient

Helicobacter pylori