Abstract
Background
Intrahepatic cholangiocarcinoma (ICC) shows differing clinical outcomes depending on its localization.
Methods
We reviewed the surgical outcomes of 104 ICC patients who underwent liver resection at our institution. We divided ICC into hilar type (HICC) and peripheral type (PICC) depending on positive contact with the hepatic hilum on preoperative computed tomography (CT).
Results
The survival outcomes were significantly poorer in HICC patients. HICCs showed a larger tumor size and more frequent bile duct invasion, lymph node metastasis, and non-curative resection than PICC. Resections for HICC had greater blood loss and required a longer operation time, larger hepatectomy, and more frequent extrahepatic bile duct resection. HICCs, even if small in size, also showed a greater tendency to metastasize to the lymph nodes of the hepatoduodenal ligament. Univariate analysis of the ICCs in our current cohort revealed that tumor size, multiple tumors, bile duct invasion, lymph node metastasis, non-curative resection, and HICC are associated with a poorer overall survival outcome. Multivariate analysis indicated that multiple tumors and non-curative resection were independent prognostic factors for survival. Among the curative resection cases, however, survival did not differ significantly between HICC and PICC. The accuracy rate of our CT-based classification for the pathological classification was 81.7%.
Conclusions
HICC shows more frequent bile duct invasion and lymph node metastasis, requires more extensive surgery, and has a higher rate of non-curative resection than PICC. However, if curative resection is achieved, the survival outcomes are expected to be equivalent between HICC and PICC.
This is a preview of subscription content,
to check access.
Access this article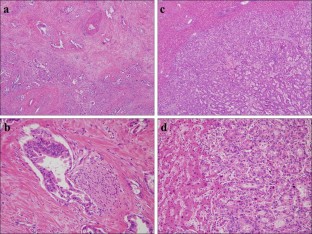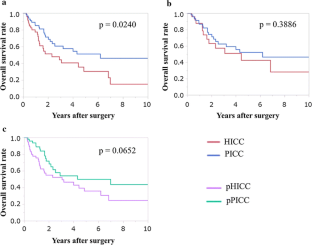 Abbreviations
ICC:

Intrahepatic cholangiocarcinoma

HICC:

Hilar-type intrahepatic cholangiocarcinoma

PICC:

Peripheral-type intrahepatic cholangiocarcinoma

CT:

Computed tomography

ICGR15:

Indocyanine green retention rate at 15 min

5FU:

5-Fluorouracil

CA 19-9:

Carbohydrate antigen 19-9
References
Bridgewater J, Galle PR, Khan SA, et al. Guidelines for the diagnosis and management of intrahepatic cholangiocarcinoma. J Hepatol. 2014;60:1268–89.

Rizvi S, Gores GJ. Pathogenesis, diagnosis, and management of cholangiocarcinoma. Gastroenterology. 2013;145:1215–29.

Aishima S, Oda Y. Pathogenesis and classification of intrahepatic cholangiocarcinoma: different characters of perihilar large duct type versus peripheral small duct type. J Hepatobiliary Pancreat Sci. 2015;22:94–100.

Aishima S, Kuroda Y, Nishihara Y, et al. Proposal of progression model for intrahepatic cholangiocarcinoma: clinicopathologic differences between hilar type and peripheral type. Am J Surg Pathol. 2007;31:1059–67.

Clark CJ, Wood-Wentz CM, Reid-Lombardo KM, et al. Lymphadenectomy in the staging and treatment of intrahepatic cholangiocarcinoma: a population-based study using the National Cancer Institute SEER database. HPB (Oxf). 2011;13:612–20.

Nakeeb A, Pitt HA, Sohn TA, et al. Cholangiocarcinoma. A spectrum of intrahepatic, perihilar, and distal tumors. Ann Surg. 1996;224:463–73.

Ebata T, Kosuge T, Hirano S, et al. Proposal to modify the International Union Against Cancer staging system for perihilar cholangiocarcinomas. Br J Surg. 2014;101:79–88.

Murakami Y, Uemura K, Sudo T, et al. Intrahepatic cholangiocarcinoma: clinicopathological differences between peripheral type and hilar type. J Gastrointest Surg. 2012;16:540–8.

Yamashita YI, Wang H, Kurihara T, et al. Clinical significances of preoperative classification of intrahepatic cholangiocarcinoma: different characteristics of perihilar vs. peripheral ICC. Anticancer Res. 2016;36:6563–9.

Sano T, Shimada K, Sakamoto Y, et al. Prognosis of perihilar cholangiocarcinoma: hilar bile duct cancer versus intrahepatic cholangiocarcinoma involving the hepatic hilus. Ann Surg Oncol. 2008;15:590–9.

Kamiyama T, Nakanishi K, Yokoo H, et al. Perioperative management of hepatic resection toward zero mortality and morbidity: analysis of 793 consecutive cases in a single institution. J Am Coll Surg. 2010;211:443–9.

Palmer WC, Patel T. Are common factors involved in the pathogenesis of primary liver cancers? A meta-analysis of risk factors for intrahepatic cholangiocarcinoma. J Hepatol. 2012;57:69–76.

Fujimoto A, Furuta M, Shiraishi Y, et al. Whole-genome mutational landscape of liver cancers displaying biliary phenotype reveals hepatitis impact and molecular diversity. Nat Commun. 2015;30(6):6120.

Iida H, Kaibori M, Tanaka S, et al. Low incidence of lymph node metastasis after resection of hepatitis virus-related intrahepatic cholangiocarcinoma. World J Surg. 2017;41:1082–8.

Mavros MN, Economopoulos KP, Alexiou VG, et al. Treatment and prognosis for patients with intrahepatic cholangiocarcinoma: systematic review and meta-analysis. JAMA Surg. 2014;149:565–74.

Raoof M, Dumitra S, Ituarte PHG, et al. Development and validation of a prognostic score for intrahepatic cholangiocarcinoma. JAMA Surg. 2017;152:e170117.

Wang Y, Li J, Xia Y, et al. Prognostic nomogram for intrahepatic cholangiocarcinoma after partial hepatectomy. J Clin Oncol. 2013;31:1188–95.

Nakagawa T, Kamiyama T, Kurauchi N, et al. Number of lymph node metastases is a significant prognostic factor in intrahepatic cholangiocarcinoma. World J Surg. 2005;29:728–33.

Yedibela S, Demir R, Zhang W, et al. Surgical treatment of mass-forming intrahepatic cholangiocarcinoma: an 11-year Western single-center experience in 107 patients. Ann Surg Oncol. 2009;16:404–12.

Morine Y, Shimada M. The value of systematic lymph node dissection for intrahepatic cholangiocarcinoma from the viewpoint of liver lymphatics. J Gastroenterol. 2015;50:913–27.

Choi SB, Kim KS, Choi JY, et al. The prognosis and survival outcome of intrahepatic cholangiocarcinoma following surgical resection: association of lymph node metastasis and lymph node dissection with survival. Ann Surg Oncol. 2009;16:3048–56.

Kim DH, Choi DW, Choi SH, et al. Is there a role for systematic hepatic pedicle lymphadenectomy in intrahepatic cholangiocarcinoma? A review of 17 years of experience in a tertiary institution. Surgery. 2015;157:666–75.

Adachi T, Eguchi S, Beppu T, et al. Prognostic impact of preoperative lymph node enlargement in intrahepatic cholangiocarcinoma: a multi-institutional study by the Kyushu Study Group of liver surgery. Ann Surg Oncol. 2015;22:2269–78.

de Jong MC, Hong SM, Augustine MM, et al. Hilar cholangiocarcinoma: tumor depth as a predictor of outcome. Arch Surg. 2011;146:697–703.
Ethics declarations
Conflict of interest
The authors declare that they have no conflict of interest.
About this article
Cite this article
Orimo, T., Kamiyama, T., Mitsuhashi, T. et al. Impact of tumor localization on the outcomes of surgery for an intrahepatic cholangiocarcinoma. J Gastroenterol 53, 1206–1215 (2018). https://doi.org/10.1007/s00535-018-1469-8
Received:

Accepted:

Published:

Issue Date:

DOI: https://doi.org/10.1007/s00535-018-1469-8
Keywords