Abstract
Background
Colorectal cancer (CRC) is one of the most predominant types of cancer, and it is the fourth most common cause of cancer-related death and it is important to diagnose CRC in early stage to decrease the mortality by CRC. In our previous study, we identified a combination of five peptides as a biomarker candidate to diagnose CRC by BLOTCHIP®-MS analysis using a set of healthy control subjects and CRC patients (stage II–IV). The aim of the present study was to validate the serum biomarker peptides reported in our previous study using a second cohort and to establish their potential usefulness in CRC diagnosis.
Methods
A total of 56 patients with CRC (n = 14 each of stages I–IV), 60 healthy controls, and 60 patients with colonic adenoma were included in this study. The five peptides were extracted and analyzed by selected reaction monitoring using ProtoKey® Colorectal Cancer Risk Test Kit (Protosera, Inc., Amagasaki, Japan).
Results
The results clearly showed that the four CRC groups, stages I–IV, could be sufficiently discriminated from the control group and colonic polyp group. This five-peptide set could identify CRC at each stage compared to the control population in this validation cohort, including those with early-stage disease. The AUC values for each stage of CRC compared to the control population were 0.779, 0.946, 0.852, and 0.973 for stages I, II, III, and IV, respectively.
Conclusions
In this case–control validation study, we confirmed high diagnostic performance for CRC using five peptides that were identified in our previous study as serum biomarker candidates for the detection of CRC.
This is a preview of subscription content, log in to check access.
Access options
Buy single article
Instant access to the full article PDF.
US$ 39.95
Price includes VAT for USA
Subscribe to journal
Immediate online access to all issues from 2019. Subscription will auto renew annually.
US$ 99
This is the net price. Taxes to be calculated in checkout.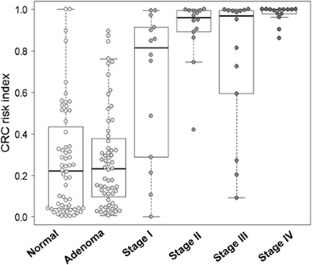 References
1.

Ferlay J, Soerjomataram I, Dikshit R, et al. Cancer incidence and mortality worldwide: sources, methods and major patterns in GLOBOCAN 2012. Int J Cancer. 2015;136(5):E359–86.

2.

Pourhoseingholi MA. Increased burden of colorectal cancer in Asia. World J Gastrointest Oncol. 2012;4(4):68–70 Epub 2012/04/26.

3.

Etzioni R, Urban N, Ramsey S, et al. The case for early detection. Nat Rev Cancer. 2003;3(4):243–52 Epub 2003/04/03.

4.

Edwards BK, Ward E, Kohler BA, et al. Annual report to the nation on the status of cancer, 1975-2006, featuring colorectal cancer trends and impact of interventions (risk factors, screening, and treatment) to reduce future rates. Cancer. 2010;116(3):544–73 Epub 2009/12/10.

5.

Allison JE, Tekawa IS, Ransom LJ, et al. A comparison of fecal occult-blood tests for colorectal-cancer screening. N Engl J Med. 1996;334(3):155–9 Epub 1996/01/18.

6.

Morikawa T, Kato J, Yamaji Y, et al. A comparison of the immunochemical fecal occult blood test and total colonoscopy in the asymptomatic population. Gastroenterology. 2005;129(2):422–8 Epub 2005/08/09.

7.

Parra-Blanco A, Gimeno-Garcia AZ, Quintero E, et al. Diagnostic accuracy of immunochemical versus guaiac faecal occult blood tests for colorectal cancer screening. J Gastroenterol. 2010;45(7):703–12 Epub 2010/02/17.

8.

Smith RA, Cokkinides V, Brooks D, et al. Cancer screening in the United States, 2011: a review of current American Cancer Society guidelines and issues in cancer screening. CA Cancer J Clin. 2011;61(1):8–30 Epub 2011/01/06.

9.

Kuipers EJ, Rosch T, Bretthauer M. Colorectal cancer screening–optimizing current strategies and new directions. Nature Rev Clin Oncol. 2013;10(3):130–42 Epub 2013/02/06.

10.

Boja ES, Rodriguez H. Mass spectrometry-based targeted quantitative proteomics: achieving sensitive and reproducible detection of proteins. Proteomics. 2012;12(8):1093–110 Epub 2012/05/12.

11.

Cadeco S, Williamson AJ, Whetton AD. The use of proteomics for systematic analysis of normal and transformed hematopoietic stem cells. Curr Pharm Des. 2012;18(13):1730–50 Epub 2012/03/09.

12.

Garay JP, Gray JW. Omics and therapy—a basis for precision medicine. Mol Oncol. 2012;6(2):128–39 Epub 2012/03/27.

13.

Heckman-Stoddard BM. Oncology biomarkers: discovery, validation, and clinical use. Semin Oncol Nurs. 2012;28(2):93–8 Epub 2012/05/01.

14.

Pan C, He N, Zhao M, et al. Subdividing the M1 stage of liver metastasis for nasopharyngeal carcinoma to better predict metastatic survival. Med Oncol. 2011;28(4):1349–55 Epub 2010/09/08.

15.

Fan NJ, Gao CF, Wang XL. Identification of regional lymph node involvement of colorectal cancer by Serum SELDI proteomic patterns. Gastroenterol Res Pract. 2011;2011:784967 Epub 2012/01/19.

16.

Fan NJ, Gao CF, Zhao G, et al. Serum peptidome patterns for early screening of esophageal squamous cell carcinoma. Biotechnol Appl Biochem. 2012;59(4):276–82 Epub 2013/04/17.

17.

Fan NJ, Gao CF, Zhao G, et al. Serum peptidome patterns of breast cancer based on magnetic bead separation and mass spectrometry analysis. Diag Pathol. 2012;7:45 Epub 2012/04/24.

18.

Deng BG, Yao JH, Liu QY, et al. Comparative serum proteomic analysis of serum diagnosis proteins of colorectal cancer based on magnetic bead separation and MALDI-TOF mass spectrometry. Asian Pac J Cancer Prev. 2013;14(10):6069–75 Epub 2013/12/03.

19.

Baumann S, Ceglarek U, Fiedler GM, et al. Standardized approach to proteome profiling of human serum based on magnetic bead separation and matrix-assisted laser desorption/ionization time-of-flight mass spectrometry. Clin Chem. 2005;51(6):973–80 Epub 2005/04/23.

20.

Shin S, Cazares L, Schneider H, et al. Serum biomarkers to differentiate benign and malignant mammographic lesions. J Am Coll Surg. 2007;204(5):1065–71 (discussion 71-3).

21.

West-Norager M, Kelstrup CD, Schou C, et al. Unravelling in vitro variables of major importance for the outcome of mass spectrometry-based serum proteomics. J Chromatogr B Analyt Technol Biomed Life Sci. 2007;847(1):30–7 Epub 2006/11/23.

22.

Uchiyama K, Naito Y, Yagi N, et al. Peptidomic analysis via one-step direct transfer technology for colorectal cancer biomarker discovery. J Proteomics Bioinform. 2015;5:1.

23.

Picotti P, Aebersold R. Selected reaction monitoring-based proteomics: workflows, potential, pitfalls and future directions. Nat Methods. 2012;9(6):555–66 Epub 2012/06/07.

24.

World Medical Association Declaration of Helsinki: ethical principles for medical research involving human subjects. Seoul: From the 59th World Medical Association Assembly [database on the internet]. 2008. http://www.wma.net/en/30publications/10policies/b3/17c.pdf.

25.

Team RC. R: A language and environment for statistical computing. R Foundation for Statistical Computing. 2014.

26.

Bendix Carstensen MP, Esa Laara, Michael Hills. Epi: A package for statistical analysis in epidemiology. R package version 1.1.67. 2015.

27.

Youden WJ. Index for rating diagnostic tests. Cancer. 1950;3(1):32–5 Epub 1950/01/01.

28.

Robin X, Turck N, Hainard A, et al. pROC: an open-source package for R and S + to analyze and compare ROC curves. BMC Bioinformatics. 2011;12:77 Epub 2011/03/19.

29.

Issaq HJ, Xiao Z, Veenstra TD. Serum and plasma proteomics. Chem Rev. 2007;107(8):3601–20 Epub 2007/07/20.

30.

Dai Y, Hu C, Wang L, et al. Serum peptidome patterns of human systemic lupus erythematosus based on magnetic bead separation and MALDI-TOF mass spectrometry analysis. Scand J Rheumatol. 2010;39(3):240–6 Epub 2010/02/20.

31.

Petricoin EF, Belluco C, Araujo RP, et al. The blood peptidome: a higher dimension of information content for cancer biomarker discovery. Nat Rev Cancer. 2006;6(12):961–7 Epub 2006/11/10.

32.

Villanueva J, Martorella AJ, Lawlor K, et al. Serum peptidome patterns that distinguish metastatic thyroid carcinoma from cancer-free controls are unbiased by gender and age. Mol Cell Proteomics. 2006;5(10):1840–52 Epub 2006/08/10.

33.

Voortman J, Pham TV, Knol JC, et al. Prediction of outcome of non-small cell lung cancer patients treated with chemotherapy and bortezomib by time-course MALDI-TOF-MS serum peptide profiling. Proteome science. 2009;7:34 Epub 2009/09/05.

34.

Gianazza E, Chinello C, Mainini V, et al. Alterations of the serum peptidome in renal cell carcinoma discriminating benign and malignant kidney tumors. J Proteomics. 2012;76:125–40.

35.

Padoan A, Seraglia R, Basso D, et al. Usefulness of MALDI-TOF/MS identification of low-MW fragments in sera for the differential diagnosis of pancreatic cancer. Pancreas. 2013;42(4):622–32 Epub 2012/12/29.

36.

Petricoin EF, Ardekani AM, Hitt BA, et al. Use of proteomic patterns in serum to identify ovarian cancer. Lancet. 2002;359(9306):572–7 Epub 2002/02/28.

37.

Chen YD, Zheng S, Yu JK, et al. Artificial neural networks analysis of surface-enhanced laser desorption/ionization mass spectra of serum protein pattern distinguishes colorectal cancer from healthy population. Clin Cancer Res. 2004;10(24):8380–5 Epub 2004/12/30.

38.

Liu XP, Shen J, Li ZF, et al. A serum proteomic pattern for the detection of colorectal adenocarcinoma using surface enhanced laser desorption and ionization mass spectrometry. Cancer Invest. 2006;24(8):747–53 Epub 2006/12/13.

39.

Peng Y, Li X, Wu M, et al. New prognosis biomarkers identified by dynamic proteomic analysis of colorectal cancer. Mol BioSyst. 2012;8(11):3077–88 Epub 2012/09/22.

40.

Tanaka K, Tsugawa N, Kim YO, et al. A new rapid and comprehensive peptidome analysis by one-step direct transfer technology for 1-D electrophoresis/MALDI mass spectrometry. Biochem Biophys Res Commun. 2009;379(1):110–4 Epub 2008/12/17.
Acknowledgements
This work was supported by Grants-in-Aid for Scientific Research (KAKENHI) (B) to Y.N. (No. 16H05289) from the Japan Society for the Promotion of Science (JSPS), and by an Adaptable and Seamless Technology Transfer Program through target-driven R&D (to Y.N.) from the Japan Agency for Medical Research and Development (AMED), a Grant-in-Aid for Scientific Research (KAKENHI) (C) to K.U. (No. 15K08313) from the Japan Society for the Promotion of Science (JSPS), a Grant-in-Aid for Scientific Research (KAKENHI) (C) to T.T. (No. 16K09322) from the Japan Society for the Promotion of Science (JSPS). Statistical analysis was assisted by Hajime Yamakage (Satista Co., Ltd.).
About this article
Cite this article
Uchiyama, K., Naito, Y., Yagi, N. et al. Selected reaction monitoring for colorectal cancer diagnosis using a set of five serum peptides identified by BLOTCHIP®-MS analysis. J Gastroenterol 53, 1179–1185 (2018). https://doi.org/10.1007/s00535-018-1448-0
Received:

Accepted:

Published:

Issue Date:
Keywords
Colorectal cancer

Biomarker

Peptidome

BLOTCHIP®-MS analysis