Abstract
Background
Gastric cancer stem cells (GCSCs) have been successfully isolated from patients. However, the molecular mechanisms underlying the self-renewal of GCSCs and their relationship with the microenvironment are poorly characterized.
Methods
GCSCs and cancer-associated fibroblasts (CAFs) were cultured directly from gastric cancer patients. The self-renewal of GCSCs was assayed by sphere formation assay and in vivo tumorigenicity. Expression of neuregulin1 (NRG1) was examined by immunohistochemistry, real-time PCR and western blotting.
Results
CAFs increased the self-renewal of GCSCs by secreting NRG1. NRG1 activated NF-κB signaling and this activation regulated GCSC self-renewal. Moreover, NF-κB-active GCSCs were tumorigenic, however NF-κB-inactive GCSCs were not. The overexpression of NRG1 in stromal cells and cancer cells was observed in the tumor tissues of gastric cancer patients and was associated with clinical stage lymph node metastasis and survival in gastric cancer patients. In addition, we also found that NRG1 can regulate the proliferation and invasion of gastric cancer cells.
Conclusions
These results indicate that NRG1, which can be secreted by CAFs or cancer cells, promotes progression of gastric cancer by regulating the self-renewal of GCSCs and its overexpression is associated with a prognosis of gastric cancer.
Access options
Buy single article
Instant access to the full article PDF.
USD 39.95
Price excludes VAT (USA)
Tax calculation will be finalised during checkout.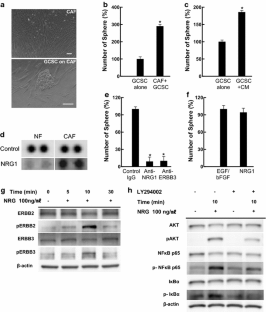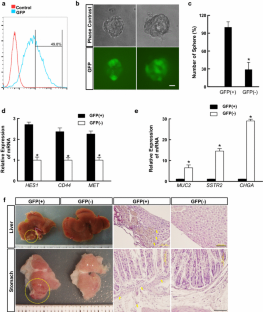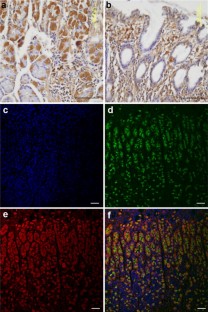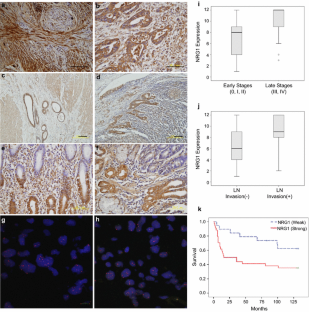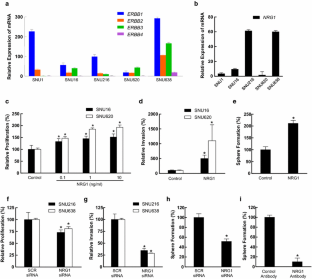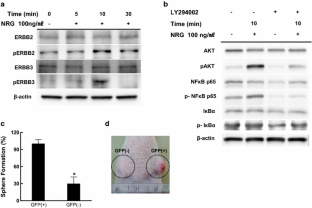 References
Singh SK, Hawkins C, Clarke ID, et al. Identification of human brain tumour initiating cells. Nature. 2004;432:396–401.

Al-Hajj M, Wicha MS, Benito-Hernandez A, Morrison SJ, Clarke MF. Prospective identification of tumorigenic breast cancer cells. Proc Natl Acad Sci U S A. 2003;100:3983–8.

O'Brien CA, Pollett A, Gallinger S, Dick JE. A human colon cancer cell capable of initiating tumour growth in immunodeficient mice. Nature. 2007;445:106–10.

Ricci-Vitiani L, Lombardi DG, Pilozzi E, et al. Identification and expansion of human colon-cancer-initiating cells. Nature. 2007;445:111–5.

Han ME, Jeon TY, Hwang SH, et al. Cancer spheres from gastric cancer patients provide an ideal model system for cancer stem cell research. Cell Mol Life Sci. 2011;68:3589–605.

Boyer LA, Lee TI, Cole MF, et al. Core transcriptional regulatory circuitry in human embryonic stem cells. Cell. 2005;122:947–56.

He S, Nakada D, Morrison SJ. Mechanisms of stem cell self-renewal. Annu Rev Cell Dev Biol. 2009;25:377–406.

Cabarcas SM, Mathews LA, Farrar WL. The cancer stem cell niche–there goes the neighborhood? Int J Cancer. 2011;129:2315–27.

Heddleston JM, Li Z, Lathia JD, Bao S, Hjelmeland AB, Rich JN. Hypoxia inducible factors in cancer stem cells. Br J Cancer. 2010;102:789–95.

Vermeulen L, De Sousa EMF, van der Heijden M, et al. Wnt activity defines colon cancer stem cells and is regulated by the microenvironment. Nat Cell Biol. 2010;12:468–76.

Breuleux M. Role of heregulin in human cancer. Cell Mol Life Sci. 2007;64:2358–77.

Stove C, Bracke M. Roles for neuregulins in human cancer. Clin Exp Metastasis. 2004;21:665–84.

Jeon TY, Han ME, Lee YW, et al. Overexpression of stathmin1 in the diffuse type of gastric cancer and its roles in proliferation and migration of gastric cancer cells. Br J Cancer. 2010;102:710–8.

Lee HE, Park KU, Yoo SB, et al. Clinical significance of intratumoral HER2 heterogeneity in gastric cancer. Eur J Cancer. 2013;49:1448–57.

Ishimoto T, Nagano O, Yae T, et al. CD44 variant regulates redox status in cancer cells by stabilizing the xCT subunit of system xc(-) and thereby promotes tumor growth. Cancer Cell. 2011;19:387–400.

Hinohara K, Kobayashi S, Kanauchi H, et al. ErbB receptor tyrosine kinase/NF-kappaB signaling controls mammosphere formation in human breast cancer. Proc Natl Acad Sci U S A. 2012;109:6584–9.

Mimeault M, Johansson SL, Batra SK. Pathobiological implications of the expression of EGFR, pAkt, NF-kappaB and MIC-1 in prostate cancer stem cells and their progenies. PLoS ONE. 2012;7:e31919.

Nogueira L, Ruiz-Ontanon P, Vazquez-Barquero A, et al. Blockade of the NFkappaB pathway drives differentiating glioblastoma-initiating cells into senescence both in vitro and in vivo. Oncogene. 2011;30:3537–48.

Zhao WJ. The expression and localization of neuregulin-1 (Nrg1) in the gastrointestinal system of the rhesus monkey. Folia Histochem Cytobiol. 2013;51:38–44.

Prentice LM, Shadeo A, Lestou VS, et al. NRG1 gene rearrangements in clinical breast cancer: identification of an adjacent novel amplicon associated with poor prognosis. Oncogene. 2005;24:7281–9.

Han ME, Oh SO. Gastric stem cells and gastric cancer stem cells. Anat Cell Biol. 2013;46:8–18.

Wu WK, Cho CH, Lee CW, et al. Dysregulation of cellular signaling in gastric cancer. Cancer Lett. 2010;295:144–53.

Kang MJ, Ryu BK, Lee MG, et al. NF-kappaB activates transcription of the RNA-binding factor HuR, via PI3 K-AKT signaling, to promote gastric tumorigenesis. Gastroenterology. 2008;135:2030-42, 42 e1–3.

Liu CA, Wang MJ, Chi CW, et al. Rho/Rhotekin-mediated NF-kappaB activation confers resistance to apoptosis. Oncogene. 2004;23:8731–42.

Korkaya H, Liu S, Wicha MS. Regulation of cancer stem cells by cytokine networks: attacking cancer's inflammatory roots. Clin Cancer Res. 2011;17:6125–9.

Dammann CE, Nielsen HC, Carraway KL 3rd. Role of neuregulin-1 beta in the developing lung. Am J Respir Crit Care Med. 2003;167:1711–6.

Noguchi H, Sakamoto C, Wada K, et al. Expression of heregulin alpha, erbB2, and erbB3 and their influences on proliferation of gastric epithelial cells. Gastroenterology. 1999;117:1119–27.

Nagata K, Wada K, Tatsuguchi A, et al. Heregulin-alpha and heregulin-beta expression is linked to a COX-2-PGE2 pathway in human gastric fibroblasts. Am J Physiol Gastrointest Liver Physiol. 2006;290:G1243–51.

Chausovsky A, Tsarfaty I, Kam Z, et al. Bershadsky AD. Morphogenetic effects of neuregulin (neu differentiation factor) in cultured epithelial cells. Mol Biol Cell. 1998;9:3195–209.

Visscher DW, Sarkar FH, Kasunic TC, Reddy KB. Clinicopathologic analysis of amphiregulin and heregulin immunostaining in breast neoplasia. Breast Cancer Res Treat. 1997;45:75–80.

De Boeck A, Pauwels P, Hensen K, et al. Bone marrow-derived mesenchymal stem cells promote colorectal cancer progression through paracrine neuregulin 1/HER3 signalling. Gut. 2013;62:550–60.

Wilson TR, Lee DY, Berry L, Shames DS, Settleman J. Neuregulin-1-mediated autocrine signaling underlies sensitivity to HER2 kinase inhibitors in a subset of human cancers. Cancer Cell. 2011;20:158–72.

Kataoka H, Joh T, Kasugai K, et al. Expression of mRNA for heregulin and its receptor, ErbB-3 and ErbB-4, in human upper gastrointestinal mucosa. Life Sci. 1998;63:553–64.
Acknowledgments
This work was supported by the Bio & Medical Technology Development Program (2012M3A9C6050213) and the Basic Science Research Foundation (2012R1A1A3010521) of the National Research Foundation (NRF) funded by the Korean government (MEST) and a grant from the National R&D Program for Cancer Control, Ministry for Health, Welfare and Family Affairs, Republic of Korea (0920050).
Conflict of interest
The authors declare that they have no conflict of interest.
Electronic supplementary material
Below is the link to the electronic supplementary material.
About this article
Cite this article
Han, ME., Kim, HJ., Shin, D.H. et al. Overexpression of NRG1 promotes progression of gastric cancer by regulating the self-renewal of cancer stem cells. J Gastroenterol 50, 645–656 (2015). https://doi.org/10.1007/s00535-014-1008-1
Received:

Accepted:

Published:

Issue Date:

DOI: https://doi.org/10.1007/s00535-014-1008-1
Keywords
NRG1

Gastric cancer stem cells

Cancer-associated fibroblasts