Abstract
Background/Purpose
We investigated the feasibility of new carbon dioxide-enhanced virtual multidetector computed tomography (MDCT) cholangiopancreatography (CMCP) for intraluminal exploration in 73 patients with hepatobiliary and pancreatic disease.
Methods
CMCP was performed via a percutaneous or transpapillary drainage tube, and, synchronously, intravenous contrast material was employed for virtual angiography; three-dimensional (3D) virtual reality was incorporated using OsiriX and Fovia applications. The capability of carbon dioxide to delineate the biliary and pancreatic system was evaluated.
Results
All CMCPs showed complete technical success; complications including pancreatitis or pain never occurred. The incidences of visible third- and fourth-order biliary branches were 100 and 86.0%. The capability of carbon dioxide to pass an obstruction through an occluded hilar bile duct malignancy was 80.0%; it provided feasible information on additional bile duct segments. The full extent of the gallbladder was depicted in 72.7% of the studies. Minimum 2-mm lesions of biliary stones or gallbladder polyps were clearly detected. The main or second-order pancreatic ducts were visible in 100 and 83.3% of the studies, respectively. Carbon dioxide enabled the replacement of mucin and pancreatic juice and facilitated the detection of cystic lesions of intraductal papillary-mucinous neoplasm (IPMN) in 75.0% of the studies. We succeeded in achieving 3D spatial recognition of vascular structures in the cholangiopancreatic region, through the fusion of CMCP and 3DCT arteriography and venography in a single image scanning, and radiation time was decreased. This combined modality proved to be feasible for planning operations and for image-guided navigated surgery in the resection of a malignancy.
Conclusions
To our knowledge, this is the first report to demonstrate the diagnostic accuracy of carbon dioxide MDCT cholangiopancreatography and the use of this modality for depicting biliary, pancreatic, and fusion blood vessels simultaneously. Carbon dioxide possesses many advantages over conventional iodinated contrast agents, and it might replace more invasive diagnostic measures in the near future.
This is a preview of subscription content,
to check access.
Access this article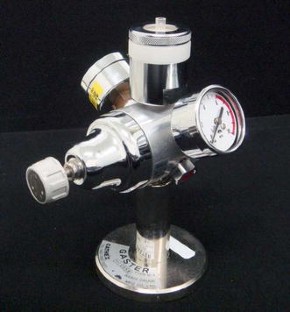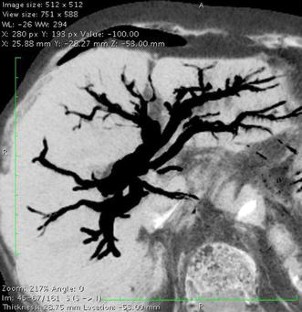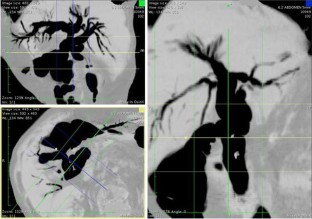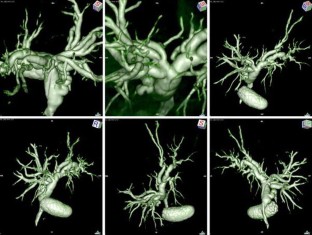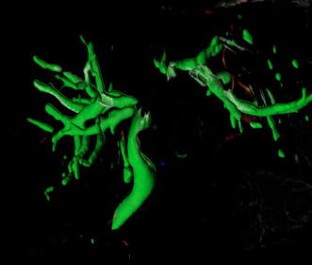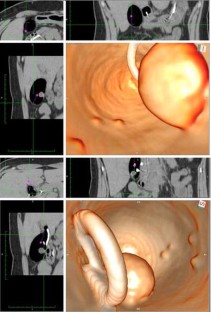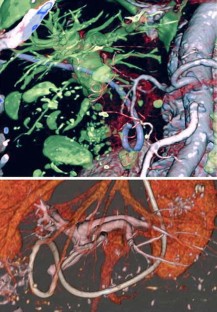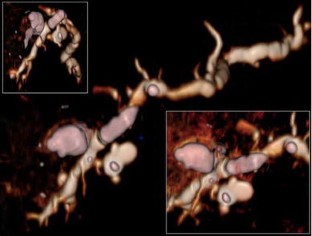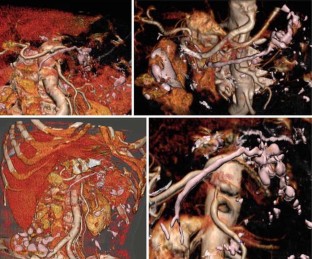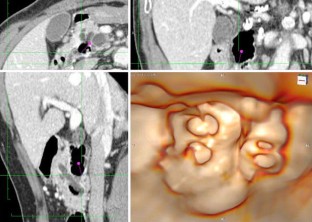 Similar content being viewed by others
References
Smith TP, Young AT, Hunter DW, Darcy MD, Castaneda-Zuniga W, Amplatz K. Limited usefulness of carbon dioxide as a contrast agent for cholangiography. Gastrointest Radiol. 1987;12:43–4.

Textor HJ, Hinterthaner B, Wilhelm K, Strunk H, Schuller H, Schild HH. CO2 cholangiography (In German with English abstract). Rofo. 1997;167:311–3.

Sugimoto M. Yasuda H: Carbon dioxide MDCT cholangio-pancreatography providing synchronous virtual angiography. Gastroenterology. 2006;130:A722–3.

Sugimoto M, Yasuda H, Koda K, Suzuki M, Yamazaki M, Tezuka T, et al. Virtual CO2 MDCT pancreatography: a new feasible technique for minimal invasive pancreatectomy in intraductal papillary mucinous neoplasms. Hepatogastroenterology. 2008;55:270–4.

Rosset A, Spadola L, Ratib O. OsiriX: an open-source software for navigating in multidimensional DICOM images. J Digit Imaging. 2004;17:205–16. (Epub).

Rosset C, Rosset A, Ratib O. General consumer communication tools for improved image management and communication in medicine. J Digit Imaging. 2005;18:270–9.

Rosset A, Spadola L, Pysher L, Ratib O. Informatics in radiology (infoRAD): navigating the fifth dimension: innovative interface for multidimensional multimodality image navigation. Radiographics. 2006;26:299–308.

Kerns SR, Hawkins IF Jr. Carbon dioxide digital subtraction angiography: expanding applications and technical evolution. Am J Roentgenol. 1995;164:735–41.

Yang X, Manninen H, Soimakallio S. Carbon dioxide in vascular imaging and intervention. Acta Radiol. 1995;36:330–7.

Sanaei-Ardekani M, Movahed MR, Movafagh S, Ghahramani N. Contrast-induced nephropathy: a review. Cardiovasc Revasc Med. 2005;6:82–8.

Semba CP, Saperstein L, Nymann U, Dake MD. Hepatic laceration from wedged venography performed before transjugular intrahepatic portosystemic shunt placement. J Vasc Interv Radiol. 1996;7:143–6.

Sugimoto M, Yasuda H, Koda K, Yamazaki M, Tezuka T, Kosugi C, et al. Carbon dioxide enhanced virtual cholangiopancreatography: the clinical benefits in 100 consecutive performances without complications. HPB (Oxford). 2008;10:7–8.

Sahani DV, Kadavigere R, Saokar A, Fernandez-del Castillo C, Brugge WR, Hahn PF. Cystic pancreatic lesions: a simple imaging-based classification system for guiding management. Radiographics. 2005;25:1471–84.

Mariani A, Curioni S, Zanello A, Passaretti S, Masci E, Rossi M, et al. Secretin MRCP and endoscopic pancreatic manometry in the evaluation of sphincter of Oddi function: a comparative pilot study in patients with idiopathic recurrent pancreatitis. Gastrointest Endosc. 2003;58:847–52.

Brugge WR. Diagnosis and management of relapsing pancreatitis associated with cystic neoplasms of the pancreas. World J Gastroenterol. 2008;21:1038–43.

Kawamoto S, Lawler LP, Horton KM, Eng J, Hruban RH, Fishman EK. MDCT of intraductal papillary mucinous neoplasm of the pancreas: evaluation of features predictive of invasive carcinoma. Am J Roentgenol. 2006;186:687–95.

Simone M, Mutter D, Rubino F, Dutson E, Roy C, Soler L, et al. Three-dimensional virtual cholangioscopy: a reliable tool for the diagnosis of common bile duct stones. Ann Surg. 2004;240:82–8.
Acknowledgments
The authors thank Professor Toshiyuki Ohkubo MD and Mr. Yasuhiro Fujiwara, Department of Radiology, Teikyo University Chiba Medical Center; Professor Katsuhiro Uchiyama MD, Sannoh Hospital Medical Center; and Doctor Kazuhiro Sato MD, Advanced Research Institute Of Gastroenterological Imaging, for their valuable suggestions. This study was partially supported by a Grant-in-Aid for Scientific Research from the Japan Society for the Promotion of Science, a JFE Grant from the Japanese Foundation for Research and Promotion of Endoscopy, and a Teikyo University Tomoko Fujii Memorial Research Grant for young medical researchers.
About this article
Cite this article
Sugimoto, M., Yasuda, H., Koda, K. et al. Carbon dioxide-enhanced virtual MDCT cholangiopancreatography. J Hepatobiliary Pancreat Sci 17, 601–610 (2010). https://doi.org/10.1007/s00534-009-0201-8
Received:

Accepted:

Published:

Issue Date:

DOI: https://doi.org/10.1007/s00534-009-0201-8
Keywords