Abstract
The Ekou banded iron formation (BIF) in the Wutai area is hosted within the late Archean Baizhiyan formation. The mineral assemblage is used to identify oxide and silicate facies. The oxide facies is composed of magnetite and quartz, and the silicate facies is characterized by the presence of silicate minerals. A geochemical analysis shows that the major elemental compositions are dominantly SiO2 and Fe2O3T, with very little Al2O3 and TiO2 and minor abundances of incompatible elements and transition elements. These results indicate that negligible terrigenous materials were involved in the BIF deposition. The rare-earth elements (REEs), normalized by post-Archean Australian shale, exhibit the characteristics of light REE (LREE) depletion, heavy REE (HREE) enrichment, and positive La, Y, and Eu anomalies. The Y/Ho ratios are superchondritic. These results indicate that the material that formed the Ekou BIF originated from the mixing of seawater and submarine hydrothermal fluids. A Ce anomaly deficiency and heavy Fe isotope enrichment indicate that the Ekou BIF formed in an anoxic marine environment. The δ30SiNBS-28 values for quartz in the Ekou BIF are similar to those of other BIFs with distribution ranges of modern sinters and black smokers. The δ18OV-SMOW distribution is similar to that of hydrothermal sedimentary siliceous rocks. These results suggest that the formation of the Ekou BIF was closely connected to submarine volcanic exhalation activity.
Access options
Buy single article
Instant access to the full article PDF.
USD 39.95
Price includes VAT (USA)
Tax calculation will be finalised during checkout.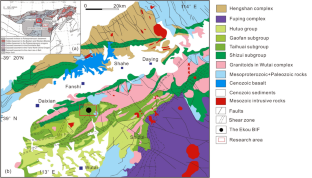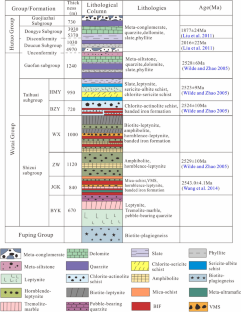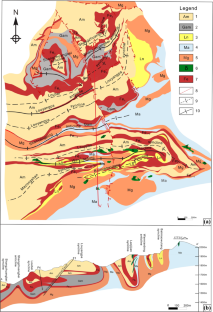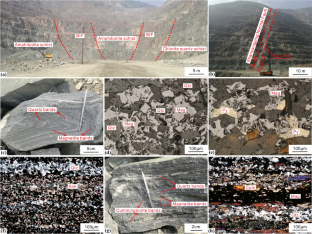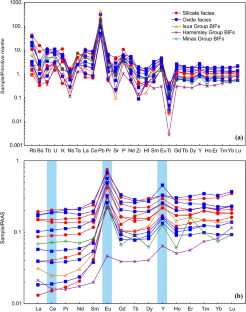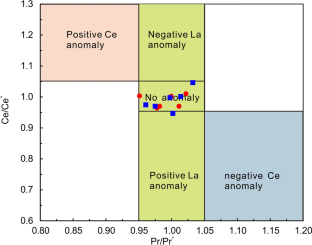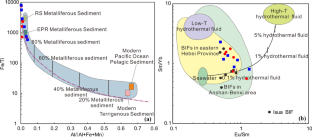 References
Alexander BW, Bau M, Andersson P, Dulski P (2008) Continentally-derived solutes in shallow Archean seawater: Rare earth element and Nd isotope evidence in iron formation from the 2.9Ga Pongola Supergroup. South Afr Geochim et Cosmochim Acta 72:378–394

Alibo DS, Nozaki Y (1999) Rare earth elements in seawater: Particle association, shale-normalization, and Ce oxidation. Geochim Cosmochim Acta 63:363–372

Anbar AD, Rouxel O (2007) Metal stable isotopes in paleoceanography. Annu Rev Earth Planet Sci 35:17–746

Anbar AD, Duan Y, Lyons TW, Arnold GL, Kendall B, Creaser RA, Kaufman AJ, Gordon GW, Scott C, Garvin J, Buick R (2007) A whiff of oxygen before the great oxidation event? Science 317:1903–1906

Andre L, Cardinal D, Alleman LY, Moorbath S (2006) Silicon isotopes in ~ 3.8 Ga West Greenland rocks as clues to the Eoarchaean supracrustal Si cycle. Earth Planet Sci Lett 245:162–173

Balci N, Bullen TD, Witte-Lien K, Shanks WC, Motelica M, Mandernack KW (2006) Iron isotope fractionation during microbially stimulated Fe(II) oxidation and Fe(III) precipitation. Geochim Cosmochim Acta 70:622–639

Basta FF, Mauriceb AE, Fontboté L, Favarger PY (2011) Petrology and geochemistry of the banded iron formation (BIF) of Wadi Karim and Um Anab, Eastern Desert, Egypt: Implications for the origin of Neoproterozoic BIF. Precambr Res 187:277–292

Bau M, Dulski P (1996) Distribution of yttrium and rare-earth elements in the Penge and Kuruman iron-formations, Transvaal Supergroup. South Afr Precamb Res 79:37–55

Bau M, Dulski P (1999) Comparing yttrium and rare earths in hydrothermal fluids from the Mid-Atlantic Ridge: Implications for Y and REE behaviour during near-vent mixing and for the Y/Ho ratio of Proterozoic seawater. Chem Geol 155:77–90

Bekker A, Slack JF, Planavsky A, Krapez B, Hofmann A, Konhauser KO, Oliver JR (2010) Iron formation: the sedimentary product of a complex interplay among mantle, tectonic, oceanic, and biospheric processes. Econ Geol 105:467–508

Bern CR, Brzezinski MA, Beucher CP, Ziegler K, Chadwick OA (2010) Weathering, dust, and biocycling effects on soil silicon isotope ratios. Geochim Cosmochim Acta 74:876–889

Bolhar R, Kamber BS, Moorbath S, Fedo CM, Whitehouse MJ (2004) Characterisation of Early Archaean chemical sediments by trace element signatures. Earth Planet Sci Lett 222:43–60

Boström K (1973) The origin and fate of ferromanganoan active ridge sediments. Stockholm Contrib Geol 27:149–243

Braterman PS, Cairns-Smith AG, Sloper RW (1983) Photo-oxidation of hydrated Fe2+—Significance for banded iron formations. Nature 303:163–164

Brocks JJ, Logan GA, Summons RE (1999) Archean molecular fossils and the early rise of eukaryotes. Science 285:1033–1036

Byrne RH, Sholkovitz ER (1996) Marine chemistry and geochemistry of the lanthanides. In: Gschneidner KA (ed) Handbook on the physics and chemistry of rare earths. Elsevier Science, Amsterdam, pp 497–593

Cairns-Smith AG (1978) Precambrian solution photochemistry, inverse segregation, and banded iron formations. Nature 76:807–808

Cheng YB (2011) Geological features and mineralization genesis of the shanyangping iron mine. Shanxi Metall 129:22–25 (in Chinese with English abstract)

Clayton RN, Mayeda TK (1963) The use of bromine pentafluoride in the extraction of oxygen from oxides and silicates for isotopic analysis. Geochim Cosmochim Acta 27:43–45

Cloud P (1973) Paleoecological significance of the banded iron-formation. Econ Geol 68:1135–1143

Clout JMF, Simonson BM (2005) Precambrian iron formations and iron formation-hosted iron ore deposits. In: Thompson JFH, Goldfarb RJ, Richards JP (eds) Economic geology one hundredth anniversary volume, 1905–2005; hedenquist JW. Society of Economic Geologists, Littleton, pp 643–679

Crowe SA, Dossing LN, Beukes NJ, Bau M, Kruger SJ, Frei R, Canfield DE (2013) Atmospheric oxygenation three billion years ago. Nature 501:535–538

Dauphas N, Zuilen M, Wadhwa M, Davis AM, Marty B, Janney PE (2004) Clues from Fe isotope variations on the origin of Early Archean BIFs from Greenland. Science 306:2077–2080

Ding T, Jiang S, Wan D, Li Y, Li J, Liu Z (1996) Silicon isotope geochemistry. Geological Publishing House, Beijing, pp 1–99

Douthitt CB (1982) The geochemistry of the stable isotopes of silicon. Geochim Cosmochim Acta 46:1449–1458

Douville E, Bienvenu P, Charlou JL, Donval JP, Fouquet Y, Appriou P, Gamo T (1999) Yttrium and rare earth elements in fluids from various deep-sea hydrothermal systems. Geochim Cosmochim Acta 63:627–643

Dymek RF, Klein C (3800Ma) Chemistry, petrology, and origin of banded iron formation lithologies from the 3800Ma Isua Supracrustal Belt. West Greenl Precamb Res 39:247–302

Elderfield H, Greaves MJ (1981) Negative cerium anomalies in the rare earth element patterns of oceanic ferromanganese nodules. Earth Planet Sci Lett 55:163–170

Fortin D, Ferris FG, Scott SD (1998) Formation of Fe-silicates and Fe-oxides on bacterial surfaces in samples collected near hydrothermal vents on the Southern Explorer Ridge in the northeast Pacific Ocean. Am Miner 83:1399–1408

German CR, Elderfield H (1990) Application of the Ce-anomaly as a paleoredox indicator: the ground rules. Paleoceanography 5:823–833

Halevy I, Alesker M, Schuster EM, Popovitz-Biro R, Feldman Y (2017) A key role for green rust in the Precambrian oceans and the genesis of iron formations. Nat Geosci 10:135–139

Han C, Xiao W, Su B, Sakyi PA, Chen Z, Zhang X, Ao S, Zhang J, Wan B, Zhang Z, Wang Z, Ding J (2014a) Formation age and genesis of the Gongchangling Neoarchean banded iron deposit in eastern Liaoning Province: constraints from geochemistry and SHRIMP zircon U-Pb dating. Precambr Res 254:306–322

Han C, Xiao W, Su B, Chen Z, Zhang X, Ao S, Zhang J, Zhang Z, Wan B, Song D, Wang Z (2014b) Neoarchean Algoma-type banded iron formations from Eastern Hebei, North China Craton: SHRIMP U-Pb age, origin and tectonic setting. Precambr Res 251:212–231

Han C, Xiao W, Su B, Sakyi PA, Ao S, Zhang J, Wan B, Song D, Zhang Z, Wang Z, Ding J (2017) Neoarchean Algoma-type banded iron formation from the Northern Shanxi, the Trans-North China Orogen: SIMS U-Pb age, origin and tectonic setting. Precambr Res 303:548–572

Heck PR, Huberty JM, Kita NT, Ushikubo T, Kozdon R, Valley JW (2011) SIMS analyses of silicon and oxygen isotope ratios for quartz from Archean and Paleoproterozoic banded iron formations. Geochim Cosmochim Acta 75:5879–5891

Heimann A, Johnson CM, Beard BL, Valley JW, Roden EE, Spicuzza MJ, Beukes NJ (2010) Fe, C, and O isotope compositions of banded iron formation carbonates demonstrate a major role for dissimilatory iron reduction in ~ 2.5Ga marine environments. Earth Planet Sci Lett 294:8–18

Hoashi M, Bevacqua DC, Otake T, Watanabe Y, Hickman AH, Utsunomiya S, Ohmoto H (2009) Primary haematite formation in an oxygenated sea 3.46 billion years ago. Nat Geosci 2:301–306

Hou K, Li Y, Gao J, Liu F, Qin Y (2014) Geochemistry and Si-O-Fe isotope constraints on the origin of banded iron formations of the Yuanjiacun Formation, Lvliang Group, Shanxi. China Ore Geol Rev 57:288–298

Hu J, Wang H, Wang M (2017) Geochemistry and origin of the Neoproterozoic Dahongliutan banded iron formation (BIF) in the Western Kunlun orogenic belt, Xinjiang (NW China). Ore Geol Rev 89:836–857

Huston DL, Logan GA (2004) Barite, BIFs and bugs: evidence for the evolution of the Earth's early hydrosphere. Earth Planet Sci Lett 220:41–55

Isley AE (1995) Hydrothermal plumes and the delivery of iron to banded iron formation. J Geol 103:169–185

James HL (1954) Sedimentary facies of iron-formation. Econ Geol 49:235–293

Jiang SY, Ding TP, Wang DF, Li YH (1993) Silicon isotopic compositions of archean banded Si–Fe Formation (BIF) in the Gongchangling ore deposit, Liaoning Province, China. Sci China (Ser B) 36:482–489

Johnson CM, Beard BL, Klein C, Beukes NJ, Roden EE (2008) Iron isotopes constrain biologic and abiologic processes in banded iron formation genesis. Geochim Cosmochim Acta 72:151–169

Kappler A, Pasquero C, Konhauser KO, Newman DK (2005) Deposition of banded iron formations by anoxygenic phototrophic Fe(II)-oxidizing bacteria. Geology 33:865–868

Klein C (2005) Some Precambrian banded iron-formations (BIF) from around the world: Their age, geologic setting, mineralogy, metamorphism, geochemistry, and origins. Am Miner 90:1473–1499

Knauth LP, Lowe DR (2003) High Archean climatic temperature inferred from oxygen isotope geochemistry of cherts in the 3.5 Ga Swaziland Supergroup. South Africa Geol Soc Am Bull 115:566–580

Koeksoy E, Sundman A, Byrne JM, Lohmayer R, Planer-Friedrich B, Halevy I, Konhauser KO, Kappler A (2019) Formation of green rust and elemental sulfur in an analogue for oxygenated ferro-euxinic transition zones of Precambrian oceans. Geology 47:211–214

Konhauser KO, Amskold L, Lalonde SV, Posth NR, Kappler A, Anbar A (2007) Decoupling photochemical Fe(II) oxidation from shallow-water BIF deposition. Earth Planet Sci Lett 258:87–100

Konhauser KO, Pecoits E, Lalonde SV, Papineau D, Nisbet EG, Barley ME, Arndt NT, Zahnle K, Kamber BS (2009) Oceanic nickel depletion and a methanogen famine before the Great Oxidation Event. Nature 458:750–752

Kröner A, Wilde SA, Li JH, Wang KY (2005) Age and evolution of a Late Archean to Paleoproterozoic upper to lower crustal section in the Wutaishan/Hengshan/Fuping terrain of northern China. J Asian Earth Sci 24:577–595

Lan TG, Fan HR, Hu FF, Yang KF, Zheng XL, Zhang HD (2012) Geological and geochemical characteristics of Paleoproterozoic Changyi banded iron formation deposit, Jiaodong Peninsula of eastern China. Acta Petrol Sinica 28:3595–3611 (in Chinese with English abstract)

Li TL, Han LD (2000) A brief introduction on ore-control factor and regularity of variations of ore body morphology in Ekou Iron Ore-deposit. Shanxi Metal 77:20–21 (in Chinese with English abstract)

Li YH, Hou KJ, Wang DF, Zhang ZJ, Le GL (2010) Formation mechanism of precambrian banded iron formation and atmosphere and ocean during early stage of the earth. Acta Geol Sin 84:1359–1373 (in Chinese with English abstract)

Li ZH, Zhu XK, Tang SH (2012) Fe isotope compositions of banded iron formation from Anshan-Benxi area: Constraints on the formation mechanism and Archean ocean environment. Acta Petrol Sinica 28:3545–3558 (in Chinese with English abstract)

Li YH, Hou KJ, Wan DF, Zhang ZJ, Yue GL (2014) Precambrian banded iron formations in the North China Craton: Silicon and oxygen isotopes and genetic implications. Ore Geol Rev 57:299–307

Li YL, Konhauser KO, Zhai M (2017) The formation of magnetite in the early Archean oceans. Earth Planet Sci Lett 466:103–114

Liu L, Yang X (2015) Temporal, environmental and tectonic significance of the Huoqiu BIF, southeastern North China Craton: Geochemical and geochronological constraints. Precambr Res 261:217–233

Liu SW, Pan YM, Xie QL, Zhang J, Li QG (2004) Archaean geodynamics in the Central Zone, North China Craton: constraints from geochemistry of two contrasting series of granitoids in the Fuping and Wutai Complexes. Precambr Res 130:229–249

Liu CH, Zhao GC, Sun M, Zhang J, Yin CQ, Wu FY, Yang JH (2011) U-Pb and Hf isotopic study of detrital zircons from the Hutuo Group in the trans-north China orogen and tectonic implications. Gondwana Res 20:106–121

McLennan SM (1989) Rare earth elements in sedimentary rocks: Influence of provenance and sedimentary processes. Rev Mineral Geochem 21:169–200

Moon I, Lee I, Seo JH, Yang X (2017) Geochemical studies of banded iron formations (BIFs) in the North China Craton: a review. Geosci J 21:971–983

Mukherjee SK (2008) Petrography, age (U-Pb Zircon), geochemical and isotopic studies of the sawawin banded iron-formation (BIF), Northwestern Saudi Arabia: implications for understanding neoproterozoic Climate Change. Ph.D. dissertation, University of Texas at Dallas, Richardson

Nozaki Y, Alibo DS, Amakawa H, Gamo T, Hasumoto H (1999) Dissolved rare earth elements and hydrography in the Sulu Sea. Geochim Cosmochim Acta 63:2171–2181

Pecoits E, Gingras MK, Barley ME, Kappler A, Posth NR, Konhauser KO (2009) Petrography and geochemistry of the Dales Gorge banded iron formation: paragenetic sequence, source and implications for palaeo-ocean chemistry. Precambr Res 172:163–187

Planavsky N, Bekker A, Rouxel OJ, Kamber B, Hofmann A, Knudsen A, Lyons TW (2010) Rare earth element and yttrium compositions of archean and paleoproterozoic fe formations revisited: new perspectives on the significance and mechanisms of deposition. Geochim Cosmochim Acta 74:6387–6405

Planavsky NJ, Asael D, Hofmann A, Reinhard CT, Lalonde SV, Knudsen A, Wang X, Ossa FO, Pecoits E, Smith AJB, Beukes NJ, Bekker A, Johnson TM, Konhauser KO, Lyons TW, Rouxel OJ (2014) Evidence for oxygenic photosynthesis half a billion years before the Great Oxidation Event. Nat Geosci 7:283–286

Rao TG, Naqvi SM (1995) Geochemistry, depositional environment and tectonic setting of the BIF's of the Late Archaean Chitradurga Schist Belt. India Chem Geol 121:217–243

Rasmussen B, Krapež B, Meier DB (2014) Replacement origin for hematite in 2.5 Ga banded iron formation: Evidence for postdepositional oxidation of iron-bearing minerals. Geol Soc Am Bull 126:438–446

Rasmussen B, Muhling JR, Suvorova A, Krapež B (2017) Greenalite precipitation linked to the deposition of banded iron formations downslope from a late Archean carbonate platform. Precamb Res 290:49–62

Robbins LJ, Funk SP, Flynn SL, Warchola TJ, Li Z, Lalonde SV, Rostron BJ, Smith AJB, Beukes NJ, De Kock MO, Heaman LM, Alessi DS, Konhauser KO (2019) Hydrogeological constraints on the formation of Palaeoproterozoic banded iron formations. Nat Geosci 12:558–563

Robert F, Chaussidon M (2006) A palaeotemperature curve for the Precambrian oceans based on silicon isotopes in cherts. Nature 443:969–972

Rouxel OJ, Bekker A, Edwards KJ (2005) Iron isotope constraints on the Archean and Paleoproterozoic ocean redox state. Science 307:1088–1091

Satkoski AM, Beukes NJ, Li W, Beard BL, Johnson CM (2015) A redox-stratified ocean 3.2 billion years ago. Earth Planet Sci Lett 430:43–53

Shen QH, Song HX, Zhao ZR (2009) Characteristics of rare earth elements and trace elements in hanwang neo-archaean banded iron formations. Shandong Province Acta Geosci Sinica 30:693–699 (in Chinese with English abstract)

Soares MB, Corrêa Neto AV, Zeh A, Cabral AR, Pereira LF, do Prado MGB, Almeida AM, Manduca LG, Silva PHM, Mabub ROA, Schlichta TM (2017) Geology of the Pitangui greenstone belt, Minas Gerais, Brazil: stratigraphy, geochronology and BIF geochemistry. Precamb Res 291: 17–4

Steinhoefel G, Horn I, Blanckenburg F (2009) Micro-scale tracing of Fe and Si isotope signatures in banded iron formation using femtosecond laser ablation. Geochim Cosmochim Acta 73:5343–5360

Sugitani K (1992) Geochemical characteristics of Archean cherts and other sedimentary rocks in the Pilbara Block, Western Australia: evidence for Archean seawater enriched in hydrothermally-derived iron and silica. Precambr Res 57:21–47

Sun SS, McDonough WF (1989) Chemical and isotopic systematics of oceanic basalts: Implications for mantle composition and processes. Geol Soc Spec Pub 42:313–345

Taylor D, Dalstra HJ, Harding AE, Broadbent GC, Barley ME (2001) Genesis of high-grade Hematite Orebodies of the Hamersley Province. West Aust Econ Geol 96:837–873

Tian YQ (1991) Geology and mineralization of the wutai-hengshan greenstone belt. Shanxi Science and Technology Press, Taiyuan (in Chinese)

Tosca NJ, Guggenheim S, Pufahl PK (2016) An authigenic origin for Precambrian greenalite: implications for iron formation and the chemistry of ancient seawater. GSA Bull 128:511–530

Van den Boorn SHJM, Van Bergen MJ, Nijman W, Vroon PZ (2007) Dual role of seawater and hydrothermal fluids in Early Archean chert formation: evidence from silicon isotopes. Geology 35:939–942

Wang Z (2009) Tectonic evolution of the Hengshan–Wutai–Fuping complexes and its implication for the Trans-North China Orogen. Precambr Res 170:73–87

Wang KY, Li JL, Hao J, Li JH, Zhou SP (1996) The Wutaishan mountain belt within the Shanxi Province, Northern China: a record of Neoarchaean collision tectonics. Precambr Res 78:95–103

Wang Z, Wilde SA, Wang K, Yu L (2004) A MORB-arc basalt- adakite association in the 2.5 Ga Wutai greenstone belt: Neoarchaean magmatism and crustal growth in the North China Craton. Precamb Res 131:323–343

Wang CL, Zhang LC, Lan CY, Dai YP (2014) Petrology and geochemistry of the Wangjiazhuang banded iron formation and associated supracrustal rocks fromthe Wutaigreenstone belt in the North China Craton: implications for theirorigin and tectonic setting. Precambr Res 255:603–626

Wang C, Konhauser KO, Zhang L (2015) Depositional environment of the Paleoproterozoic Yuanjiacun Banded Iron Formation in Shanxi Province. China Econ Geol 110:1515–1536

Wilde SA, Zhao GC (2005) Archean to paleoproterozoic evolution of the North China Craton. J Asian Earth Sci 24:519–522

Wille M, Krames JD, Nägler TF, Beukes NJ, Schröder S, Meisel TC, Lacassie JP, Voegelina AR (2007) Evidence for a gradual rise of oxygen between 2.6 and 2.5 Ga from Mo isotopes and Re-PGE signatures in shales. Geochim et Cosmochim Acta 71: 2417.

Wu H, Niu X, Zhang L, Pirajno F, Luo H, Qin F, Cui M, Wang C, Qi M (2015) Geology and geochemistry of the Macheng Algoma-type banded iron-formation, North China Craton: Constraints on mineralization events and genesis of high-grade iron ores. J Asian Earth Sci 113:1179–1196

Zegeye A, Bonneville S, Benning LG, Strurm A, Fowle DA, Jones C, Canfield DE, Ruby C, MacLean LC, Nomosatryo S, Crowe SA, Poulton SW (2012) Green rust formation controls nutrient availability in a ferruginous water column. Geology 40:599–602

Zhang XJ, Zhang LC, Xiang P, Wan B, Pirajno F (2011) Zircon U-Pb age, Hf isotopes and geochemistry of Shuichang Algoma-type banded iron-formation, North China Craton: constraints on the ore-forming age and tectonic setting. Gondwana Res 20:137–148

Zhang LC, Zhai MG, Wang YS, Guo JH, Dai YP, Wang CL (2012a) Study of the Precambrian BIF-iron deposits in the North China Craton: progresses and questions. Acta Petrol Sin 28:3431–3445 (in Chinese with English abstract)

Zhang LC, Zhai MG, Zhang XJ, Xiang P, Dai YP, Wang CL, Pirajno F (2012b) Formation age and tectonic setting of the Shirengou Neoarchean banded iron deposit in eastern Hebei province: constraints from geochemistry and SIMS zircon U-Pb dating. Precamb Res 222:325–338

Zhang ZC, Hou T, Santosh M, Li HM, Li JW, Zhang ZH, Song XY, Wang M (2014) Spatio-temporal distribution and tectonic settings of the major iron deposits in China: an overview. Ore Geol Rev 57:247–263

Zhang JQ, Li SR, Santosh M, Lu J, Wang CL (2018) Metallogenesis of Precambrian gold deposits in the Wutai greenstone belt: constrains on the tectonic evolution of the North China Craton. Geosci Front 9:317–333

Zhao GC, Wilde SA, Cawood PA, Sun M, Lu LZ (2001) Archean blocks and their boundaries in the North China Craton: Lithological, geochemical, structural and P-T path constraints and tectonic evolution. Precambr Res 107:45–73

Zhao GC, Sun M, Wilde SA, Li SZ (2005) Late Archean to Paleoproterozoic evolution of the North China Craton: key issues revisited. Precambr Res 136:177–202

Zhou ST (1987) The petrochemical study of the Archean banded iron deposit in Anshan-Benxi district. Liaoning Province Acta Geosci Sinica 9:139–153 (in Chinese with English abstract)

Ziegler K, Chadwick OA, Brzezinski MA, Kelly EF (2005) Natural variations of δ30Si ratios during progressive basalt weathering. Hawaiian Islands Geochim Cosmochim Acta 69:4597–4610
Acknowledgements
This research was financially supported by the National Key Research and Development Program (2016YFC0801603 and 2017YFC1503105) and Fundamental Research Funds for the Central Universities (N172303015). The authors greatly thank Zhaolin Yang from Taiyuan Iron and Steel (Group) Lanxian Mining Co., Ltd., and Wenmin Bai from Taiyuan Iron and Steel (Group) Ekou Iron Mine for field assistance.
About this article
Cite this article
Men, Y., Wang, E., Fu, J. et al. Geochemical constraints on the genesis of the Ekou banded iron formation, Shanxi Province, North China. Int J Earth Sci (Geol Rundsch) 109, 2851–2868 (2020). https://doi.org/10.1007/s00531-020-01935-4
Received:

Accepted:

Published:

Issue Date:
Keywords
Banded iron formation

Wutai area

Anoxic marine environment

Submarine exhalative sedimentation