Access options
Buy single article
Instant access to the full article PDF.
USD 39.95
Price includes VAT (USA)
Tax calculation will be finalised during checkout.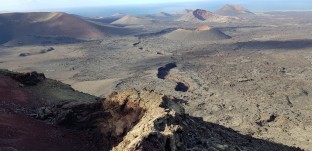 References
Carmelo P, Leon HJ de (2006) XVII Coloquio de Historia Canario-Americana: V Centenario de la muerte de Cristobal Colón, 2008, ISBN 978-84-8103-540-7, pp 509–521

Fernández-Martínez E, Hilario A, Alcalá L, Monasterio J, Martínez J, Bové C (2014) Actividades de divulgación del patrimonio geológico en geoparques. Enseñanza de las Ciencias de la Tierra 22:61–68

Lanzarote and Chinijo Islands Geopark (2014) https://www.geoparquelanzarote.org/geositios/. Accessed 15 July 2020

Martínez-Frías J, Mateo Mederos ME, Lunar R (2016) Los geoparques como áreas de investigación, geoeducación y geoética en geociencias planetarias: el geoparque de Lanzarote y Archipiélago Chinijo. IX Congreso Geológico de España, Huelva Geo-Temas 16:343–346

Martínez-Martín JE (2017) Importancia de las rutas geológicas en la educación en geociencias. Tierra y Tecnología 49:3–6

Mateo-Mederos ME, Martínez-Frías J, Vegas J (2019) Lanzarote and Chinijo islands geopark: from earth to space. Springer, Berlin. https://doi.org/10.1007/978-3-030-13130-2

Olalla C, Cardenas A, Serrano A, Pradera E, de Castro DF (2010) Geological and geotechnical conditions of human interventions in natural volcanic caverns: the outfitting of Los Jameos Del Agua; auditorium, lanzarote, canary Islands, Spain. International society for rock mechanics and rock engineering. CRC Press, London

Patrick RR, Howe RB (1994) Volcanism on the terrestrial planets. J Geol Ed 42:225–238
Acknowledgements
Thanks to the Camilo José Cela University for its institutional support and to Prof. Jesús Martínez Frías, former president of the IUGS Commission on Geoscience Education, Training and Technology Transfer (IUGS-COGE) for his interesting comments and remarks.
About this article
Cite this article
Martínez, J.E., Mariñoso, P.E. Timanfaya lava flows geosite: a historical and educational approach. Int J Earth Sci (Geol Rundsch) 109, 2697–2698 (2020). https://doi.org/10.1007/s00531-020-01925-6
Received:

Accepted:

Published:

Issue Date: