Abstract
The Rio Del Rey basin located in the Gulf of Guinea is one of the two basins lining the Cameroonian coast. It evolved since the Cenozoic in a tectono-magmatic and seismic complex setting. During the Miocene, this evolution was controlled by tectonics, relative sea level changes, basin filling and mantle dynamics. Two deposit megasequences of second order, MS1 and MS2, were pointed out. MS1 (lower Miocene), aggradational and corresponding to the Isongo turbidites deposited during a period of relative sea level drop registered two sequences of third order differentiated by the degree of channel incision: S1a (Aquitanian–Burdigalian), hardly incised and S1b (Serravallian), moderately incised. A double extension along N–S (Burdigalian) and NE–SW (Serravallian) directions responsible for a set of horsts and grabens, high subsidence and depocentres trending NW–SE affected these sequences. MS2 (middle to upper Miocene), progradational and corresponding to deltaic alternations deposited during a period of creation of available space were controlled by the tilting, wrenching, a second stretching phase and low sedimentary filling. MS2 recorded three cycles of 3rd order: S2a (lower Tortonian), S2b (upper Tortonian) and S2c (Messinian) differentiated by their morphology in ramp for S2a and S2b and slope for S2c. The formation of grabens and horsts and the tilting of the margin coincide with the high activity of the Cameroon volcanic line interpreted as a result of deep mantle dynamics affecting the inner Congo craton lithosphere. This architecture, which differs from those of the other basins of the Gulf of Guinea, partly explains the low oil production of this basin.
Access options
Buy single article
Instant access to the full article PDF.
US$ 39.95
Tax calculation will be finalised during checkout.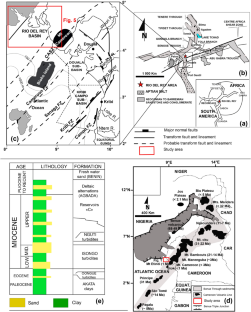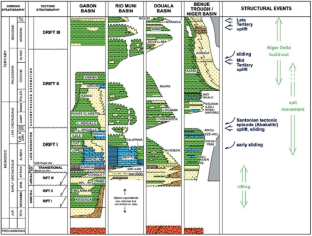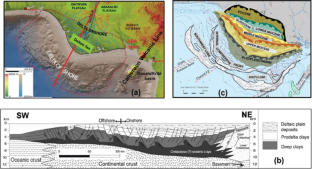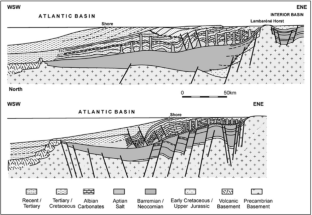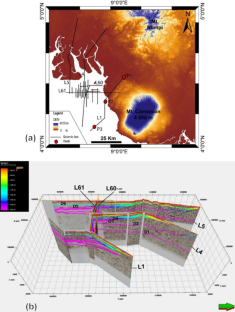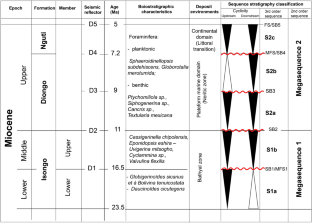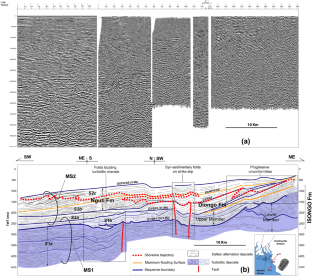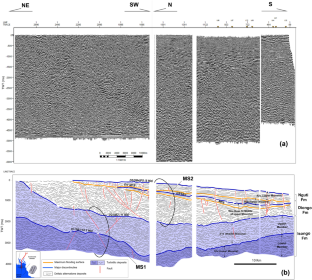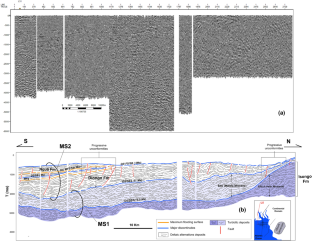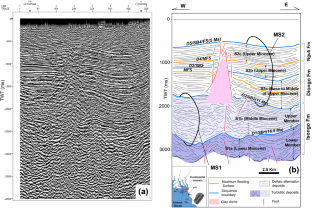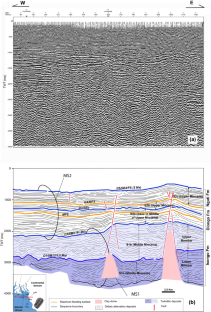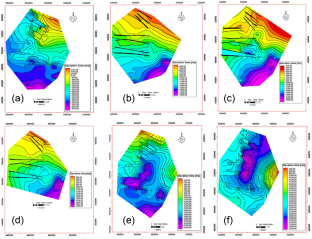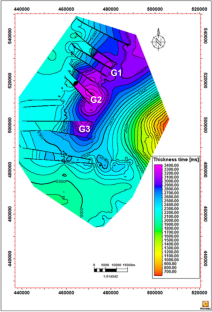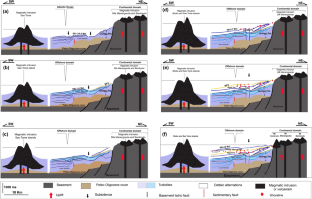 References
Ambeh BW, Fairhead JD, Stuart GW (1988) Seismicity, structure and tectonics of the Cameroon Volcanic Line. Publication University of Leeds Department of Earth Sciences, UK

Ambraseys NM, Adams RD (1986) Seismicity of West Africa. Ann Geophys 4:679–702

Avbovbo AA (1978) Tertiary lithostratigraphy of Niger Delta. AAPG Bull 62(2):295–300

Bamford MK (2000) Cenozoic macro-plants. In: Partridge TC, Maud RR (eds) The Cenozoic of southern Africa. Oxford University Press, Oxford, pp 351–356

Bamford MK, de Wit MCJ (1993) Taxonomic description of fossil wood from Cainozoic Sak river terraces, near Brandvlei, Bushmanland, South Africa. Palaeontol Afr 30:71–80

Barrier L (2002) Interaction deformation-sédimentation dans les systèmes compressifs supracrustaux. Exemple et modélisation analogique. Th Doc Univ de Rennes 1

Bate Tibang EE, Suh CE, Cottle J, Ateh KI, Tiabou AF, Nche LA, Che VB, Vishiti A (2017) Petrology and geochronology of felsic volcanics in the Sabga area (Bamenda Highlands): implications for age variation along the Cameroon Volcanic Line. J Geosci 62(4):231–246

Beka F, Oti MN (1995) The distal offshore Niger Delta: frontier prospects of a mature petroleum province. In: Oti MN, Postma G (eds) Geology of deltas. AA Balkema, Rotterdam, pp 237–241

Benkhelil J (1988) Déformations et métamorphisme dans le Crétacé de Basse Bénoué (Nigéria). Geol Th Univ Nice France

Benkhelil J (1998) Structure et évolution géodynamique du bassin intracontinental de la Bénoué (Nigeria). Bull Centres Rech Explor Prod Elf Aquitaine 12:29–128

Benkhelil J, Robineau B (1983) Le fossé de la Bénoué est-il un rift? Bull Centres Recherches Expl Prod Elf Aquitaine 7:315–321

Biscara L (2011) Le Système Turbiditique de l'Ogooué (Gabon, Marge Ouest Africaine): evolution Fini-Holocène de la Morphologie et de la Dynamique Sédimentaire. Th Doc Univ de Bordeaux I

Blin B (1999) Synthèse cinématique, tectonique, sédimentaire et pétrolière du bassin du Rio Del Rey (Cameroun). Rapport non publié

Brownfield ME, Charpentier RR (2006) Geology and total petroleum systems of the West Central province (7203) West Africa, US Geological Survey Bulletin 2207-c 2006

Brun L (1983) Etude biostratigraphique—Micropaléontogie—Palynologie du puits MUN1-X, bassin de Rio del Rey. Total Cameroun

Catalano R, Di Stefano P, Sulli A, Vitale FP (1996) Paleogeography and structure of the central Mediterranean: sicily and its offshore area. Tectonophysics 260:291–323

Catuneanu O, Abreu V, Bhattacharya JP, Blum MD, Dalrymple RW, Eriksson PG, Fielding CR, Fisher WL, Galloway WE, Gibling MR, Giles KA, Holbrook JM, Jordan R, Kendall CGSC, Macurda B, Martinsen OJ, Miall AD, Neal JE, Nummedal D, Pomar L, Posamentier HW, Pratt BR, Sarg JF, Shanley KW, Steel RJ, Strasser A, Tucker ME, Winker C (2009) Towards the standardization of sequence stratigraphy. Earth Sci Rev 92:1–33

Catuneanu O, Galloway WE, Kendall CGSC, Miall AD, Posamentier HW, Strasser A, Tucker ME (2011) Sequence stratigraphy: methodology and nomenclature. Newsl Stratigr 44(3):173–245. https://doi.org/10.1127/0078-0421/2011/0011

Cloetingh S (1988) Intraplate stress: a tectonic cause for third order cycles in apparent sea level. In: Wilgus CK, Hastings BS, Kendall CGSC, Posamentier HW, Ross CA, Van Wagoner JC (eds) Sea level changes: an integrated approach, vol 42. SEPM Special Publication, Oklahoma, pp 19–30

Cornacchia M, Dars R (1983) Un trait structural majeur du continent africain. Les linéaments centrafricains du Cameroun au Golfe d'Aden. Bull Soc Géol France 7:101–109

Coughlin RM, Bement WO, Maloney WV (1993) Petroleum geology of the deltaïc sequence, Rio Del Rey Basin, offshore Cameroon. AAPG Bulletin, United States

Cramez C, Jackson MPA (2000) Superposed deformation straddling the continental-oceanic transition in deep-water Angola. Mar Pet Geol 17:1095–1109

Cross TA, Lessenger MA (1998) Sediment volume partitioning: rationale for stratigraphic model evaluation and high-resolution stratigraphic correlation. In: Gradstein F, Sandvik K, Milton N (eds) Sequence stratigraphy concepts and applications, vol 8. Norwegian Petroleum Society Special Publications, New York, pp 171–195

Dauteuil O, Bessin P, Guillocheau F (2015) Topographic growth around the Orange River valley, southern Africa: a Cenozoic record of crustal deformation and climatic change. Geomorphology 233:5–19

De Villiers SE (1999) Palaeobotanical implications arising from palynological studies of Eocene sediments from the continental shelf, Northern Cape Province, South Africa in Actes du 4ème Symposium de Palynologie africaine. Geo Eco Trop Num Sp Sousse Tunisie, pp 129–140

De Almeida FFM, Hasui Y, De Brito Neves BB, Frick RA (1981) Brazalian structural provinces: an introduction. Earth Sci Rev 17:1–29

Déruelle B, Ngounounou I, Demaiffe D (2007) The "Cameroon Hot Line'' (CHL): a unique example of active alkaline intraplate structure in both oceanic and continental lithospheres. CR Géosci 339:589–600

Dhahri F, Boukadi N (2010) The evolution of pre-existing structures during the tectonic inversion process of the Atlas chain of Tunisia. J Afr Earth Sci 56:139–149

Doglioni C, Harabaglia P, Merlini S, Mongelli F, Peccerillo A, Piromallo C (1999) Orogens and slabs vs their direction of subduction. Earth Sci Rev 45:167–208

Doust H, Omatsola E (1990) Niger Delta. In: Edwards JD, Santogrossi PA (eds) Divergent/passive margin basins. AAPG Memoir, Tulsa, pp 201–238

Einsele G (2000) Sedimentary basins: evolution, facies, and sediment budget. Springer, Berlin

Evamy B, Haremboure JP (1978) Hydrocarbon habitat of tertiary Niger Delta. Am Assoc Pet Geol 62:277–298

Evamy BD, Haremboure J, Kamerling P, Knaap WA, Molloy FA, Rowlands PH (1978) Hydrocarbon habitat of the tertiary Niger Delta. AAPG Bull 62:1–39

Frizon de Lamotte D, Michard A, Saddiqi O (2006) Some recent developments on the Maghreb geodynamics. CR Geosci 338:1–10. https://doi.org/10.1016/jcrte200511006

Gharbi M, Masrouhi A, Espurt N, Bellier O, Amari EA, Ben Youssouf M, Ghanmi M (2013) New tectono-sedimentary evidences for Aptian to Santonian extension of the Cretaceous rifting in the Northen Chotts range (Southern Tunisia). J Afr Earth Sci 79:58–73

Gomez B, Martinez-Delclos X, Bamford M, Philippe M (2002) Taphonomy and paleoecology of plant remains from the oldest African early Cretaceous amber locality. Lethaia 35:300–308

Grimaud JL (2014) Dynamique long terme de l'érosion en contexte cratonique: l'Afrique de l'Ouest depuis l'Eocène. Géoscience Université de Toulouse France

Guillocheau F, Simon B, Baby G, Bessin P, Robin C, Dauteuil O (2017) Planation surfaces as a record of mantle dynamics: the case example of Africa. Gondwana Res 53:82–98

Guiraud M (1991) Mécanisme de formation du basin crétacé sur décrochements multiples de la Haute Bénoué (Nigéria). Bulletin des centres de recherches exploration Production Elf Aquitaine 15(1):11–67

Hampson GJ, Sixsmith PJ, Kieft RL, Jackson CAL, Johnson HD (2009) Quantitative analysis of net-transgressive shoreline trajectories and stratigraphic architectures: mid-to-late Jurassic of the North Sea rift basin. Basin Res 21(5):528–558

Haq BU, Hardenbol J, Vail PR (1987) Chronology of fluctuating sea levels since the Triassic. Science 235:1156–1167

Harding TP (1985) Seismic characteristics and identification of negative flower structures, positive flower structures, and positive structural inversion. AAPG Bull 69(4):582–600

Harding TP, Lowell JD (1979) Structural styles, their plate-tectonic habitats, and hydrocarbon traps in petroleum provinces. AAPG Bull 53:1016–1058

Helland-Hansen W, Hampson GJ (2009) Trajectory analysis: concepts and applications. Basin Res 21:454–483

Helland-Hansen W, Martinsen OJ (1996) Shoreline trajectories and sequences: description of variable depositional-dip scenarios. J Sed Res 66:670–688

Helm C (2009) Quantification des flux sédimentaires anciens à l'échelle d'un continent : le cas de l'Afrique au Méso-Cénozoïque. Th Doc Pub Univ Rennes 1 France

Hemsted T (2003) Second and third millennium reserves development in African basins. Geol Soc London Publ 207(1):9–20

Henriksen S, Hampson GJ, Helland-Hansen W, Johannessen EP, Steel RJ (2009) Shelf edge and shoreline trajectories, a dynamic approach to stratigraphic analysis. Basin Res 21(5):445–453

Homewood P, Guillocheau F, Eschard R, Cross T (1992) High resolution correlations and genetic stratigraphy: an integrated approach. Bulletin Centre de Recherche Exploration Production Elf Aquitaine 16:357–381

Hou YG, He S, Ni JE, Wang BJ (2012) Tectono-sequence stratigraphic analysis on Paleogene Shahejie Formation in the Banqiao sub-basin. East China Mar Pet Geol 36:100–117

Jervey MT (1988) Quantitative geological modeling of siliciclastic rock sequences and their seismic expression. In: Wilgus CK, Hastings BS, Kendall CGSC, Posamentier HW, Ross C, Van Wagoner JC (eds) Sea level changes an integrated approach society of economic paleontologists and mineralogists, vol 42. (SEPM) Special Publication, Oklahoma, pp 47–69

Jian-ping L, Pan Xiao-hua MA, Jun T-J, Yong-Jin C, Lun-Kun W (2008) Petroleum geology and resources in West Africa: an overview. Pet Explor Dev 35(3):378–384

Kamdem JB, Kraml M, Keller J, Henjes-Krust F (2002) Cameroon line magmatism: conventional K/Ar and single-crystal laser 40Ar/39Ar ages of rocks and minerals from Hossere Nigo anorogenic complex Cameroon. JAES 35:99–105

Kamgang P, Chazot G, Njonfang E, Tchoua F (2008) Geochemistry and geochronology of mafic rocks from Bamenda Moutains (Cameroon): source composition and crustal contamination along the Cameroon volcanic line. CR Geosci 340:850–857

Klett TR, Ahlbrandt TS, Schmoker JW, Dolton JL (1997) Ranking of the world's oil and gas provinces by known petroleum volumes: US Geological Survey Open-file Report 97-463

Lavier L, Buck WB (2000) Factors controlling normal fault offset in an ideal brittle layer. J Geophys Res 105:431–442

Lawrence SR, Munday S, Bray R (2002) Regional geology and geophysics of the eastern Gulf of Guinea (Niger Delta to Rio Muni). Lead Edge 21:1117. https://doi.org/10.1190/1.1523752

Leeder MR (2011) Tectonic sedimentology: sediment systems deciphering global to local tectonics. Sedimentology 58:2–56. https://doi.org/10.1111/j1365-3091201001207x

Mackenzie W (2004) Nigeria and Central Africa upstream service. Nigeria, London

Marton E, Kuhlemann J, Frisch W, Dunkl I (2000) Miocene rotations in the Eastern Alps—palaeomagnetic results from intramontane basin sediments. Tectonophysics 323:163–182

Masrouhi A, Ghanmi M, Ben Youssef M, Vila J-M, Zargouni F (2007) Mise en évidence d'une nappe de charriage à deux unités paléogènes au plateau de Lansarine (Tunisie du Nord): définition d'un nouvel élément structural de l'Atlas tunisien et réévaluation du calendrier des serrages tertiaries. CR Géosci 339:441–448. https://doi.org/10.1016/jcrte200703007

Mauduit T (1997) Raft tectonics: the effects of basal slope angle and sedimentation rate on progressive extension. J Struct Geol 19(9):1219–1230

Meyers PA, Silliman JE, Shaw TJ (1996) Effects of turbidity flows on organic matter accumulation, sulfate reduction, and methane generation in deep-sea sediments on the Iberia Abyssal Plain. Org Geochem 25(1/2):69–78

Mitchum RM Jr, Vail PR (1977) Seismic stratigraphic interpretation procedure. In: Payton CE (ed) Seismic-stratigraphy-applications to hydrocarbon exploration, vol 26. AAPG Memoir, Tulsa, pp 135–143

Moudi A, Wandji P, Bardintzeff J-M, Ménard J-J, Okomo Atouba LC, Reusser E, Bellon H, Tchoua MF (2007) Les basaltes éocènes à affinité transitionnelle du plateau Bamoun, témoins d'un réservoir mantellique enrichi sous la ligne volcanique du Cameroun. CR Geosci 339:396–406

Mougamba R (1999) Chronologie et architecture des systèmes turbiditiques cénozoiques du prisme sédimentaire de l'Ogooué (Marge Nord-Gabon). Th Doc Univ de Lille I

Murat RC (1972) Stratigraphy and paleogeography of the cretaceous and lower tertiary in Southern Nigeria. In: Dessauvagie TF, Whiteman AJ (eds) African geology. Ibadan University Press, Ibadan, pp 251–266

Mvondo Owono F (2011) Surrection cénozoïque des marges passives de l'Ouest d'Afrique à partir de deux exemples: le plateau sud Namibien et la marge nord camerounaise. Th Doc Pub Univ Rennes 1 France

Ndam Ngoupayou JR, Kpoumie A, Boeglin J-L, Lienou G, Nfocgo AK, Ekodeck GE (2007) Transports solides et érosion mécanique dans un écosystème tropical d'Afrique : exemple du bassin versant de la Sanaga au Sud—Cameroun Actes des JSIRAUF Hanoi 6–9 novembre

Ngako V, Jegouzo P, Nzenti JP (1991) Le Cisaillement Centre Camerounais. Rôle structural et géodynamique dans l'orogenèse panafricaine. CR Acad Sci Paris 313(2):457–463

Ngako V, Affaton P, Nnange JM, Njanko T (2003) Pan-African tectonic evolution in central and southern Cameroon: transpression and transtension during sinistral shear movements. JAES 36:207–214

Njome MS, De Wit MJ (2014) The Cameroon line: analysis of an intraplate magmatic province transectingboth oceanic and continental lithospheres: constraints, controversies and models. Earth Sci Rev 139:168–194

Nkouathio DG, Kagou Dongmo A, Bardintzeff J-M, Wandji P, Bellon H, Pouclet A (2008) Evolution of volcanism in graben and horst structures along the Cenozoic Cameroon Line (Africa): implications for tectonic evolution and mantle source composition. Mineral Petrol 94:287–303

Olivry J-C (1986) Fleuves et rivières du Cameroun. Paris Orstom coll Monographies hydrologiques 9

Palano M, Puglisi G, Gresta S (2008) Ground deformation patterns at Mt. Etna from 1993 to 2000 from joint use of InSAR and GPS techniques. J Volcanol Geotherm Res 169:99–120

Partridge TC, Maud RR (1987) Geomorphic evolution of southern Africa since the Mesozoic. S Afr J Geol 90(2):179–208

Partridge TC, Maud RRM (2000) The Cenozoic of southern Africa. In: Partridge TC, Maud RR (eds) Oxford monographs on geology and geophysics 40. University Press, Oxford, pp 3–8

Petroconsultants (1996) Petroleum exploration and production database. Petroconsultants Inc, Houston

Pinheiro-Moreira JL, Nalpas T, Joseph P, Guillocheau F (2001) Seismic stratigraphy of the Eocen northen continental margin of the Santos basin (Brazil): relationships between plateform and turbidite systems read from depositional sequences. CR Acad Sci 332(8):491–498

Posamentier HW, Jervey MT, Vail PR (1988) Eustatic controls on clastic deposition. I. Conceptual framework. In: Wilgus CK, Hastings BS, Kendall CGSC, Posamentier HW, Ross CA, Van Wagoner JC (eds) Sea level changes—an integrated approach, vol 42. SEPM Special Publication, Oklahoma, pp 110–124

Regnoult JM (1986) Synthèse géologique du Cameroun. DMG Yaoundé Cameroun

Reusch AM, Nyblade AA, Wiens DA, Shore PJ, Ateba B, Tabod CT, Nnange JM (2010) Upper mantle structure beneath Cameroon from body wave tomography and the origin of the Cameroon Volcanic Line. Geochem Geophys Geosyst 11:1–17

Royden L, Patacca E, Scandone P (1987) Segmentation and configuration of subducted lithosphere in Italy: an important control on thrust-belt and foredeep-basin evolution. Geology 15:714–717

Sandersen AA (2006) Palynological Investigation of the Offshore Cretaceous Sequence On the South-west Coast of South Africa. Ph.D. Th Univ Witwatersrand Johannesburg South Africa

Saugy I, Eyer JA (2003) Fifty years of exploration in the Niger Delta (West Africa). In: Halbouty MT (ed) Giant oil and gas fields of the decade1990–1999, vol 78. AAPG Memoir, Tulsa, pp 221–226

Schlager W (1993) Accommodation and supply- a dual control on stratigraphic sequences. Sediment Geol 86:111–136

Schlumberger S (1983) Well Evaluation Conference Afrique de l'Ouest—Géologie. Schlumberger 70

Séranne M (1992) Late Palaeozoic kinematics of the More-Trondelag Fault Zone and adjacent areas, central Norway. Norsk Geologisk Tidskrit 72:141–158

Séranne M, Abeigne C-R (2000) Oligocene to Holocene sediment drifts and bottom currents on the slope of Gabon continental margin (West Africa)—Consequences for sedimentation and southeast Atlantic upwelling. Sed Geol 128:179–199. https://doi.org/10.1016/S0037-0738(99)00069-X

Shanley KW, McCabe PJ (1994) Perspectives on the sequence stratigraphy of continental Strata. AAPG Bull 78(4):544–568

Short KC, Stauble AJ (1967) Outline of geology of Niger Delta. AAPG Bull 51(5):764–772

Sigmundsson F, Tryggvason E, Alves MM, Alves JL, Palsson K, Olafsson H (1995) Slow infiltration of the furnas Volcano, Sao Miguel, Azores, suggested from initial levelling and Global Positioning System measurements. Geophys Res Lett 22:1681–1684

SNH (2010) Rapport non publié

Steel RJ, Olsen T (2002) Clinoforms, clinoform trajectories and deepwater sands. In: Armentrout JM, Rosen NC (eds) Sequence stratigraphic models for exploration and production: evolving methodology, emerging models and application histories. Spec Publ GCS-SEPM, Oklahoma, pp 367–381

Sylvester AG, Smith RR (1976) Tectonic transpression and basement-controlled deformation in San Andreas fauh zone, Salton trough, California. AAPG Bull 60:2081–2102

Toteu SF, Van Schmus WR, Penaye J, Nyobe JB (1994) U–Pb and Sm–Nd evidence for Eburnian and Pan-African high grade metamorphism in cratonic rocks of southern Cameroon. Precambr Res 67:321–347

Turner P, Rosendahl BR, Wilson PG (2003) Structure and evolution of an obliquely sheared continental margin: Rio Muni, West Africa. Tectonophysics 374:41–55

Tuttle LW, Charpentier RR, Brownfield ME (1999) The Niger Delta Petroleum System: Niger Delta province, Nigeria, Cameroon and Equatorial Guinea Africa. USGS Open-file Report 99-50-H.

Untemehr P, Bouche P (1986) South Atlantic opening: structural geological constraints. In: Sager W, Scotese C (eds), mesozoic and cenozoic plate reconstructions geodyn symp (Texas A&M Univ, Austin, 1986) (Abstr)

Vail PR, Audemard F, Bowman SA, Eisner PN, Perez-Cruz C (1991) The stratigraphic signatures of tectonics, eustasy and sedimentology—an overview. In: Einsele G, Ricken W, Seilacher A (eds) Cycles and events in stratigraphy. Springer, Berlin, pp 617–659

Van Schmus W, Oliverra EP, Da Silva Filho AF, Toteu SF (2008) Proterozoic links between the Borborema Province, NE Brazil, and the Central African Fold Beltin. In: Pankhurst RT Trouw RAJ, Brito Neves BB, De Wit MJ (eds) West Gondwana: Pre-Cenozoic Correlations Across the South Atlantic Region, vol. 294. Geol Soc of London, Special Publications, pp 69–99

Van Wagoner JC, Mitchum RM Jr, Campion KM, Rahmanian VD (1990) Siliciclastic sequence stratigraphy in well logs, core, and outcrops: concepts for highresolution correlation of time and facies. AAPG Methods Explor Ser 7:55p

Vergès J, Sabàt E (1999) Constraints on the Neogene Mediterranean kinematic evolution along a 1000 km transect from Iberia to Africa. In: Durand B, Jolivet L, Horvath E, Ss M (eds) The Mediterranean basins: tertiary extension within the Alpine Orogen, vol 156. Geological Society Special Publications, London, pp 63–80

Villemin J, Tarreserence P (1990) Sedimentary basins of carbon-geology and oil systems. AAPG Memoir, Tulsa, pp 117–199

Xiao H, Suppe J (1992) Origin of rollover. AAPG Bull 76:509–229

Zargouni F (1985) Tectonique de l'Atlas méridional de la Tunisie; évolution géométrique et cinématique des structures en zone de cisaillement. Th Univ Louis-Pasteur Strasbourg

Zecchin M, Praeg D, Ceramicola S, Muto F (2015) Onshore to offshore correlation of regional unconformities in the Plio-Pleistocene sedimentary successions of the Calabrian Arc (central Mediterranean). Earth Sci Rev 142:60–78

Zhou Y, Ji Y, Pigott JD, Meng Q, Wan L (2014) Tectono-stratigraphy of Lower Cretaceous Tanan sub-basin, Tamtsag Basin, Mongolia: sequence architecture, depositional systems and controls on sediment infill. Mar Pet Geol 49:176–202

Zhu XM, Dong YL, Yang JS, Zhang Q, Li DJ, Xu CG, Yu S (2008) Sequence stratigraphic framework and sedimentary system distribution in Paleogene in Liaodong Bay. Sci China 38:1–10
Acknowledgments
We thank TOTAL E&P for providing the subsurface survey via the University of Rennes 1 (France) and SCHLUMBERGER for providing the Petrel software. We also thank the reviewers for their insightful, pertinent and useful comments. Special thanks go to Editor Prof. Wolf-Christian Dullo for its constructive suggestions to make the paper better.
About this article
Cite this article
Owono, F.M., Atangana, J.N., Owona, S. et al. Tectono-stratigraphic evolution and architecture of the Miocene Rio del Rey basin (Cameroon margin, Gulf of Guinea). Int J Earth Sci (Geol Rundsch) 109, 2557–2581 (2020). https://doi.org/10.1007/s00531-020-01917-6
Received:

Accepted:

Published:

Issue Date:
Keywords
Rio del Rey

Cameroon margin

Cameroon volcanic line

Architecture

Miocene

Isongo formation