Abstract
The world-class Mehdiabad nonsulfide deposit consists of several accumulations of Zn–Pb–Fe nonsulfide minerals, derived from supergene of a vent-proximal sub-seafloor replacement SEDEX-type deposit hosted in lower Cretaceous clastic–carbonate rocks of the Taft and Abkuh Formations. The main sulfides are galena, sphalerite, pyrite, and minor amounts of chalcopyrite, which have been partially or completely transformed into nonsulfide minerals by supergene processes. Currently, the Zn mineralization in the Abkuh Formation (ore horizon II) is almost fully oxidized: the Mehdiabad deposit which can be assigned to both direct replacement and wall-rock replacement types. The time of the formation of the nonsulfide deposit has not been determined, but it is probable that the main supergene metallogenesis happened during Tertiary, possibly between post-Cretaceous to present. The mineralogy of the nonsulfide mineralization is generally complex and consists of smithsonite, hydrozincite, and hemimorphite as the main economic minerals, accompanied by cerussite, anglesite, iron–manganese oxy-hydroxides, sauconite, and Zn-rich clays. Commonly, nonsulfide minerals in this deposit consist of two types of ore: red zinc ore (RZO), rich in Zn, Fe, Pb-(As), and white zinc ore (WZO), typically with very high zinc grades but low concentrations of iron and lead. The proposed three-step scenario for the deposition of nonsulfide mineralization in the Mehdiabad deposit comprises: (1) the deposition of primary sulfides contemporaneous with lower Cretaceous clastic–carbonate host rocks to form SEDEX-type mineralization; (2) during the Late Cretaceous to present, regional uplift leads to deformation, folding, and thrusting of sulfide-bearing lower Cretaceous sequence; and (3) as a result, Zn–Pb–Fe sulfides hosted in carbonates experienced oxidation under an arid-warm climate to form the supergene nonsulfide ore mineralizations.
Access options
Buy single article
Instant access to the full article PDF.
US$ 39.95
Tax calculation will be finalised during checkout.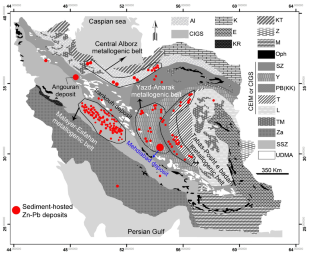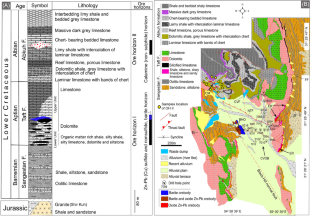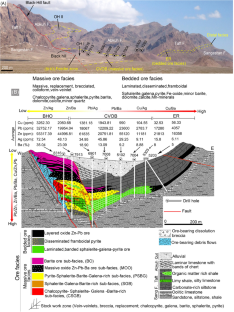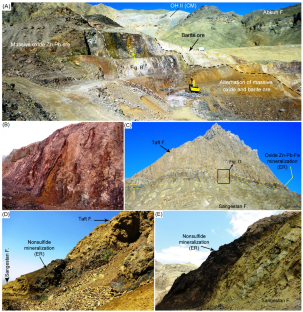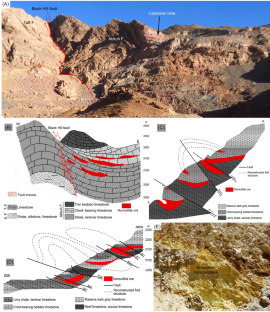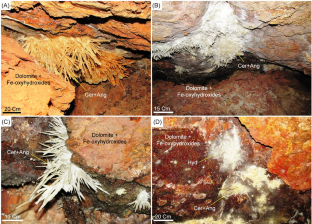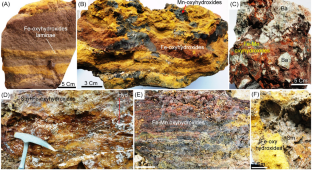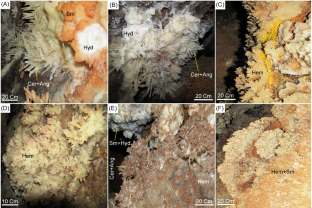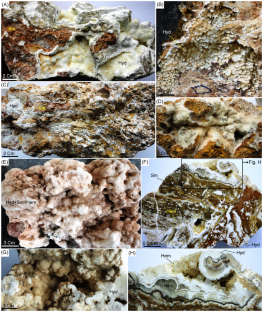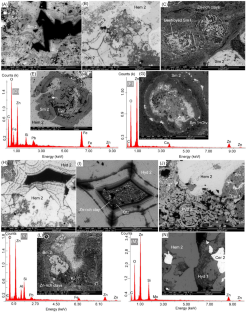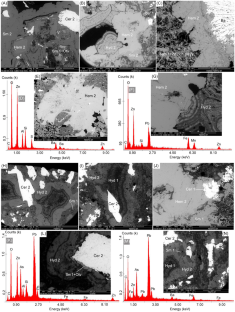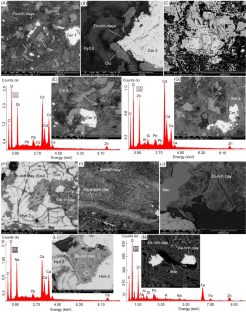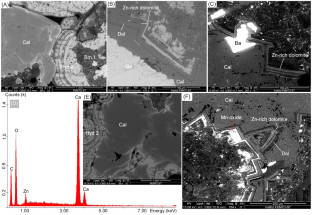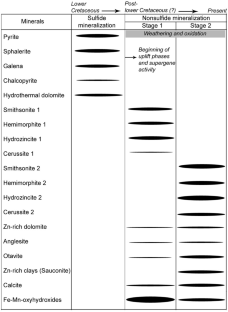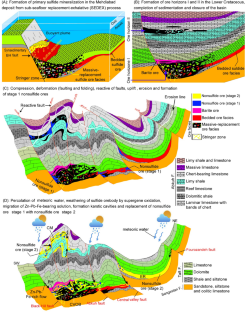 References
Aghanabati A (2004) Geology of Iran. Geological Survey and Mineral Exploration of Iran, Tehran, p 586

Alavi M (1994) Tectonics of the zagros orogenic belt of Iran: new data and interpretations. Tectonophysics 229(3–4):211–238

Anand RR (2005) Weathering history, landscape evolution and implications for exploration. In: Anand RR, de Broekert P (eds) Regolith Landscape Evolution Across Australia — a Compilation of Regolith Landscape Case Studies with Regolith Landscape Evolution Models. Cooperative Research Centre for Landscape Environments and Mineral Exploration, CRC LEME

Andrew-Jones DA (1968) The application of geochemical techniques to mineral exploration. Collorado Sch Mines Min Ind Bull 11:1–31

Appold MS, Monteiro VS (2009) Numerical modeling of hydrothermal zinc silicate and sulfide mineralization in the Vazante deposit, Brazil. Geofluids 9:96–115

Arfè G, Mondillo N, Boni M, Balassone G, Joachimski M, Mormone A, Di Palma T (2017) The Karst-Hosted mina grande nonsulfide zinc deposit, Bongará District (Amazonas Region, Peru). Econ Geol 112:1089–1110

Arfè G, Mondillo N, Boni M, Joachimski M, Balassone G, Mormone A, Santoro L, Castro Medrano E (2018) The Cristal Zn prospect (Amazonas region, Northern Peru). Part II: an example of supergene enrichments in tropical areas. Ore Geol Rev 95:1076–1105

Boni M (2014) Supergene Nonsulfide Zinc Ores. State of the Art Abstract at 21st General Meeting of the International Mineralogical Association. Sandton, South Africa

Boni M, Mondillo N (2015) The "Calamines" and the "Others": the great family of supergene nonsulfide zinc ores. Ore Geol Rev 67:208–233

Boni M, Gilg HA, Aversa G, Balassone G (2003) The "Calamine" of SW Sardinia (Italy): geology, mineralogy and stable isotope geochemistry of a supergene Znmineralization. Econ Geol 98(4):731–748

Boni M, Gilg HA, Balassone G, Schneider J, Allen CR, Moore F (2007) Hypogene Zn carbonate ores in the Angouran deposit, NW Iran. Miner Deposita 42:799–820

Boni M, Balassone G, Arseneau V, Schmidt P (2009) The nonsulfide zinc deposit at Accha (Southern Peru): geological and mineralogical characterization. Econ Geol 104:267–289

Borg G (2005) Geological and economical significance of supergene nonsulphide zinc deposits in Iran and their exploration potential. In: Surveyof Iran G (ed) Mining and Sustainable Development. World Mining Congress, Tehran, Iran

Borg G (2009) The influence of fault structures on the genesis of supergene zinc deposits. Soc Econ Geol Spe Pub 14:121–132

Borg G (2015) A review of supergene nonsulphide zinc (SNSZ) deposits - the 2014 update. In: Archibald SM, Piercey SJ (eds) Current Perspectives of Zinc Deposits. Irish Association for Economic Geology, Dublin, pp 123–147

Brugger J, McPhail DC, Wallace M, Waters J (2003) Formation of willemite in hydrothermal environments. Econ Geol 98:819–835

Bucur II, Rashidi K, Senowbari-Daryan B (2012) Early Cretaceous calcareous algae from central Iran (Taft Formation, south of Alibad, near Yazd). Facies 58:605–636

Choulet F, Charles N, Barbanson L, Branquet Y, Sizaret S, Ennaciri A, Badra L, Chen Y (2014) Non-sulfide zinc deposits of the Moroccan High Atlas: multiscale characterization and origin. Ore Geol Rev 56:115–140

Coppola V, Boni M, Gilg HA, Balassone G, Dejonghe L (2008) The "calamine" nonsulfide Zn–Pb deposits of Belgium: petrographical, mineralogical and geochemical characterization. Ore Geol Rev 33:187–210

Ghasemi M (2006) Formation Mechanism of the Mehdi Abad Zn–Pb Deposit and its Comparison with Other Near Lead and Zinc Deposits. Unpublished M.Sc. Thesis. Res Institu Earth Sci Geol Surv Iran 1:238

Heyl AV, Bozion CN (1960) Varieties of supergene zinc deposits in the United States. US Geol Surv Profess 400-B:B2–B5

Heyl AV, Bozion CN (1962) Oxidized zinc deposits of the United States, part I. General geol US Geol Bull 1135-A:52

Hitzman MH, Reynolds NA, Sangster DF, Allen CR, Carman CE (2003) Classification, genesis, and exploration guides for nonsulphide zinc deposits. Econ Geol 98:685–714

Jacquat O, Voegelin A, Kretzschmar R (2009) Soil properties controlling Zn speciation and fractionation in contaminated soils. Geochim Cosmochim Acta 73(18):5256–5272

Kyle JR, Ahn H, Gilg HA (2018) Nature and origin of the nonsulfide zinc deposits in the Sierra Mojada District, Coahuila, Mexico: constraints from regional geology, petrography, and isotope analyses. Miner Depos 53:1095–1116

Large D (2001) The geology of non-sulphide zinc deposits—An overview. Erzmetall 54:264–274

Large RR, Bull SW, Yang J, Cooke DR, Garven G, McGoldrick PJ, Selley D (2002) Controls on the formation of giant stratiform sediment-hosted Zn–Pb-Ag deposits with particular reference to the North Australian Proterozoic. University of Tasmania, Centre for Special Ore Deposit and Exploration (CODES) Studies Publication, pp 107–149

Leach DL, Sangster DF, Kelley KD, Large RR, Garven G, Allen CR, Gutzmer J, Walters S (2005) Sediment hosted lead-zinc deposits: a global perspective. Econ Geol 100:561

Maghfouri S (2017) Geology, geochemistry, ore controlling parameters and genesis of early Cretaceous Carbonate-Clastic hosted Zn–Pb deposits in southern Yazd Basin, with emphasis on Mehdiabad deposit (Unpublished PhD thesis) Tabriz, University of Tabriz, Iran, p 475

Maghfouri S, Hosseinzadeh MR (2018) The early Cretaceous Mansourabad shale carbonate hosted Zn–Pb (-Ag) deposit, central Iran: an example of vent-proximal subseafloor replacement SEDEX mineralization. Ore Geol Rev 95:20–39

Maghfouri S, Hosseinzadeh MR, Rajabi A, Azimzadeh AM, Choulet F (2015) Geology and origin of mineralization in the Mehdiabad Zn–Pb-Ba (Cu) deposit, Yazd Block, Central Iran. In: 13th SGA biennial meeting, Nancy-France, p 3

Maghfouri S, Hosseinzadeh MR, Rajabi A, Choulet F (2018) A review of major non-sulfide zinc deposits in Iran. Geosci Front 9:249–272

Maghfouri S, Hosseinzadeh MR, Choulet F, Alfonso P, Azim Zadeh AM, Rajabi A (2019) Vent-proximal sub-seafloor replacement clastic-carbonate hosted SEDEX-type mineralization in the Mehdiabad world-class Zn–Pb-Ba-(Cu-Ag) deposit, southern Yazd Basin. Iran Ore Geol Rev 113:103047

Maghfouri S, Hosseinzadeh MR, Lentz DR, Choulet F (2020) Geological and geochemical constraints on the Farahabad vent-proximal sub-seafloor replacement SEDEX-type deposit, Southern Yazd basin. Iran J Geochem Explor 209:106436

McPhail DC, Summerhayes E, Welch S, Brugger J (2003). The geochemistry of zinc in the regolith. In: Roach IC (ed) Advances in regolith; In Proceeding CRC for Landscape Environments and Mineral Exploration 1:287–291.

Mondillo N, Boni M, Balassone G, Villa IM (2014) The Yanque Prospect (Peru): From polymetallic Zn–Pb mineralization to a nonsulfide deposit. Econ Geol 109:1735–17622

Moore JMM (1972) Supergene mineral deposits and physiographic development in southwest Sardinia, Italy. Transactions institution mining and metallurgy. Sect B Appl Earth Sci 71:B59–eB66

Nabavi M (1972) Lower Cretaceous deposits in the Taft-Yazd and Khur area. Report Geol Survey Iran 1:160–127

Paradis S, Simandl GJ, Keevil H, Raudsepp A (2016) Carbonate-Hosted Nonsulfide Pb-Zn Deposits of the Quesnel Lake District, British Columbia, Canada. Econ Geol 111:179–198

Peck WP, Volkert RA, Mansur AT, Doverspike BA (2009) Stable isotope and petrologic evidence for the origin of regional marble-hosted magnetite deposits and the zinc deposits at Franklin and Sterling Hill, New Jersey Highlands, United States. Econ Geol 104:1037–1054

Pirajno F, Burlow R, Huston D (2010) The Magellan Pb deposit, Western Australia; a new category within the class of supergene non-sulphide mineral systems. Ore Geol Rev 37:101–113

Pourfaraj H, Maghfouri S, Mohajjel M, Rastad E (2016) Kinematic change in synsedimentary normal fault in Mehdi-Abad Mine of Yazd. Nat Geosci Sympos 50:120–145

Reichert J (2007) A metallogenetic model for carbonate hosted non-sulfide zinc deposits based on observations of Mehdi Abad and Iran Kouh central and southwestern Iran. University of Martin Luther, Shillong

Reichert J (2009) A geochemical model of supergene carbonate-hosted nonsulphide zinc deposits. In: Titley SR (ed) Supergene Environments, Processes, and Products. Society of Economic Geologists, Special Publication, pp 69–e76

Reichert J, Borg G (2008) Numerical simulation and a geochemical model of supergene carbonate-hosted nonsulphide zinc deposits. Ore Geol Rev 33:134–151

Reichert J, Borg G, Rashidi B (2003) Mineralogy of calamine ore from the Mehdi Abad zinc-lead deposit, Central Iran. In: Eliopoulos DG (ed) Mineral Exploration and Sustainable Development. Millpress, Rotterdam, pp 97–100

Sangameshwar SR, Barnes HL (1983) Supergene processes in zinc-lead-silver sulfide ores in carbonate rocks. Econ Geol 78:1379–1397

Santoro L, Boni M, Herrington R, Clegg A (2013) The Hakkari nonsulfide Zn–Pb deposit in the context of other nonsulfide Zn–Pb deposits in the Tethyan Metallogenic Belt of Turkey. Ore Geol Rev 53:244–260

Schlagintweit F, Bucur II, Rashidi K, Hanifzadeh R, Wilmsen M (2013a) Torremiroella hispanica Brun and Canérot, 1979 (benthic foraminifera) from the lower cretaceous of central Iran and its palaeobiogeographic significance. Cretacous Res 46:272–279

Schlagintweit F, Bucur II, Rashidi K, Saberzadeh B (2013b) Praeorbitolina claveli n sp. (benthic foraminifera) from the Lower Aptian (Bedoulian) of central Iran. Carnets Géol Notebooks Geol 1:255–272

Scott KM, Ashley PM, Lawie DC (2001) The geochemistry, mineralogy and maturity of gossans derived from volcanogenic Zn–Pb–Cu deposits of the eastern Lachlan Fold Belt, NSW. Australia J Geochem Explor 72:169–191

Slezak PR, Olivo GR, Oliveira GD, Dardenne MA (2014) Geology, mineralogy, and geochemistry of the Vazante Northern Extension zinc silicate deposit, Minas Gerais, Brazil. Ore Geol Rev 56:234–257

Takahashi T (1960) Supergene alteration of zinc and lead deposits in limestone. Econ Geol 55:1083–1115

Thornber MR, Taylor GF (1992) The mechanisms of sulphide oxidation and gossan formation. In: Butt CRM, Zeegers H (eds) Regolith exploration geochemistry in tropical and subtropical terrains. Elsevier, Handbook of Exploration Geochemistry BV

Williams PA (1990) Oxide Zone Geochemistry. Ellis Horwood Ltd., Chichester, England, p 286
Acknowledgements
The authors would like to thank Mehdiabad Mining Company and Chrono-Environnement, Université de Franche-Comté Lab. French for providing the field access to the area, accurate, and precise sampling analysis and SEM geochemical data. Particular thanks go to H. Pourfaraj and M. Hajghasem for helping the first author during data collection.
About this article
Cite this article
Maghfouri, S., Hosseinzadeh, M.R. & Choulet, F. Supergene nonsulfide Zn–Pb mineralization in the Mehdiabad world-class sub-seafloor replacement SEDEX-type deposit, Iran. Int J Earth Sci (Geol Rundsch) 109, 2531–2555 (2020). https://doi.org/10.1007/s00531-020-01916-7
Received:

Accepted:

Published:

Issue Date:
Keywords
Nonsulfides

Supergene

SEDEX type

Mehdiabad

Iran