Abstract
Facies stacking patterns and stratigraphic relationships resulting from the interaction of fluvial and wave processes, along with the paleoshoreline orientation and key surfaces, are essential to understand the temporal changes in the rate of change of accommodation space (A) versus sediment supply rate (S). High-frequency sea-level fluctuations in deltaic systems are controlled by changing accommodation and accumulation, which are explained mainly by autocyclic or allocyclic mechanisms. In deltaic systems, changes in the A/S ratio can be showed by significant variations of the internal facies architecture and the external morphology of the delta complex. These criteria have been used to investigate the relationship between autocyclic and allocyclic processes on the architectural evolution of a mixed river- and wave-influenced asymmetrical delta during the Lower-to-Middle Ordovician in the southwest Central Iberian Zone, in Portugal. Relying on the sedimentary and ichnological characteristics, the herein defined Penha Garcia Formation is classified into two main groups of facies associations, which are interpreted as deposited in a mixed asymmetrical delta with a trend of along-strike variations between wave-dominated strandplain (updrift) and river-dominated deltaic settings (downdrift). The vertical stacking arrangements of parasequences led to the identification of five depositional phases (I to V). Detailed analysis of geometry and internal architecture of the depositional phases along depositional strike shows a highly variable number of shallowing-upward cycles and facies thicknesses/heterogeneity on the updrift and downdrift side due to changes in rates of accumulation and hydrodynamic processes. The stratigraphic architectural style of the depositional phases I to V, and the trend of the total regressive ascending shoreline trajectory, are evidences that the deposition of the Penha Garcia Formation likely took place under an increasing rate of accommodation due to long-term relative sea-level rise (allocyclic), and high subsidence rates coupled with an increase in sediment supply, which could have been locally amplified by compaction of the prodelta-related muddy beds (autocyclic). This study suggests that in evaluating the autocyclic mechanisms on deltaic processes in short-time scales, there is a remarkable difference in terms of its impact on the internal variability of the depositional phases, both in the updrift and downdrift regions of mixed-influenced asymmetrical deltas. The most important reasons for the different effects of autocyclic mechanisms can be related to facies-dependent differential compaction or local changes in subsidence pattern, differences in the proximity to the distributary channel system, and differences in the influence of intrinsic processes of storm and wave reworking (wave-sweeping mechanisms).
Access options
Buy single article
Instant access to the full article PDF.
US$ 39.95
Tax calculation will be finalised during checkout.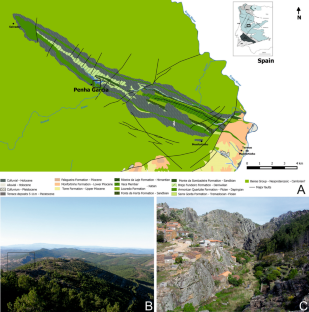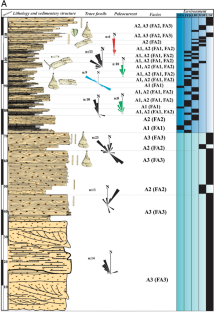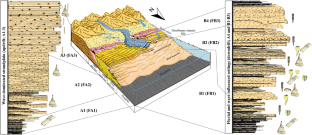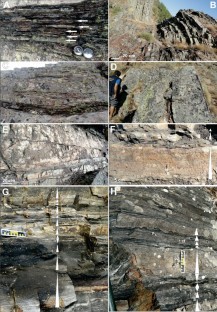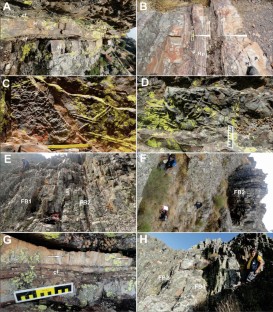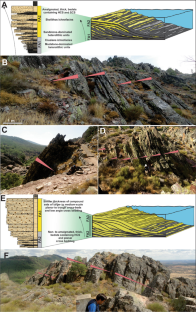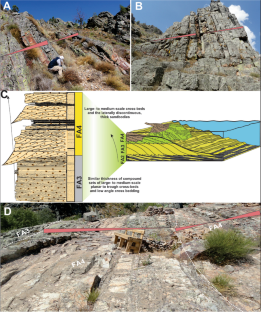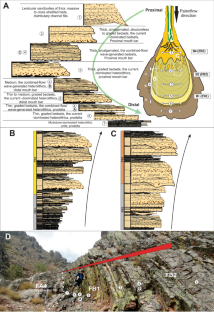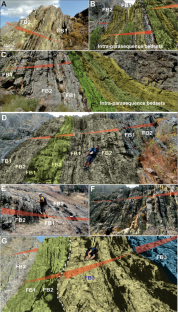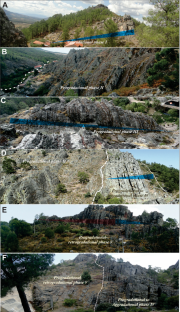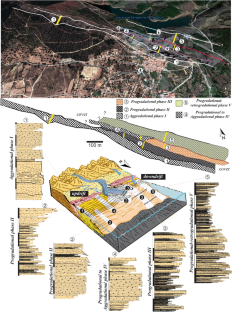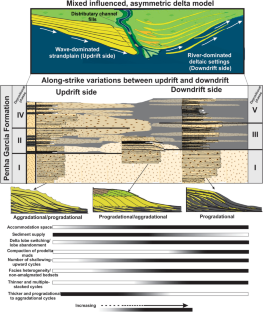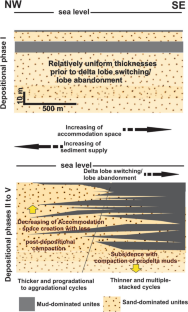 References
Ainsworth RB, Vakarelov BK, Nanson RA (2011) Dynamic spatial and temporal prediction of changes in depositional processes on clastic shorelines: toward improved subsurface uncertainty reduction and management. AAPG Bull 95:267–297

Ayranci K, Dashtgard SE (2016) Asymmetrical deltas below wave base: Insights from the Fraser River Delta, Canada. Sedimentology 63:761–779

Bayet-Goll A, Neto de Carvalho C (2015) Ichnology and sedimentology of a tide-influenced delta in the Ordovician from the Northeastern Alborz range of Iran (Kopet-Dagh region). Lethaia 49:327–350

Bayet-Goll A, Neto de Carvalho C (2017a) Differentiation of delta and open marine deposits based on an integrated ichnological and sedimentological analysis of the Late Triassic Nayband Formation, Tabas Block, Central Iran. J Iber Geol 43:1–25

Bayet-Goll A, Neto de Carvalho C (2017b) Sedimentological and ichnological characteristics of deltaic and non-deltaic successions of the Lower Ordovician of Shahmirzad area, Alborz Mountains of northern Iran. Boll Soc Paleontol Ital 56:127–151

Bayet-Goll A, Nazarian Samani P, Neto de Carvalho C, Monaco P, Khodaie N, Morad Pour M, Kazemeini H, Zareiyan MH (2017) Sequence stratigraphy and ichnology of Early Cretaceous reservoirs, Gadvan Formation in southwestern Iran. Mar Petrol Geol 81:294–319

Bayet-Goll A, Shirezadeh-Esfahani F, Daraei M, Monaco P, Sharafi M, Akbari Mohamadi A (2018a) Cyclostratigraphy across a Mississippian carbonate ramp in the Esfahan-Sirjan Basin, Iran: implications for the amplitudes and frequencies of sea-level fluctuations along the southern margin of the Paleotethys. Int J Earth Sci 107:2233–2263

Bayet-Goll A, Geyer G, Daraei D (2018b) Tectonic and eustatic controls on the spatial distribution and stratigraphic architecture of late early Cambrian successions at the northern Gondwana margin: the siliciclastic-carbonate successions of the Lalun Formation in central Iran. Mar Petrol Geol 98:199–228

Bhattacharya JP (2010) Deltas. In: James NP, Dalrymple RW (eds) Facies models 4, vol 6. Geological Association of Canada, St. Johns, pp 233–264

Bhattacharya JP, Giosan L (2003) Wave-influenced deltas: geomorphological implications for facies reconstruction. Sedimentology 50:187–210

Bhattacharya JP, MacEachern JA (2009) Hyperpycnal rivers and prodeltaic shelves in the Cretaceous Seaway of North America. J Sed Res 79:184–209

Bhattacharya JP, Tye RS (2004) Searching for modern Ferron analogs and application to subsurface interpretation. In: Chidsey TC, Jr Adams RD, Morrison TH (eds) Analog for Fluvial–Deltaic reservoir modeling: ferron sandstone of Utah, vol 50. American Ass Petrol Geolo, Stud Geol, USA, pp 39–58

Bhattacharya JP, Walker RG (1992) Deltas. In: Walker RG, James NP (eds) Facies models: response to sea level change. Geological Association of Canada, St. Johns, pp 157–178

Buatois LA, Gingras MK, MacEachern J, Mángano MG, Zonneveld J-P, Pemberton SG, Netto RG, Martin AJ (2005) Colonization of brackish-water systems through time: evidence from the trace-fossil record. Palaios 20:321–347

Buatois LA, Santiago N, Parra K, Steel R (2008) Animal-substrate interactions in an Early Miocene wave-dominated tropical delta: delineating environmental stresses and depositional dynamics (Tacata Field, Eastern Venezuela). J Sed Res 78:458–479

Buatois LA, Santiago N, Herrera M, Plink-Bjorklund P, Steel R, Espin M, Parra K (2012) Sedimentological and ichnological signatures of changes in wave, river and tidal influence along a Neogene tropical deltaic shoreline. Sedimentology 59:1568–1612

Cappelle MN, Ravnås R, Hampson GJ, Johnson HD (2017) Depositional evolution of a progradational to aggradational, mixed-influenced deltaic succession: Jurassic Tofte and Ile formations, southern Halten Terrace, offshore Norway. Mar Petrol Geol 80:1–22

Catuneanu O, Zecchin M (2013) High-resolution sequence stratigraphy of clastic shelves II: controls on sequence development. Mar Petrol Geol 39:26–38

Charvin K, Hampson GJ, Gallagher KL, Labourdette R (2010) High resolution stratigraphic architecture within an interpreted asymmetrical wave dominated deltaic parasequence. Sedimentology 57:760–785

Cocks LRM, Torsvik TH (2002) Earth geography from 500 to 400 million years ago: a faunal and palaeomagnetic review. J Geol Soc Lond 159:631–644

Dalrymple RW, Choi K (2007) Morphologic and facies trends through the fluvial-marine transition in tide dominated depositional systems: a schematic framework for environmental and sequence-stratigraphic interpretation. Earth Sci Rev 81:135–174

Edmonds DA, Hoyal DCJD, Sheets BA, Slingerland RL (2009) Predicting delta avulsions: implications for coastal wetlands restoration. Geology 37:759–762

Fielding CR (2010) Planiform and facies variability in asymmetric deltas: facies analysis and depositional architecture of the Turonian Ferron Sandstone in the western Henry Mountains, south-central Utah, USA. J Sed Res 80:455–479

Flood YS, Hampson GJ (2014) Facies and architectural analysis to interpret avulsion style and variability: Upper Cretaceous Blackhawk Formation, Wasatch Plateau, Central Utah, USA. J Sediment Res 84:743–762

Forzoni A, Hampson G, Storms J (2015) along-strike variations in stratigraphic architecture of shallow-marine reservoir analogues: Upper Cretaceous Panther Tongue Delta and coeval shoreface, Star Point Sandstone, Wasatch Plateau, Central Utah, U.S.A. J Sediment Res 85:968–989

Gingras MK, MacEachern JA, Pemberton SG (1998) A comparative analysis of the ichnology of wave- and river-dominated allomembers of the upper Cretaceous Dunvegan Formation. Bull Can Petrol Geol 46(5):1–73

Grundvåg ST, Helland-Hansen W, Johannessen EP, Olsen AH, Stig AK (2014) The depositional architecture and facies variability of shelf deltas in the Eocene Battfjellet Formation, Nathorst Land, Spitsbergen. Sedimentology 61:535–569

Gutiérrez-Alonso G, Fernández-Suárez J, Gutiérrez-Marco JC, Corfu F, Murphy JB, Suárez M (2007) U–Pb depositional age for the upper Barrios Formation (Armorican Quartzite facies) in the Cantabrian zone of Iberia: implications for stratigraphic correlation and paleogeography. In: Linnemman U, Nance RD, Kraft P, Zulauf G (eds) The evolution of the Rheic Ocean: from Avalonian-Cadomian active margin to Alleghenian-Variscan collision, vol 423. Geol Soc Am, Special Papers, USA, Boulder Colorado, pp 287–296

Gutiérrez-Marco JC, Piçarra JM, Meireles CA, Cózar P, García-Bellido DC, Pereira Z, Vaz N, Pereira S, Lopes G, Oliveira JT, Quesada C, Zamora S, Esteve J, Colmenar J, Bernárdez E, Coronado I, Lorenzo S, Sá A., Dias da Silva I, González-Clavijo E, Díez-Montes A, Gómez-Barreiro J 2019 Early Ordovician–Devonian passive margin stage in the Gondwanan units of the Iberian Massif. In: Quesada C, Oliveira, JT (eds) The Geology of Iberia—a geodynamic approach. V. 2 The Variscan Cycle. Springer Regional Geology Review, pp 75–98

Hampson GJ (2010) Sediment dispersal and quantitative stratigraphic architecture across an ancient shelf. Sedimentology 57:96–141

Hampson GJ (2016) Towards a sequence stratigraphic solution set for autogenic processes and allogenic controls: Upper Cretaceous strata, Book Cliffs, Utah, USA. J Geol Soc 173:817–836

Hampson GJ, Storms JEA (2003) Geomorphological and sequence stratigraphic variability in wave-dominated, shoreface-shelf parasequences. Sedimentology 50:667–701

Hampson GJ, Howell JA, Flint SS (1999) A sedimentological and sequence stratigraphic re-interpretation of the Upper Cretaceous Prairie Canyon Member ('Mancos B') and associated strata, Book Cliffs area, Utah, USA. J Sed Res 69:414–433

Hampson GJ, Gani MR, Sahoo H, Jewell T, Gani N, Howell J, Buckley SJ (2012) Alluvial-to-coastal plain stratigraphic architecture and large-scale patterns of fluvial sandbody distribution in a progradational clastic wedge: Upper Cretaceous Blackhawk Formation, Wasatch Plateau, central Utah, USA. Sedimentology 59:2226–2258

Hampson GJ, Duller RA, Petter AL, Robinson RAJ, Allen PA (2014) Mass-balance constraints on stratigraphic interpretation of linked alluvial–coastal–shelfal deposits: example from Cretaceous Western Interior Basin, Utah and Colorado, USA. J Sediment Res 84:935–960

Helland-Hansen W, Hampson GJ (2009) Trajectory analysis: concepts and applications. Basin Res 21(5):454–483

Helland-Hansen W, Martinsen OJ (1996) Shoreline trajectories and sequences: description of variable depositional-dip scenarios. J Sediment Res B66:670–688

Hurd TJ, Fielding CR, Hutsky AJ (2014) Variability in sedimentological and ichnological signatures across a river-dominated delta deposit: Peay Sandstone Member (Cenomanian) of the northern Bighorn Basin, Wyoming, U.S.A. J Sediment Res 84:1–18

Ichaso AA, Dalrymple RW (2014) Eustatic, tectonic and climatic controls on an early syn-rift mixed-energy delta, Tilje Formation (Early Jurassic, Smorbukk Field, Offshore mid-Norway). In: Martinius AW, Ravnas R, Howell JA, Steel RJ, Wonham JP (eds) From depositional systems to sedimentary successions on the Norwegian continental margin, vol 46. Int Assoc Sedimentol Spec Publ, Blackwell, Oxford, pp 339–388

Jorissen EL, Leeuw A, van Baak CGC, Mandic O, Stoica M, Abels HA, Kriggsman W (2018) Sedimentary architecture and depositional controls of a Pliocene river-dominated delta in the semi-isolated Dacian Basin, Black Sea. Sed Geol 368:1–23

Julivert M, Truyols J, Vergés J (1983) El Devónico en el Macizo Ibérico. In: Comba JA (ed) Geología de España. Libro Jubilar J.M. Ríos, vol 1. IGME, Madrid, pp 265–311

Kamola DL, Huntoon JE (1995) Repetitive stratal patterns in a foreland basin sandstone and their possible tectonic significance. Geology 23:177–180

Knaust D (2012) Trace-fossil systematics. Dev Sedimentol 64:79–101

Korus JT, Fielding CR (2015) Asymmetry in holocene river deltas: patterns, controls, and stratigraphic effects. Earth Sci Rev 150:219–242

Legler B, Hampson GJ, Jackson CAL, Johnson HD, Massart BYG, Sarginson M, Ravnås R (2014) Facies relationships and stratigraphic architecture of distal, mixed tide- and wave-influenced deltaic deposits: lower Sego sandstone, western Colorado, U.S.A. J Sediment Res 84:605–625

Li Y, Bhattacharya J (2014) Facies architecture of asymmetrical branching distributary channels: cretaceous Ferron Sandstone, Utah, USA. Sedimentology 61:1452–1483

Li W, Bhattacharya J, Wang Y (2011a) Delta asymmetry: concepts, characteristics, and depositional models. Petrol Sci 8:278–289

Li W, Bhattacharya JP, Zhu Y, Garza D, Blankenship E (2011b) Evaluating delta asymmetry using three-dimensional facies architecture and ichnological analysis, Ferron 'Notom Delta', Capitan Reef, Utah, USA. Sedimentology 58:478–507

Linnemann U, Pereira FM, Jeffries TE, Drost K, Gerdes A (2008) The Cadomian Orogeny and the opening of the Rheic Ocean: the diacrony of geotectonic processes constrained by LA-ICP-MS U-Pb zircon dating (Ossa-Morena and Saxo-Thurigian Zones, Iberian and Bohemian Massifs). Tectonophysics 461:21–43

Lock BE, Butler RW, Franklund RT (2009) Tempestite sedimentation: an example from the Del Rio Formation of West Texas. Trans GCAGS 59:463–476

Longhitano S, Colella A (2007) Geomorphology, sedimentology and recent evolution of the anthropogenically modified Simeto River delta system (eastern Sicily, Italy). Sediment Geol 194:195–221

MacEachern JA, Pemberton SG (1992) Ichnological aspects of Cretaceous shoreface successions and shoreface variability in the western interior seaway of North America. In: Pemberton SG (ed) Applications of ichnology to petroleum exploration—a core workshop, vol 17, SEPM Core Workshop, pp 57–84

MacEachern JA, Bann KL (2008) The role of ichnology in refining shallow marine facies models. In: Hampson G, Steel R, Burgess P, Dalrymple R (eds) Recent advances in models of siliciclastic shallow-marine stratigraphy. SEPM Special Publication, vol 90, pp 73–116

MacEachern JA, Bann KL, Bhattacharya JP, Howell Jr, CD (2005) Ichnology of deltas: Organism responses to the dynamic interplay of rivers, waves, storms, and tides. In: Giosan L, Bhattacharya JP (eds) River deltas: Concepts, models and examples, vol 83. SEPM Special Publication, Tulsa, Oklahoma, pp 49–85

MacEachern JA, Bann KL, Pemberton SG, Gingras MK (2007a) The ichnofacies paradigm: high-resolution paleoenvironmental interpretation of the rock record. In: MacEachern JA, Bann KL, Gingras MK, Pemberton SG (eds) Applied ichnology, vol 52. SEPM Short Corse Notes, Tulsa, Oklahoma, pp 27–64

MacEachern JA, Pemberton SG, Bann KL, Gingras MK (2007b) Departures from the archetypal ichnofacies: effective recognition of physico-chemical stresses in the rock record. In: MacEachern JA, Bann KL, Gingras MK, Pemberton SG, (eds) Applied ichnology, vol 52. SEPM Short Course Notes, Tulsa, Oklahoma, pp 65–94

Meckel TA, Ten Brink US, Williams SJ (2007) Sediment compaction rates and subsidence in deltaic plains: numerical constrains and stratigraphic influences. Basin Res 19:19–31

Mulder T, Alexander J (2001) The physical character of subaqueous sedimentary density flows and their deposits. Sedimentology 48:269–299

Mulder T, Syvitski JPM, Migeon S, Faugeres J-C, Savoye B (2003) Marine hyperpycnal flows; initiation, behavior and related deposits; a review. Mar Pet Geol 20:861–882

Munnecke A, Calner M, Harper DAT, Servais T (2010) Ordovician and Silurian sea-water chemistry, sea level, and climate: a synopsis. Palaeogeogr Palaeoclimatol Palaeoecol 296(3–4):389–413

Muto T, Steel RJ (1997) Principles of regression and transgression: the nature of the interplay between accommodation and sediment supply. J Sediment Res B67:994–1000

Muto T, Steel RJ (2002) Role of autoretreat and A/S changes in the understanding of deltaic shoreline trajectory: a semi-quantitative approach. Basin Res 14:303–318

Muto T, Steel RJ, Swenson JB (2007) Autostratigraphy: a framework norm for genetic stratigraphy. J Sediment Res 77:2–12

Mutti E, Davoli G, Tinterri R, Zavala C (1996) The importance of fluvio-deltaic systems dominated by catastrophic flooding in tectonically active basins. Mem di Sci Geol 48:233–291

Mutti E, Tinterri R, Benevelli G, di Biase D, Cavanna G (2003) Deltaic, mixed and turbidite sedimentation of ancient foreland basins. Mar Petrol Geol 20:733–755

Nanson RA, Vakarelov BK, Ainsworth RB, Williams FM, Price DM (2013) Evolution of a Holocene, mixed-process, forced regressive shoreline: the Mitchell River delta, Queensland, Australia. Mar Geol 339:22–43

Neto de Carvalho C (2006) Roller coaster behaviour in the Cruziana rugosa group from Penha Garcia (Portugal): implications for the feeding program of Trilobites. Ichnos 13(4):255–265

Neto de Carvalho C, Baucon A (2016) Giant trilobite burrows and their paleobiological significance (Lower-to-Middle Ordovician from Penha Garcia, Portugal). Comun Geol 103:71–82

Neto de Carvalho C, Rodrigues J, Baucon A (2014) "Fossil Art": the importance and value of the palaeobiodiversity in the Naturtejo Global Geopark, under UNESCO (Portugal). Comun Geol 101:91–99

Noblet C, Lefort JP (1990) Sedimentological evidence for a limited separation between Armorica and Gondwana during the Early Ordovician. Geology 18:303–306

Olariu C (2014) Autogenic process change in modern deltas: lessons for the ancient. In: Martinius AW, Ravns R, Howell JA, Steel RJ, Wonham JP (eds) From depositional systems to sedimentary successions on the Norwegian continental margin, vol 46. Internat Ass Sediment, Wiley-Blackwell, Oxford, pp 149–166

Olariu C, Bhattacharya JP (2006) Terminal distributary channels and delta front architecture of river dominated delta systems. J Sediment Res 76:212–233

Olariu C, Steel RJ, Petter AL (2010) Delta-front hyperpicnal bed geometry and implications for reservoir modeling: cretaceous Panther Tongue delta, Book Cliffs, Utah. AAPG Bull 94(6):819–845

Pattison SAJ, Ainsworth RB, Hoffman TA (2007) Evidence of across-shelf transport of fine-grained sediments: turbidite-filled shelf channels in the Campanian Aberdeen Member, Book Cliffs, Utah, USA. Sedimentology 54:1033–1064

Plink-Bjorklund P, Steel RJ (2004) Initiation of turbidity currents: outcrop evidence for Eocene hyperpycnal flow turbidites. Sediment Geol 165:29–52

Ponten A, Plink-bjorklund P (2007) Depositional environments in an extensive tide-influenced delta plain, Middle Devonian Gauja Formation, Devonian Baltic Basin. Sedimentology 54:969–1006

Porebski SJ, Steel RJ (2006) Deltas and sea-level change. J Sediment Res 76(3):390–403

Rey J, Hidalgo MC (2004) Siliciclastic sedimentation and sequence stratigraphic evolution on a storm-dominated shelf: the Lower Ordovician of the Central Iberian Zone (NE Jaen, Spain). Sediment Geol 164:89–104

Rodríguez-Tovar FJ, Stachacz M, Uchman A, Reolid M (2014) Lower/Middle Ordovician (Arenigian) shallow-marine trace fossils of the Pochico Formation, southern Spain: palaeoenvironmental and palaeogeographic implications at the Gondwanan and peri-Gondwanan realm. J Iber Geol 40(3):539–555

Romano M (1982) The Ordovician biostratigraphy of Portugal—a review with new data and re-appraisal. Geol J 17:89–110

Romão JMC (2000) Estudo tectono-estratigráfico de um segmento do bordo SW da Zona Centro-Ibérica, e as suas relações com a Zona Ossa-Morena. PhD. Thesis, University of Lisbon, p 322

Romão J (2006) Carta Geológica de Portugal à escala 1/50000, Notícia Explicativa da Folha 28-A, Mação. Laboratório Nacional de Energia e Geologia, Lisboa, p 77

Rossi VM, Steel RJ (2016) The role of tidal, wave and river currents in the evolution of mixed-energy deltas: example from the Lajas Formation (Argentina). Sedimentology 63:824–864

Seilacher A (2007) Trace fossil analysis. Springer, Berlin, p 226

Sequeira AJD (1993) A Formação da Serra Gorda (Tremadociano?) do sinclinal de Penha Garcia. Comun Instit Geol Min 79:15–29

Sequeira AJD (2011) Microfósseis do Grupo das Beiras (Monfortinho-Salvaterra do Extremo, Beira Baixa, Portugal Central). Comun Geol 98:55–60

Sequeira AJD, Proença e Cunha P, Ribeiro ML (1999) Carta Geológica de Portugal à escala 1/50000, Notícia Explicativa da Folha 25-B Salvaterra do Extremo. Instituto Geológico e Mineiro

Shaw J, Johnston ST, Gutiérrez-Alonso G, Wail AB (2012) Oroclines of the Variscan orogen of Iberia: paleocurrent analysis and paleogeographic implications. Earth Planet Sci Lett 329–330:60–70

Stampfli GM, Borel GD (2002) A plate tectonic model for the Paleozoic and Mesozoic constrained by dynamic plate boundaries and restored synthetic oceanic isochrons. Earth Planet Sci Lett 196:17–33

Stouthamer E, Berendsen HJA (2007) Avulsion: the relative roles of autogenic and allogenic processes. Sediment Geol 198:309–325

Taylor AM, Goldring R (1993) Description and analysis of bioturbation and ichnofabric. J Geol Soc Lond 150:141–148

Tonkin N (2012) Deltas. In: Knaust D, Bromley RG (eds) Trace fossils as indicators of sedimentary environments. Develop sediment, vol 64. Elsevier, Amsterdam, pp 507–528

Torsvik TH, Cocks LRM (2011) The Palaeozoic palaeogeography of central Gondwana. In: Van Hinsbergen DJJ, Buiter SJH, Gaina THC, Webb SJ (eds) The Formation and evolution of africa: a synopsis of 3.8 ga of earth history, vol 357. Geol Soc Lond Spe Pub, London, pp 137–166

Van Wagoner JC, Mitchum RM, Campion KM, Rahmanian VD (1990) Siliciclastic sequence stratigraphy in well logs, cores, and outcrops. AAPG Bull Methods Explor Ser 7:55

Zhu Y, Bhattacharya J, Li W, Lapen T, Jicha B, Singer B (2012) Milankovitch-Scale Sequence Stratigraphy and Stepped Forced Regressions of the Turonian Ferron Notom Deltaic Complex, South-Central UTAH, U.S.A. J Sediment Res 82:723–746
Acknowledgements
The ideas presented in this paper were partly developed during a long-term collaboration between UNESCO Naturtejo Geopark, Portugal, and the Institute for Advanced Studies in Basic Sciences, Iran. The authors would like to acknowledge the field work logistic support along the years provided by the municipality of Idanha-a-Nova in the person of the mayor Armindo Jacinto, Naturtejo, EIM, and the community of Penha Garcia. We also thank the Institute for Advanced Studies in Basic Sciences (IASBS) at Zanjan and the Department of Geology of the Faculty of Sciences of Lisbon (FCUL) for providing the necessary laboratory equipment and analyses for this study. CNC wishes to thank to Mário Cachão (FCUL) for his invaluable support along the years; Domingos Costa (municipality of Idanha-a-Nova) safeguarding the Ichnological Park of Penha Garcia, and their ichnological treasures along the years, is greatly recognized as an essential contribution to the scientific ongoing work. The paper is dedicated to the memory of João Geraldes, a young geologist working in the area, an enthusiastic guide for so many tourist groups, schools and scholars, and a dear friend no longer among us. We thank Sven Egenhoff (Colorado State University) and Ulf Linnemann (Senckenberg Museum of Mineralogy and Geology in Dresden, Germany), as well as the Editor in Chief, Wolf-Christian Dullo, for their helpful comments and constructive criticism that greatly improved the manuscript.
Electronic supplementary material
Below is the link to the electronic supplementary material.
About this article
Cite this article
Bayet-Goll, A., de Carvalho, C.N. Architectural evolution of a mixed-influenced deltaic succession: Lower-to-Middle Ordovician Armorican Quartzite in the southwest Central Iberian Zone, Penha Garcia Formation (Portugal). Int J Earth Sci (Geol Rundsch) 109, 2495–2526 (2020). https://doi.org/10.1007/s00531-020-01915-8
Received:

Accepted:

Published:

Issue Date:
Keywords
Armorican Quartzite

Penha Garcia Formation

Mixed-influenced delta

Architectural evolution

Autocyclic

Allocyclic

Central Iberian Zone