Access options
Buy single article
Instant access to the full article PDF.
USD 39.95
Price includes VAT (USA)
Tax calculation will be finalised during checkout.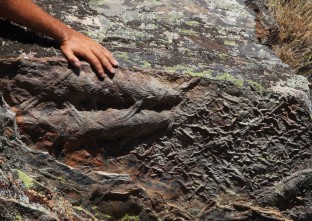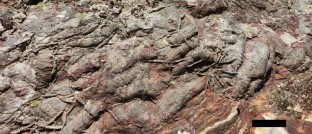 References
Baucon A, Bordy E, Brustur T, Buatois LA, Cunningham T, De C, Duffin C, Felletti F, Gaillard C, Hu B, Hu L, Jensen S, Knaust D, Lockley M, Lowe P, Mayor A, Mayoral E, Mikuláš R, Muttoni G, Neto de Carvalho C, Pemberton SG, Pollard J, Rindsberg AK, Santos A, Seike K, Song H, Turner S, Uchman A, Wang YY, Yi-ming G, Zhang L, Zhang W (2012) A history of ideas in ichnology. In: Knaust D, Bromley RG (eds) Trace fossils as indicators of sedimentary environments. Elsevier, Amsterdam, pp 3–44

Bell MA, Braddy SJ (2012) Cope's rule in the Ordovician trilobite family Asaphidae (order Asaphida): patterns across multiple most parsimonious trees. Hist Biol 24(3):223–230

Goldring R (1985) The formation of the trace fossil Cruziana. Geol Mag 122(1):65–72

Nara M, Seke K (2019) Palaeoecology of Macaronichnus segregatis degiberti: reconstructing the infaunal lives of the travisiid polychaetes. Palaeogeogr Palaeoclimatol Palaeoecol 516:284–294

Neto de Carvalho C (2006) Roller coaster behaviour in the Cruziana rugosa group from Penha Garcia (Portugal): implications for the feeding program of Trilobites. Ichnos 13(4):255–265

Neto de Carvalho C, Rodrigues J, Baucon A (2014) "Fossil Art": the importance and value of the palaeobiodiversity in the Naturtejo Global Geopark, under UNESCO (Portugal). Comun Geol 101(1):91–99

Neto de Carvalho C, Baucon A (2016) Giant trilobite burrows and their paleobiological significance (Lower-to-Middle Ordovician from Penha Garcia, Portugal). Comun Geol 103(I):71–82

Seilacher A (2007) Trace fossil analysis. Springer, Berlin
Acknowledgements
The authors are very grateful to the Editor-in-Chief Prof. Wolf-Christian Dullo, and especially Donald Goldstein, for the very positive comments and for improving the final version of the manuscript.
About this article
Cite this article
de Carvalho, C.N., Baucon, A., Bayet-Goll, A. et al. Feeding behavior of giant trilobites from the Penha Garcia Ichnological Park (UNESCO Naturtejo Global Geopark, Portugal). Int J Earth Sci (Geol Rundsch) 109, 2825–2827 (2020). https://doi.org/10.1007/s00531-020-01912-x
Received:

Accepted:

Published:

Issue Date: