Abstract
Ophiolitic fragments scattered over a wide area of Central Anatolia exhibit varying degrees of metamorphism, from unmetamorphosed to upper amphibolite facies, although geochemical similarities suggest they are all part of the Central Anatolian Ophiolite (CAO). Magmatic crystallization of oceanic crust in the CAO at ~ 91 Ma coincided with high-grade metamorphism of rocks that underlie the southern, highest grade part of the CAO, raising questions about the tectonic relationship of the ophiolite to underlying metasedimentary and plutonic rocks. New geochronology results show that the 40Ar/39Ar hornblende age of amphibolite-facies metagabbro in the high-grade metamorphic part of the CAO is ~ 87 Ma, similar to hornblende ages from amphibolite in the underlying Niğde metamorphic/plutonic massif. Biotite in a deformed quartzofeldspathic rock associated with high-grade meta-ophiolitic rocks yielded an 40Ar–39Ar age of ~ 78 Ma, similar to biotite ages from the Niğde Massif. Hornblende in gabbro from unmetamorphosed CAO yielded an older 40Ar/39Ar age of ~ 90 Ma, similar to the previously determined crystallization age of the ophiolite. These data indicate that the southern part of the ophiolite was incorporated into and therefore metamorphosed and deformed with the orogenic mid-crust now exposed in the Niğde metamorphic–plutonic complex, whereas the northern, unmetamorphosed part of the ophiolite was obducted onto the continent. This distinct difference in different parts of the ophiolite may indicate oblique collision or irregularities in the continental margin, resulting in part of the ophiolite being incorporated into the orogenic crust and subsequently exhumed and cooled with it, and another part being obducted.
Access options
Buy single article
Instant access to the full article PDF.
US$ 39.95
Tax calculation will be finalised during checkout.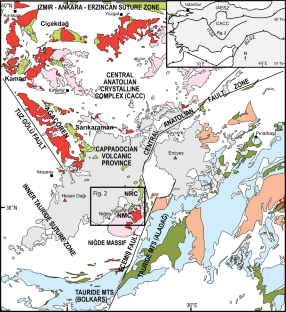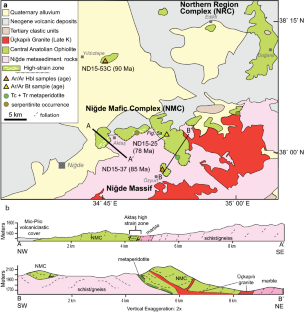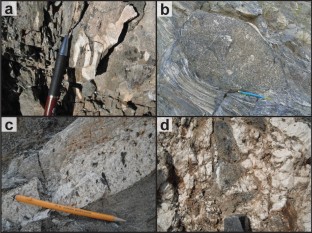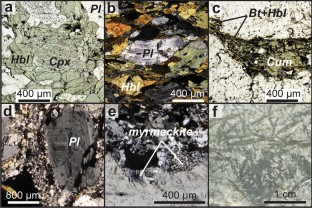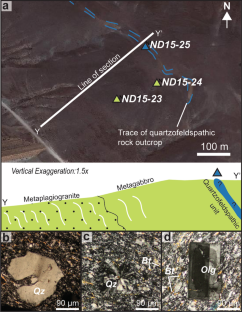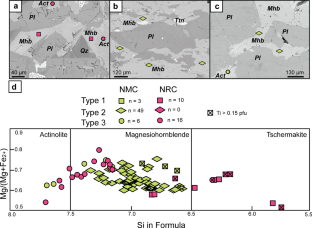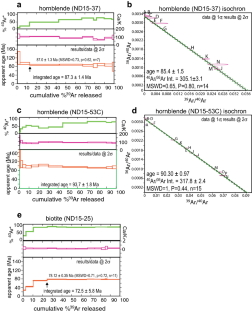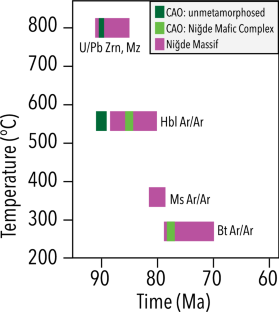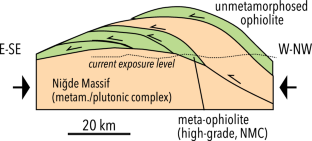 References
Awalt MB, Whitney DL (2018) Petrogenesis of kyanite- and corundum-bearing mafic granulite in a meta-ophiolite, SE Turkey. J Metamorph Geol 36:881–904

Bakke S, Korneliussen A (1986) Jack-straw-textured olivines in some Norwegian metaperidotites. Norsk Geologisk Tidsskrift 66:271–276

Boztuğ D, Jonckheere RC, Heizler M, Ratschbacher L, Harlavan Y, Tichomirova M (2009) Timing of post-obduction granitoids from intrusion through cooling to exhumation in central Anatolia, Turkey. Tectonophysics 473:223–233

Dilek Y, Whitney DL (1997) Counterclockwise P-T-t trajectory from the metamorphic sole of a Neo-Tethyan ophiolite (Turkey). Tectonophysics 280:295–310

Evans BE, Trommsdorff V (1974) On elongate olivine of metamorphic origin. Geology 2:131–132

Floyd PA, Göncüoğlu MC, Winchester JA, Yalınız MK (2000) Geochemical character and tectonic environment of the Neotethyan ophiolitic fragments and metabasites in the Central Anatolian Crystalline Complex, Turkey. In: Bozkurt E, Winchester JA, Piper JDA (eds) Tectonics and magmatism in Turkey and the surrounding area, vol. 173. Geological Society of London Special Publications, pp 183–202

Fornash KF, Cosca MA, Whitney DL (2016) Tracking the timing of subduction and exhumation using 40Ar/39Ar phengite ages in blueschist- and eclogite-facies rocks (Sivrihisar, Turkey). Contrib Miner Petrol 171:67. https://doi.org/10.1007/s00410-016-1268-2

Göncüoğlu MC (1981) Niğde Masifinde viridin-gnaysin kökeni. Türkiye Jeoloji Kurumu Bülteni 24:45–51

Gordon SM, Whitney DL, Teyssier C, Grove M, Dunlap WJ (2008) Timescales of migmatization, melt crystallization, and cooling in a Cordilleran gneiss dome: Valhalla Complex, southeastern British Columbia. Tectonics. https://doi.org/10.1029/2007TC002103

Gordon SM, Grove M, Whitney DL, Schmitt AK, Teyssier C (2009) Time-temperature-fluid evolution of migmatite dome crystallization: coupled U-Pb age, Ti thermometry, and O isotopic ion microprobe depth profiling of zircon and monazite. Chem Geol 262:186–201

Holland T, Blundy J (1994) Non-ideal interactions in calcic amphiboles and their bearing on amphibole–plagioclase thermometry. Contrib Miner Petrol 116:433–447

Kadıoğlu YK, Dilek Y, Foland KA (2006) Slab break-off and syncollisional origin of the Late Cretaceous magmatism in the Central Anatolian crystalline complex, Turkey. In: Dilek YK, Pavlides S (eds) Postcollisional tectonics and magmatism in the Mediterranean Region and Asia. GSA Special Paper 409. https://doi.org/10.1130/2006.2409(22)

Kavalieris I, Khashgerel BE, Morgan LE, Undrakhtamir A, Borohul A (2017) Characteristics and 40Ar/39Ar geochronology of the Erdenet Cu-Mo deposit, Mongolia. Econ Geol 112:1033–1053

Kocak K, Leake BE (1994) The petrology of the Ortakoy district and its ophiolite at the western edge of the Middle Anatolian Massif, Turkey. J Afr Earth Sc 18:163–174

Kocak K, Işik F, Arslan M, Zedef V (2005) Petrological and source region characteristics of ophiolitic hornblende gabbros from the Aksaray and Kayseri regions, central Anatolian crystalline complex, Turkey. J Asian Earth Sci 25:883–891

Köksal S, Möller A, Göncüoğlu MC, Cemal M, Frei D, Gerdes A (2012) Crustal homogenization revealed by U/Pb zircon ages and Hf isotope evidence from the Late Cretaceous granitoids of the Ağaҫören intrusive suite, central Anatolia, Turkey. Contrib Miner Petrol 163:725–743

Kuiper KF, Deino A, Hilgen FJ, Krijgsman W, Renne PR, Wijbrans JR (2008) Synchronizing rock clocks of Earth history. Science 320:500–504

Leake BE, Woolley AR, Arps CES, Birch WD, Gilbert MC, Grice JD, Hawthorne FC, Kato A, Kisch HJ, Krivovichev VG, Linthout K, Laird J, Mandarino JA, Maresch WV, Nickel EH, Rock NMS, Schumacher JC, Smith DC, Stephenson NCN, Ungaretti L, Whittaker EJW, Youzhi G (1997) Nomenclature of amphiboles: Report of the subcommittee on amphiboles of the international mineralogical association, commission on new minerals and mineral names. Can Mineral 35:219–246

Lefebvre C (2011) The tectonics of the Central Anatolian Crystalline Complex a structural metamorphic and paleomagnetic study. Dissertation, Utrecht Studies in Earth Sciences. Utrecht University, Utrecht

Lefebvre C, Meijers MJM, Kaymakçı N, Peynircioğlu A, Langereis CG, van Hinsbergen DJJ (2013) Reconstructing the geometry of central Anatolia during the Late Cretaceous: Large-scale Cenozoic rotations and deformation between the Pontides and Taurides. Earth Planet Sci Lett 366:83–98

Min K, Mundil R, Renne PR, Ludwig KR (2000) A test for systematic errors in 40Ar/39Ar geochronology through comparison with U/Pb analysis of a 1.1-Ga rhyolite. Geochim Cosmochim Acta 64:73–98

Morgan LE (2020) Argon data for Central Anatolian Ophiolite: US Geological Survey data release: US Geological Survey data release, https://doi.org/10.5066/P930AI0C

Mulcahy SR, Vervoort JD, Renne PR (2014) Dating subduction zone metamorphism with combined garnet and lawsonite Lu-Hf geochronology. J Metamorph Geol 32:515–533

Okay AI, Whitney DL (2010) Blueschists, eclogites, ophiolites and suture zones in northwest Turkey: a review and a field excursion guide. Ofioliti 35(2):131–172

Okay AI, Harris NBW, Kelley SP (1998) Exhumation of blueschists along a Tethyan suture in northwest Turkey. Tectonophysics 285:275–299

Otten MT (1984) The origin of brown hornblende in the Artfjället gabbro and dolerites. Contrib Miner Petrol 86:189–199

Passchier CW, Trouw RAJ (2005) Microtectonics. Springer, Berlin

Pourteau A, Scherer E, Schorn S, Bast R, Schmidt A (2019) Thermal evolution of an ancient subduction interface revealed by Lu-Hf garnet geochronology, Halilbağı Complex (Anatolia). Geosci Front 10:127–148

Radwany MR, Whitney DL, Brocard G, Umhoefer PJ, Teyssier C (2017) Ophiolite gabbro from source to sink: a record of tectonic and surface processes in Central Anatolia. Geosphere 13:1329–1358. https://doi.org/10.1130/GES01465.1

Ray MS (2016) Petrogenesis of the Niğde Mafic Complex, Turkey: implications for the tectonic and geomorphic evolution of Central Anatolia. Thesis, University of Minnesota – Twin Cities

Seaton NCA, Whitney DL, Teyssier C, Toraman E, Heizler M (2009) Recrystallization of high-pressure marble (Sivrihisar, Turkey). Tectonophysics 479:241–253

Seaton NCA, Teyssier C, Whitney DL, Heizler MT (2014) Quartzite and calcite microfabric transitions in a pressure and temperature gradient, Sivrihisar, Turkey. Geodin Acta 26:191–206

Sherlock S, Kelley S, Inger S, Harris N, Okay A (1999) 40Ar-39Ar and Rb-Sr geochronology of high-pressure metamorphism and exhumation history of the Tavşanlı Zone, NW Turkey. Contrib Miner Petrol 137:46–58

Umhoefer PJ, Whitney DL, Teyssier C, Fayon AK, Casale G, Heizler MT (2007) Yo-yo tectonics in a wrench zone, central Anatolia. In: Till A, Roeske S, Sample J, Foster D (eds.), Exhumation and Continental Strike-Slip Fault Systems, Geological Society of America Special Paper 434: 35–58. https://doi.org/10.1130/2007.2434(03)

van Hinsbergen DJJ, Maffione M, Plunder A, Kaymakçı N, Ganerod M, Hendriks BWH, Corfu F, Gürer D, de Gelder GINO, Peters K, McPhee PJ, Brouwer FM, Advokaat EL, Vissers RLM (2016) Tectonic evolution and paleogeography of the Kırşehir Block and the Central Anatolian Ophiolites, Turkey. Tectonics 35:TC004018

Whitney DL, Dilek Y (1997) Core complex development in central Anatolia. Geology 25:1023–1026

Whitney DL, Dilek Y (1998) Metamorphism during Alpine crustal thickening and extension in Central Anatolia, Turkey: the Niğde metamorphic core complex. J Petrol 39:1385–1403

Whitney DL, Evans BW (2010) Abbreviations for names of rock-forming minerals. Am Miner 95:185–187. https://doi.org/10.2138/am.2010.3371

Whitney DL, Hamilton MA (2004) Timing of high-grade metamorphism in central Turkey and the assembly of Anatolia. Journal of the Geological Society 161:823–828

Whitney DL, Teyssier C, Dilek Y, Fayon AK (2001) Metamorphism of the Central Anatolian Crystalline Complex, Turkey: Influence of orogen-normal vs. wrench dominated tectonics on P-T-t paths. J Metamorph Geol 19:411–432

Whitney DL, Teyssier C, Fayon AK, Hamilton MA, Heizler M (2003) Tectonic controls on metamorphism, partial melting and intrusion: timing and duration of regional metamorphism and magmatism in the Niğde Massif, Turkey. Tectonophysics 376:37–60

Whitney DL, Teyssier C, Heizler M (2007) Gneiss domes, metamorphic core complexes, and wrench zones: thermal and structural evolution of the Niğde Massif, central Anatolia. Tectonics 26:5TC5002

Yalınız MK (2008) A geochemical attempt to distinguish forearc and back arc ophiolites from the "supra-subduction" Central Anatolian Ophiolites (Turkey) by comparison with modern oceanic analogues. Ofioliti 33:119–129

Yalınız MK, Floyd PA, Göncüoğlu MC (1996) Supra-subduction zone ophiolites of Central Anatolia: geochemical evidence from the Sarikaraman Ophiolite, Aksaray, Turkey. Mineral Mag 60:697–710

Yalınız MK, Göncüoğlu MC, Özkan-Altiner S (2000) Formation and emplacement ages of the SSZ-type Neotethyan ophiolites in Central Anatolia, Turkey: Palaeotectonic implications. Geol J 35:35–68

Yılmaz S, Boztuğ D (1998) Petrogenesis of the Çiçekdağ Igneous Complex, N of Kırşehir, Central Anatolia, Turkey. Turkish J Earth Sci 7:185–199
Acknowledgements
This research was funded by NSF Grant EAR-1109762, "Continental Dynamics: Central Anatolian Tectonics" (CD-CAT) to Donna Whitney. This project represents the M.S. thesis work of Molly Radwany (née Ray) at the University of Minnesota. We thank Bülent Tokay and Ekrem Tosun for assistance with field work, and Başar Özşafak for hospitality in the Çamardı area. We also thank Mike Cosca and Mary Reid for advice and insights. Any use of trade, product, or firm names is for descriptive purposes only and does not imply endorsement by the US Government.
Electronic supplementary material
Below is the link to the electronic supplementary material.
Full data for 40Ar/39Ar age determinations. Relative isotopic abundances are corrected for background, discrimination, detector intercalibration, and radioactive decay. Samples were irradiated in two separate irradiations: one of 8 h (ND15-37) and one of 20 h (ND15-53C, ND15-25). Samples were co-irradiated with Fish Canyon sanidine (FCs-E1, FCs-A1) and ages were calculated using an age for FCs of 28.201 ± 0.023 (1σ) (Kuiper et al. 2008) and decay constants from Min et al. (2000) for 40K. Full data are available as a U.S.G.S. data release (Morgan 2020) (XLSX 34 kb)
About this article
Cite this article
Radwany, M., Morgan, L.E. & Whitney, D.L. Conditions and timing of incorporation of ophiolite into orogenic crust during oblique convergence, Central Anatolia. Int J Earth Sci (Geol Rundsch) 109, 2393–2406 (2020). https://doi.org/10.1007/s00531-020-01908-7
Received:

Accepted:

Published:

Issue Date:
Keywords
Metaophiolite

Central Anatolia

Nigde Massif