Access options
Buy single article
Instant access to the full article PDF.
USD 39.95
Price includes VAT (USA)
Tax calculation will be finalised during checkout.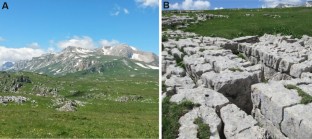 References
Bruno DE, Crowley BE, Gutak JM, Moroni A, Nazarenko OV, Oheim KB, Ruban DA, Tiess G, Zorina SO (2014) Paleogeography as geological heritage: developing geosite classification. Earth Sci Rev 138:300–312

Ginés A, Knez M, Slabe T, Dreybrodt W (eds) (2009) Karst rock features: Karren scuplturing. Karst Research Institute, Ljubljana, p 561

Golonka J (2004) Plate tectonic evolution of the southern margin of Eurasia in the Mesozoic and Cenozoic. Tectonophysics 381:235–273

Guo L, Vincent SJ, Lavrishchev V (2011) Upper Jurassic reefs from the Russian Western Caucasus: implications for the Eastern Black Sea. Turk J Earth Sci 20:629–653

Insalaco E, Hallam A, Rosen B (1997) Oxfordian (Upper Jurassic) coral reefs in Western Europe: reef types and conceptual depositional model. Sedimentology 44:707–734

Mikhailenko AV, Nazarenko OV, Ruban DA, Zayats PP (2017) Aesthetics-based classification of geological structures in outcrops for geotourism purposes: a tentative proposal. Geologos 23:45–52

Ruban DA (2019) The siliciclastics/carbonates shift in the Jurassic of the Western Caucasus (central northern Neo-Tethys): reconsidering research over the last 50 years. Geologos 25:153–162

Veress M (2020) Karst types and their karstification. J Earth Sci 31:621–634

Veress M, Telbisz T, Toth G, Loczy D, Ruban DA, Gutak JM (2019) Glaciokarsts. Springer, Cham, p 516

Waltham AC, Fookes PG (2003) Engineering classification of karst ground conditions. Q J Eng Geol Hydrogeol 36:101–118
Acknowledgements
The authors gratefully thank the editors and the reviewer for their helpful improvements.
About this article
Cite this article
Mikhailenko, A.V., Ruban, D.A. Epikarst 'ruining' Jurassic reefs in the Lagonaki Highland, Western Caucasus. Int J Earth Sci (Geol Rundsch) 109, 2773–2774 (2020). https://doi.org/10.1007/s00531-020-01903-y
Received:

Accepted:

Published:

Issue Date: