Abstract
The Mekelle basin (area ~ 5500 km2) is located at the immediate western margin of the Afar Depression, which has a history of collision, subsidence, uplift, magmatism and now rifting. The evolution of such small to medium size basins as the Mekelle in a complicated geodynamic set-up is a subject of debate, because several different mechanisms of basin formation could apply. To address the possible basin evolution scenarios, we combine structural and dynamic analyses of northern Ethiopia, with strong emphasis on the basin and basin bounding basement rocks. The northern basin bounding block is uplifted by about 1500 m compared with the western and southwestern basin-bounding blocks. In the basin, superposition of large-scale orthogonal brittle shear fabrics and the development of young, parallel to subparallel extensional fractures and domino faulting have produced a total of ~ 2200 m vertical displacement. These observations, coupled with the absence of gradual roll-down of the internal basin (i.e., absence of bending/folding of an elastic beam supported at both ends), imply that Mekelle basin is not an IntraCONtinental Sags (ICONS) or plate interior basin, as previously described, but is instead a multi-tectonic triggered basin. Integrated satellite images using ground-controlled measurements and deep borehole data were used to decipher the entire evolution of the basin starting from the late-collisional deformation through the regional up-doming to the sills/dikes injection and basin formation.
This is a preview of subscription content, log in to check access.
Access options
Buy single article
Instant access to the full article PDF.
US$ 39.95
Price includes VAT for USA
Subscribe to journal
Immediate online access to all issues from 2019. Subscription will auto renew annually.
US$ 199
This is the net price. Taxes to be calculated in checkout.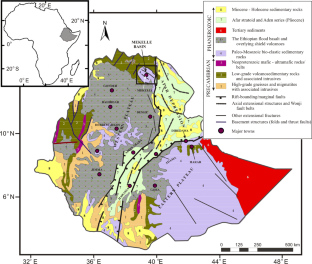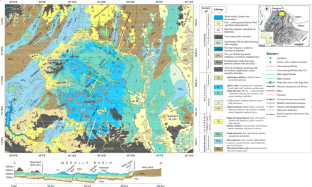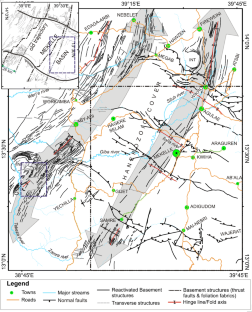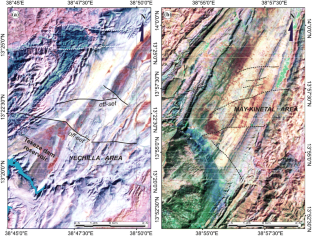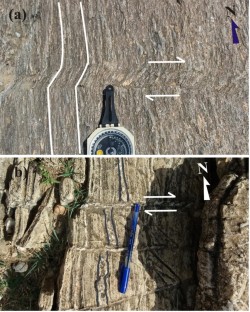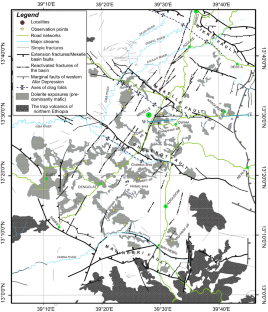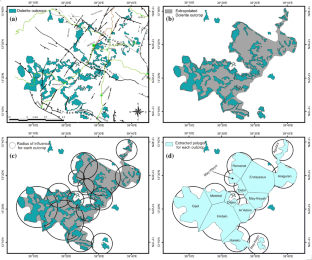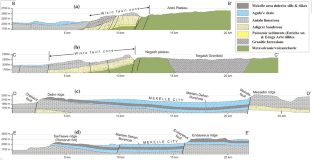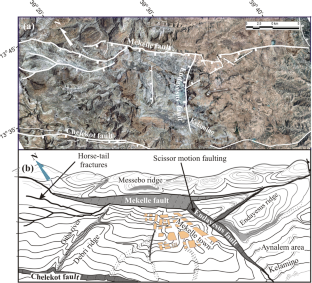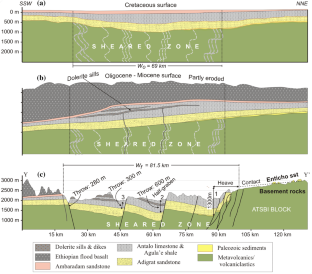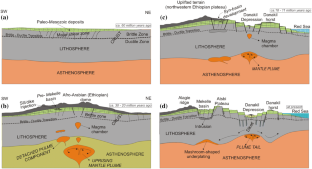 References
Alemu T, Abdelsalam MG, Dawit LE, Atnafu B, Mickus LK (2018) The Palaeozoic–Mesozoic sedimentary basin in Ethiopia: an example of an exhumed IntraCONtinental Sag (ICONS). J Afr Earth Sci 143:40–58

Alene M, Jenkin GRT, Leng MJ, Fiona Derbyshire DP (2006) The Tambien Group, Ethiopia: an early Cryogenian (c. 800–735 Ma) Neoproterozoic sequence in the Arabian–Nubian shield. Precambrian Res 147:79–99

Alene M, Raffini R, Sacchi R (2000) Geochemistry and geotectonic setting of Neoproterozoic rocks from northern Ethiopia (Arabian–Nubian shield). Gondwana Res 3:333–347

Arkin Y, Beyth M, Dow DB, Levitte D, Temesgen H, Tsegaye H (1971) Geological map of Mekelle sheet area, ND 37–11 Tigray province. Ministry of Mines. Geol Survey of Ethiopia, Addis Ababa

Asrat A, Barbey P, Ludden JN, Reisberg L, Gleizes G, Ayalew D (2004) Petrology and isotope geochemistry of the Pan-African Negash Pluton, northern Ethiopia: Mafic–Felsic magma interactions during the construction of shallow-level calc-alkaline plutons. J Petrol 45:1147–1179

Asrat A, Barbey P, Gleizes G (2001) The Precambrian geology of Ethiopia: a review. Afr Geosci Rev 8:271–288

Assefa G (1991) Lithostratigraphy and environment of deposition of the late Jurassic–early Cretaceous sequence of the central part of northwestern plateau. Ethiopia Neues Jb Geol Palaont Abb 182:255–284

Avigad D, Gvirtzman Z (2009) Late Neoproterozoic rise and fall of the northern Arabian–Nubian Shield: the role of lithospheric mantle delamination and subsequent thermal subsidence. Tectonophysics 477:217–228

Avigad D, Stern RJ, Beyth M, Miller N, McWilliams M (2007) Detrital zircon U–Pb geochronology of Cryogenian diamictites and Lower Palaeozoic sandstone in Ethiopia (Tigrai): age constraints on Neoproterozoic glaciation and crustal evolution of the southern Arabian–Nubian Shield. Precambrian Res 154:88–106

Baker J, Snee L, Menzies M (1996) A brief Oligocene period of flood volcanism in Yemen: implications for the duration and rate of continental flood volcanism at the Afro-Arabian triple junction. Earth Planet Sci Lett 138:39–55

Bentor YK (1985) The crustal evolution of the Arabo-Nubian massif with special reference to the Sinai peninsula. Precambrian Res 28:1–74

Beyth M (1972) Palaeozoic–Mesozoic sedimentary basin of Mekelle outlier, northern Ethiopia. AAm Assoc Pet Geol Bull 56:2426–2439

Beyth M, Stern RJ, Alther R, Kroner A (1994) The Late Precambrian Timma igneous complex, southern Israel: evidence for comagmatic type Sanukitoid monzodiorite and alkali granite magma. Lithos 31:103–124

Beyth M, Stern RJ, Mattthews A (1997) Significance of high grade metasediments from the Neoproterozoic basement of Eritrea. Precambrian Res 86:45–58

Beyth M, Avigad D, Wetzel HU, Matthews A, Berhe SM (2003) Crustal exhumation and indications for snowball earth in the east African orogen: northern Ethiopia and east Eritrea. Precambrian Res 123:187–201

Blanford WT (1869) On the geology of portion of Abyssinia. Quat J Geol Soci 25:401–406

Bosellini A, Russo A, Fantozzi PL, Assefa G, Solomon T (1997) The Mesozoic succession of the Mekelle Outlier (Tigre Province, Ethiopia). Mem Sci Geol 49:95–116

Bussert R (2010) Exhumed erosional landforms of the Late Palaeozoic glaciation in northern Ethiopia: indicators of ice-flow direction, palaeolandscape and regional ice dynamics. Gondwana Res 18:356–369

Bussert R, Dawit E (2009) Unexpected diversity: new results on the stratigraphy and sedimentology of Palaeozoic siliciclastic sediments in Northern Ethiopia. Zent Geol Paleontol Teil 1:181–198

Bussert R, Schrank E (2007) Polynological evidence for a latest carboniferous-early Permian glaciation in northern Ethiopia. J Afr Earth Sci 49:201–210

Dainelli G (1943) Geologia Dell'Africa Orientale (3 Vols, Text, 1 Vol. Maps). R: Accad. Ital., Roma

Dawit LE (2010) Adigrat sandstone in northern and central Ethiopia: Stratigraphy, facies, depositional environments and palynology. PhD Thesis, Technische Universität, Berlin, pp 166

Ebinger C, Sleep NH (1998) Cenozoic magmatism throughout east Africa resulting from impact of a single plume. Nature 395:788–791

Ethiopian Institute of Geological Survey (EIGS) (1996) Explanation of the Geological map of Ethiopia (Scale: 1: 2,000,000), 2nd edn. Ethiopia, Addia Ababa, p 79

Garland CR (1980) Geology of the Adigrat area. Geological Survey of Ethiopia Memoir 1, p 51

Gebreyohannes T, De Smidt F, Hagos M, Gebresilassie S, Amare K, Kabeto K, Hussien A, Bauer H, Nyssen J, Moeyersons J, Deckers J, Haile M, Taha N (2010) Large-scale geological mapping of the Geba basin, northern Ethiopia. Tigray Livelihood Paper No. 9, VLIR-Mekelle University IUC Program, 46 p. ISBN 978-90-8826-134-3

Gortani M, Bianchi A (1973) Itinerari geologici nella Dancalia meridionale e sugli altipiani Hararini (Ethiopia). In: Missione Geologica dell'AGIP nella Dancalia Meridionale e sugli Altipiani Hararini (1936–1938). Accademia Nazionale Lincei, Roma, pp 240

Hagos M, Koeberl C, Nyssen J, Amare K (2019) Basalts, trachy-andesites and phonolites cover of the Dogu'a Tembien massif. In: Nyssen J, Jacob M, Frankle A (eds) Geo-Trekking in Ethiopia's Tropical Mountains, the Dogu'a Tembien District. Springer GeoGuides Springer Nature, Heidelberg (Germany), pp 139–151

Hagos M, Koeberl C, Kabeto K, Koller F (2010) Geology, petrology and geochemistry of the basaltic rocks of the Axum area, Northern Ethiopia. In: Ray J, Sen G, Ghosh B (eds) Topics in igneous petrology. Springer, Netherlands, pp 69–93

Heine C, Müller RD (2008) The IntraCONtinental basinS (ICONS) atlas-application in eastern Australia. In: Blevin JE et al (eds) Eastern Australasian basins symosium III. Petroleum Exploration Society of Australia Special Publication, Sydney, pp 275–290

Heine C, Müller RD, Steinberger B, Torsvik TH (2008) Subsidence in intracontinental basins due to dynamic topography. Phys Earth Planet Int 171:252–264

Hofmann C, Courtillot V, Feraud G, Rochette P, Yirgu G, Ketefo E, Pik R (1997) Timing of the Ethiopian flood basalt event and implications for plume birth and environmental change. Nature 389:838–841

Hutchinson W, Engels G (1970) Tectonic significance of regional geology and evaporite lithofacies in northeastern Ethiopia. Phil Trans Roy Soc London 267:313–329

Johnson PR, Woldehaimanot B (2003) Development of the Arabian–Nubian Shield: perspectives on accretion and deformation in the northern East African Orogen and assembly of Gondwana. In: Yoshida M, Windley BF, Dasgupta S (eds) Proterozoic East Gondwana: supercontinent assembly and breakup, vol 206. Geological Society, London, pp 289–325

Kieffer B, Arndt N, Lapierre H, Bastien F, Bosch D, Pecher A, Yirgu G, Ayalew D, Weis D, Jerram AD, Keller F, Meugniot C (2004) Flood and shield basalts from Ethiopia magmas from the African superswell. J Petrol 45:793–834

Kumulainen RA, Uchman A, Woldehaimanot B, Kreuser T, Ghirmay S (2006) Trace fossil evidence from the Adigrat sandstone for an Ordovician glaciation in Eritrea. NE Africa J Afr Earth Sci 45:408–420

Küster D, Dwivedi SB, Kabeto K, Mehary K, Matheis G (2005) Petrogenetic reconnaissance investigation of mafic sills associated with flood basalts, Mekelle basin, Northern Ethiopia: implication for Ni–Cu exploration. J Geochem Exp 85:63–79

Lavecchia A, Thieulot C, Beekman F, Cloetingh S, Clark S (2017) Lithosphere erosion and continental breakup: interaction of extension, plume upwelling and melting. Earth Planet Sci Lett 467:89–98

Marty B, Pik R, Yirgu G (1996) He variation in Ethiopia plume lavas/; nature of magmatic sources and limit on lower convection. Earth Planet Sci Lett 144:223–237

McKenzie D, Priestley K (2016) Speculations on the formation of cratons and cratonic basins. Earth Planet Sci Lett 435:94–104

Meert JG (2003) A synopsis of events related to the assembly of eastern Gondwana. Tectonophysic 362:1–40

Mohr P (1983) Ethiopian flood basalt province. Nature 303:577–584

Sengör AMC (1995) Sedimentation and tectonics of fossil rifts. In: Ingersoll RV, Busby CJ (eds) Tectonics of sedimentary basins. Blackwell Science, Hoboken, pp 53–117

Shumburo M (1968) The Amba-Aradam Formation (formerly the Upper Sandstone). Mobile Petroleum Ethiopia. Inc. Unpublished, pp 15

Stein M, Goldstein SL (1996) From plume head to continental lithosphere in the Arabian–Nubian shield. Nature 382:773–778

Stern RJ (2002) Crustal evolution in the East African Orogen: a Neodymium Isotopic perspective. J Afr Earth Sci 34:109–117

Stern RJ (1994) Arc assembly and continental collision in the Neoproterozoic East African Orogen: implication for the consolidation of Gondwanaland. Ann Rev Earth Planet Sci Lett 22:319–351

Stern AJ, Dawoud AS (1991) Late Precambrian (740 Ma) charnockite, enderbite, and granite from Jebel Moya, Sudan: a link between the Mozambique Belt and the Arabian–Nubian Shield. Geology 99:648–659

Stoeser DB, Frost CD (2006) Nd, Pb, Sr, and O isotopic characterization of Saudi Arabian Shield terranes. Chem Geol 226:163–188

Tadesse T, Hoshino M, Sawada Y (1999) Geochemistry of low-grade metavolcanic rocks from the Pan-African of the Axum area, northern Ethiopia. Precambrian Res 99:101–124

Teklay M (1997) Petrology, Geochemistry and Geochronology of Neoproterozoic Magmatic Arc Rocks from Eritrea: Implication for crustal Evolution in the Southern Nubian Shield. Department of Mines, Eritrea, Memoir. 1, pp 125

Ukstins I, Renne P, Wolfenden E, Baker J, Ayalew D, Menzies M (2002) Matching conjugate volcanic rifted margins: 40Ar/39Ar chronostratigraphy of pre- and syn-rift bimodal flood volcanism in Ethiopia and Yemen. Earth Planet Sci Lett 198:289–306

Wiart P, Oppenheimer C (2005) Large magnitude silicic volcanism in north Afar: the Nabro Volcanic Range and Ma-alalta volcano. Bull Volcan 67:99–115
Acknowledgements
The authors are very grateful to the MU-IUC project and Czech Geological Survey for partially supporting the fieldwork. Tigray water resource development bureau is highly appreciated for providing borehole data. We appreciate the assistance of the staff of the Laboratory for Applied Geology and Hydrogeology, Ghent University (Belgium). The manuscript benefited greatly from thoughtful reviews by anonymous referees.
Electronic supplementary material
Below is the link to the electronic supplementary material.
About this article
Cite this article
Hagos, M., Gebreyohannes, T., Amare, K. et al. Tectonic link between the Neoproterozoic dextral shear fabrics and Cenozoic extension structures of the Mekelle basin, Northern Ethiopia. Int J Earth Sci (Geol Rundsch) 109, 1957–1974 (2020). https://doi.org/10.1007/s00531-020-01882-0
Received:

Accepted:

Published:

Issue Date:
Keywords
Mekelle basin

Afar depression

Subsidence

Superposition

Domino faulting

IntraCONtinental sags