Abstract
Late Quaternary paleoclimate records from arid regions help us understand the response of ecological systems to natural climate change to place recent changes in a longer-term perspective. In this research, a biogeochemical analysis of a sediment core from Lake Ebinur, Xinjiang, allowed us to infer the climate and environmental changes in the late Quaternary in arid northwestern China. The combined lipid biomarkers and bulk biogeochemical properties (TOC, δ13Corg) revealed moderately wet conditions from 34 to 28 ka, favoring the growth of terrestrial vegetation. The subsequent period from 28 to 13 ka was dominated by aquatic plants, algae and microbes, indicating cold and dry conditions. Ameliorated regional moisture conditions were deduced from the higher carbon preference index (CPI) and from δ13Corg values from 13 to 3.6 ka. The optimum climate conditions occurred from 9 to 5 ka. Several climatic events also exist in the Lake Ebinur records with a wide distribution into other regions. Our biogeochemical-based paleoclimate and paleoenvironmental reconstruction is generally synchronous with sedimentary records from mid-latitude Eurasia and the NGRIP ice core record, which probably has a certain linkage with the 45°N summer insolation. We propose that summer insolation conditions in the northern hemisphere might have an impact on the climate and environmental changes in arid northwestern China in the late Quaternary.
Access options
Buy single article
Instant access to the full article PDF.
US$ 39.95
Tax calculation will be finalised during checkout.
Subscribe to journal
Immediate online access to all issues from 2019. Subscription will auto renew annually.
US$ 119
Tax calculation will be finalised during checkout.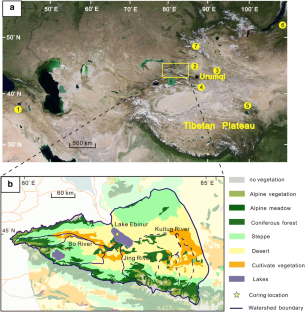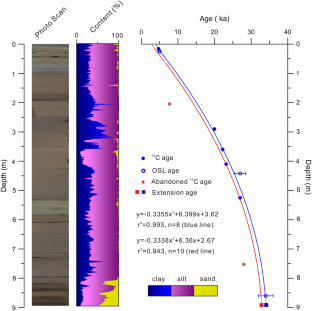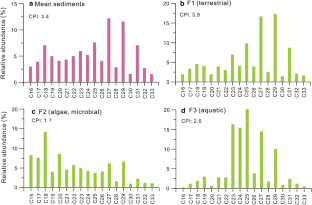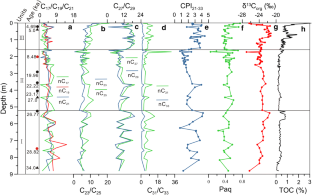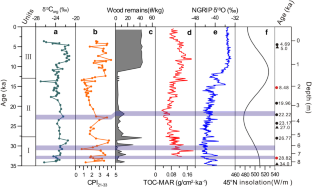 References
Aichner B, Herzschuh U, Wilkes H (2010) Influence of aquatic macrophytes on the stable carbon isotopic signatures of sedimentary organic matter in lakes on the Tibetan Plateau. Org Geochem 41(7):706–718

Blyakharchuk TA, Wright HE, Borodavko PS, Knaap WOD, Ammann B (2004) Late glacial and Holocene vegetational changes on the Ulagan high-mountain plateau, Altai Mountains, southern Siberia. Palaeogeogr Palaeoclim Palaeoecol 209(1):259–279

Bush ABG (2004) Modelling of late Quaternary climate over Asia: a synthesis. Boreas 33:155–163

Cai YJ, Chiang JCH, Breitenbach SFM, Tan LC, Cheng H, Edwards RL, An ZS (2017) Holocene moisture changes in western China, Central Asia, inferred from stalagmites. Quat Sci Rev 158:15–28

Chen FH, Yu ZC, Yang ML, Ito E, Wang SM, Madsen DB, Huang XZ, Zhao Y, Sato T, Birks HJB (2008) Holocene moisture evolution in arid central Asia and its out-of-phase relationship with Asian monsoon history. Quat Sci Rev 27(3–4):351–364

Cheng H, Zhang PZ, Spotl C, Edward RL, Cai YJ, Zhang DZ, Sang WC, Tan M, An ZS (2012) The climatic cyclicity in semiarid-arid central Asia over the past 500,000 years. Geophys Res Lett 39:L01705

Colman SM, Rosenbaum JG, Kaufman DS, Dean WE, McGeehin JP (2009) Radiocarbon ages and age models for the past 30,000 years in Bear Lake, Utah and Idaho. Spec Paper Geol Soc Am 450:133–144

Cranwell PA (1987) Lipids of aquatic organisms as potential contributors to lacustrine sediments—II. Org Geochem 11(6):513–527

Duan Y, Xu L (2012) Distribution of n-alkanes and their hydrogen isotopic composition in plants from lake Qinghai (China) and surrounding area. Appl Geochem 27:806–814

Eglinton G, Hamilton RJ (1967) Leaf epicuticular waxes. Science 156(3780):1322–1335

Ficken KJ, Li B, Swain DL, Eglinton G (2000) An n-alkane proxy for the sedimentary input of submerged/floating freshwater aquatic macrophytes. Org Geochem 31:745–749

Grimalt J, Albaigés J (1987) Sources and occurrence of C/sub 12/-C/sub 22/n-alkane distributions with even carbon-number preference in sedimentary environments. Geochim Cosmochim Acta 51(6):1379–1384

Günther F, Thiele A, Biskop S, Mäusbacher R, Haberzettl T, Yao TD, Gerd G (2016) Late Quaternary hydrological changes at Tangra Yumco, Tibetan Plateau: a compound-specific isotope-based quantification of lake level changes. J Paleolimnol 55(4):369–382

Jiang QF, Ji JF, Shen J, RYO M, Tong GB, Qian P, Ren XM, Yan DZ (2013) Holocene vegetational and climatic variation in westerly-dominated areas of Central Asia inferred from the Sayram Lake in northern Xinjiang, China. Sci China Earth Sci 56:339–353 (in Chinese with English abstract)

Katsuta N, Ikeda H, Shibata K, Saito-Kokubu Y, Murakami T, Tani Y, Takano M, Nakamura T, Tanaka A, Naito S (2018) Hydrological and climate changes in southeast Siberia over the last 33 kyr. Global Planet Change 164:11–26

Kutzbach JE, Chen G, Cheng H, Edwards L, Liu Z (2014) Potential role of winter rainfall in explaining increased moisture in the Mediterranean and Middle East during periods of maximum orbitally-forced insolation seasonality. Clim Dyn 42(3–4):1079–1095

Laskar J, Robutel P, Joutel F, Gastineau M, Correia ACM, Levrard B (2004) A long-term numerical solution for the insolation quantities of the Earth. Astron Astrophys 428(1):261–285

Li XQ, Zhao KL, Dodson J, Zhou XY (2011) Moisture dynamics in central Asia for the last 15 kyr: new evidence from Yili Valley, Xinjiang, NW China. Quat Sci Rev 30(23):3457–3466

Li Y, Song YG, Lai ZP, Han L, An ZS (2016) Rapid and cyclic dust accumulation during MIS2 in Central Asia inferred from loess OSL dating and grain-size analysis. Sci Rep 6:32365

Liu WG, Yang H, Wang HY, An ZS, Wang Z, Leng Q (2015) Carbon isotope composition of long chain leaf wax n-alkanes in lake sediments: a dual indicator of paleoenvironment in the Qinghai-Tibet Plateau. Org Geochem 83–84:190–201

Long H, Shen J (2015) Underestimated 14C-based chronology of late Pleistocene high lake-level events over the Tibetan Plateau and adjacent areas: evidence from the Qaidam Basin and Tengger Desert. Sci China Earth Sci 58:183–194

Ma L, Wu JL, Abuduwaili J, Liu W (2016) Geochemical responses to anthropogenic and natural influences in Lake Ebinur sediments of arid northwest China. PLoS One 11(5):e0155819

Meyers PA (2003) Applications of organic geochemistry to paleolimnological reconstructions: a summary of examples from the Laurentian Great Lakes. Org Geochem 34(2):261–289

NGRIP members (2004) High-resolution record of Northern Hemisphere climate extending into the last interglacial period. Nature 431(7005):147–151

Porter SC, An ZS (1995) Correlation between climate events in the North Atlantic and China during the last glaciation. Nature 375(6529):305–308

Reimer PJ, Baillie MGL, Bard E, Bayliss A, Beck JW, Blackwell PG, Bronk Ramsey C, Buck CE, Burr GS, Edwards RL et al (2013) IntCal13 and Marine13 radiocarbon age calibration curves 0–50,000 years cal BP. Radiocarbon 55(4):1869–1887

Rhodes TE, Gasse F, Lin RF, Fontes J-C, Wei KQ, Bertrand P, Gibert E, Mélières F, Tucholka P, Wang ZX (1996) A late Pleistocene-Holocene lacustrine record from Lake Manas, Zunggar (northern Xinjiang, western China). Palaeogeogr Palaeoclim Palaeoecol 120(1–2):105–121

Saini J, Günther F, Aichner B, Mischke S, Herzschuh U, Zhang CJ, Roland M, Gerd G (2017) Climate variability in the past ∼ 19,000 yr in NE Tibetan Plateau inferred from biomarker and stable isotope records of Lake Donggi Cona. Quat Sci Rev 157:129–140

Shi YF, Yu G, Liu XQ, Li BY, Yao TD (2001) Reconstruction of the 30–40 ka BP enhanced Indian monsoon climate based on geological records from the Tibetan Plateau. Palaeogeogr Palaeoclim Palaeoecol 169(1):69–83

Sirocko F, Knapp H, Dreher F, Förster MW, Albert J, Brunck H, Veres D, Dietrich S, Zech M, Hambach U (2016) The ELSA-vegetation-stack: reconstruction of landscape evolution zones (LEZ) from laminated Eifel maar sediments of the last 60,000 years. Global Planet Change 142:108–135

Song YG, Zeng MX, Chen XL, Li Y, Chang H, An ZS (2018) Abrupt climatic events recorded by the Ili loess during the last glaciation in Central Asia: evidence from grain-size and minerals. J Asian Earth Sci 155:58–67

Stockhecke M, Timmermann A, Kipfer R, Haug GH, Kwiecien O, Friedrich T, Menviel L, Litt T, Pickarski N, Anselmetti FS (2016) Millennial to orbital-scale variations of drought intensity in the Eastern Mediterranean. Quat Sci Rev 133:77–95

Sun Q, Xie MM, Lin Y, Shan YB, Zhu QZ, Xu DK, Su YL, Rioual P, Chu GQ (2016) An n-alkane and carbon isotope record during the last deglaciation from annually laminated sediment in Lake Xiaolongwan, Northeastern China. J Paleolimnol 6:1–15

The Committee of the Vegetation Atlas of China (2001) Vegetation Atlas of China (in Chinese). Science Press, Beijing

Tudryn A, Tucholka P, Gibert E, Gasse F, Wei KQ (2010) A late Pleistocene and Holocene mineral magnetic record from sediments of Lake Aibi, Dzungarian Basin, NW China. J Paleolimnol 44(1):109–121

Wu JL, Wang SM, Wu YH (1996) The Holocene sedimental characteristic and paleoclimatic evolution of Ebinur Lake, Xinjiang. Chin Geogr Sci 6(1):78–88

Wu JL, Shen J, Wang SM, Jin ZD, Yang XD (2005) Characteristics of an early Holocene climate and environment from lake sediments in Ebinur region, NW China. Sci China Earth Sci 48(2):258–265

Wu JL, Yu ZC, Zeng HA, Wang NL (2009) Possible solar forcing of 400-year wet-dry climate cycles in Northwestern China. Clim Change 96(4):473–482

Yang XP, Scuderi LA (2010) Hydrological and climatic changes in deserts of China since the late Pleistocene. Quat Res 73(1):1–9

Yu G, Xue B, Liu J, Chen X (2003) LGM lake records from China and an analysis of climate dynamics using a modelling approach. Global Planet Change 38(3):223–256

Zhang Y, Meyers PA, Liu XT, Wang GQ, Ma XH, Li XY, Yuan YJ, Wen BL (2016) Holocene climate changes in the central Asia mountain region inferred from a peat sequence from the Altai Mountains, Xinjiang, northwestern China. Quat Sci Rev 152:19–30

Zhao YT, An CB, Mao LM, Zhao JJ, Tang LY, Zhou AF, Li Y, Dong WM, Duan FT, Chen FH (2015) Vegetation and climate history in arid western China during MIS2: new insights from pollen and grain-size data of the Balikun Lake, eastern Tien Shan. Quat Sci Rev 126:112–125

Zhou WJ, Liu TB, Wang H, An ZS, Cheng P, Zhu YZ, Burr GS (2016) Geological record of meltwater events at Qinghai Lake, China from the past 40 ka. Quat Sci Rev 149:279–287

Zhou JC, Wu JL, Zeng HA (2018) Extreme flood events over the past 300 years inferred from lake sedimentary grain sizes in the Altay Mountains, Northwestern China. Chin Geogr Sci 28(6):1–11

Zhou JC, Wu JL, Ma L, Qiang MR (2019) Late Quaternary lake-level and climate changes in arid central Asia inferred from sediments of Ebinur Lake, Xinjiang, northwestern China. Quat Res 2019:1–14. https://doi.org/10.1017/qua.2019.27
Acknowledgements
We gratefully acknowledge Dr. Haiao Zeng and Dr. Cheng Zhao for their experimental assistances. We also thank two anonymous reviewers and the editors for their helpful comments and suggestions, which improved the manuscript. This research was supported by the National Key Research and Development Program of China (No. 2017YFA0603400) and National Science Foundation of China (No. 41671200, U1603242).
Electronic supplementary material
Below is the link to the electronic supplementary material.
About this article
Cite this article
Zhou, J., Wu, J., Ma, L. et al. Late Quaternary environmental change record in biomarker lipid compositions of Lake Ebinur sediments, Northwestern China. Int J Earth Sci (Geol Rundsch) 108, 2361–2371 (2019). https://doi.org/10.1007/s00531-019-01767-x
Received:

Accepted:

Published:

Issue Date:
Keywords
Biomarker

Climate and environmental change

Late Quaternary

Lake Ebinur

Northwestern China