Abstract
Shear fractures that close under compressive stress regime were described by previous workers. Here, we show the existence of hinge-parallel shear-opening mode fractures at a certain depth within an anticline structure, through core observations, Formation Micro Imager (FMI) log interpretations and production data. Studied reservoir is a tight sandstone body of Cretaceous age, which is emplaced in KS2 Anticline, with depth ranging between 6000 and 8100 m. We explore the mechanism of hinge-parallel shear fractures by stereographic technique and backtilting, as well as show field evidences for opening displacements. These shear fractures mainly consist of vertical tension set, moderate-dipping shear set, steeply dipping shear set and sub-horizontal shear set. Crosscutting relationships and surface textures suggest that although the moderate-dipping shear set is older and maybe sealed by cements, it may have been opened by local stress due to outer-arc extension through folding. Calcite bridges with rhombohedral structures may support fracture walls helping them to remain open in case of compressive stress. Our work documents shear fracture openings in the anticline at depth, and fluid flow in subsurface reservoirs.
Access options
Buy single article
Instant access to the full article PDF.
US$ 39.95
Tax calculation will be finalised during checkout.
Subscribe to journal
Immediate online access to all issues from 2019. Subscription will auto renew annually.
US$ 119
Tax calculation will be finalised during checkout.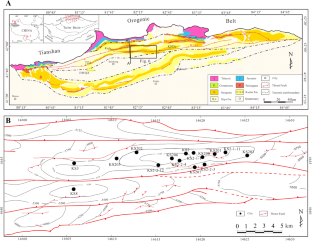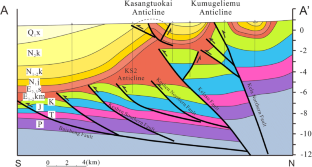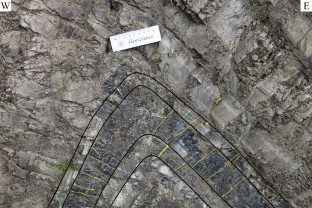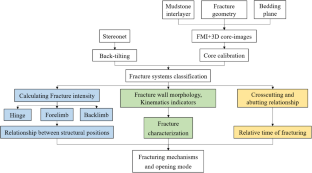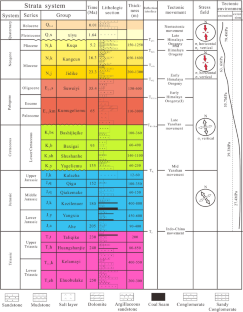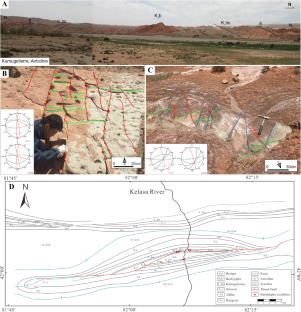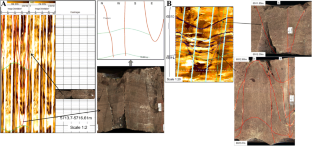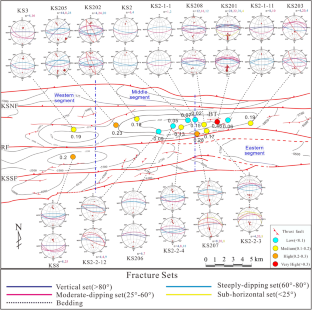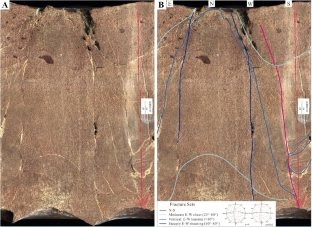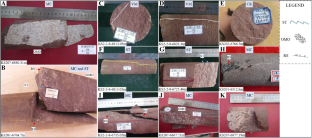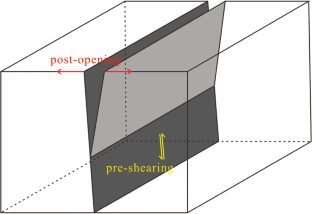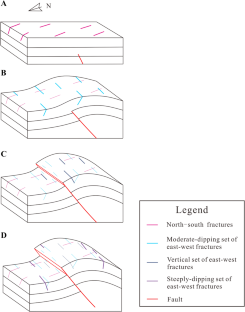 References
Agosta F (2008) Fluid flow properties of basin-bounding normal faults in platform carbonates, Fucino Basin, central Italy. Geol Soc Lond Spec Publ 299:277–291

Awdal A, Healy D, Alsop GI (2016) Fracture patterns and petrophysical properties of carbonates undergoing regional folding: a case study from Kurdistan, N Iraq. Mar Pet Geol 71:149–167

Bergbauer S, Pollard D (2004) A new conceptual fold-fracture model including prefolding joints, based on the Emigrant Gap anticline, Wyoming. Geol Soc Am Bull 116:294–307

Bobillo-Ares NC, Aller J, Bastida F, Lisle RJ, Toimil NC (2006) The problem of area change in tangential longitudinal strain folding. J Struct Geol 28:1835–1848

Bourne S, Franz B, Lex R, Stephenson B, Alex W, Willemse E (2000) Predictive modelling of naturally fractured reservoirs using geomechanics and flow simulation. GeoArabia 6:87–102

Bullen ME, Burbank DW, Garver JI (2003) Building the northern Tien Shan: integrated thermal, structural, and topographic constraints. J Geol 111:149–165

Cazier EC, Hayward AB, Espinosa G, Velandia J, Mugniot JF, Leel WG (1995) Petroleum geology of the Cusiana Field, Llanos Basin foothills, Colombia. AAPG Bull 79:1444–1463

Chang J, Tian YT, Qiu NS (2017) Mid-Late Miocene deformation of the northern Kuqa fold-and-thrust belt (southern Chinese Tian Shan): an apatite (U-Th-Sm)/He study. Tectonophysics 694:101–113

Chen HL, Luo JC, Guo QY, Liao L, Xiao ZY, Cheng XG, Yang SF, Wang BQ (2009) Deformation history and tectonic evolution of southeastern Tarim Basin in Mesozoic and Cenozoic. Geotectonica et Metallogenia 33:38–45 (in Chinese with English abstract)

Deng QD, Feng XY, Zhang PZ, Xu XW, Yang XP, Peng SZ, Li J (2000) Active tectonics of the Tian Shan mountains. Seismology Press, Beijing, pp 188–368 (in Chinese)

Doblas M (1998) Slickenside kinematic indicators. Tectonophysics 295:187–197

Engelder T, Lash G, Uzcátegui R (2009) Joint sets that enhance production from middle and upper devonian gas shales of the appalachian basin. AAPG Bull 93:857–889

Fischer M, Wilkerson MS (2000) Predicting the orientation of joints from fold shape: results of pseudo-three-dimensional modeling and curvature analysis. Geology 28:15–18

Guiton MLE, Leroy YM, Sassi W (2003a) Activation of diffuse discontinuities and folding of sedimentary layers. J Geophys Res 108(B4):2183–2203

Guiton MLE, Sassi W, Leroy YM, Gauthier BDM (2003b) Mechanical constraints on the chronology of fracture activation in folded Devonian sandstone of the western Moroccan Anti-Atlas. J Struct Geol 25(8):1317–1330

Guo XW, Liu KY, Jia CZ, Song Y, Zhao MJ, Zhuo QG, Lu XS (2016) Effects of tectonic compression on petroleum accumulation in the Kelasu Thrust Belt of the Kuqa Sub-basin, Tarim Basin, NW China. Org Geochem 101:22–37

Hancock P (1985) Brittle microtectonics: principles and practice. J Struct Geol 7:437–457

Hennings PH, Olson JE, Thompson LB (2000) Combining outcrop data and three-dimensional structural models to characterize fractured reservoirs: an example from Wyoming. AAPG Bull 84:830–849

Iñigo JF, Laubach SE, Hooker JN (2012) Fracture abundance and patterns in the Subandean fold and thrust belt, Devonian Huamampampa Formation petroleum reservoirs and outcrops, Argentina and Bolivia. Mar Pet Geol 35:201–218

Jia CZ, Li QM (2008) Petroleum geology of Kela-2, the most productive gas field in China. Mar Pet Geol 25:335–343

Jia CZ, Wei GQ, Wang LS, Jia D, Guo ZJ (1997) Tectonic characteristics and petroleum, Tarim Basin, China. Petroleum Industry Press, Beijing, pp 171–364 (in Chinese)

Jia CZ, Chen HL, Yang SF, Lu HF, Zhou YZ (2003) Late Cretaceous uplifting process and its geological response in Kuqa Depression. Acta Petrolei Sinica 24:1–5 (in Chinese with English abstract)

Joudaki M, Farzipour-Saein A, Nilfouroushan F (2016) Kinematics and surface fracture pattern of the Anaran basement fault zone in NW of the Zagros fold–thrust belt. Int J Earth Sci 105:869–883

Li Z, Song WJ, Peng ST, Wang DX, Zhang ZP (2004) Mesozoic-Cenozoic tectonic relationships between the Kuqa subbasin and Tian Shan, northwest China: constraints from depositional records. Sed Geol 172:223–249

Li YJ, Wen L, Zhang HA, Huang TZ, Li LH, Shi YY, Meng QL, Peng GX, Huang SY, Zhang Q (2016) The Kuqa late Cenozoic fold–thrust belt on the southern flank of the Tian Shan Mountains. Int J Earth Sci 105:1417–1430

Li Y, Guo S, Wang X, Hou YF, Neng Y, Wang ZX, Zhou L, Yang WJ, Tan C (2017) Stratification model of an ultra-deep tight sandstone fracture reservoir under tectonic stress: a case study of a Cretaceous reservoir in the Kuqa foreland thrust belt of the Tarim Basin. J Nat Gas Sci Eng 45:53–64

Li Y, Hou GT, Hari KR, Neng Y, Lei GL, Tang YG, Zhou L, Sun S, Zheng CF (2018) The model of fracture development in the faulted folds: the role of folding and faulting. Mar Pet Geol 89:243–251

Liang DG, Zhang SC, Chen JP, Wang FY, Wang PR (2003) Organic geochemistry of oil and gas in the Kuqa depression, Tarim Basin, NW China. Org Geochem 34:873–888

Lisle RJ (1994) Detection of zones of abnormal strains in structures using Gaussian curvature analysis. AAPG Bull 78:1811–1819

Liu SW, Lei X, Feng CG, Hao CY (2015) Estimation of subsurface formation temperature in the Tarim Basin, northwest China: implications for hydrocarbon generation and preservation. Int J Earth Sci 105:1329–1351

Lu HF, Jia CZ, Jia D, Chen CM, Liu ZH, Wang GQ, Wang SL (2001) Features of thrust wedge of deformation belt in Kuqa rejuvenation foreland basin. Geol J China Univ 7:257–271 (in Chinese with English abstract)

Manzocchi T, Childs C, Walsh JJ (2010) Faults and fault properties in hydrocarbon flow models. Geofluids 10:94–113

Nelson RA (2001) Geological analysis of naturally fractured reservoirs, 2nd edn. Gulf Professional Publishing, Houston, pp 1–352

Neng Y, Xie HW, Yin HW, Li Y, Wang W (2018) Effect of basement structure and salt tectonics on deformation styles along strike: an example from the Kuqa fold–thrust belt, West China. Tectonophysics 730:114–131

Nian T, Wang GW, Song HY (2017) Open tensile fractures at depth in anticlines: a case study in the Tarim basin, NW China. Terra Nova 29:183–190

Nishidai T, Berry JL (2010) Structure and hydrocarbon potential of the Tarim Basin (NW China) from satellite imagery. J Pet Geol 13:35–58

Pang XQ, Zhou XY, Yan SH, Wang ZM, Yang HJ, Jiang FJ, Shen WB, Gao S (2012) Research advances and direction of hydrocarbon accumulation in the superimposed basins, China: take the Tarim Basin as an example. Petrol Explor Dev 39:649–656 (in Chinese with English abstract)

Pang XQ, Jia CZ, Pang H, Yang HJ (2018) Destruction of hydrocarbon reservoirs due to tectonic modifications: conceptual models and quantitative evaluation on the Tarim Basin, China. Mar Pet Geol 91:401–421

Pollard D, Aydin A (1988) Progress in understanding jointing over the past century. Geol Soc Am Bull 100:1181–1204

Price NJ, Cosgrove JW (1990) Analysis of geological structures. Cambridge University Press, Cambridge, pp 1–511

Qi JF, Chen SP, Yang Q, Yu FS (2008) Characteristics of tectonic deformation within transitional belt between the Junggar basin and the northern Tianshan mountain. Oil Gas Geol 29:252–260 (in Chinese with English abstract)

Qi JF, Lei GL, Li MG, Xie HW, Yang SJ (2009a) Contractional structure model of the transition belt between Kuche depression and South Tianshan Uplift. Earth Sci Front 16:120–128

Qi JF, Lei GL, Li MG, Gu YX (2009b) Analysis of structural model and formation mechanism of Kelasu structure zone, Kuqa depression. Geotectonica et Metallogenia 33:49–56 (in Chinese with English abstract)

Qian L, Yu HZ, Ding CH, Han SH, Li XS, Wu JG, Xi Q (2011) The relationship between fold neutral planes and hydrocarbon accumulation in Tarim basin. Mar Origin Petrol Geol 4:62–65 (in Chinese with English abstract)

Ren JS (2003) A brief introduction of the latest tectonic map of China. ACTA Geoscience Sinica 24:1–2 (in Chinese with English abstract)

Rohrbaugh MB, Dunne WM, Mauldon M (2002) Estimating fracture trace intensity, density, and mean length using circular scan lines and windows. AAPG Bull 86:2089–2104

Sobel ER (1999) Basin analysis of the Jurassic-Lower Cretaceous southwest Tarim basin, northwest China. Geol Soc Am Bull 111:709–724

Sobel ER, Chen J, Heermance RV (2006) Late Oligocene-early Miocene initiation of shortening in the Southwestern Chinese Tian Shan: implications for neogene shortening rate variations. Earth Planet Sci Lett 247:70–81

Song Y, Jia CZ, Zhao M, Tian Z (2002) Controlling factors for large gas field formation in thrust belt of Kuqa coal derived hydrocarbon foreland basin. Chin Sci Bull 47:55–61 (in Chinese with English abstract)

Stearns DW (1968) Certain aspects of fractures in naturally deformed rocks. In: Riecker RE (ed) Rock mechanics seminar, Terrestrial Sciences Laboratory, Bedford, pp 97–118

Sun JM, Li Y, Zhang Z, Fu B (2009) Magnetostratigraphic data on Neogene growth folding in the foreland basin of the southern Tianshan mountains. Geology 37:1051–1054

Sun WX, Hou GT, Yu X, Wei HX, Mo T, Zhou L, Xie YN, Luo HN (2015) Model for the fracture development of the sand with low-permeability in the foreland faulted fold belt. Geotectonica et Metallogenia 39:808–815 (in Chinese with English abstract)

Sun S, Hou GT, Zheng CF (2017) Fracture zones constrained by neutral surfaces in a fault-related fold: insights from the Kelasu tectonic zone, Kuqa Depression. J Struct Geol 104:112–124

Tamara J, Mora A, Robles W, Kammer A, Ortiz A, Sanchez-Villar N, Poraquive A, Rueda LH, Casallas W, Castellanoe J, Montaña J, Parra LG, Corredor J, Ramirez Á, Zambrano E (2015) Fractured reservoirs in the Eastern Foothills, Colombia, and their relationship with fold kinematics. AAPG Bull 99:1599–1633

Tang LJ, Li M, Yang Y, Chen G, Zhou X (2015) Different structural deformation of main foreland thrust belt in Tarim Basin. J Sci Environ 37:46–56 (in Chinese with English abstract)

Van Golf-Racht TD (1982) Fundamentals of fractured reservoir engineering. Elsevier Science Publishing Company, New York, pp 1–732

Wang X, Jia CZ, Yang SF, Aurelia HF, John S (2002) The time of deformation on the Kuqa fold-and-thrust belt in the southern Tianshan-based on the Kuqa river area. Acta Geol Sin 76:55–63 (in Chinese with English abstract)

Wang X, Jia CZ, Yang SF (2003) Geometry and kinematics of the Kuqa fold-and-thrust belt in the southern Tianshan. Chin J Geol 37:372–384 (in Chinese with English abstract)

Wang JH, Wang H, Chen HH, Jiang S, Zhao S (2013) Responses of two lithosomes of Lower Cretaceous coarse clastic rocks to tectonism in Kuqa foreland sub-basin, Northern Tarim Basin, Northwest China. Sed Geol 289:182–193

Wang JP, Zhang RH, Zhao JL, Wang K, Wang B, Zeng LQ, Liu C (2014) Characteristic and evaluation of fractures in ultra-deep tight sandstone reservoir: taking Keshen Gasfield in Tarim Basin, NW China as an example. Nat Gas Geosci 25:1735–1745 (in Chinese with English abstract)

Wen L, Li YJ, Zhang GY, Tian ZJ, Peng GX, Qiu B, Huang ZB, Luo JC, Zhang Q (2017) Evolution of fold-thrust belts and Cenozoic uplifting of the South Tianshan Mountain range in the Kuqa region, Northwest China. J Asian Earth Sci 135:327–337

Xu CM, Zhou XY (2007) Seismic interpretation of the Kelasu triangle zone in the southern Tianshan foothills, northwestern China. AAPG Bull 91:161–171

Yu H, Qi JF, Shi J, Wu C, Zhang W, Fan S, Sun T, Yang X (2015) Basement fault activities have influenced on caprock tectonic deformation in Kuqa depression. Scientia Geologica Sinica 50:50–62 (in Chinese with English abstract)

Yu X, Hou GT, Neng Y, Li J, Wei HX (2016) Development and distribution characteristics of tectonic fractures in Kuqa depression. Geol J China Univ 22:644–656 (in Chinese with English abstract)

Zeng LB, Tan CX, Zhang ML (2004) Tectonic stress field and its effect on hydrocarbon migration and accumulation in Mesozoic and Cenozoic in the Kuqa Depression, Tarim Basin. Sci China Ser D 47:114–124

Zeng LB, Wang HJ, Gong L, Liu BM (2010) Impacts of the tectonic stress field on natural gas migration and accumulation: a case study of the Kuqa Depression in the Tarim Basin, China. Mar Pet Geol 27:1616–1627

Zhang T, Fang XM, Song CH, Appel E, Wang YD (2014) Cenozoic tectonic deformation and uplift of the South Tian Shan: implications from magnetostratigraphy and balanced cross-section restoration of the Kuqa depression. Tectonophysics 628:172–187

Zhao WZ, Zhang SC, Wang FY, Cramer B, Chen JP, Sun YG, Zhang BM, Zhao MJ (2005) Gas systems in the Kuche Depression of the Tarim Basin: source rock distributions, generation kinetics and gas accumulation history. Org Geochem 36:1583–1601

Zou YR, Zhao CY, Wang YP, Zhao WZ, Peng AP, Shuai YH (2006) Characteristics and origin of natural gases in the Kuqa Depression of Tarim Basin, NW China. Org Geochem 37:280–290
Acknowledgements
This study was financially supported by the National Science and Technology Major Projects (No. 2017ZX05005002-005 and No. 2017ZX05008-003-010) and National Nature Science Foundation of China (No. 41572100). We are thankful to Dr. Yunqi Shen for his help in collecting data. The Tarim Oilfield Research Institute is thanked for providing background geological data.
About this article
Cite this article
Wang, Z., Lv, X., Li, Y. et al. Open shear fractures at depth in anticlines: insights from the Kuqa foreland thrust belt, Tarim Basin. Int J Earth Sci (Geol Rundsch) 108, 2233–2245 (2019). https://doi.org/10.1007/s00531-019-01758-y
Received:

Accepted:

Published:

Issue Date:
Keywords
Open fractures

Tarim Basin

Thrust belt

Fractured reservoir

Ultra-deep formation