Access options
Buy single article
Instant access to the full article PDF.
US$ 39.95
Tax calculation will be finalised during checkout.
Subscribe to journal
Immediate online access to all issues from 2019. Subscription will auto renew annually.
US$ 119
Tax calculation will be finalised during checkout.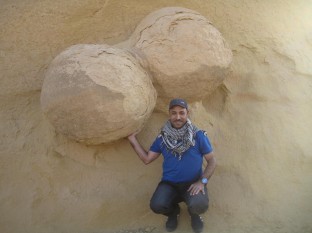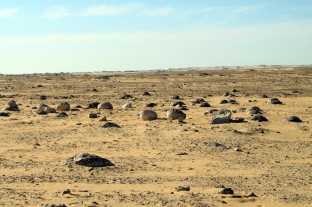 References
Afify AM, Serra Kiel J, Sanz-Montero ME, Calvo JP, Sallam ES (2016) Nummulite biostratigraphy of the Eocene succession in the Bahariya Depression, Egypt: implications for timing of iron mineralization. J Afr Earth Sc 120:44–55

Al-Agha MR, Burley SD, Curtis CD, Esson J (1995) Complex cementation textures and authigenic mineral assemblages in Recent concretions from the Lincolnshire Wash (east coast, UK) driven by Fe(0) Fe(II) oxidation. J Geol Soc Lond 152:157–171

McBride EF, Picard MD, Folk RL (1994) Oriented concretions, Ionian Coast, Italy: evidence of groundwater flow direction. J Sediment Res 64:535–540

McBride EF, Picard MD, Milliken KL (2003) Calcite-cemented concretions in Cretaceous Sandstone, Wyoming and Utah, USA. J Sediment Res 73:462–483

Mozley PS (1996) The internal structure of carbonate concretions: A critical evaluation of the concentric model of concretion growth. Sed Geol 103:85–91

Mozley PS, Davis JM (2005) Internal structure and mode of growth of elongate calcite concretions: evidence for small-scale microbially induced, chemical heterogeneity in groundwater. Geol Soc Am Bull 117:1400–1412

Plyusnina EE, Sallam ES, Ruban DA (2016) Geological heritage of the Bahariya and Farafra oases, the central Western Desert, Egypt. J Afr Earth Sci 116:151–159

Raiswell R, Fisher QJ (2000) Mudrock-hosted carbonate concretions: a review of growth mechanisms and their influence on chemical and isotopic composition. J Geol Soc Lond 157:239–251

Ruban DA, Ponedelnik AA, Yashalova NN (2019) Megaclasts: term use and relevant biases. Geosciences 9:14

Sallam ES, Ruban DA (2019) Ancient tufa and semi-detached megaclasts from Egypt: evidence for sedimentary rock classification development. Int J Earth Sci Geosites 108(5):1615–1616

Sallam ES, Fathy EE, Ruban DA, Ponedelnik AA, Yashalovam NN (2018) Geological heritage diversity in the Faiyum Oasis (Egypt): a comprehensive assessment. J Afr Earth Sc 140:212–224

Wanas HA (2008) Calcite-cemented concretions in shallow marine and fluvial sandstones of the Birket Qarun Formation (Late Eocene), El-Faiyum depression, Egypt: field, petrographic and geochemical studies: Implications for formation conditions. Sed Geol 212:40–48
Acknowledgements
We thank the Associate Editor Soumyajit Mukherjee for suggestions, and the editorial board of the journal.
About this article
Cite this article
Al-Dhwadi, Z., Sallam, E.S. Spheroidal "Cannonballs" calcite-cemented concretions from the Faiyum and Bahariya depressions, Egypt: evidence of differential erosion by sand storms. Int J Earth Sci (Geol Rundsch) 108, 2291–2293 (2019). https://doi.org/10.1007/s00531-019-01753-3
Received:

Accepted:

Published:

Issue Date: