Abstract
In the Lesina Marina village area, the cropping out gypsum rocks, that rose up from the deep and thick Upper Trias Burano Fm anhydrite layer, have been analyzed to investigate the trigger mechanism for their ascent. In this regard, we focus on the anhydrite-to-gypsum transformation starting from the deep source layer. Indeed, petrographic observations of the widespread corroded anhydrite crystals embedded in these gypsum rocks revealed unequivocal evidences of the anhydrite-to-gypsum transformation. In addition, and referring to gypsum, microstructural features indicate that ductile deformation mechanisms initially operated under higher temperature conditions. This temperature should be close to 107 °C, namely the value of the upper temperature limit of stability of gypsum from Lesina Marina, above which it starts to transform and dehydrate, as revealed by microthermometry heating/dehydration experiments combined with micro-Raman analyses. All these evidences are in favor of the dramatic density decrease and volume increase due to anhydrite-to-gypsum transformation by hydration in the deep source layer; these variations of physical conditions, triggered by hydration, promoted diapirism of the gypsum mass, in other words "hydration diapirism". As revealed by seismic lines interpretation, the diapirism, which gave rise to the Lesina diapir, occurred during Plio-Pleistocene and was genetically related to the Lesina graben-type structure. Hydration at depth was favored by the downward circulation of water-rich fluids channeled in faults, and the gypsum mass used the weakened zone of the southern fault to pierce the overlying Mesozoic and Tertiary sediments.
Access options
Buy single article
Instant access to the full article PDF.
USD 39.95
Price excludes VAT (USA)
Tax calculation will be finalised during checkout.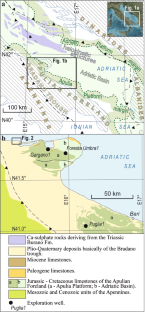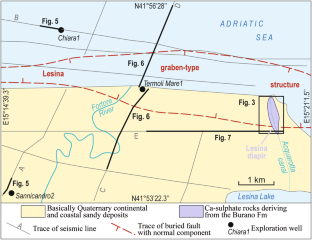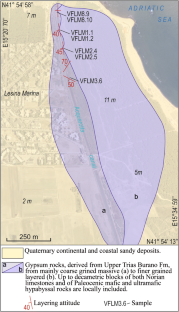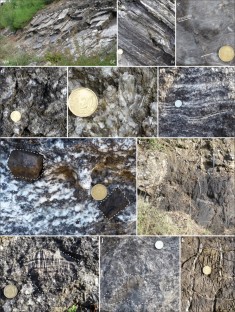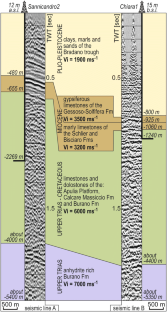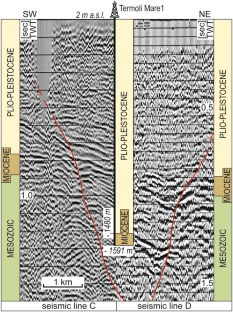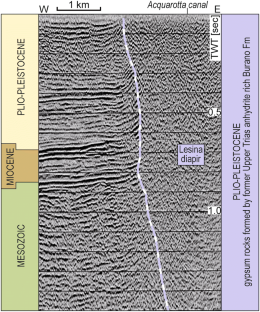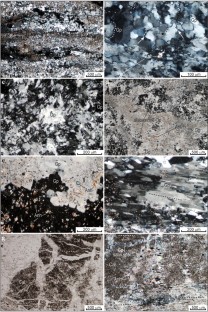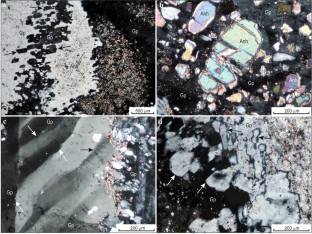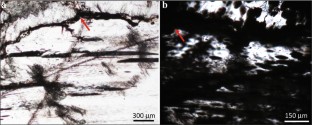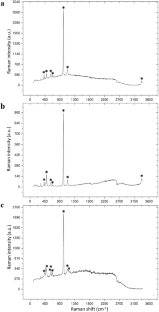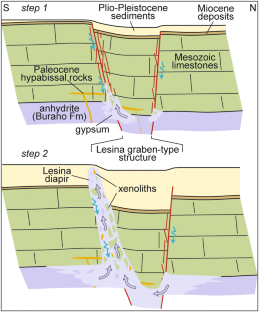 References
Amendolagine M, Dell'Anna L, Ventriglia U (1964) Le rocce ignee alla Punta delle Pietre Nere presso Lesina (Provincia Foggia). Period Miner 33:337–395

Bally AW, Burbi L, Cooper C, Ghelardoni R (1986) Balanced sections and seismic reflection profiles across the Central Apennines. Mem Soc Geol Ital 35:257–310

Bernoulli D (2001) Mesozoic-tertiary carbonate platforms, slopes and basins of the external Apennines and Sicily. In: Vai GB, Martini IP (eds) Anatomy of an orogen: The Apennines and Adjacent Mediterranean Basins. Kluwer Academic Publishers, Dordrecht, pp 307–325

Bigazzi G, Laurenzi MA, Principe C, Brocchini D (1996) New geochronological data on igneous rocks and evaporites of the Pietre Nere Point (Gargano peninsula, southern Italy). Bull Soc Geol Ital 115:439–448

Blankinsop T (2002) Deformation microstructures and mechanisms in minerals and rocks. Kluwer Academic Publishers, Dordrecht

Bosellini A, Morsilli M, Neri C (2000) The eastern margin of the Apulian Platform: The Gargano transect. Guide Book, Ferrara

Butscher C, Huggenberger P, Zechner E (2011) Impact of tunneling on regional groundwater flow and implications for swelling of clay-sulfate rocks. Eng Geol 117:198–206

Carella R (1963) Eruttivi di S. Giovanni in Pane e della Punta delle Pietre Nere (Gargano). Bull Soc Geol Ital 82(1):97–109

Chang LLY, Howie RA, Zussman J (1998) Rock-forming minerals, volume 5B, non-silicates: sulphates, carbonates, phosphates, halides, 2nd edn. The Geological Society, London

Chio CH, Sharma SK, Muenow DW (2004) Micro-Raman studies of gypsum in the temperature range between 9 and 373 K. Am Miner 89:390–395

Ciaranfi N, Pieri P, Ricchetti G (1988) Note alla Carta Geologica delle Murge e del Salento (Puglia centromeridionale). Mem Soc Geol Ital 41:449–460

Cippitelli G (2007) The CROP-04 seismic profile: interpretation and structural setting of the Agropoli-Barletta Geotraverse. B Soc Geol Italal Special Issue 7:267–281

Cotecchia V, Canitano A (1954) Sull'affioramento delle Pietre Nere al Lago di Lesina. B Soc Geol Itala 73:1–19

D'Argenio B (1974) Le piattaforme carbonatiche periadriatiche: una rassegna di problemi nel quadro geodinamico mesozoico dell'area mediterranea. Mem Soc Geol Ital 13(Supplemento 2):137–159

De Fino M, La Volpe L, Piccarreta G (1983) Mafic minerals from Punta delle Pietre Nere subvolcanites (Gargano, Southern Italy): their petrological significance. Tscher Miner Petrogr 32(1):69–78

De Paola N, Collettini C, Trippetta F, Barchi MR, Minelli G (2007) A mechanical model for complex fault patterns induced by evaporite dehydration and cyclic changes in fluid pressure. J Struct Geol 29:1573–1584

De Paola N, Collettini C, Faulkner DR, Trippetta F (2008) Fault zone architecture and deformation processes within evaporitic rocks in the upper crust. Tectonics 27(TC4017):1–21

della Vedova B, Bellani S, Pellis G, Squarci P (2001) Deep temperatures and surface heat flow distribution. In: Vai GB, Martini IP (eds) Anatomy of an orogen: the Apennines and Adjacent Mediterranean Basins. Kluwer Academic Publishers, Dordrecht, pp 65–76

El Tabakh M, Schreiber BC, Warren JK (1998) Origin of fibrous gypsum in the Newark Rift Basin. East N Am J Sediment Res 68(1):88–99

Festa V, Caggianelli A, Krhul JH, Liotta D, Prosser G, Gueguen E, Paglionico A (2006) Late-Hercynian shearing during crystallization of granitoid magmas (Sila massif, southern Italy): regional implications. Geodin Acta 19(3–4):185–195

Festa V, Langone A, Caggianelli A, Rottura A (2010) Dike magmatism in the Sila Grande (Calabria, southern Italy): evidence of Pennsylvanian-Early Permian exhumation. Geosphere 6(5):549–566

Festa V, Teofilo G, Tropeano M, Sabato L, Spalluto L (2014) New insights on diapirism in the Adriatic Sea: the Tremiti salt structure (Apulia offshore, southeastern Italy). Terra Nova 26:169–178

Festa V, Tripaldi S, Siniscalchi A, Acquafredda P, Fiore A, Mele D, Romano G (2016) Geoelectrical resistivity variations and lithological composition in coastal gypsum rocks: a case study from the Lesina Marina area (Apulia, southern Italy). Eng Geol 202:163–175

Geletti R, Del Ben A, Busetti M, Ramella R, Volpi V (2008) Gas seeps linked to salt structures in the Central Adriatic Sea. Basin Res 20:473–487

Graham R, Jackson M, Pilcher R, Kilsdonk B (2012) Allochthonous salt in the sub-Alpine fold–thrust belt of Haute Provence, France. Geol Soc Spec Publ 363:595–615

Grandić S, Biancone M, Samarzija J (2002) Geophysical and stratigraphic evidence of the Adriatic Triassic rift. Mem Soc Geol Ital 57:315–325

Holliday DW (1970) The petrology of secondary gypsum rocks: a review. J Sediment Petrol 40(2):734–744

Hoyos M, Doblas M, Sánchez-Moral S, Cañaveras JC, Ordoñez S, Sesé C, Sanz E, Mahecha V (1996) Hydration diapirism: a climate-related initiation of evaporite mounds in two continental Neogene basins of central Spain. Geol Soc Spec Publ 100:49–63

Hudec R, Jackson MPA (2007) Terra infirma: understanding salt tectonics. Earth Sci Rev 82:1–28

Kamberis E, Sotiropoulos S, Aximniotou O, Tsaila-Monopoli S, Ioakim C (2000) Late Cenozoic deformation of the gavrovo and ionian zones in NW Peloponnesos (Western Greece). Ann Geofis 43:905–919

Kloprogge JT, Frost RL (2000) Raman spectroscopy at 77 K of natural gypsum CaSO4·2H2O. J Mater Sci Lett 19:229–231

Kokinou E, Kamberis E, Vafidis A, Monopolis D, Ananiadis G, Zelilidis A (2005) Deep seismic reflection data from offshore western Greece: a new crustal model for the Ionian Sea. J Petrol Geol 28:185–202

Kokkalas S, Kamberis E, Xypolias P, Sotiropoulos S, Koukouvelas I (2013) Coexistence of thin- and thick-skinned tectonics in Zakynthos area (western Greece): insights from seismic sections and regional seismicity. Tectonophysics 597–598:73–84

Liu Y, Wang A, Freeman JJ (2009) Raman, MIR, and NIR spectroscopic study of calcium sulfates: gypsum, bassanite, and anhydrite. In: 40th Lunar and Planetary Science Conference 2128.pdf, The Woodlands, TX

Lugli S (2001) Timing of post-depositional events in the Burano formation of the Secchia valley (Upper Triassic, Northern Apennines), clues from gypsum ± anhydrite transitions and carbonate metasomatism. Sediment Geol 140:107–122

Martinis B, Pieri M (1964) Alcune notizie sulla formazione evaporitica del Triassico superiore nell'Italia centrale e meridionale. Mem Soc Geol Ital 4:649–678

Masrouhi A, Bellier O, Koyi H (2014) Geometry and structural evolution of Lorbeus diapir, northwestern Tunisia: polyphase diapirism of the North African inverted passive margin. Int J Earth Sci 103:881–900

Murray RC (1964) Origin and diagenesis of gypsum and anhydrite. J Sediment Petrol 34:512–523

Nicolai C, Gambini R (2007) Structural architecture of the Adria platform-and-basin system. Bull Soc Geol Ital Special Issue 7:21–37

Pascucci V, Gibling MR, Williamson MA (1999) Seismic stratigraphic analysis of Carboniferous strata on the Burin Platform, offshore Eastern Canada. Bull Can Petrol Geol 47(3):298–316

Passchier CW, Trouw RAJ (2005) Microtectonics, 2nd edn. Springer, Berlin

Posenato R, De Fino M, La Volpe L, Piccarreta G (1994) L'affioramento del Trias superiore delle Pietre Nere (calcari e gessi) e i prodotti del vulcanismo basico paleogenico. In: Geologia delle aree di avampaese, Guida all'escursione pre-congressuale (77th Congress of the Italian Geological Society, Bari, 23 September–1 October 1994). Italian Geological Society, Bari, pp 19–23

Prasad PSR, Pradhan A, Gowd TN (2001) In-situ micro-Raman investigation of dehydration mechanism in natural gypsum. Curr Sci India 80(9):1203–1207

Prieto-Taboada N, Gómez-Laserna O, Martínez-Arkarazo I, Olazabal MÁ, Madariaga JM (2014) Raman spectra of the different phases in the CaSO4–H2O system. Anal Chem 86:10131–10137

Quintà A, Tavani S, Roca E (2012) Fracture pattern analysis as a tool for constraining the interaction between regional and diapir-related stress fields: Poza de la Sal Diapir (Basque Pyrenees, Spain). Geol Soc Spec Publ 363:521–532

Refice A, Pasquariello G, Bovenga F, Festa V, Acquafredda P, Spilotro G (2016) Investigating uplift in Lesina Marina (Southern Italy) with the aid of persistent scatterer SAR interferometry and in situ measurements. Environ Earth Sci 75(243):1–13

Ricchetti G, Ciaranfi N, Luperto Sinni E, Mongelli F, Pieri P (1988) Geodinamica ed evoluzione sedimentaria e tettonica dell'Avampaese Apulo. Mem Soc Geol Ital 41:57–82

Rowan MG, Lawton TF, Giles KA, Ratliff RA (2003) Near-salt deformation in La Popa basin, Mexico, and the northern Gulf of Mexico: a general model for passive diapirism. Am Assoc Petrol Geol Bull 87:733–756

Rubinat M, Ledo J, Roca E, Rosell O, Queralt P (2010) Magnetotelluric characterization of a salt diapir: a case study on Bicorb-Quesa Diapir (Prebetic Zone, SE Spain). J Geol Soc London 167:145–153

Santantonio M, Scrocca D, Lipparini L (2013) The Ombrina-Rospo plateau (Apulian Platform): evolution of a carbonate platform and its margins during the Jurassic and Cretaceous. Mar Petrol Geol 42:4–29

Saunders JA, Thomas RC (1996) Origin of 'exotic' minerals in Mississippi salt dome cap rocks: results of reaction-path modeling. Appl Geochem 11:667–676

Schreiber BC, Helman ML (2005) Criteria for distinguishing primary evaporite features from deformation features in sulfate evaporites. J Sediment Res 75:525–533

Scisciani V, Calamita F (2009) Active intraplate deformation within Adria: examples from the Adriatic region. Tectonophysics 476:57–72

Scrocca D (2006) Thrust front segmentation induced by differential slab retreat in the Apennines (Italy). Terra Nova 18:154–161

Seni SJ, Jackson MPA (1983) Evolution of salt structures, east Texas Diapir Province, Part 1: sedimentary record of Halokinesis. Am Assoc Petrol Geol Bull 67(8):1219–1244

Spalluto L, Pieri P, Ricchetti G (2005) Le facies carbonatiche di piattaforma interna del Promontorio del Gargano: implicazioni paleoambientali e correlazioni con la coeva successione delle Murge (Italia Meridionale, Puglia). Bull Soc Geol Ital 124:675–690

Tropeano M, Sabato L (2000) Response of Plio-Pleistocene mixed bioclastic–lithoclastic temperate-water carbonate systems to forced regressions: the Calcarenite di Gravina Formation, Puglia, SE Italy. Geol Soc Spec Publ 172:217–243

Trude J, Graham R, Pilcher R (2012) Salt-related structures on the Bristol Channel coast, Somerset (UK). In: Alsop GI, Archer SG, Hartley AJ (eds) Salt Tectonics, Sediments and Prospectivity, vol 363. Geological Society of London, London, pp 533–544

Trudgill BD (2011) Evolution of salt structures in the northern Paradox Basin: controls on evaporite deposition, salt wall growth and supra-salt stratigraphic architecture. Basin Res 23:208–238

Underhill JR (1988) Triassic evaporites and Plio-Quaternary diapirism in western Greece. J Geol Soc London 145:269–282

Vernon RH (2004) A practical guide to rock microstructures. Cambridge University Press, Cambridge

ViDEPI (2015) Progetto ViDEPI: Visibilità dei dati afferenti all'attività di esplorazione petrolifera in Italia (last upgrade). http://unmig.sviluppoeconomico.gov.it/videpi/. Accessed July 2018

Whitney DL, Evans BW (2010) Abbreviations for names of rock-forming minerals. Am Miner 95:185–187

Wrigley R, Hodgson N, Esestime P (2015) Petroleum geology and hydrocarbon potential of the Adriatic Basin offshore Croatia. J Petrol Geol 38(3):301–316

Yamamoto H, Kennedy GC (1969) Stability relations in the system CaSO4–H2O at high temperatures and pressures. Am J Sci 267A:550–557

Zappaterra E (1990) Carbonate paleogeographic sequences of the periadriatic region. Bull Soc Geol Ital 109:5–20

Zappaterra E (1994) Source-rock distribution model of the Periadriatic region. Am Assoc Petrol Geol Bull 78:333–354

Zelilidis A, Kontopoulos N, Avramidis P, Piper DJW (1998) Tectonic and sedimentological evolution of the Pliocene–Quaternary basins of Zakynthos island, Greece: case study of the transition from compressional to extensional tectonics. Basin Res 10:393–408
Acknowledgements
We are grateful to the reviewers V. Pascucci and P. Xypolias, whose comments and suggestions helped us to improve the present paper. The Editor-in-Chief W.-C. Dullo is thanked very much for the editorial management of the manuscript. This study was financially supported by "Convenzione tra Autorità di Bacino della Puglia e Dipartimento Geomineralogico dell'Università degli Studi di Bari per studi petrografici e mineralogici, oltre che geologico-strutturali, nell'area di Lesina Marina (FG)—2009" research funds, to VF. RAF acknowledges the research funding by University of Bari Aldo Moro and PONa3-00369 SISTEMA. We are grateful to Edison and ENI that provided us, confidentially, some seismic lines; these companies are also thanked to have formally authorized the publishing of the seismic profiles shown in the present paper.
About this article
Cite this article
Festa, V., Fregola, R.A., Acquafredda, P. et al. The enigmatic ascent of Ca-sulphate rocks from a deep dense source layer: evidences of hydration diapirism in the Lesina Marina area (Apulia, southern Italy). Int J Earth Sci (Geol Rundsch) 108, 1897–1912 (2019). https://doi.org/10.1007/s00531-019-01739-1
Received:

Accepted:

Published:

Issue Date:

DOI: https://doi.org/10.1007/s00531-019-01739-1
Keywords