Abstract
The Campiglia Marittima magmatic-hydrothermal system includes a peraluminous granite, its carbonatic host, and skarn. The system evolved generating a time-transgressive exchange of major and trace elements between granite, metasomatic fluids, and host rock. The process resulted in partial metasomatic replacement of the granite and severe replacement of the carbonate host rocks. The fluid activity started during a late-magmatic stage, followed by a potassic–calcic metasomatism, ending with a lower temperature acidic metasomatism. During the late-magmatic stage, B-rich residual fluids led to the formation of disseminated tourmaline–quartz orbicules. High-temperature metasomatic fluids generated a pervasive potassic–calcic metasomatism of the granite, with replacement of plagioclase, biotite, ilmenite, and apatite by K-feldspar, phlogopite–chlorite–titanite, titanite–rutile, and significant mobilization of Fe, Na, P, Ti, and minor HFSE/REE. The metasomatized granite is enriched in Mg, K, Rb, Ba, and Sr, and depleted in Fe and Na. Ca metasomatism is characterized by crystallization of a variety of calc-silicates, focusing along joints into the granite (endoskarn) and at the marble/pluton contact (exoskarn), and exchange of HFSE and LREE with hydrothermal fluids. Upon cooling, fluids became more acidic and fluorine activity increased, with widespread crystallization of fluorite from disequilibrium of former calc-silicates. At the pluton-host boundary, fluids were accumulated, and pH buffered to low values as temperature decreased, leading to the formation of a metasomatic front triggering the increasing mobilization of REE and HFSE and the late crystallization of REE–HFSE minerals.
This is a preview of subscription content, log in to check access.
Access options
Buy single article
Instant access to the full article PDF.
US$ 39.95
Tax calculation will be finalised during checkout.
Subscribe to journal
Immediate online access to all issues from 2019. Subscription will auto renew annually.
US$ 199
Tax calculation will be finalised during checkout.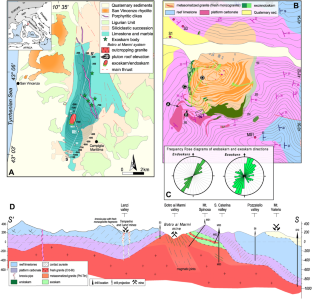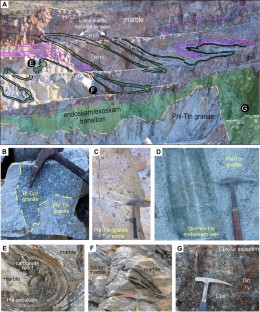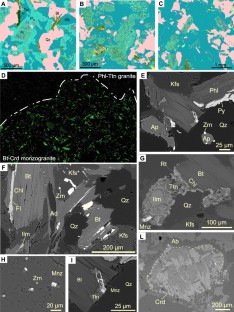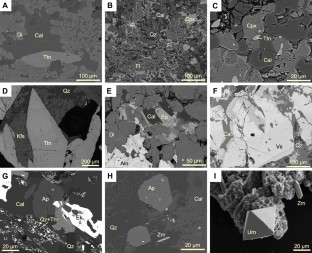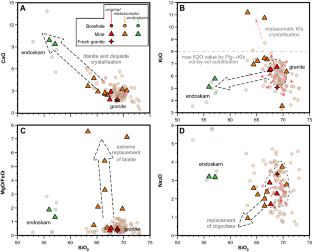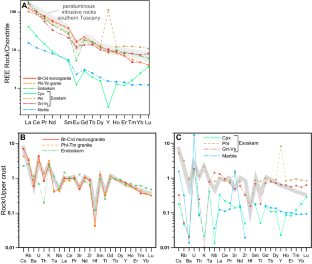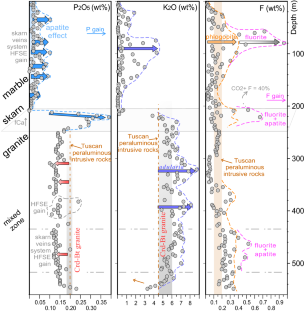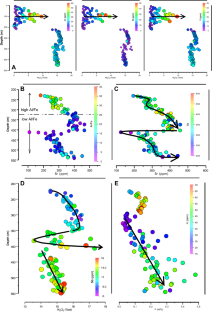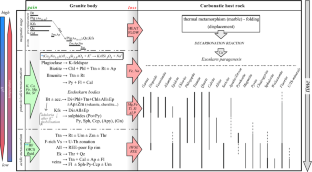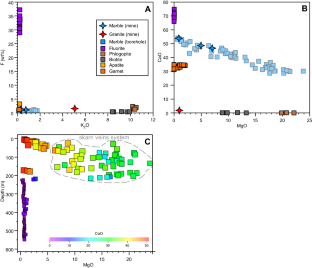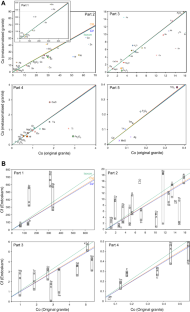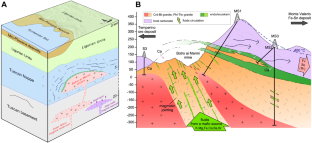 References
Acocella VRF, Faccenna C, Funicello R, Lazzarotto A (2000) Strike-slip faulting and pluton emplacement at Campiglia Marittima (southern Tuscany). Boll Soc Geol Ital 119:517–528

Barberi F, Innocenti F, Mazzuoli R (1967) Contributo alla conoscenza chimica-petrografica e magmatologica delle rocce intrusive, vulcaniche e filoniane del Campigliese (Toscana). Mem Soc Geol Ital 28:643–681

Barboni M, Annen C, Schoene B (2015) Evaluating the construction and evolution of upper crustal magma reservoirs with coupled U/Pb zircon geochronology and thermal modeling: a case study from the Mt. Capanne pluton (Elba, Italy). Earth Planet Sci Lett 432:436–448. https://doi.org/10.1016/j.epsl.2015.09.043

Baumgartner LP, Olsen SN (1995) A least-squares approach to mass transport calculations using the isocon method. Econ Geol 90:1261–1270. https://doi.org/10.2113/gsecongeo.90.5.1261

Bea F (1996) Residence of REE, Y, Th, and U in granites and crustal protoliths; implications for the chemistry of crustal melts. J Pet 37:521–552. https://doi.org/10.1093/petrology/37.3.521

Biagioni C, Orlandi P, Gini C, Bargellini C, Marinai V, Nannoni R (2013) Botro ai Marmi—I minerali delle miniere Maffei e Montorsi. Miniere e Miner 1:63–92

Borsi S, Ferrara G, Tongiorgi E (1967) Determinazione con il metodo K/Ar delle età delle rocce magmatiche della Toscana. Boll Soc Geol Ital 86:403–411

Caiozzi FP, Gioncada A, Sbrana A (1998) Studio SEM-EDS dei minerali figli nelle inclusioni fluide di Botro ai Marmi (Campiglia Marittima). Atti Soc tosc Sci Nat Mem 105:65–73

Chiaradia M, Schaltegger U, Spikings R, Wotzlaw JF, Ovtcharova M (2013) How accurately can we date the duration of magmatic-hydrothermal events in porphyry systems? Econ Geol 108:565–584. https://doi.org/10.2113/econgeo.108.4.565

Clarke DB (1981) The mineralogy of peraluminous granites; a review. Can Mineral 19:3–17

Dini A, Innocenti F, Rocchi S, Tonarini S, Westerman DS (2002) The magmatic evolution of the late Miocene laccolith–pluton–dyke granitic complex of Elba Island, Italy. Geol Mag 139:257–279. https://doi.org/10.1017/S0016756802006556

Dini A, Gianelli G, Puxeddu M, Ruggieri G (2005) Origin and evolution of Pliocene–Pleistocene granites from the Larderello geothermal field (Tuscan Magmatic Province, Italy). Lithos 81:1–31. https://doi.org/10.1016/j.lithos.2004.09.002

Dini A, Westerman DS, Innocenti F, Rocchi S (2008) Magma emplacement in a transfer zone: the Miocene mafic Orano dyke swarm of Elba Island, Tuscany, Italy. Geol Soc Lond 302:131–148. https://doi.org/10.1144/sp302.10

Dini A, Orlandi P, Vezzoni S (2013) Temperino e Lanzi. Le paragenesi primarie dello skarn. Rivista Mineralogica Italiana Campigliese. Miniere e Miner 1:28–39

Ducoux M, Branquet Y, Jolivet L, Arbaret L, Grasemann B, Rabillard A, Gumiaux C, Drufin S (2017) Synkinematic skarns and fluid drainage along detachments: the West Cycladic Detachment System on Serifos Island (Cyclades, Greece) and its related mineralization. Tectonophysics 695:1–26. https://doi.org/10.1016/j.tecto.2016.12.008

Durand C, Marquer D, Baumgartner L, Goncalves P, Boulvais P, Rossy M (2009) Large calcite and bulk-rock volume loss in metacarbonate xenoliths from the Quérigut massif (French Pyrenees). Contrib Miner Pet 157:749–763. https://doi.org/10.1007/s00410-008-0362-5

Einaudi MT, Meinert LD, Newberry RJ (1981) Skarn deposits. Economic geology 75th Anniversary, vol 317–391. https://doi.org/10.2113/gsecongeo.95.6.1183

Farina F, Dini A, Innocenti F, Rocchi R, Westerman DS (2010) Rapid incremental assembly of the Monte Capanne pluton (Elba Island, Tuscany) by downward stacking of magma sheets. Geol Soc Am Bull 122(9–10):1463–1479. https://doi.org/10.1130/B30112.1

Farina F, Dini A, Davies JHFL, Ovtcharova M, Greber ND, Bouvier AS, Baumgartner L, Ulianov A, Schaltegger U (2018) Zircon petrochronology reveals the timescale and mechanism of anatectic magma formation. Earth Planet Sci Lett 495:213–223. https://doi.org/10.1016/j.epsl.2018.05.021

Feldstein SN, Halliday AN, Davies GR, Hall CM (1994) Isotope and chemical microsampling: constraints on the history of an S-type rhyolite, San Vincenzo, Tuscany, Italy. Geochim et Cosmochim Acta 58(2):943–958. https://doi.org/10.1016/0016-7037(94)90517-7

Ferrara G, Petrini R, Serri G, Tonarini S (1989) Petrology and isotope-geochemistry of San Vincenzo rhyolites (Tuscany, Italy). Bull Volcanol 51:379–388. https://doi.org/10.1007/bf01056898

Franzini M, Lezzerini M, Origlia F (2010) Marbles from the Campiglia Marittima area (Tuscany, Italy). Eur J Miner 22:881–893. https://doi.org/10.1127/0935-1221/2010/0022-2056

Fulignati P (2018) Hydrothermal fluid evolution in the "Botro ai Marmi" quartz-monzonitic intrusion, Campiglia Marittima, Tuscany, Italy. Evidence from a fluid-inclusion investigation. Mineral Mag 82(5):1169–1185. https://doi.org/10.1180/mgm.2018.116

Gaspar M, Knaack C, Meinert LD, Moretti R (2008) REE in skarn systems: a LA-ICP-MS study of garnets from the Crown Jewel gold deposit. Geochim Cosmochim Acta 72:185–205. https://doi.org/10.1016/j.gca.2007.09.033

Grant JA (1986) The isocon diagram—a simple solution to Gresens' equation for metasomatic alteration. Econ Geol 81:1976–1982. https://doi.org/10.2113/gsecongeo.81.8.1976

Grant JA (2005) Isocon analysis: a brief review of the method and applications. Phys Chem Earth Parts A/B/C 30:997–1004. https://doi.org/10.1016/j.pce.2004.11.003

Gresens RL (1967) Composition-volume relationships of metasomatism. Chem Geol 2:47–65. https://doi.org/10.1016/0009-2541(67)90004-6

Griffin WL, Pearson NJ, Belousova E, Jackson SE, Van Achterbergh E, O'Reilly SY, Shee SR (2000) The Hf isotope composition of cratonic mantle: LAM–MC–ICPMS analysis of zircon megacrysts in kimberlites. Geochimica et Cosmochimica Acta 64:133–147. https://doi.org/10.1016/s0016-7037(99)00343-9

Gysi AP, Williams-Jones AE (2013) Hydrothermal mobilization of pegmatite-hosted REE and Zr at Strange Lake, Canada: a reaction path model. Geochim Cosmochim Acta 122:324–352. https://doi.org/10.1016/j.gca.2013.08.031

Gysi AP, Williams-Jones AE, Collins P (2016) Lithogeochemical vectors for hydrothermal processes in the Strange Lake Peralkaline granitic REE-Zr–Nb deposit. Econ Geol 111:1241–1276. https://doi.org/10.2113/econgeo.111.5.1241

Harlov DE, Austrheim H (2013) Metasomatism and the chemical transformation of rock: rock-mineral-fluid interaction in terrestrial and extraterrestrial environments. In: Metasomatism and the chemical transformation of rock: the role of fluids in terrestrial and extraterrestrial processes. Springer, Berlin, Heidelberg, pp 1–16. https://doi.org/10.1007/978-3-642-28394-9_1

Kwak TAP, Tan TH (1981) The importance of CaCl2 in fluid composition trends-evidence from King Island (Dolphin) skarn deposit. Econ Geol 76:955–960

Lattanzi P, Benvenuti M, Costagliola P, Maineri C, Mascaro I, Tanelli G, Dini A, Ruggieri G (2001) Magmatic versus hydrothermal processes in the formation of raw ceramic material deposits in southern Tuscany. In: Proceedings 10th International symposium on water-rock interaction, Villasimius, 10–15 June 2001, pp 725–728. http://hdl.handle.net/2158/5600

Leoni L, Tamponi M (1991) Thermometamorphism in the Campiglia Marittima aureole (Tuscany, Italy). N Jb Miner Mh 4:145–157

López-Moro FJ (2012) EASYGRESGRANT—A Microsoft Excel spreadsheet to quantify volume changes and to perform mass-balance modeling in metasomatic systems. Comput Geosci 39:191–196. https://doi.org/10.1016/j.cageo.2011.07.014

Meinert LD, Dipple GM, Nicolescu S (2005) World skarn deposits. Economic geology 100 h Anniversary, pp 299–336. https://doi.org/10.5382/av100.11

Moore DE, Liou JG (1979) Chessboard-twinned albite from Franciscan metaconglomerates in the Diablo Range, California. Am Miner 64:329–336

Orville PM (1963) Alkali-metasomatism and feldspar. Norsk Geol Tidsskr 42:283–316

Paoli G (2018) Petrogeochemical and geochronological framework of element mobility during magmatic-metasomatic processes (Campiglia Marittima, Tuscany). Plinius 44:67–71. https://doi.org/10.19276/plinius.2018.01010

Paoli G, Rocchi S, Dini A, Vezzoni S, Schaltegger U, Ovtcharova M (2017) The plutonic-subvolcanic-volcanic connection in the long-lived Campiglia Marittima igneous system (Tucany, Italy): a zircon CA-ID-TIMS dating study. Congresso SIMP-SGI-SOGEI-AIV 2017, 387, ISSN: 2038-1719

Park C, Song Y, Chung D, Kang I-M, Khulganakhuu C, Yi K (2016) Recrystallization and hydrothermal growth of high U-Th zircon in the Weondong deposit, Korea: Record of post-magmatic alteration. Lithos 260:268–285. https://doi.org/10.1016/j.lithos.2016.05.026

Parry W, Downey L (1982) Geochemistry of hydrothermal chlorite replacing igneous biotite. Clay Miner 30:81–90. https://doi.org/10.1346/CCMN.1982.0300201

Pinarelli L, Poli G, Santo A (1989) Geochemical characterization of recent volcanism from the Tuscan magmatic province (Central Italy): the Roccastrada and San Vincenzo centers. Per di Min 58:67–96

Pirajno F (2009) Hydrothermal processes and wall rock alteration. In: Hydrothermal processes and mineral systems. Springer, Dordrecht, pp 73–164 https://doi.org/10.1007/978-1-4020-8613-7_2

Pirajno F (2013) Effects of metasomatism on mineral systems and their host rocks: alkali metasomatism, skarns, greisens, tourmalinites, rodingites, black-wall alteration and listvenites. In: Metasomatism and the chemical transformation of rock: the role of fluids in terrestrial and extraterrestrial processes. Springer, Berlin, Heidelberg, pp 203–251. https://doi.org/10.1007/978-3-642-28394-9_7

Plümper O, Putnis A (2009) The complex hydrothermal history of granitic rocks: multiple feldspar replacement reactions under subsolidus conditions. J Pet 50:967–987. https://doi.org/10.1093/petrology/egp028

Poli G, Peccerillo A (2016) The Upper Miocene magmatism of the Island of Elba (Central Italy): compositional characteristics, petrogenesis and implications for the origin of the Tuscany Magmatic Province. Mineral Petrol 110:421–445. https://doi.org/10.1007/s00710-016-0426-6

Poli G, Manetti P, Tommasini S (1989) A petrological review on Miocene-Pliocene intrusive rocks from Southern Tuscany and Tyrrhenian Sea (Italy). Period di Mineral 58:109–126

Ridolfi F, Renzulli A, Perugini D, Cesare B, Braga R, Del Moro S (2016) Unravelling the complex interaction between mantle and crustal magmas encoded in the lavas of San Vincenzo (Tuscany, Italy). Part II: Geochemical overview and modelling. Lithos 244:233–249. https://doi.org/10.1016/j.lithos.2015.11.002

Rocchi S, Dini A, Mazzarini F, Poli G (2003) Campiglia Marittima and Gavorrano intrusive magmatism. Period di Mineral 72:127–132

Rodolico F (1945) Ragguagli sul granito del Campigliese. Atti della Soc Toscana di Sci Nat 73:62–74

Rossetti F, Faccenna C, Acocella V, Funicello R, Jolivt L, Salvini F (2000) Pluton emplacement in the northern Tyrrenian area, Italy. Geol Soc Lond 174:55–77. https://doi.org/10.1144/GSL.SP.1999.174.01.04

Samim (1983) Note di commento ai sondaggi di Monte Spinosa. Internal Report. http://www.neogeo.unisi.it/dbgmnew/ricerca.asp?act=see&id=11890

Schaltegger U (2007) Hydrothermal zircon. Elements 3:78–79. https://doi.org/10.2113/gselements.3.1.51

Seedorff E, Dilles JH, Proffett JM, Einaudi MT, Zurcher L, Stavast WJA, Johnson DA, Barton MD (2005) Porphyry deposits: characteristics and origin of hypogene features. Econ Geol 100:251–298

Sillitoe RH (2010) Porphyry copper systems. Econ Geol 105:3–41. https://doi.org/10.2113/gsecongeo.105.1.3

Sun SS, McDonough WF (1989) Chemical and isotopic systematics of oceanic basalts: implications for mantle composition and processes. In Magmatism in the Ocean Basins (eds A. D. Saunders and M. J. Norry). Geol Soc Lond 42:315–345. https://doi.org/10.1144/GSL.SP.1989.042.01.19

Vezzoni S, Dini A, Rocchi S (2016) Reverse telescoping in a distal skarn system (Campiglia Marittima, Italy). Ore Geol Rev 77:176–193. https://doi.org/10.1016/j.oregeorev.2016.03.001

Vezzoni S, Rocchi S, Dini A (2018) Lateral extrusion of a thermally weakened pluton overburden (Campiglia Marittima, Tuscany). Int J Earth Sci (Geol Rundsch) 107:1343. https://doi.org/10.1007/s00531-017-1539-9

Villaseca C, Pérez-Soba C, Merino E, Orejana D, López-García JA, Billstrom K (2012) Contrasted crustal sources for peraluminous granites of the segmented Montes de Toledo Batholith (Iberian Variscan Belt). J Geosci. https://doi.org/10.3190/jgeosci.035

Whitney DL, Evans BW (2010) Abbreviations for names of rock-forming minerals. Am Miner 95:185–187

Yang WB, Niu HC, Shan Q, Luo Y, Yu XY (2009) Ore-forming mechanism of the Baerzhe super-large rare and rare earth elements deposit. Acta Pet Sin 25:2924–2932
Acknowledgements
This work has been carried out as part of the Ph.D. project of GP, University of Pisa, with the support of the Project PRA_2018_19. Thanks to Sales Spa for granting access and sampling to active mining area. The paper greatly benefited for the constructive criticism of Stanislas Sizaret and an anonymous reviewer.
Electronic supplementary material
Below is the link to the electronic supplementary material.
 1 (supplementary) Backscattered electron image of: A) Cpx-rich exoskarn with Py trail and late quartz–calcite aggregates; B) pyrite–sphalerite aggregates in quartz-fluorite vein, with uraninite inclusions; C) pyrrhotite–pyrite vein in diopside-titanite endoskarn; D) sphalerite–pyrite–quartz vein in centimetric fluorite crystal; E) widespread uraninite crystals in quartz–fluorite vein; F) quartz–fluorite veinlet in metasomatized granite (PNG 2318 kb)
 2 (supplementary) Lithology and paragenetic distribution in the MS3 borehole. Data from Samim (1983) (PDF 131 kb)
About this article
Cite this article
Paoli, G., Dini, A. & Rocchi, S. Footprints of element mobility during metasomatism linked to a late Miocene peraluminous granite intruding a carbonate host (Campiglia Marittima, Tuscany). Int J Earth Sci (Geol Rundsch) 108, 1617–1641 (2019). https://doi.org/10.1007/s00531-019-01723-9
Received:

Accepted:

Published:

Issue Date:
Keywords
Magmatic-hydrothermal system

Fluid–rock interaction

Element mobility

Acidic metasomatism