Abstract
The Barkol Basin (BB) is an intramontane basin in the easternmost Tian Shan, Northwest China. We reconstructed the tectonic evolution of the BB based on an investigation of its stratigraphy and faults, and we differentiated the basin infill into Quaternary sediments and the Oligocene–Miocene Taoshuyuanzi Formation by combining field observations and geophysical data with borehole data. We used detrital zircon U–Pb dating and palaeo-currents to decipher the provenance of the lower Jurassic Badaowan Formation, which contains the only Mesozoic sediments throughout the easternmost Tian Shan. The results demonstrate that the BB and Harlik Range constitute the main sources. Furthermore, we found that the Taoshuyuanzi Formation unconformably overlies the Palaeozoic basement in the basin, indicating that the BB formed during the Oligocene–Miocene. Based on Magnetotelluric (MT) and seismic profiles, this formation was deposited under the control of basin-bounded faults. According to the field investigation, the boundary faults of the basin were recognized as sinistral strike-slip normal faults. Additionally, remote sensing and electron spin resonance (ESR) data provided valuable information on the Quaternary proluvial fan divisions, which suggest a multi-stage tectonic evolution of the basin during the Quaternary. The Mesozoic–Cenozoic basin evolution in the easternmost Tian Shan was divided into four phases based on an integrated analysis of the stratigraphy and structures of the Santanghu Basin and the Turpan-Hami Basin: (1) from the Late Triassic to the Early-Middle Jurassic, tectonic subsidence dominated the Santanghu Basin and Turpan-Hami Basin; (2) during the Late Jurassic-Eocene, the episodic uplift of the Tian Shan Mountains constricted the Turpan-Hami Basin and the Santanghu Basin; (3) during the Oligocene–Miocene, the BB formed as a subsidence basin controlled by sinistral strike-slip normal faults, and the basins filled with thick layers of clastic rocks; and (4) during the Pliocene–Quaternary, the eastern BB uplifted, and the basins deformed. In conjunction with previous research, the dynamic background of the formation of the BB was presumably related to the clockwise rotation of the Tarim Block to the south and the strong left-lateral movement of the Gobi-Tian Shan fault system.
This is a preview of subscription content, log in to check access.
Access options
Buy single article
Instant access to the full article PDF.
US$ 39.95
Price includes VAT for USA
Subscribe to journal
Immediate online access to all issues from 2019. Subscription will auto renew annually.
US$ 199
This is the net price. Taxes to be calculated in checkout.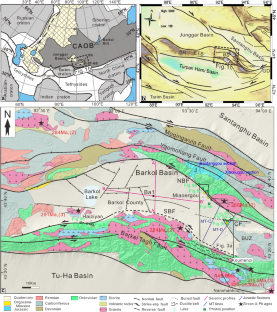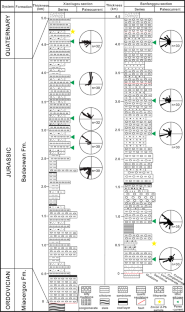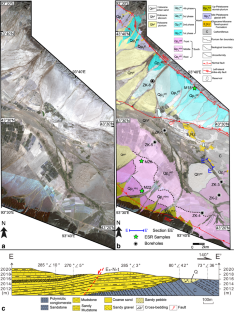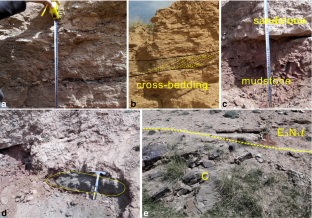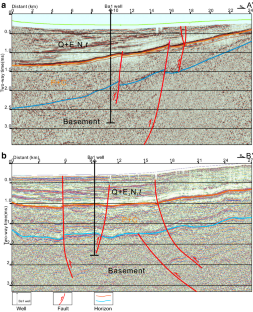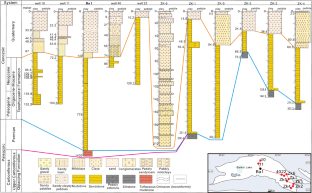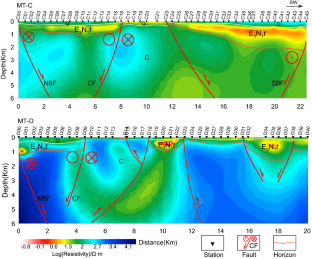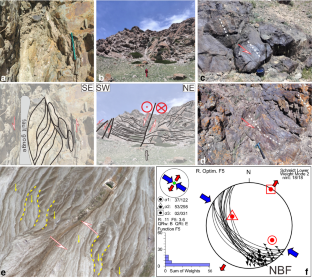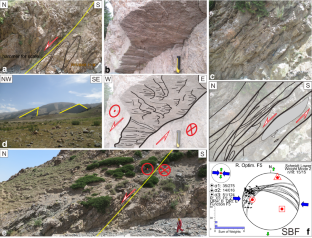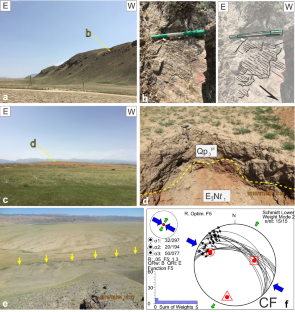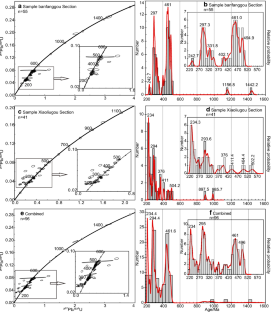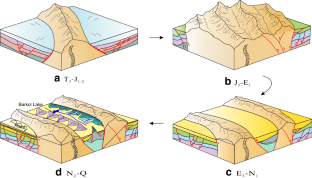 References
Allen MB, Windley BF, Zhang C, Zhao ZY, Wang GR (1991) Basin evolution within and adjacent to the Tienshan range, NW China. J Geol Soc London 148:369–378

Allen MB, Windley BF (1993) Evolution of the Turfan basin, Chinese central Asia. Tectonics 12:889–896

Avouac JP, Meyer B, Tapponnier P (1992) On the growth of normal faults and the existent of flats and ramps along the El-Asnam active fold-and-thrust system. Tectonics 11:1–11

Avouac JP, Tapponnier P, Bai M, You H, Wang G (1993) Active thrusting and folding along the northern Tienshan and late Cenozoic rotation of the Tarim relative to Dzungaria and Kazakhsta. J Geophys Res Solid Earth 98:6755–6804

Beerten K, Pierreux D, Stesmans A (2003) Towards single grain ESR dating of sedimentary quartz: first results. Quat Sci Rev 22:1329–1334

Bosboom R, Dupont-Nivet G, Huang W, Yang W, Guo Z (2014) Oligocene clockwise rotations along the eastern Pamir: tectonic and paleogeographic implications. Tectonics 33:53–66

Chen S, Wang J, Huang G, Yu W (2004) Formation and evolution of Turpan-Hami Basin. World Nucl Geosci 21:125–131 (in Chinese with English abstract)

Cunningham D (2010) Tectonic setting and structural evolution of the Late Cenozoic Gobi Altai orogen. Spec Publ Geol Soc Lond 338:361–387

Cunningham D (2013) Mountain building processes in intracontinental oblique deformation belts: lessons from the Gobi Corridor, Central Asia. J Struct Geol 46:255–282

Cunningham WD, Mann P (2007) Teconics of strike-slip restraining and releasing bends. Spec Publ Geol Soc Lond 290:1–12

Cunningham WD, Windley BF, Dorjnamjaa D, Badamgarov J, Saandar M (1996) Late Cenozoic transpression in southwestern Mongolia and the Gobi Altai-Tien Shan connection. Earth Planet Sci Lett 140:67–81

Cunningham D, Owen LA, Snee L, Li J (2003) Structural framework of a major intracontinental orogenic termination zone: the easternmost Tien Shan, China. J Geol Soc London 160:575–590

De Grave J, Buslov MM, Van den Haute P (2007) Distant effects of India-Eurasia convergence and Mesozoic intracontinental deformation in Central Asia: constraints from apatite fission-track thermochronology. J Asian Earth Sci 29:188–204

De Grave J, Glorie S, Ryabinin A, Zhimulev F, Buslov MM, Izmer A, Elburg M, Vanhaecke F, Van den Haute P (2012) Late Palaeozoic and Meso-Cenozoic tectonic evolution of the southern Kyrgyz Tien Shan: constraints from multi-method thermochronology in the Trans-Alai, Turkestan-Alai segment and the southeastern Ferghana Basin. J Asian Earth Sci 44:149–168

Dumitru TA, Zhou D, Chang EZ, Graham SA (2001) Uplift, exhumation, and deformation in the Chinese Tian Shan. Memoir Geol Soc Am 194:71–99

Fang S, Guo Z, Zhang Z, Wu C (2004) Discussion on Mesozoic–Cenozoic evolution of Tian Shan and its adjacent basins. Acta Sci Nat Univ Pekin 40:886–897 (in Chinese with English abstract)

Fang S, Song Y, Jia C, Wang X, Yuan Q (2007) The Mesozoic–Cenozoic clastic composition of Bogda Area, Xinjiang: implications on the evolution of basin–range pattern. Acta Geol Sin 81:1229–1237 (in Chinese with English abstract)

Gao SP, Ran YK, Wu FY, Xu LX, Wang H, Liang MJ (2017) Using UAV photogrammetry technology to extract information of tectonic activity of complex alluvial—a case study of an alluvial fan in the southern margin of Baokol basin. Seismol Geol 39:793–804 (in Chinese with English abstract)

Gillespie J, Glorie S, Jepson G, Zhang ZY, Xiao WJ, Danišík M, Collins AS (2017) Differential exhumation and crustal tilting in the Easternmost Tianshan (Xinjiang, China), revealed by low-temperature thermochronology. Tectonics 36:2142–2158

Glorie S, De Grave J, Buslov MM, Elburg MA, Stockli DF, Gerdes A, Van den Haute P (2010) Multi-method chronometric constraints on the evolution of the Northern Kyrgyz Tien Shan granitoids (Central Asian Orogenic Belt): from emplacement to exhumation. J Asian Earth Sci 38:131–146

Greene TJ, Carroll AR, Wartes M, Graham SA, Wooden JL (2005) Integrated provenance analysis of a complex orogenic terrane: mesozoic uplift of the Bogda Shan and inception of the Turpan-Hami Basin, NW China. J Sediment Res 75:251–267

Hendrix MS, Graham SA, Carroll AR, Sobel ER, Mcknight CL, Schulein BJ, Wang Z (1992) Sedimentary record and climatic implications of recurrent deformation in the Tian Shan: evidence from Mesozoic strata of the north Tarim, south Junggar, and Turpan basins, northwest China. Geol Soc Am Bull 104:53–79

Hendrix MS, Dumitru TA, Graham SA (1994) Late Oligocene-early Miocene unroofing in the Chinese Tian Shan: an early effect of the India-Asia collision. Geology 22:487–490

Heumann MJ, Johnson CL, Webb LE, Taylor JP, Jalbaa U, Minjin C (2014) Total and incremental left-lateral displacement across the East Gobi Fault Zone, southern Mongolia: implications for timing and modes of polyphase intracontinental deformation. Earth Planet Sci Lett 392:1–15

Ji H, Tao H, Wang Q, Qiu Z, Ma D, Qiu J, Liao P (2017) Early to middle jurassic tectonic evolution of the Bogda Mountains, Northwest China: evidence from sedimentology and detrital zircon geochronology. J Asian Earth Sci 153:57–74

Jiang S, Li S, Somerville ID, Lei J, Yang H (2015) Carboniferous–Permian tectonic evolution and sedimentation of the Turpan-Hami Basin, NW China: implications for the closure of the Paleo-Asian Ocean. J Asian Earth Sci 113:644–655

Jolivet M, Dominguez S, Charreau J, Chen Y, Li Y, Wang Q (2010) Mesozoic and Cenozoic tectonic history of the central Chinese Tian Shan: reactivated tectonic structures and active deformation. Tectonics 29:1–30

Lei X, Chen Y, Zhao J, Zhao J (2010) Modelling of current crustal tectonic deformation in the Chinese Tianshan orogenic belt constrained by GPS observations. J Geophys Eng 7:431–442

Lei X, Chen Y, Zhao C, Zhao J (2013) Three-dimensional thermo-mechanical modeling of the Cenozoic uplift of the Tianshan mountains driven tectonically by the Pamir and Tarim. J Asian Earth Sci 62:797–811

Li J, Wang K, Li Y, Sun G, Chu C, Li L, Zhu Z (2006) Eomorphological features, crustal composition and geological evolution of the Tianshan Mountains. Geol Bull China 25:895–909 (in Chinese with English abstract)

Li J, Yang T, Li Y, Zhu Z (2009) Geological features of the Karamaili faulting belt, eastern Junggar region, Xinjiang, China and its constraints on the reconstruction of Late Paleozoic ocean-continental framework of the Central Asian region. Geol Bull China 28:1817–1826 (in Chinese with English abstract)

Liu X (2004) Palaeogeography of the Meso-Cenozoic and crustal tectonic evolution of basin-mountain Area in Northwestern China. J Palaeogeography 6:448–458 (in Chinese with English abstract)

Liu Y, Hu Z, Gao S, Guenther D, Xu J, Gao C, Chen H (2008) In situ analysis of major and trace elements of anhydrous minerals by LA-ICP-MS without applying an internal standard. Chem Geol 257:34–43

Liu Y, Hu Z, Zong K, Gao C, Gao S, Xu J, Chen H (2010) Reappraisement and refinement of zircon U–Pb isotope and trace element analyses by LA-ICP-MS. Chin Sci Bull 55:1535–1546 (in Chinese with English abstract)

Liu W, Liu G, Zhou G, Li X, Zhang H, Xu H, Wang H (2014) Joint inversion of receiver function and surface wave dispersion for crust and upper mantle S-wave velocity structure beneath Tianshan and its adjacent regions. Acta Seismol Sin 36:20–31 (in Chinese with English abstract)

Ludwig KR (2003) Mathematical-statistical treatment of data and errors for Th-230/U geochronology. Uranium Series Geochem 16:631–656

Ma X, He D, Li T, Song Z (2011) Volcanic chronology in Neopaleozoic and structural evolution Of Balikun Basin. Chin J Geol 46:798–807 (in Chinese with English abstract)

Moinar P, Tapponnier P (1975) Cenozoic tectonics of Asia: effects of a continental collision. Science 4201:419–426

Moinar P, Tapponnier P (1977) Active faulting and tectonic in China. J Geophys Res 20:2902–2930

Şengör AMC, Natal'In BA, Burtman VS (1993) Evolution of the Altaid tectonic collage and Paleozoic crustal growth in Eurasia. Nature 364:299–307

Sircombe KN (1999) Tracing provenance through the isotope ages of littoral and sedimentary detrital zircon, eastern Australia. Sediment Geol 124:47–67

Sobel E, Chen J, Heermance R (2006) Late Oligocene-Early Miocene initiation of shortening in the Southwestern Chinese Tian Shan: implications for Neogene shortening rate variations. Earth Planet Sci Lett 247:70–81

Song L, Zhu G, Gu C, Zhai M (2015) Orogeny-related Activities of Kalamaili Fault Zone and Their Indications to the Orogenic Processes. Geol Rev 61:79–94

Sun G (2007) Structural deformation and tectonic evolution of Harlik Mountain, in Xinjiang since the Paleozoic. Dissertation, Chinese Academy of Geological Sciences (in Chinese with English abstract)

Sun G, Liu Y (2009) The preliminary analysis of the uplift time of Bogda Mountain, Xinjiang, Northwest China. Acta Sedimentol Sin 27:487–493 (in Chinese with English abstract)

Sun Y, Chen Z, Wang Y, Han F, Wu Y, Meng L, Zhang H (2016) Mechanisms of Meso-Cenozoic differential uplift of Tianshan Mountains. Geotect Et Metall 40:335–343 (in Chinese with English abstract)

Sun K, Chen C, Du JS, Wang LM, Lei BH (2018) Determination of Cenozoic sedimentary structures using integrated geophysical surveys: a case study in the Barkol Basin, Xinjiang, China. J Appl Geophys 148:152–162

Tang W, Zhang Z, Li J, Li K, Chen Y, Guo Z (2014) Late Paleozoic to Jurassic tectonic evolution of the Bogda area (northwest China): evidence from detrital zircon U–Pb geochronology. Tectonophysics 626:144–156

Tang W, Zhang Z, Li J, Li K, Luo Z, Chen Y (2015) Mesozoic and Cenozoic uplift and exhumation of the Bogda Mountain, NW China: evidence from apatite fission track analysis. Geosci Front 6:617–625

Tapponnier P, Molnar P (1979) Active faulting and Cenozoic tectonics of the Tien Shan, Mongolia, and Baykal regions. J Geophys Res 84:3425–3459

Tian Z, Sun J, Windley BF, Zhang Z, Gong Z, Lin X, Xiao W (2016) Cenozoic detachment folding in the southern Tianshan foreland, NW China: shortening distances and rates. J Struct Geol 84:142–161

Voinchet P, Falgueres C, Tissoux H, Bahain J, Despriee J, Pirouelle F (2007) ESR dating of fluvial quartz: estimate of the minimal distance transport required for getting a maximum optical bleaching. Quat Geochronol 2:363–366

Wang Z, Li T, Zhang J, Liu Y, Ma Z (2008) The uplift progresses of the Bogda Mountain and Its significance. Sci China Ser D 38:316–326 (in Chinese with English abstract)

Wang Q, Li S, Du Z (2009) Differential uplift of the Chinese Tianshan since the Cretaceous: constraints from sedimentary petrography and apatite fission-track dating. Int J Earth Sci 98:1341–1363

Webb LE, Johnson CL (2006) Tertiary strike-slip faulting in southeastern Mongolia and implications for Asian tectonics. Earth Planet Sc Lett 241:323–335

Wiedenbeck M, Alle P, Corfu F, Griffin WL, Meier M, Oberli F, Vonquadt A, Roddick JC, Speigel W (1995) Natural zircon standards for U–Th–Pb, Lu–Hf, trace-element and Ree analyses. Geostand Newslett 19:1–23

Wilhem C, Windley BF, Stampfli GM (2012) The Altaids of Central Asia: a tectonic and evolutionary innovative review. Earth Sci Rev 113:303–341

Windley BF, Allen MB, Zhang C, Zhao ZY, Wang GR (1990) Paleozoic accretion and Cenozoic redeformation of the Chinese Tien Shan Range, central Asia. Geology 18:128

Windley BF, Alexeiev D, Xiao W, Kroner A, Badarch G (2007) Tectonic models for accretion of the Central Asian Orogenic Belt. J Geol Soc London 164:31–47

Wu F, Ran Y, Xu L, Cao J, Li A (2017) Paleoseismological study of the late quaternary slip-rate along the South Barkol Basin Fault and its tectonic implications, Eastern Tian Shan, Xinjiang. Acta Geol Sin Engl 91:429–442

Xiao W, Huang B, Han C, Sun S, Li J (2010) A review of the western part of the Altaids: a key to understanding the architecture of accretionary orogens. Gondwana Res 18:253–273

Xu X, Jiang N, Li X, Wu C, Qu X, Zhou G, Dong L (2015a) Spatial-temporal framework for the closure of the Junggar Ocean in central Asia: new SIMS zircon U–Pb ages of the ophiolitic mélange and collisional igneous rocks in the Zhifang area, East Junggar. J Asian Earth Sci 111:470–491

Xu X, Li X, Jiang N, Li Q, Qu X, Yang Y, Zhou G, Dong L (2015b) Basement nature and origin of the Junggar terrane: new zircon U–Pb–Hf isotope evidence from Paleozoic rocks and their enclaves. Gondwana Res 28:288–310

Yang S, Miao L, Zhu M, Li X, Li J (2014a) Late Cenozoic structural deformation and tectono-geomorphic features along Gobi-Tianshan fault system. Geol China 41:1159–1166 (in Chinese with English abstract)

Yang W, Jolivet M, Dupont-Nivet G, Guo Z (2014b) Mesozoic–Cenozoic tectonic evolution of southwestern Tian Shan: evidence from detrital zircon U/Pb and apatite fission track ages of the Ulugqat area. Northwest China. Gondwana Res. 26:986–1008

Yang Y, Guo Z, Luo Y (2017) Middle-Late Jurassic tectonostratigraphic evolution of Central Asia, implications for the collision of the Karakoram-Lhasa Block with Asia. Earth Sci Rev 166:83–110

Yin A (2010) Cenozoic tectonic evolution of Asia: a preliminary synthesis. Tectonophysics 488:293–325

Yuan HL, Gao S, Liu XM, Li HM, Gunther D, Wu FY (2004) Accurate U–Pb age and trace element determinations of zircon by laser ablation-inductively coupled plasma-mass spectrometry. Geostand Geoanal Res 28:353–370

Yuan C, Sun M, Wilde S, Xiao W, Xu Y, Long X, Zhao G (2010) Post-collisional plutons in the Balikun area, East Chinese Tianshan: evolving magmatism in response to extension and slab break-off. Lithos 119:269–288

Zhao Z, Guo Z, Zhang C, Lu H (2003) Tectonic evolution of the Santanghu Basin, East Xinjiang and its implication for the hydrocarbon accumulation. Acta Sci Nat Univ Pekin 39:219–228 (in Chinese with English abstract)

Zhu WB, Shu LS, Sun Y, Wang F, Zhao ZY (2006a) Mesozoic–Cenozoic deformation of the central structure belt in the Turpan-Hami Basin, northwest China: tectonic evolution of an intracontinental basin, central Asia. Int Geol Rev 48:271–285

Zhu W, Shu L, Wan J, Sun Y, Wang F, Zhao Z (2006b) Fission-track evidence for the exhumation history of Bogda-Harlik Mountains, Xinjiang since the Cretaceous. Acta Geol Sin 80:16–22 (in Chinese with English abstract)

Zhu Z, Ji J, Xu Q, Wang L, Dongxia S, Gong J, Zhao L (2010) The Late cenozoic transpressional deformation and uplift of Bogda-Harlic Mountains. Chin J Geol 45:653–665 (in Chinese with English abstract)
Acknowledgments
This work was supported by the China Geological Survey (Grant Nos. DD20179607, DD20160060). We acknowledge the editor in chief (Prof. Albrecht von Quadt), the reviewer (Dr. Zeng Yun-chuan) and three anonymous reviewers for their detailed and constructive comments that have resulted in significant improvements in the paper. We are grateful to Zhang Pan, Zhao Xuan from China University of Geosciences (Wuhan) for their assistance in the field work and thank Research Institute of Tu-Ha Oilfield Company for providing the high-quality seismic data.
Electronic supplementary material
Below is the link to the electronic supplementary material.
About this article
Cite this article
Yue, C., Guocan, W., Xuan, Z. et al. Evolution of the Barkol Basin, eastern Tian Shan, and its geodynamic background. Int J Earth Sci (Geol Rundsch) 108, 1253–1271 (2019). https://doi.org/10.1007/s00531-019-01704-y
Received:

Accepted:

Published:

Issue Date:
Keywords
U–Pb geochronology

Barkol Basin

Eastern Tian Shan

Basin evolution