Abstract
Field relations, structural measurements, and microfabric analyses are used to explain the emplacement mechanisms of granitic plutons in the Asir terrane. These circular-to-elliptical granitic intrusions are prominent plutons scattered across the Arabian–Nubian Shield. Various structural and tectonic fabrics affecting three plutons in the western Arabian Shield encouraged studying the effect of pre-existing structures and emplacement levels on the emplacement mechanisms and related solid-state deformation. Two of these plutons, called Al Sayl and Um Ar Raka, are circular and enveloped by ductile or brittle solid-state deformation. Pre- and post-emplacement tectonic fabrics controlled the distribution and superposition of the solid-state deformation. Lateral expansion of magma during the emplacement of these plutons induced significant radial shortening that was associated with either high or low heat transfer into the host rocks and developed brittle or ductile solid-state deformation, respectively. Heat transfer was controlled by the emplacement level and magma pressure of each pluton. The third, oval-shaped Al Hawiyyah pluton was structurally controlled, where magma was emplaced first into twofold hinges on both sides of a thrust fault under low-to-intermediate differential stress. Syn-emplacement shortening was accommodated mainly by upward and lateral magma flows. Continuous magma flow caused uplift of the pluton and its surrounding host rocks and developed stretching structures in these rocks.
This is a preview of subscription content, log in to check access.
Access options
Buy single article
Instant access to the full article PDF.
US$ 39.95
Price includes VAT for USA
Subscribe to journal
Immediate online access to all issues from 2019. Subscription will auto renew annually.
US$ 199
This is the net price. Taxes to be calculated in checkout.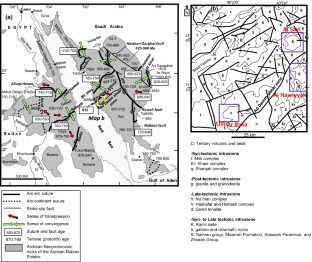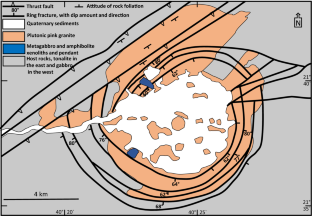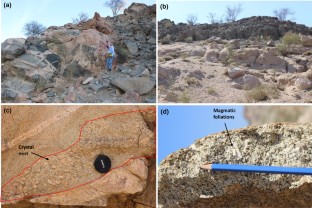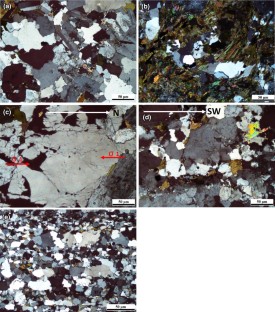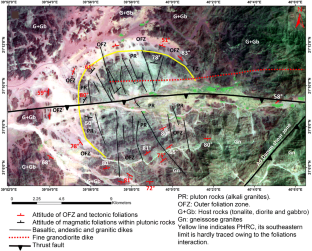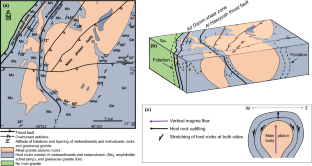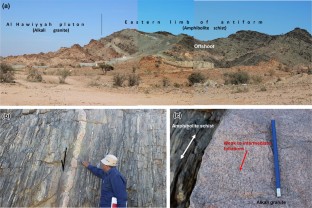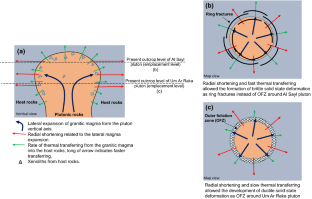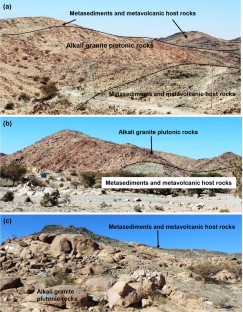 References
Abd-Allah AMA, Ahmed AH, El-Fakharani AS, El-Sawy EK, Ali KA (2014) Fatima suture: a new amalgamation zone in the western Arabian Shield, Saudi Arabia. Precambr Res 249:57–78

Abdelsalam MG, Stern RJ (1996) Sutures and shear zones in the Arabian-Nubian Shield. J Afr Earth Sci 23:289–310

Archanjo CJ, da Silva ER, Caby R (1999) Magnetic fabric and pluton emplacement in a transpressive shear zone system: the Itaporanga porphyritic granitic pluton (northeast Brazil). Tectonophysics 312(2–4):331–345

Asran AM, Emam A, El-Fakharani A (2017) Geology, structure, geochemistry and ASTER-based mapping of Neoproterozoic Gebel El-Delihimmi granites, Central Eastern Desert of Egypt. Lithos 282:358–372

Bateman R (1984) On the role of diapirism in the segregation, ascent and final emplacement of granitoids. Tectonophysics 10:211–231

Bhatt S, Rana V, Mamtani MA (2017) Deciphering relative timing of fabric development in granitoids with similar absolute ages based on AMS study (Dharwar Craton, South India). J Struct Geol 94:32–46

Black R, Liegeois J-P (1993) Cratons, mobile belts, alkaline rocks and continental lithospheric mantle: the Pan-African testimony. J Geol Soc Lond 150:89–98

Bouchez JL, Gleizes G, Djouadi T, Rochette P (1990) Microstructure and magnetic susceptibility applied to emplacement kinematics of granites: the example of the Foix pluton (French Pyrenees). Tectonophysics 184(2):157–171

Brown EH, Talbot JL (1989) Orogen-parallel extension in the North Cascades Crystalline Core, Washington. Tectonics 8:1105–1114

Clemens JD (1998) Observations on the origins and ascent mechanisms of granitic magmas. J Geol Soc 155(5):843–851

Collins AS, Pisarevsky SA (2005) Amalgamating eastern Gondwana: the evolution of the circum-Indian orogens. Earth Sci Rev 71:229–270

Cruden AR (1990) Flow and fabric development during the diapiric rise of magma. J Geol 98:681–698

Cruden AR (1998) On the emplacement of tabular granites. J Geol Soc Lond 155:853–862

Arabian Shield: Part II. Data acquisition 2004. Open File Report, Saudi Geological Survey, SGS-OF-2005-10

Depine GV, Andronicos CL, Hollister LS (2011) Response of continental magmatic arcs to regional tectonic changes recorded by synorogenic plutons in the middle crust: an example from the Coast Mountains of British Columbia. J Struct Geol 33:1089–1104

El-Fakharani AH, Takeshita T (2008) Brittle normal faulting in the highest-grade Sambagawa metamorphic rocks of central Shikoku, southwest Japan: indication of the exhumation into the upper crustal level. J Asian Earth Sci 33(5–6):303–322

El-Sawy EK, Masrouhi A (2018) Structural style and kinematic evolution of Al Ji'lani area, Ad Dawadimi terrane, Saudi Arabia. J Afr Earth Sc 150:451–465

El-Sawy EK, Eldougdoug A, Gobashy M (2018) Geological and geophysical investigations to delineate the subsurface extension and the geological setting of Al Ji'lani layered intrusion and its mineralization potentiality, Ad Dawadimi District, Kingdom of Saudi Arabia. Arab J Geosci 11:32

Emam A, Hamimi Z, El-Fakharani A, Abdel-Rahman E, Barreiro JG, Abo-Soliman MY (2018) Utilization of ASTER and OLI data for lithological mapping of Nugrus-Hafafit area, South Eastern Desert of Egypt. Arab J Geosci 11(23):756

Faure M, Natal'in BA, Monie P, Vrublevsky AA, Borukaiev C, Prikhodko V (1995) Tectonic evolution of the Anuy metamorphic rocks (Sikhote Alin, Russia) and their place in the Mesozoic geodynamic framework of East Asia. Tectonophysics 241(3):279–301

Flowerdew MJ, Whitehouse MJ, Stoeser DB (2013) The Nabitah fault zone, Saudi Arabia: a Pan-African suture separating juvenile oceanic arcs. Precambrian Res 239:95–105

Galadı́-Enrı́quez E, Galindo-Zaldı́var J, Simancas F, Expósito I (2003) Diapiric emplacement in the upper crust of a granitic body: the La Bazana granite (SW Spain). Tectonophysics 36(12):83–96

Gebelin A, Brunel M, Monié P, Faure M, Arnaud N (2007) Transpressional tectonics and Carboniferous magmatism in the Limousin, Massif Central, France: structural and 40Ar/39Ar investigations. Tectonics 26:2008. https://doi.org/10.1029/2005TC001822

Gleizes G, Leblanc D, Bouchez JL (1997) Variscan granites of the Pyrenees revisited: their role as syntectonic markers of the orogen. Terra Nova 9(1):38–41

Hamimi Z, El-Sawy EK, El-Fakharani A, Matsah M, Shujoon A, El-Shafei MK (2014a) Neoproterozoic Structural evolution of the NE-trending 620–540 Ma Ad-Damm Shear Zone, Arabian Shield, Saudi Arabia. J Afr Earth Sci 99:51–63

Hamimi Z, El-Fakharani A, Abdeen MM (2014b) Polyphase deformation history and strain analyses of the post-amalgamation depositional basins in the Arabian-Nubian Shield: evidence from Fatima, Ablah and Hammamat basins. J Afr Earth Sci 99:64–92

Hargrove US, Stern RJ, Kimura JI, Manton WI, Johnson R (2006) How juvenile Arabian-Nubian Shield? Evidence from Nd isotopes and pre-Neoproterozoic inherited zircon in the Bi'r Umq suture zone, Saudi Arabia. Earth Planet Sci Lett 252:308–326

Hutton DHW, Reavy RJ (1992) Strike-slip tectonics and granite petrogenesis. Tectonics 11(5):960–967

Hutton DHW, Dempster TJ, Brown PE, Becker SD (1990) A new mechanism of granite emplacement: intrusion in active extensional shear zones. Nature 343(6257):452

Johnson PR (2005a) Proterozoic geology of western Saudi Arabia, Northwestern sheet, Notes on Proterozoic stratigraphy. Saudi Geological Survey, Open-File Report, SGS-OF-2005-6, p 59

Johnson PR (2005b) Proterozoic geology of western Saudi Arabia, West-central sheet, Notes on Proterozoic stratigraphy. Saudi Geological Survey, Open-File Report, SGS-OF-2005-7, p 33

Johnson PR (2006) Explanatory notes to the map of Proterozoic geology of western Saudi Arabia. Saudi Geological Survey Technical Report SGS-TR-2006-4, 1:1,500,000 scale, p 62

Johnson PR (2014) An expanding Arabian-Nubian shield geochronologic and isotopic dataset: defining limits and confirming the tectonic setting of a neoproterozoic accretionary orogen. Open Geol J 8:3–33

Johnson PR, Andresen A, Collins AS, Fowler AR, Fritz H, Ghebreab W, Kusky T, Stern RJ (2011) Late Cryogenian–Ediacaran history of the Arabian-Nubian Shield: a review of depositional, plutonic, structural, and tectonic events in the closing stages of the northern East African Orogen. J Afr Earth Sci 61:167–232

Kennedy A, Johnson PR, Kattan FH (2005) SHRIMP Geochronology in the Northern Arabian Shield: Part II. Data Acquisition 2004. Open File Report, Saudi Geological Survey, SGS-OF-2005-10

Kennedy A, Kozdroj W, Johnson PR, Kattan FH (2011) SHRIMP Geochronology in the Northern Arabian Shield. Part III. Data Acquisition 2006. Saudi Geological Survey Open-File Report SGS-OF-2007-9

Kröner A, Linnebacher P, Stern RJ, Reischmann T, Manton WI, Hussein IM (1991) Evolution of Pan-African island arc assemblages in the southern Red Sea Hills, Sudan and in southwestern Arabia as exemplified by geochemistry and geochronology. Precambrian Res 53:99–118

Lundmark AM, Corfu F (2008) Emplacement of a Silurian granitic dyke swarm during nappe translation in the Scandinavian Caledonides. J Struct Geol 30:918–928

Mahan KH, Bartley JM, Coleman DS, Glazner AF, Carl BS (2003) Sheeted intrusion of the synkinematic McDoogle pluton, Sierra Nevada, California. Geol Soc Am Bull 115(12):1570–1582

Mahon KI, Harrison TM, Drew DA (1988) Ascent of a granitoid diaper in a temperature varying medium. J Geophys Res 93:1174–1188

Malavielle J (1993) Late orogenic extension in mountain belts: insights from the basin and range and the Late Paleozoic Variscan belt. Tectonics 12:1115–1130

Marsh BD (1982) On the mechanics of igneous diapirism, stopping, and zone melting. Am J Sci 282:808–855

Meert JG (2003) A synopsis of events related to the assembly of eastern Gondwana. Tectonophysics 362:1–40

Montanari D, Corti G, Sani F, Ventisette CD, Bonini M, Moratti G (2010) Experimental investigation on granite emplacement during shortening. Tectonophysics 484:147–155

Moore TA, Al-Rehaili MH (1989) Geological map of Makkah quadrangle, Sheet 21D, Kingdom of Saudi Arabia. Map GM107. Saudi Arabian Directorate General of Mineral Resources

Paterson S, Fowler T (1993) Re-examining pluton emplacement processes. J Struct Geol 15:191–206

Paterson SR, Vernon RH (1995) Bursting the bubble of ballooning plutons: a return to nested diapirs emplaced by multiple processes. Geol Soc Am 107:1356–1380

Paterson SR, Fowler TK, Schmidt KL, Yoshinobu AS, Yuan ES, Miller RB (1998) Interpreting magmatic fabric patterns in plutons. Lithos 44:53–82

Petford N (1996) Dykes or diapirs? Earth Environ Sci Trans R Soc Edinb 87(1–2):105–114

Plissart G, Diot H, Monnier C, Marunt M, Berger J (2012) Relationship between a syntectonic granitic intrusion and a shear zone in the Southern Carpathian-Balkan area (Almaj Mountains, Romania): implications for late Variscan kinematics and Cherbelezu granitoid emplacement. J Struct Geol 39:83–102

Ramsay JG (1989) Emplacement kinematics of a granite diapir. The Chindamora batholith, Zimbabwe. J Struct Geol 11:191–210

Reischmann T, Bachtadse V, Kröner A, Layer P (1992) Geochronology and paleomagmatism of a late Proterozoic island-arc terrane from the Red Sea Hills, northeast Sudan. Earth Planet Sci Lett 114:1–15

Robinson FA, Foden J, Collins AS, Payne J (2014) Arabian Shield magmatic cycles and their relationship with Gondwana assembly: insights from zircon U-Pb and Hf isotopes. Earth Planet Sci Lett 408:207–225

Schmeling H, Cruden AR, Marquart G (1988) Finite deformation in and around a fluid sphere moving through a viscous medium: implications for diapiric ascent. Tectonophysics 149:17–34

Simpson C (1985) Deformation of granitic rocks across the brittle-ductile transition. J Struct Geol 7(5):503–511

Smith JW (1980) Reconnaissance geology of the At Taif quadrangle, sheet 21/40C, Kingdom of Saudi Arabia: Saudi Arabian Directorate General of Mineral Resources Geologic map GM-56, 1:100,000 scale, with text, p 33

Stern RJ (1994) Arc assembly and continental collision in the Neoproterozoic east African Orogen: implication for the consolidation of Gondwanaland. Rev Earth Planet Sci 22:319–351

Stern JR, Johnson P (2010) Continental lithosphere of the Arabian Plate: a geologic, petrologic, and geophysical synthesis. Earth Sci Rev 101:29–67

Takeshita T, El-Fakharani AH (2013) Coupled micro-faulting and pressure solution creep overprinted on quartz schist deformed by intracrystalline plasticity during exhumation of the Sambagawa metamorphic rocks, southwest Japan. J Struct Geol 46:142–157

Talbot J, Marteletb G, Courriouxb G, Chena Y, Faure M (2004) Emplacement in an extensional setting of the Mont Loze`re–Borne granitic complex (SE France) inferred from comprehensive AMS, structural and gravity studies. J Struct Geol 26:11–28

Vigneresse JL (1995a) Control of granite emplacement by regional deformation. Tectonophysics 249:173–186

Vigneresse JL (1995b) Crustal regime of deformation and ascent of granitic magmas. Tectonophysics 249:187–202

Vigneresse JL, Tikoof B, Ameglio L (1999) Modification of the regional stress field by magma intrusion and formation of tabular granitic plutons. Tectonophysics 302:203–224

Wei W, Chen Y, Faure M, Shi YH, Martelet G, Hou QL, Lin W, LeBreton N, Wang QC (2013) A multidisciplinary study on the emplacement mechanism of the Qingyang-Jiuhua Massif in Southeast China and its tectonic bearings. Part I: structural geology, AMS and paleomagnetism. J Asian Earth Sci 86:76–93

Weinberg RF (1999) Mesoscale pervasive felsic magma migration: alternatives to dyking. Lithos 46(3):393–410

Wickham SM (1987) The segregation and emplacement of granitic magmas. J Geol Soc Lond 144:281–297

Zak J, Schulmann K, Hrouda F (2005) Multiple magmatic fabrics in the Sa´zava pluton (Bohemian Massif, Czech Republic): a result of superposition of wrench-dominated regional transpression on final emplacement. J Struct Geol 27:805–822

Ziab AM, Ramsay CR (1984) Geologic map of the Turabah quadrangle, sheet 21E, Kingdom of Saudi Arabia: Saudi Arabian Deputy Ministry for Mineral Resources Open-File Report DGMR-OF-04-3, 1:250,000 scale, with text, p 104
Acknowledgements
This project was funded by the Deanship of Scientific Research (DSR) at King Abdulaziz University, Jeddah, under grant no. 33-145-33. The authors, therefore, acknowledge with thanks DSR for technical and financial support. Special thanks and appreciations are due to Kamal A. Ali for his critical and constructive review and English check of the manuscript.
About this article
Cite this article
El-Fakharani, A., Abd-Allah, A.M.A., El-Sawy, E.K. et al. Emplacement levels and pre-existing structures control mechanisms and host rock interactions of three granitic plutons, western Arabian Shield. Int J Earth Sci (Geol Rundsch) 108, 1233–1251 (2019). https://doi.org/10.1007/s00531-019-01703-z
Received:

Accepted:

Published:

Issue Date:
Keywords
Arabian shield

Pluton emplacement

Solid-state deformations

Thermal transferring

Structurally controlled intrusions