Abstract
The Qilian Orogen in the northern margin of the Tibetan Plateau is the northernmost of the Tethyan domain. Abundant ophiolites record the closure of an early Tethyan ocean and amalgamations between micro-continents of North China, Qaidam, and Tarim. The Muli arc–ophiolite complex in the western segment of the South Qilian belt represents remnants of the Proto-Tethyan oceanic lithosphere. It comprises serpentinite, dunite, cumulate gabbro, basalt, plagiogranite, and chert, which are in tectonic contact with Upper Ordovician turbidites. Basalts have typical subduction-related calc-alkaline geochemical affinity, representing portions of an island arc. Geochemical results for plagiogranites and spinels from serpentinite indicate that the Muli arc–ophiolite complex represents a super-subduction zone (SSZ)-type ophiolite. U–Pb zircon data indicate formation associated with southward subduction of the Proto-Tethys Ocean during a short interval between 539 and 522 Ma. Results of petrology, geochemistry, and zircon U–Pb dating demonstrate that granitoids intruded into this complex are Middle to Late Ordovician (470–450 Ma) products of subduction-related arc magmatism. Voluminous Late Ordovician–Early Silurian rocks include deep-water marine siliciclastic and volcaniclastic turbidites and abundant volcanic arc rocks located to the south of the Muli arc–ophiolite complex, whereas fluvial coarse-grained sandstones and conglomerates unconformably overlie the Cambrian–Middle Ordovician ophiolite–arc systems in the eastern South Qilian belt. This indicates that closure of the Proto-Tethys Ocean was diachronous during the early Paleozoic.
This is a preview of subscription content, log in to check access.
Access options
Buy single article
Instant access to the full article PDF.
US$ 39.95
Price includes VAT for USA
Subscribe to journal
Immediate online access to all issues from 2019. Subscription will auto renew annually.
US$ 199
This is the net price. Taxes to be calculated in checkout.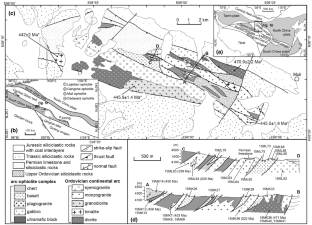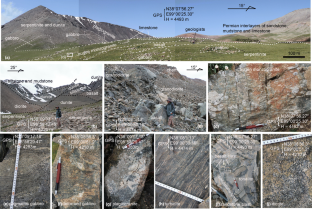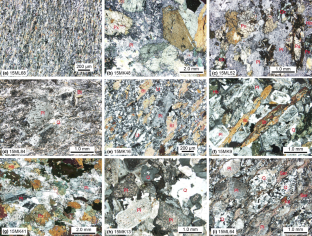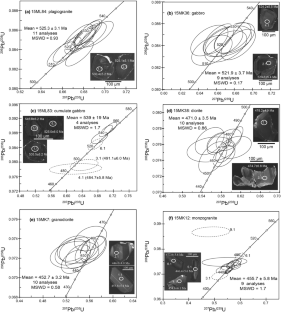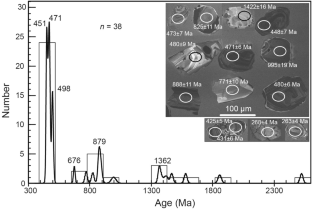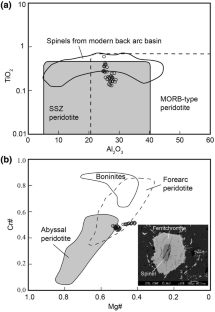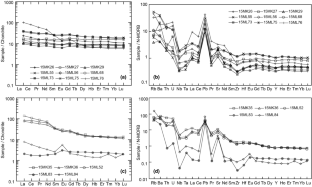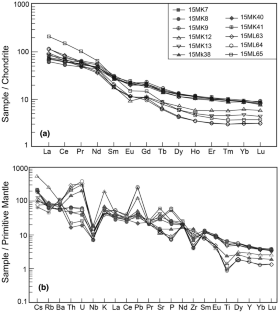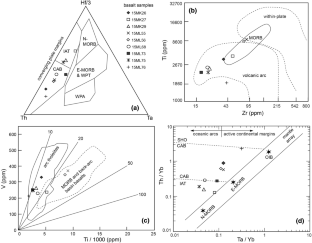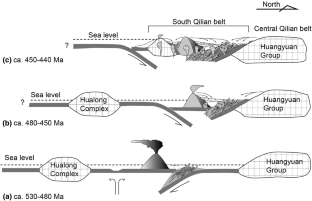 References
Aldiss DT (1981) Plagiogranites from the oceanic crust and ophilites. Nature 289:577–579

Anonymous (1972) Penrose field conference on ophiolites. Geotimes 17:24–25

Arai S (1994) Characterization of spinel peridotites by olivine-spinel compositional relationships: review and interpretation. Chem Geol 113:191–204

Bai XD, Yang B, Zhao ZG, Ouyang GW, Zhang ZQ, Hao CL (2018) LA-MC-ICPMS zircon U-Pb dating and geochemical characteristics of late Ordovician volcanic rocks in Southern Qilian Mountains, Qinghai province. Northwestern Geol 51:125–136 (in Chinese with English abstract)

Bao PS, Wan XB (1989) Some new ideas on the genesis of the Dadaoerji chromite deposit. Mineral Deposits 8:3–18 (in Chinese with English abstract)

BGEDQP (Bureau of Geological Exploration and Development of Qinghai Province) 2014. Geological reports of Muli (J47E012013) and Rixiaori (J47E012012) areas, 1:50000 (in Chinese)

Chappell BW, White AJR (1992) I- and S-type granites in the Lachlan Fold Belt. Trans R Soc Edinb 83:1–26

Coleman RG, Peterman ZE (1975) Oceanic plagiogranite. J Geophys Res 80:1099–1108

Das S, Mukherjee BK, Basu AR, Sen K Jr (2015) Peridotitic minerals of the Nidar Ophiolite in the NW Himalaya: sourced from the depth of the mantle transition zone and above. Geol Soc London 412:271–286

Das S, Basu AR, Mukherjee BK (2017) In situ peridotitic diamond in Indus ophiolite sourced from hydrocarbon fluids in the mantle transition zone. Geology 45:755–758

Dayem KE, Molnar P, Clark MK, Houseman GA (2009) Far-field lithospheric deformation in Tibet during continental collision. Tectonics 28:TC6005. https://doi.org/10.1029/2008tc002344

Deng QL, Yang WR (1998) Geochemical Evidence of the Early Paleozoic opening and closing evolution and mineralization in Laji Mountain, Qinghai province. Geol Rev 44:15–22 (in Chinese with English abstract)

Dick HJB, Bullen T (1984) Chromian spinel as a petrogenetic indicator in abyssal and alpine-type peridotites and spatially associated lavas. Contrib Mineral Petrol 86:54–76

Dilek Y, Furnes H (2011) Ophiolite genesis and global tectonics: geochemical and tectonic fingerprinting of ancient oceanic lithosphere. Geol Soc Am Bull 123:387–411

Dilek Y, Furnes H (2014) Ophiolites and their origins. Elements 10:93–100

Dobrzhinetskaya LF, Wirth R, Yang JS, Hutcheon ID, Weber PK, Green HW (2009) High-pressure highly reduced nitrides and oxides from chromitite of a Tibetan ophiolite. Proc Natl Acad Sci 106(46):19233–19238

Dong X, Li J (1981) Tectonism during metallization of Dadaoerji chromite deposit in northwest China. Northwest Geosci 2(1):23–39 (in Chinese with English abstract)

Dong Y, Zhang G, Neubauer F, Liu X, Genser J, Hauzenberger C (2011) Tectonic evolution of the Qinling orogen, China: review and synthesis. J Asian Earth Sci 41(3):213–237

Feng Y, He S (1995) Basic characteristics of tectonics in the Qilian Mountains and its neighbourings—on genetic environments of early Paleozoic marine volcanic. Northwest Geosci 16:92–103

Fu CL, Yan Z, Wang ZQ, Buckman S, Aitchison JC, Niu ML, Cao B, Guo XQ, Li XC, Li YS, Li JL (2018) Lajishankou ophiolite complex: implications for paleozoic multiple accretionary and collisional events in the South Qilian Belt. Tectonics 37:1321–1346

Fu CL, Yan Z, Guo XQ, Niu ML, Cao B, Wu Q, Li XC, Wang ZQ (2019) Assembly and dispersal history of continental blocks within the Altun-Qilian-North Qaidam mountain belt, NW China. Int Geol Rev 61(4):424–447

Gao YL (2000) Compiling the plate tectonic map on Qing-Tibet plateau. Qinghai Sci Technol 7:14–18 (in Chinese with English abstract)

Gehrels G, Kapp P, DeCelles P, Pullen A, Blakey R, Weislogel A, Ding L, Guynn J, Martin A, McQuarrie N, Yin A (2011) Detrital zircon geochronology of pre-Tertiary strata in the Tibetan-Himalayan orogen. Tectonics 30:5016. https://doi.org/10.1029/2011tc002868

Hou Q, Zhang H, Zhang B, Zhao Z, Zhu Y (2005) Characteristics and tectonic affinity of Lajishan paleo-mantle in Qilian orogenic belt: a geochemical study of basalts. Earth Sci Front 30:61–70 (in Chinese with English abstract)

Huang Z, Zheng J, Li B, Qi W, Wei Z, Chen X (2016) Age and geochemistry of the Early Paleozoic back-arc type ophiolite in Dadaoerji area, South Qilian, China. Geotectonica et Metallogenia 8:826–838

Iyer K, Austrheim H, John T, Jamtvert B (2008) Serpentinization of the oceanic lithosphere and some geochemical consequences: constraints from the Leka Ophiolite Complex, Norway. Chem Geol 249:66–90

Jafri SH, Charan SN, Govil PK (1995) Plagiogranite from the Andaman ophiolite belt, Bay of Bengal, India. J Geol Soc 152:681–687

Kamenetsky VS, Crawford AJ, Meffre S (2001) Factors controlling chemistry of magmatic spinel: an empirical study of associated olivine, Cr-spinel and melt inclusions from primitive rocks. J Petrol 42(4):655–671

Köksal S, Toksoy-Köksal F, Göncüoglu MC (2017) Petrogenesis and geodynamics of plagiogranites from Central Turkey (Ekecikdağ/Aksaray): new geochemical and isotopic data for generation in an arc basin system within the northern branch of Neotethys. Int J Earth Sci 106:1181–1203

Leat PT, Pearce JA, Barker PF, Millar IL, Barry TL, Larter RD (2004) Magma genesis and mantle flow at a subducting slab edge: the South Sanwich arc-basin system. Earth Planet Sci Lett 227:17–35

Li DL, Sun DL, Zhao ZY, Sun J, Yang ZZ, Tian Z, Li XM, Yang BZ (2018) A discussion on the geological characteristics and formation time of Balonggongga'er Formation in Xiawu area of Qinghai Province. Geol Bull China 37:634–641 (in Chinese with English abstract)

Ludwig KR (2003) Isospot/EX, version 3.00. A geochronological toolkit for Microsoft Excel, vol 4. Geochronology Center Special Publications, Berkeley, p 73

Maniar PD, Piccoli PM (1989) Tectonic discrimination of granitoids. Geol Soc Am Bull 101:635–643

Metcalf RV, Shervais JW (2008) Suprasubduction-zone ophiolites: is there really an ophiolite conundrum? In: Wright JE, Shervais JW (eds) Ophiolites, arcs, and batholiths: a tribute to cliff hopson, vol 438. Geological Society of America Special Paper, Miami, pp 191–222

Moores EM, Kellogg L, Dilek Y (2000) Tethyan ophiolites, mantle convection, and tectonic "historical contingency": a resolution of the "ophiolite conundrum". Geol Soc Am Spec Pap 349:3–12

Mukherjee S (2013) Deformation microstructures in rocks. Springer Geochemistry/Mineralogy, Berlin, p 111

Mukherjee S (2014) Atlas of shear zone structures in meso-scale. Springer Geology, New York, p 124

Niu GZ, Huang G, Deng CS, Xu Y, Chen T, Ji C, Li WJ (2016) LA-ICP-MS zircon U-Pb ages of metamorphic volcanic rocks in Balonggongge'er Formation of South Qilian Mountain in Qinghai Province and their geological significance. Geol Bull China 35:1441–1447

Pan GT, Xiao QH, Lu SN, Deng JF, Feng YM, Zhang KX, Zhang ZY, Wang FG, Xing GF, Hao GJ, Feng YF (2009) Subdivision of tectonic units in China. Geol China 36:1–28 (in Chinese with English abstract)

Pearce JA (1982) Trace element characteristics of lavas from destructive plate boundaries. In: Thorpe RS (ed) Andesites. Wiley, Chichester, pp 525–548

Pearce JA, Peat DW (1995) Tectonic implications of the composition of volcanic arc magmas. Annu Rev Earth Planet Sci 23:251–285

Pearce JA, Harris NWB, Tindle AG (1984) Trace element discrimination diagrams for the tectonic interpretation of granitic rocks. J Petrol 25:956–983

Peccerillo A, Taylor SR (1976) Geochemistry of Eocene calc-alkaline volcanic rocks from Kastamonu area, northern Turkey. Contrib Miner Petrol 58:63–81

Qiu J, Zeng G, Wang S, Zhu Y (1995) Early Paleozoic volcanic rocqiuks in Laji Mountains. Northwest Geosci 16:69–83 (in Chinese with English abstract)

Rollinson H (2009) New models for the genesis of plagiogranites in the Oman ophiolite. Lithos 112:603–614

Şengör AMC, Altiner D, Cin A, Ustaömer T, Hsü KJ (1988) Origin and assembly of the Tethyside orogenic collage at the expense of Gondwana-land. Geol Soc London 37:119–181

Shand SJ (1943) The eruptive rocks, 2nd edn. John Wiley, New York, p 444

Shervais JW (1982) Ti-V plots and the petrogenesis of modern ophiolitic lavas. Earth Planet Sci Lett 59:101–118

Shi RD, Yang JS, Wu CL, Wooden J (2004) First SHRIMP dating for the formation of the Late Sinian Yushigou ophiolite, North Qilian Mountains. Acta Geol Sinica 78:649–657 (in Chinese with English abstract)

Smith AD, Yang HY (2006) The neodymium isotopic and geochemical composition of serpentinites from ophiolitic assemblages in the Qilian fold belt, northwest China. J Asian Earth Sci 28:119–132

Song S, Niu Y, Su L, Xia X (2013) Tectonics of the North Qilian orogen, NW China. Gondwana Res 23:1378–1401

Song S, Yang L, Zhang Y, Niu Y, Wang C, Su L, Gao Y (2017) Qi-Qin accretionary belt in Central China Orogen: accretion by trench jam of oceanic Plateau and formation of intra-oceanic arc in the Early Paleozoic Qin-Qi-Kun Ocean. Sci Bull 62:1035–1038

Su WJ, Woodward RL, Dziewonski AM (1992) Deep origin of mid-oceanic ridge velocity anomalies. Nature 360:149–152

Sun S-S, McDonough WF (1989) Chemical and isotopic systematics of oceanic basalts: implications for mantle composition and processes. Geol Soc London 42:313–345

Tseng CY, Yang HJ, Yang HY, Liu DY, Tsai CL, Wu HQ, Zuo GC (2007) The Dongcaohe ophiolite from the North Qilian Mountains: a fossil oceanic crust of the Paleo-Qilian ocean. Chin Sci Bull 52:2390–2401

Tung KA, Yang HY, Yang HJ, Smith A, Liu DY, Zhang JX, Wu CL, Shau YH, Weng DJ, Tseng CY (2016) Magma sources and petrogenesis of the early–middle Paleozoic backarc granitoids from the central part of the Qilian block, NW China. Gondwana Res 38:197–219

Wang Q, Liu XY (1976) Paleo-oceanic crust of the Chilienshan region, western China and its tectonic significance. Sci Geol Sin 1:42–55 (in Chinese with English abstract)

Wang T, Wang Z, Yan Z, Ma Z, He S, Fu C, Wang D (2016) Geochronological and geochemical evidence of amphibolites from the Hualong Group, northwest China: implication for the early Paleozoic accretionary tectonics of the Central Qilian belt. Lithos 248–251:12–21

Wood DA (1980) The application of a Th-Hf-Ta diagram to problems of tectonomagmatic classification and to establishing the nature of crustal contamination of basaltic lavas of the British Tertiary volcanic province. Earth Planet Sci Lett 50:11–30

Wu C, Wooden JL, Robinson PT, Gao Y, Wu S, Chen Q, Mazdab F, Mattinson C (2009) Geochemistry and zircon SHRIMP U-Pb dating of granitoids from the west segment in the North Qaidam. Sci China (Series D) 52:1771–1790

Xia LQ, Xia ZC (1991) Marine volcanic rocks from Qilian and Qinling Mountains. China University of Geosciences Press, Beijing, p 304 (in Chinese)

Xia L, Xia Z, Xu X (2003) Magmageneisis in the Ordovician in back basins of the northern Qilian Mountains, China. Geol Soc Am Bull 115:1510–1522

Xia L-Q, Li X-M, Yu J-Y, Wang G-Q (2016) Mid-late neoproterozoic to early paleozoic volcanism and tectonic evolution of the Qilianshan, NW China. Geo Res J 9–12:1–41

Xiao W, Windley BF, Hao J, Li J (2002) Arc-ophiolite obduction in the Western Kunlun Range (China): implications for the Palaeozoic evolution of central Asia. J Geol Soc London 159:517–528

Xiao W, Windley BF, Yong Y, Yan Z, Yuan C, Liu C, Li J (2009) Early paleozoic to devonian multiple-accretionary model for the Qilian Shan, NW China. J Asian Earth Sci 35:323–333

Yamamoto S, Komiya T, Hirose K, Maruyama S (2009) Coesite and clinopyroxene exsolution lamellae in chromites: in situ ultrahigh-pressure evidence from podiform chromitites in the Luobusa ophiolite, southern Tibet. Lithos 109:314–322

Yamamoto S, Komiya T, Yamamoto H, Kaneko Y, Terabayashi M, Katayama I, Hirata T (2013) Recycled crustal zircons from podiform chromitites in the Luobusa ophiolite, southern Tibet. Island Arc 22(1):89–103

Yan Z, Xiao W, Windley BF, Wang Z, Li J (2010) Silurian clastic sediments in the North Qilian Shan, NW China: chemical and isotopic constraints on their forearc provenance with implications for the Paleozoic evolution of the Tibetan Plateau. Sed Geol 231:98–114

Yan Z, Wang Z, Li J, Xu Z, Deng J (2012) Tectonic settings and accretionary orogenesis of the West Qinling Terrane, northeastern margin of the Tibet Plateau. Acta Petrol Sin 28:1808–1828 (in Chinese with English abstract)

Yan Z, Aitchison J, Fu C, Guo X, Niu M, Xia W, Li J (2015) Hualong complex, south Qilian terrane: U-Pb and Lu-Hf constraints on neoproterozoic micro-continental fragments accreted to the northern proto-Tethyan margin. Precambr Res 266:65–85

Yang W, Deng Q, Wu X (2002) Major characteristics of the Lajishan orogenic belt of the South Qilian Mountains and its geotectonic attribute. Acta Geol Sin 76:110–117

Yang J-S, Dobrzhinetskaya L, Bai W-J, Fang Q-S, Robinson PT, Zhang J, Green HW (2007) Diamond- and coesite-bearing chromitites from the Luobusa ophiolite, Tibet. Geology 35:875–878

Yang J, Du Y, Cawood PA, Xu Y (2012) From subduction to collision in the Northern Tibetan Plateau: evidence from the Early Silurian clastic rocks, northwestern China. J Geol 120:49–67

Zeng G, Qiu J, Zhu Y (1997) Ophiolitic suite of Lajishan orogenic belt and its paleotectonic setting. Qinghai Geol 1:1-6 (in Chinese with English abstract)

Zhang XT, Yang SD (2007) The plate tectonics of Qinghai province - a guide to the geotectonic map of Qinghai province. Geological Publishing House, Beijing, p 221 (in Chinese)

Zhang J, Yu S, Li Y, Yu X, Lin Y, Mao X (2015) Subduction, accretion and closure of Proto-Tethyan Ocean: early Paleozoic accretion/collision orogen in the Altun-Qilian-North Qaidam orogenic system. Acta Petrologica Sinica 31:3531–3554 (in Chinese with English abstract)

Zhang RY, Shau YH, Yang JS, Liou JG (2017) Discovery of clinoenstatite in the Luobusa ophiolitic mantle peridotite recovered from a drill hole, Tibet. J Asian Earth Sci 145:605–612

Zuo GC, Li ZL (2001) Features and evolution history of Lajishan rift zone. Acta Geol Gansu 10:26–31 (in Chinese with English abstract)
Acknowledgements
Support for this work was provided by the National Natural Science Foundation of China (Grants 41872241, 41672221, 41702239) and the Geological Survey Program of China (DD20190006, DD20160201-04, DD20160022-02). We are grateful to Editor Wolf-Christian Dullo, Associate Editor Soumyajit Mukherjee, reviewer Ramananda Chakrabarti, and two anonymous reviewers, whose critical comments and constructive evaluation have significantly improved the quality of the paper.
Electronic supplementary material
Below is the link to the electronic supplementary material.
About this article
Cite this article
Yan, Z., Fu, C., Aitchison, J.C. et al. Early Cambrian Muli arc–ophiolite complex: a relic of the Proto-Tethys oceanic lithosphere in the Qilian Orogen, NW China. Int J Earth Sci (Geol Rundsch) 108, 1147–1164 (2019). https://doi.org/10.1007/s00531-019-01699-6
Received:

Accepted:

Published:

Issue Date:
Keywords
Muli arc–ophiolite complex

SSZ-type ophiolite

Proto-Tethys Ocean

Arc-continent collision

Qilian Orogen