Abstract
Understanding the change in the climate at the regional scale during the industrial period is essential for future climate projections. Among various proxy methods, temperatures from thermally conductive boreholes offer a direct method of determination of surface temperatures changes in time. In this study, we use temperature-depth data from six boreholes in western and central Anatolia regions of Turkey, and present reconstructions of the surface temperatures during the last century. The boreholes are located in rural areas where urban heat island effects are minimal. Regionally averaged GST models give cooling of 0.33 °C and 0.42 °C between 1900 and 1990, and warming of 1.47 °C and 1.66 °C between 1990 and 2010, for the western and central Anatolian sites, respectively. The overall changes in the surface temperatures since the beginning of the twentieth-century are calculated to be + 1.14 °C and + 1.13 °C, in each region. The instrumental SAT records in these regions which are available from 1950 show a general agreement with the GST models. The rate of recent warming since the early 1990's is calculated to be 5.7 °C per 100-year for both regions. This value is within the range proposed by regional climate projections for the Eastern Mediterranean region.
This is a preview of subscription content, log in to check access.
Access options
Buy single article
Instant access to the full article PDF.
US$ 39.95
Price includes VAT for USA
Subscribe to journal
Immediate online access to all issues from 2019. Subscription will auto renew annually.
US$ 199
This is the net price. Taxes to be calculated in checkout.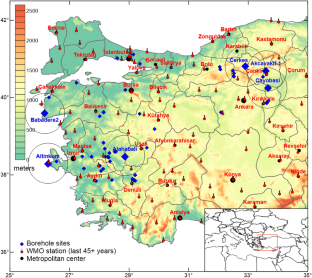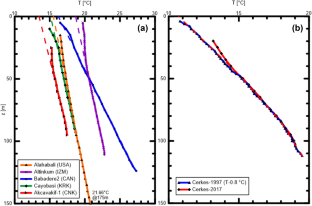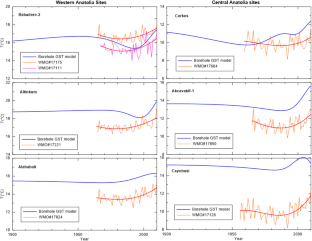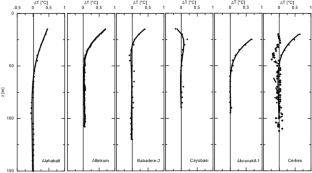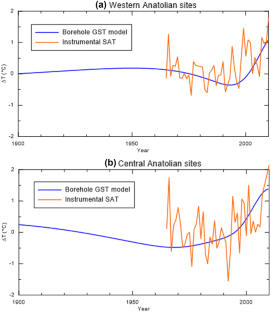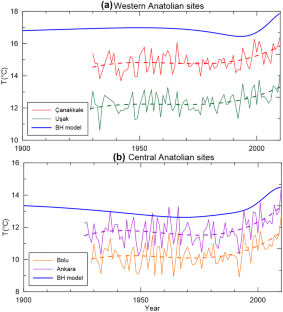 References
Alpert P, Krichak SO, Shafir H, Haim D, Osetinsky I (2008) Climatic trends to extremes employing regional modeling and statistical interpretation over the E. Mediterranean. Glob Planet Change 63:163–170

Balkan E, Erkan K, Şalk M (2017) Thermal conductivity of major rock types in western and central Anatolia regions, Turkey. J Geophys Eng 14:909–919

Birch AF (1948) The effects of Pleistocene climatic variations upon geothermal gradients. Am J Sci 2462:729–760

Clow GD (1992) The extent of temporal smearing in surface-temperature histories derived from borehole temperature measurements. Palaeogeogr Palaeoclimatol Palaeoecol 98:81–86

Dahl-Jensen D, Mosegaard K, Gundestrup N, Clow GD, Johnsen SJ, Hansen AW, Balling N (1998) Past temperatures directly from the Greenland ice sheet. Science 282:268–271

Diment WH (1967) Thermal regime of a large diameter borehole: instability of the water column and comparison of air-and water-filled conditions. Geophysics 32:720–726

Erkan K (2015) Geothermal investigations in western Anatolia using equilibrium temperatures from shallow boreholes. Solid Earth 6:103–113

González-Rouco F, Von Storch H, Zorita E (2003) Deep soil temperature as proxy for surface air–temperature in a coupled model simulation of the last thousand years. Geophys Res Lett. https://doi.org/10.1029/2003GL018264

Gosnold WD, Todhunter PE, Schmidt W (1997) The borehole temperature record of climate warming in the mid-continent of North America. Global Planet Change 15:33–45

Hegerl GC, Crowley TJ, Allen M, Hyde WT, Pollack HN, Smerdon J, Zorita E (2007) Detection of human influence on a new, validated 1500-year temperature reconstruction. J Clim 20:650–666

Huang S (2004) Merging information from different resources for new insights into climate change in the past and future. Geophys Res Lett 5:5. https://doi.org/10.1029/2004GL019781

Huang S, Pollack HN, Shen PY (2000) Temperature trends over the past five centuries reconstructed from borehole temperatures. Nature 403(6771):756

İlkışık OM, Yenigün HM, Şardar S, Oğuz S, Yalçın MN, Sarı C, Okay N, Bayrak M (1996) Ege Bölgesi'nde Jeotermik Araştırmalar, TÜBİTAK Project YDABÇAG-430/G (in Turkish)

Jansen E, Overpeck J, Briffa KR, Duplessy J-C, Joos F, Masson-Delmotte V, Olago D, Otto-Bliesner B, Peltier WR, Rahmstorf S, Ramesh R, Raynaud D, Rind D, Solomina O, Villalba R, Zhang D (2007) Palaeoclimate. In: Solomon S, Qin D, Manning M, Chen Z, Marquis M, Averyt KB, Tignor M, Miller HL (eds) Climate Change 2007: the physical science basis. Contribution of working group I to the fourth assessment report of the intergovernmental panel on climate change. Cambridge University Press, Cambridge, United Kingdom and New York, NY, USA

Lachenbruch AH, Marshall BV (1986) Changing climate: geothermal evidence from permafrost in the Alaskan Arctic. Science 234:689–696

Masson-Delmotte V, Schulz M, Abe-Ouchi A., Beer J, Ganopolski A, González Rouco JF, Jansen E, Lambeck K, Luterbacher J, Naish T, Osborn T, Otto-Bliesner B, Quinn T, Ramesh R, Rojas M, Shao X, Timmermann A (2013) Information from Paleoclimate archives. In: Stocker TF, Qin D, Plattner GK, Tignor M, Allen SK, Boschung J, Nauels A, Xia Y, Bex V, Midgley PM (eds) Climate Change 2013: the physical science basis. Contribution of working group I to the fifth assessment report of the intergovernmental panel on climate change. Cambridge University Press, Cambridge, United Kingdom and New York, NY, USA

Melo-Aguilar C, González-Rouco JF, García-Bustamante E, Navarro-Montesinos J, Steinert N (2018) Influence of radiative forcing factors on ground–air temperature coupling during the last millennium: implications for borehole climatology. Clim Past 14:1583–1606

Moberg A, Sonechkin DM, Holmgren K, Datsenko NM, Karlén W (2005) Highly variable Northern Hemisphere temperatures reconstructed from low-and high-resolution proxy data. Nature 433:613–617

Nicoll K, Küçükuysal C (2012) Emerging multi-proxy records of Late Quaternary Palaeoclimate dynamics in Turkey and the surrounding region. Turk J Earth Sci 22:126–142

Önol B, Semazzi FHM (2009) Regionalization of climate change simulations over the Eastern Mediterranean. J Clim 22:1944–1961

Orsi AJ, Cornuelle BD, Severinghaus JP (2012) Little Ice Age cold interval in West Antarctica: evidence from borehole temperature at the West Antarctic Ice Sheet (WAIS) divide. Geophys Res Lett. https://doi.org/10.1029/2012GL051260

Pasquale V, Verdoya M, Chiozzi P, Bodri L, Bellani S (2005) Temperature signal in the underground for climate history reconstruction in Italy. Global Planet Change 47:36–50

Pollack HN (1993) Climate change inferred from borehole temperatures. Global Planet Change 7:173–179

Pollack HN, Huang S (2000) Climate reconstruction from subsurface temperatures. Annu Rev Earth Planet Sci 28:339–365

Pollack HN, Smerdon JE (2004) Borehole climate reconstructions: spatial structure and hemispheric averages. J Geophys Res Atmos. https://doi.org/10.1029/2003JD004163

Pollack HN, Shen PY, Huang S (1996) Inference of ground surface temperature history from subsurface temperature data: interpreting ensembles of borehole logs. Pure Appl Geophys 147:537–550

Pollack HN, Huang S, Shen PY (1998) Climate change record in subsurface temperatures: a global perspective. Science 282:279–281

Robertson EC (1988) Thermal properties of rocks. US Geological Survey No. 88-441

Shen PY, Beck AE (1991) Least squares inversion of borehole temperature measurements in functional space. J Geophys Res Solid Earth 96:19965–19979

Smerdon JE, Pollack HN, Cermak V, Enz JW, Kresl M, Safanda J, Wehmiller JF (2006) Daily, seasonal, and annual relationships between air and subsurface temperatures. J Geophys Res Atmos. https://doi.org/10.1029/2004JD005578

Stevens MB, González-Rouco JF, Beltrami H (2008) North American climate of the last millennium: Underground temperatures and model comparison. J Geophys Res Earth Surface. https://doi.org/10.1029/2006JF000705

Tayanc M, Toros M (1997) Urbanization effects on regional climate change in the case of four large cities of Turkey. Clim Change 35:501–524

Tayanç M, İm U, Doğruel M, Karaca M (2009) Climate change in Turkey for the last half century. Clim Change 94:483–502
Acknowledgements
The FSI software was kindly provided by P.Y. Shen (University of Western Ontario). Ozan Mert Göktürk (Ondokuz Mayıs University) provided the meteorological data. We thank Stefano Bellani and the anonymous reviewer for their constructive comments, which greatly improved the manuscript. We thank Maria Richards (Southern Methodist University) for the final review of the paper. Discussions with Will Gosnold (University of North Dakota), Robert Harris (Oregon State University), and P.Y. Shen have been very fruitful during the analyses. This study has been supported by the Scientific and Technological Research Council of Turkey (TUBITAK) Grant No 113R019, and the Marmara University Scientific Research Commission Grant No FEN-C-YLP-110915-0437.
About this article
Cite this article
Erkan, K., Akkoyunlu, B., İnal, M. et al. Twentieth-century paleoclimatic modeling of borehole temperatures in western and central Anatolia regions, Turkey. Int J Earth Sci (Geol Rundsch) 108, 1137–1146 (2019). https://doi.org/10.1007/s00531-019-01698-7
Received:

Accepted:

Published:

Issue Date:
Keywords
Paleoclimate

Climate

Borehole

Anatolia

Turkey