Abstract
The Changning-Menglian Belt in western Yunnan, China, has been considered for decades as a remnant of Paleo-Tethys in this region. However, the understanding of the geological evolution of the belt remains sketchy and incomplete. As a significant component of the stratigraphic successions in the eastern part of the belt, the siliciclastic Nanduan Formation preserved essential information of the developing history of the belt. Petrologic studies of the formation show that it was deposited in a neritic environment. The increase of mudstone beds and decrease of grain size of sandstones upwards suggest a gradual deepening of sedimentary environment. Petrographic and geochemical characteristics of sandstones show that they were derived from mature continental provenance and deposited in a passive continental margin setting. Detrital zircon ages of the formation range from 362 to 3685 Ma. The youngest detrital zircon age (362.2 ± 5.5 Ma) confines the deposition age of the sandstones to being younger than the latest Devonian. Dominant age populations of ca. 950 Ma and ca. 550 Ma can be correlated with the magmatic events that occurred in Eastern Ghats-northern Prince Charles (India–Antarctica) (ca. 950 Ma) and Pan-African orogens (Australia–India) (ca. 550 Ma), which are considered, therefore, to be the main provenance of the Nanduan Formation. These results let us consider that the Nanduan Formation and the underlying Lancang Group were formed on the margin of the Baoshan-Shan Block (therefore, autochthonous), and the Carboniferous‒Permian limestones of seamount resemblance, the oceanic bedded cherts, and basic and ultra-basic igneous rocks in the central zone of the belt are overthrusted slices (allochthonous).
This is a preview of subscription content, log in to check access.
Access options
Buy single article
Instant access to the full article PDF.
US$ 39.95
Price includes VAT for USA
Subscribe to journal
Immediate online access to all issues from 2019. Subscription will auto renew annually.
US$ 199
This is the net price. Taxes to be calculated in checkout.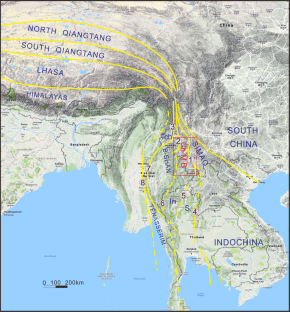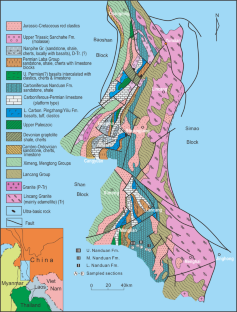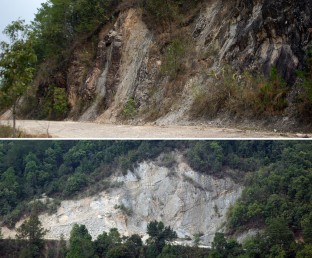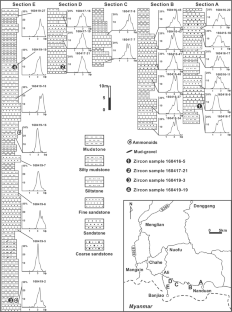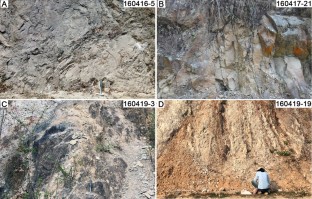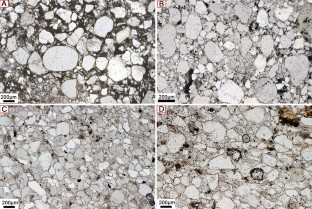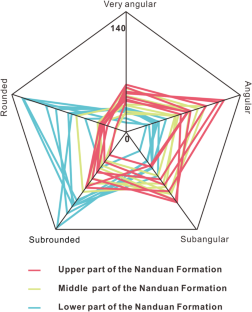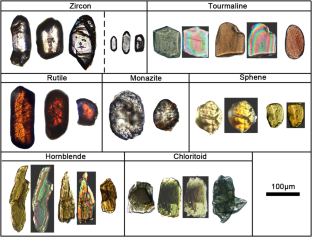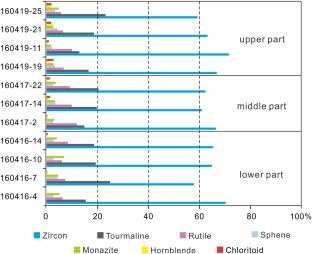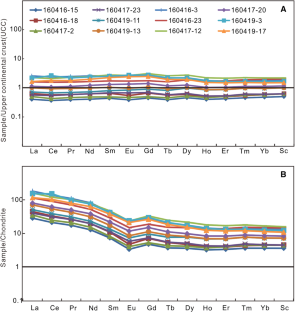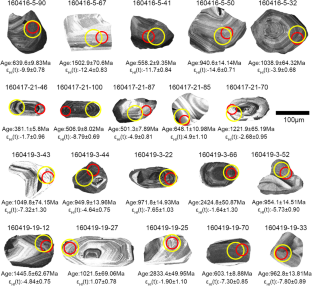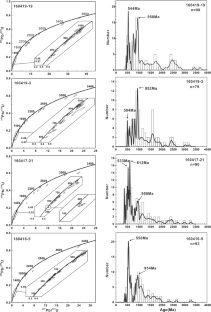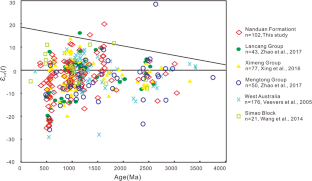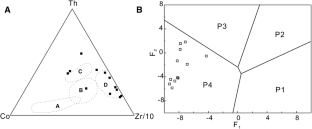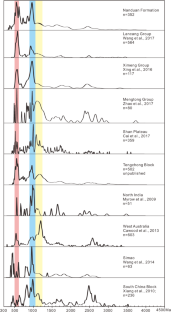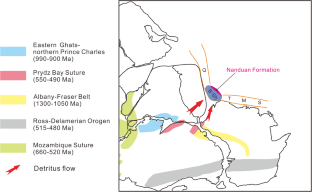 References
Ali JR, Cheung HMC, Aitchison JC, Sun YD (2013) Palaeomagnetic re-investigation of Early Permian rift basalts from the Baoshan Block, SW China: constraints on the site-of-origin of the Gondwana-derived eastern Cimmerian terranes. Geophys J Int 193:650–663

Barber AJ, Ridd MF, Crow MJ (2011) The origin, movement and assembly of the pre-Tertiary tectonic units of Thailand. In: Ridd MF, Barber AJ, Crow MJ (eds) The geology of Thailand. Geological Society, London, pp 507–537

Barr SM, Macdonald AS (1991) Toward a Late Paleozoic–Early Mesozoic tectonic model for Thailand. J Thai Geosci 1:11–22

Bhatia MR (1985) Rare earth element geochemistry of Australian Paleozoic graywackes and mudrocks: provenance and tectonic control. Sed Geol 45:97–113

Bhatia MR, Crook KAW (1986) Trace element characteristics of graywackes and tectonic setting discrimination of sedimentary basins. Contrib Miner Petrol 92:181–193

Boger SD, Miller JMcL (2004) Terminal suturing of Gondwana and the onset of the Ross-Delamerian Orogeny: the cause and effect of an Early Cambrian reconfiguration of plate motions. Earth Planet Sci Lett 219:53–58

Boger SD, Wilson CJL, Fanning CM (2001) Early Paleozoic tectonic within the East Antarctic craton: the final suture between the east and west Gondwana? Geology 5:463–466

Bureau of Geology and Mineral Resources of Yunnan Province (1990) Regional geology of Yunnan Provenance. Geological Publishing House, Beijing

Cawood PA, Johnson MRW, Nemchin AA (2007) Early Palaeozoic orogenesis along the Indian margin of Gondwana: tectonic response to Gondwana assembly. Earth Planet Sci Lett 255:70–84

Cawood PA, Wang YJ, Xu YJ, Zhao GC (2013) Locating South China in Rodinia and Gondwana: a fragment of greater India lithosphere? Geology 41:903–906

Cong BL, Wu GY, Zhang Q, Zhang RY, Zhai MG, Zhao DS, Zhang WH (1993) The rock and tectonic evolution of the Paleo-Tethys in Western Yunnan, China. Sci China 23:1201–1207 (in Chinese)

Cui CL, Zeng YF, Huang ZY, Duan LL (1999) The sedimentary environment and origin analysis of Nanduan Formation in Changning-Menglian Belt, Western Yunnan, China. Sci Geol Sin 34:40–48 (in Chinese with English abstract)

Dong GC, Mo XX, Zhao ZD, Zhu DC, Goodman RC, Kong HL, Wang S (2013) Zircon U–Pb dating and the petrological and geochemical constraints on Lincang granite in Western Yunnan, China: implications for the closure of the Paleo-Tethys Ocean. J Asian Earth Sci 62:282–294

Fang ZJ, Zhou ZC, Lin MJ (1992) Problems of stratigraphy in Changning-Menglian Suture Zone. J Stratigr 16:293–303 (in Chinese)

Fang NQ, Feng QL, Liu BP, Zhang CH (1996) The Beginning and closure of Paleotethys revealed by sedimentary records in Changning-Menglian Belt. In: Fang NQ, Feng QL (eds) Devonian to Triassic Tethys in Western Yunnan, China: sedimentologic, stratigraohic and micropalaeontologic studies on Changning-Menglian orogenic belt. China University of Geosciences Press, Beijing, pp 2–19

Fang ZJ, Wang YJ, Zhou ZC, Wang CY, Guo ZY (2000) A discussion on two problems concerning the stratigraphy of the West Zone in the Changning-Menglian Belt Yunnan, China. J Stratigr 24:182–189 (in Chinese with English abstract)

Feng QL, Liu BP, Ye M, Yang WP (1996) Age and Tectonic setting of the Nanduan Formation and the Laba Group in Southwestern Yunnan. J Stratigr 20:183–189 (in Chinese with English abstract)

Folk RL, Ward WC (1957) Brazos River Bar: a study in the significance of grain size parameters. J Sedim Petrol 27:3–26

Gao S, Rudnick RL, Yuan HL, Liu XM, Liu YS, Xu WL, Ling WL, Ayers J, Wang XC, Wang QH (2004) Recycling lower continental crust in the North China craton. Nature 432:892–897

Garzanti E (2016) From static to dynamic provenance analysis—sedimentary petrology upgraded. Sed Geol 336:3–13

Geological Survey of Yunnan (1982) Geological Map of China, Menglian sheet (1:200 000)

Griffin WL, Wang X, Jackson SE, Pearson NJ, O'Reilly SY, Xu XS, Zhou XM (2002) Zircon chemistry and magma mixing, SE China: in-situ analysis of Hf isotopes, Tonglu and Pingtan igneous complexes. Lithos 61:237–269

Hanchar JM, Miller CF (1993) Zircon zonation patterns as revealed by cathodoluminescence and backscattered electron images: implications for interpretation of complex crustal histories. Chem Geol 110:1–13

Hanchar JM, Rudnick RL (1995) Revealing hidden structures: the application of cathodoluminescence and back-scattered electron imaging to dating zircons from lowers crustal xenoliths. Lithos 36:289–303

Hoskin PW, Schaltegger U (2003) The composition of zircon and igneous and metamorphic petrogenesis. Rev Mineral Geochem 53:27–62

Hou KJ, Li YH, Zou TR, Qu XM, Shi YR, Xie GQ (2007) Laser ablation-MC-ICP-MS technique for Hf isotope microanalysis of zircon and its geological applications. Acta Petrol Sin 23:2595–2604 (in Chinese with English abstract)

Ingersoll RV, Bullard TF, Ford RL, Pickle JD (1984) The effect of grain size on detrital modes: a test of the Gazzi–Dickinson point-counting method. J Sedim Res 54:103–116

Jia JH (1994) Sedimentary characteristics and tectonic paleogeography of The Nanduan Group in The Changning-Menglian Zone, Southwestern Yunnan, with discussions on the features of The Lincang Terrane. Sedim Facies Palaeogeogr 14:42–48 (in Chinese with English abstract)

Jin XC (1994) Sedimentary and paleogeographic significance of Permo-Carboniferous sequences in western Yunnan, China. Geologisches Institut der Universität zu Köln. Sonderveröffentlichungen 99:1–136

Jin XC (1996) Tectono-stratigraphic units of Western Yunnan, China and their counterparts in Southeast Asia. Cont Dyn 1:123–133

Jin XC (2002) Permo-Carboniferous sequences of Gondwana affinity in southwest China and their paleogeographic implications. J Asian Earth Sci 20:633–646

Jin XC, Xie GL, Wang YZ (2001) Some stratigraphic and sedimentologic constraints on the features of the Changning-Menglian Tethys, Yunnan, China. Gondwana Res 4:55–60

Jin XC, Wang YZ, Xie GL (2003) Devonian to triassic successions of the Changning-Menglian Belt, Western Yunnan, China. Acta Geol Sin 77:440–456

Jin XC, Huang H, Shi YK, Zhan LP (2011) Lithologic boundaries in Permian post-glacial sediments of the Gondwana-affinity regions of China: typical sections, age range and correlation. Acta Geol Sin 85(2):373–386

Jin XC, Huang H, Shi YK, Zhan LP (2015) Origin of Permian exotic limestone blocks in the Yarlung Zangbo Suture Zone, Southern Tibet, China: with biostratigraphic, sedimentary and regional geological constraints. J Asian Earth Sci 104:22–38

Kong HL, Dong GC, Mo XX, Zhao ZD, Zhu DC, Wang S, Li R, Wang QL (2012) Petrogenesis of Lincang granites in Sanjiang area of western Yunnan Province: constraints from geochemistry, zircon U–Pb geochronology and Hf isotope. Acta Petrol Sin 28:1438–1452 (in Chinese with English abstract)

Li XL (1999) Basic features of volcanic rock series in Changning-Menglian region and their structural environment. Yunnan Geol 16:165–183 (in Chinese with English abstract)

Li ZX, Bogdanova SV, Collins AS, Davidson A, Waele BDE, Ernst RE, Fitzsimons ICW, Fuck RA, Gladkochub DP, Jacobs J, Karlstrom KE, Lu S, Natapov LM, Pease V, Pisarevsky SA, Thrane K, Vernikovsky V (2008) Assembly, configuration, and break-up history of Rodinia: a synthesis. Precambr Res 160:179–210

Liu BP, Feng QL, Fang NQ (1991) Tectonic evolution of the Palaeo-Tethys in Changning-Menglian Belt and adjacent regions, western Yunnan. J China Univ Geosci 2:18–28

Liu BP, Feng QL, Fang NQ, Jia JH, He FX (1993) Tectonic evolution of Paleo-Tethys poly-island-ocean in Changning-Menglian and Lancangjiang Belts, southwestern Yunnan. Earth Sci J China Univ Geosci 18:529–539 (in Chinese with English abstract)

Lu SN (2004) Comparison of the Pan-Cathaysian orogeny with the Caledonian and Pan-African orogenies. Geol Bull China 23:952–958 (in Chinese with English abstract)

Ludwig KR (2003) ISOPLOT 3.00: a geochronological toolkit for Microsoft Excel. Berkeley Geochronology Center, California

Luo JL (1990) Evolution and basic characteristics of tethys Orogenic Zone, Western Yunnan. Yunnan Geol 9:247–290 (in Chinese with English abstract)

Mange MA, Maurer HFW (1992) Heavy minerals in colour. Chapman & Hall, London

Mange MA, Wright DT (2007) Heavy minerals in use. Elsevier, Amsterdam

Metcalfe I (1996) Pre-Cretaceous evolution of SE Asian terranes. In: Hall R, Blundell D (eds) Tectonic evolution of Southeast Asia. Geological Society Special Publication, London, pp 97–122

Metcalfe I (2013) Gondwana dispersion and Asian accretion: tectonic and palaeogeographic evolution of eastern Tethys. J Asian Earth Sci 66:1–33

Myrow PM, Hughes NC, Searle MP, Fanning CM, Peng SC, Parcha SK (2009) Stratigraphic correlation of Cambrian-Ordovician deposits along the Himalaya: implications for the age and nature of rocks in the Mount Everest region. Geol Soc Am Bull 121:323–332

Nie XM, Feng QL, Qian X, W YJ (2015) Magmatic record of Prototethyan evolution in SWYunnan, China: geochemical, zircon U–Pb geochronological and Lu–Hf isotopic evidence from the Huimin metavolcanic rocks in the southern Lancangjiang zone. Gondwana Res 28:757–768

Ridd MF (2015) East flank of the Sibumasu block in NW Thailand and Myanmar and its possible northward continuation into Yunnan: a review and suggested tectono-stratigraphic interpretation. J Asian Earth Sci 104:160–174

Roser BP, Korsch RJ (1988) Provenance signatures of sandstone-mudstone suits determined using discriminant function analysis of major-element data. Chem Geol 67:119–139

Sahu BK (1964) Depositional mechanisms from the size analysis of clastic sediments. J Sedim Petrol 34:73–83

Santosh M, Yoshida M (2001) Pan-African extensional collapse along the Gondwana suture. Gondwana Res 4:188–191

Song TR (1991) Comprehensive textural coefficient of arenaceous rocks and analysis of sedimentary environments. Acta Petrologica et Mineralogica 10:210–220 (in Chinese with English abstract)

Taylor SR, McLennan SM (1985) The continental crust: its composition and evolution. Blackwell Scientific, London

Taylor SR, McLennan SM (2009) Planetary crusts: their composition, origin and evolution. Cambridge University Press, New York

Ueno K, Charoentitirat T (2011) Carboniferous and Permian. In: Ridd MF, Barber AJ, Crow MJ (eds) The geology of Thailand. Geological Society, London, pp 71–136

Van Andel TH (1959) Reflection on the interpretation of heavy mineral analyses. J Sedim Petrol 29:153–163

Veevers JJ, Saeed A, Belousova EA, Griffin WL (2005) U–Pb ages and source composition by Hf-isotope and trace-element analysis of detrital zircons in Permian sandstone and modern sand from southwestern Australia and a review of the paleogeographical and denudational history of the Yilgarn Craton. Earth Sci Rev 68:245–279

Wang YZ, Li XL, Duan LL, Huang ZX, Cui CL (2000) Geotectonics and metallogeny in the South Nujiang-Lancang-Jinsha rivers area, first ed. Geological Publishing House, Beijing (in Chinese with English abstract)

Wang QF, Deng J, Li CS, Li GJ, Yu L, Qiao L (2014a) The boundary between the Simao and Yangtze blocks and their locations in Gondwana and Rodinia: constrains from detrital and inherited zircons. Gondwana Res 26:438–448

Wang F, Liu FL, Liu PH, Shi JR, Cai J (2014b) Petrogenesis of Lincang granites in the south of Lancangjiang area: constrain from geochemistry and zircon U–Pb geochronology. Acta Petrol Sin 30:3034–3050 (in Chinese with English abstract)

Wang F, Liu FL, Ji L, Liu LS (2017) LA–ICP–MS U–Pb dating of detrital zircon from low-grade metamorphic rocks of the Lancang Group in the Lancangjiang Complex and its tectonic implications. Acta Petrol Sin 33:2975–2985 (in Chinese with English abstract)

Wopfner H, Jin XC (2009) Pangea Megasequences of Tethyan Gondwana-margin reflect global changes of climate and tectonism in Late Palaeozoic and Early Triassic times—a review. Palaeoworld 18:169–192

Wu HR, Du Y (1994) A discussion on some problems concerning stratigraphic geology of southern part of the Changning-Menglian Belt, Western Yunnan. J Stratigr 19:221–227 (in Chinese with English abstract)

Wu HR, Boulter CA, Ke BJ, Stow DAV, Wang ZC (1995) The Changning-Menglian suture zone; a segment of the major Cathaysian-Gondwana divide in Southeast Asia. Tectonophysics 242:267–280

Wu FY, Yang YH, Xie LW, Yang JH, Xu P (2006) Hf isotopic compositions of the standard zircons and baddeleyites used in U–Pb geochronology. Chem Geol 234:105–126

Xiang L, Shu LS (2010) Pre-Devonian tectonic evolution of the eastern South China Block: geochronological evidence from detrital zircons. Sci China Earth Sci 53:1427–1444

Xing XW, Zhang YZ (2016) Depositional age of the Pake Formation of Ximeng Group and its tectonic implications: constraints from zircons U–Pb geochronology and Lu–Hf isotopes. Bull Mineral Petrol Geochem 35:936–948 (in Chinese with English abstract)

Yang KH, Mo XX (1993) Late Paleozoic rifting-related volcanic rocks and tectonic evolution in Southwestern Yunnan. Acta Petrologica et Mineralogica 12:297–311 (in Chinese with English abstract)

Zhao TY, Feng QL, Metcalfe I, Milan LA, Liu GC, Zhang ZB (2017) Detrital zircon U–Pb–Hf isotopes and provenance of Late Neoproterozoic and Early Paleozoic sediments of the Simao and Baoshan blocks, SW China: implications for Proto-Tethys and Paleo-Tethys evolution and Gondwana reconstruction. Gondwana Res 51:193–208

Zhu XM (2009) Sedimentary petrology. Petroleum Industry Press, Beijing

Zhu DC, Zhao ZD, Niu YY (2011) Lhasa terrane in southern Tibet came from Australia. Geology 39:727–730
Acknowledgements
We thank Michael F. Ridd and Yunpeng Dong for their critical review and constructive suggestions, which significantly improved the quality of the paper. This study is financially supported by the National Natural Science Foundation of China (NFSC) (nos. 41630104, 41872036) and China Geological Survey (no. DD20160343-05), for which we are grateful.
Electronic supplementary material
Below is the link to the electronic supplementary material.
About this article
Cite this article
Zheng, J., Jin, X., Huang, H. et al. Sedimentology and detrital zircon geochronology of the Nanduan Formation (Carboniferous) of the Changning-Menglian Belt: indications for the evolution of Paleo-Tethys in western Yunnan, China. Int J Earth Sci (Geol Rundsch) 108, 1029–1048 (2019). https://doi.org/10.1007/s00531-019-01694-x
Received:

Accepted:

Published:

Issue Date:
Keywords
Nanduan Formation

Changning-Menglian Belt

Yunnan

Sedimentology

Detrital zircon geochronology

Tethys