This is a preview of subscription content, log in to check access.
Access options
Buy single article
Instant access to the full article PDF.
US$ 39.95
Price includes VAT for USA
Subscribe to journal
Immediate online access to all issues from 2019. Subscription will auto renew annually.
US$ 199
This is the net price. Taxes to be calculated in checkout.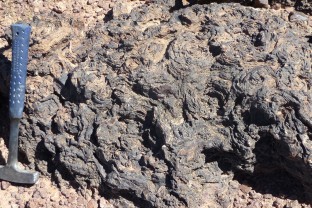 References
Álvaro JJ, Ezzouhairi H, Ait Ayad N, Charif A, Solá R, Ribeiro ML (2010) Alkaline lake systems with stromatolitic shorelines in the Ediacaran volcanosedimentary Ouarzazate Supergroup, Anti-Atlas, Morocco. Precambr Res 179:22–36. https://doi.org/10.1016/j.precamres.2010.02.009

Beraaouz M, Macadam J, Bouchaou L, Ikenne M, Ernst R, Tagma T, Masrour M (2017) An Inventory of Geoheritage Sites in the Draa Valley (Morocco): a contribution to promotion of geotourism and sustainable development. Geoheritage. https://doi.org/10.1007/s12371-017-0256-x

Choubert G, Hindermier J, Hollard H (1952) Sur la présence de Collenia dans le Précambrien III et le Géorgien de l'Anti-Atlas. Compt Rendus de l'Acad des Scien Paris 234(5):543–545

Gasquet D, Ennih N, Liégeois J-P, Soulaimani A, Michard A (2008) The Pan-African belt (Chap. 2: 33–64). In: Michard A, Saddiqi O, Chalouan A, Frizon de Lamotte D (eds) Continental evolution: the geology of morocco: lecture notes in earth sciences, vol 116. Springer-Verlag, Berlin Heidelberg

Raaben ME (1980) Some stromatolites of the Precambrian of Morocco. Earth Sci Rev 16(2–3):221–234. https://doi.org/10.1016/0012-8252 (80)90043–4

Schmitt M (1978) Stromatolites from the Tiout section, Precambrian-Cambrian boundary beds, Anti-Atlas, Morocco. Geol Mag 115(2):95–100. https://doi.org/10.1017/S0016756800041145

Thomas RJ, Fekkak A, Ennih N, Errami E, Loughlin SC, Gresse PG, Chevallier LP, Liégeois JP (2004) A new lithostratigraphic framework for the anti-atlas Orogen, Morocco. J Afr Earth Sc 39:217–226. https://doi.org/10.1016/j.jafrearsci.2004.07.046
Acknowledgements
The authors are grateful to the Editor-in-Chief and the Associate Editor for his constructive comments that have contributed to improve the manuscript. We thank also Prof. Alan M. Smith (University of KwaZulu-Natal, South Africa) for his suggestions on writing and improving the English of the paper.
About this article
Cite this article
Beraaouz, M., Abioui, M. & Patranabis-Deb, S. Precambrian (Ediacaran) stromatolites in the Amane-n'Tourhart (Anti-Atlas, Morocco). Int J Earth Sci (Geol Rundsch) 108, 1273–1274 (2019). https://doi.org/10.1007/s00531-019-01690-1
Received:

Accepted:

Published:

Issue Date: